Known as the nice guy of the rock music world, Dave Grohl is as charming as he is talented, and over the years, these two traits have proven to be incredibly potent money-making tools.
His involvement in numerous highly successful creative endeavors has been a significant source of income for decades. This would normally make us sick with either rage, jealousy, or both, but there really isn't anyone more deserving of the success, so we can't be too sour.
Although, you should still brace yourself before hearing his insane net worth. Are you ready? His estimated net worth is… $320,000,000!
If you're anything like me, a single tear will run down your cheek as you process this aggressively large number, but you have to hand it to the rocker; he's worked his butt off his entire life to get where he is today.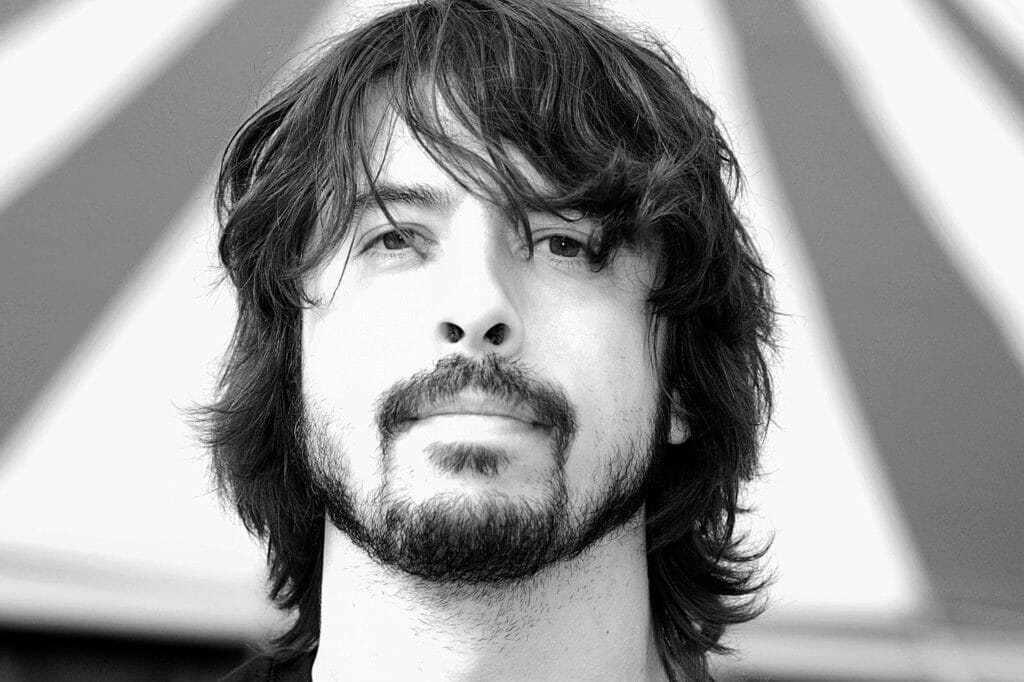 Who Is Dave Grohl: The Key Details
It's hard to imagine that someone out there doesn't know who Dave Grohl is, but just in case they are, let's get a quick summary out the way.
Born January 14, 1969, Dave Grohl is a professional American musician most famous for his role as guitarist and lead singer in his band Foo Fighters, but he had already climbed the musical ladder before the Foos were even a twinkle in his eye.
Back in 1990, with the dawning of the new decade came a new musical force, grunge, and it was to glam rock what the Chicxulub Impactor was to the dinosaurs.
One of the leaders of the angsty cutting-edge sound was the band Nirvana who seemed to have a revolving door policy when it came to drummers.
Thankfully, though, Dave Grohl landed the role as skin slapper just before the band's seminal record Nevermind was released, catapulting all three members to superstardom almost overnight.
The fan-favorite In Utero came next, in 1993, but not 6 months later, Kurt Cobain committed suicide, cutting Nirvana's world domination short.
Now a free agent (although under tragic circumstances), Grohl started a one-man project he referred to as Foo Fighters, but after the unexpected success of the first, self-titled record, he recruited a band to join his musical endeavor.
Gradually, he conquered the world with his new band. As the group's leader and principal songwriter, he earns more than ever before. This doesn't even take into account his other ventures (more on that soon).
---
RELATED: Follow The Ups And Downs Of Marilyn Manson's Net Worth
---
Dave Grohl's Early Life
Born in Warren, Ohio, to teacher Virginia Jean and award-winning journalist James Harper Grohl, David Eric Grohl is of Irish, Slovak, and German descent. His parents divorced when he was seven, and his mother gained full custody of him and his older sister, Lisa.
At 12, he discovered guitar and began taking lessons but soon realized he was better off teaching himself how to play. A year later, he'd attend his first punk gig while staying at his cousin's house in Illinois, an event that would completely change the direction of his life.
Although he was immersed in academia from a young age, Grohl didn't take to it himself when he was going through the school system. He moved to different educational institutions on a number of occasions.
His mother initiated his transfer from Thomas Jefferson High School to Bishop Ireton High School to curb his marijuana use, which was starting to affect his academic performance. The reasons for his subsequent school changes remain unclear.
Throughout his high school years, Grohl played in numerous bands and taught himself to play the drums, a skill he had wanted to acquire ever since hearing '2112' by Rush at the age of eight.
This led to an opportunity to join the punk rock band Scream as their drummer. He knew it was an all-or-nothing moment, so he lied about his age, quit school and hit the road with his new bandmates.
Grohl remained with the band until their break up in 1993.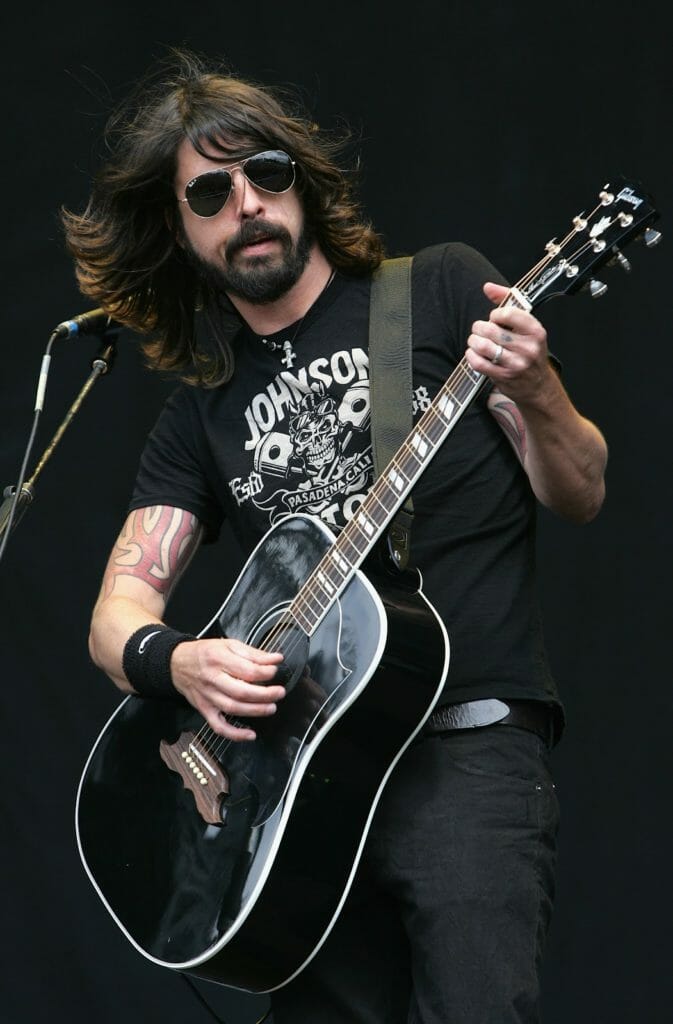 How Did Dave Grohl Earn His Fortune?
Nirvana
It goes without saying that Nirvana was an extremely successful band, but surprisingly, Grohl didn't make all that much of his current fortune from this outfit. As the primary songwriter, founder, and leader of the band, Cobain took home the lion's share of Nirvana's earnings.
Allegedly, Grohl and bassist Krist Novellsec were only entitled to 12.5% of the royalties from 10 of Nirvana's songs, which doesn't sound like much, but when you consider that one of those 10 songs is "Smells Like Teen Spirit", it's fair to assume he made a bundle.
It's estimated (admittedly via a lot of guesswork), that the rock star earned roughly $10,000,000 from his stint in Nirvana, a number that steadily increases each year thanks to the accumulation of royalties.
Foo Fighters
Dave founded Foo Fighters in late 1994, and since then, it has become one of the most universally admired and successful bands of the modern era, contributing significantly to his wealth.
Well, as it stands, the band have racked up well over 11 million album sales, headline tours and festivals on a semi-constant basis, and are still producing successful music quite regularly.
Them Crooked Vultures
Foo Fighters hasn't been Grohl's sole musical outlet since the death of his friend and Nirvana bandmate Kurt Cobain.
He also released an album with the supergroup Them Crooked Vultures in which he was back behind the kit, with Led Zeppelin's John Paul Jones on bass and Queen of the Stone Age/Kyuss's Josh Homme on guitar and lead vocals.
This individual self-titled album and handful of live shows will have only contributed a pittance to his fortune in the grand scheme of things, but still a pretty penny by anyone's standards.
Television & Film
Since 1992, Dave Grohl has made 14 appearances on Saturday Night Live, more than any other musical guest in the show's history. He also took on a voice acting role in MTV's hit animated show Daria, in which he plays Daniel Dotson, an art tutor with a God complex.
In 2009, he once again applied his golden vocal cords to acting, taking the role of Syrian tyrant Abdule Malik in the third season of Metalocalypse, and it's also worth mentioning that he's occupied the director's chair for a number of music videos, including "All My Life", "Monkey Wrench", "My Hero", and "Rope" by Foo Fighters, and "By Crooked Steps" by Soundgarden.
In 2013, Grohl also produced and directed the Sound City documentary and Foo Fighters: Sonic Highways, a series that followed the band's process of writing their eighth studio album
He appeared on the silver screen way back in 2006, taking on the role as Satan in Tenacious D in the Pick of Destiny, but he was hardly recognizable once costume and makeup were through with him.
In 2022, however, he and all his fellow fighters of foo appeared in the movie Studio 666, sans complete satanic makeover.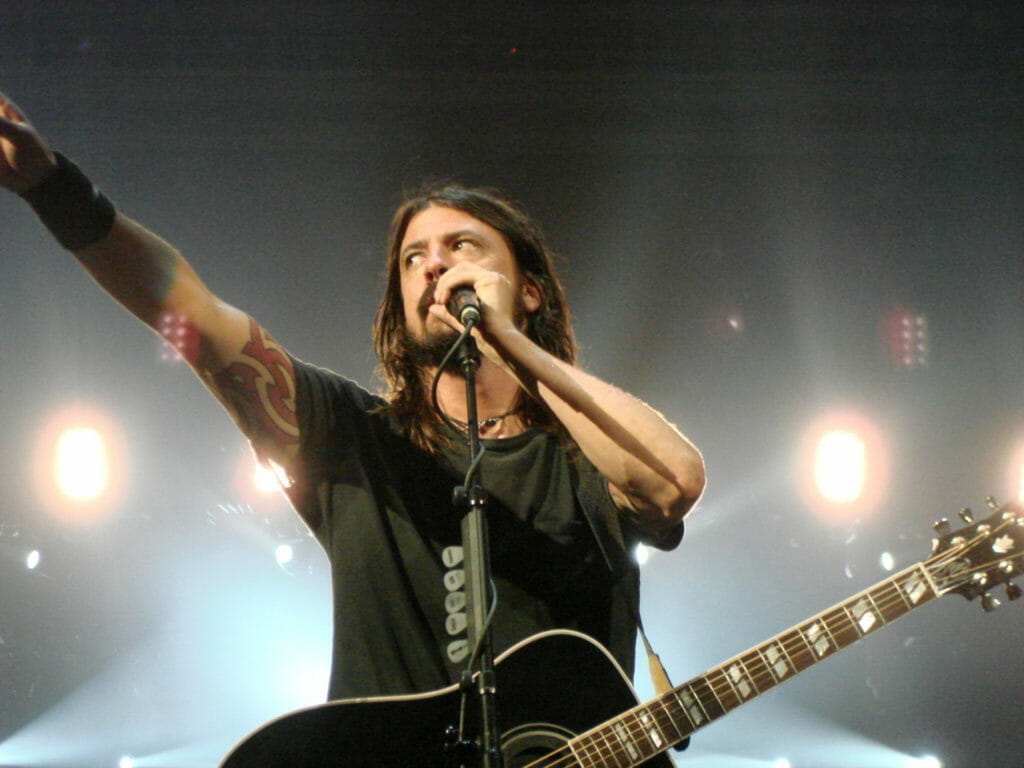 Final Thoughts
In conclusion, Dave Grohl's wealth is impressive. Still, considering his talent and dedication, it seems fitting that such success should befall such a likable individual.
He shows no signs of slowing down either, operating with the same passion and fire in his belly that he did during his fledgling years in the music business, which means more money to come!
However, I think we can all agree that you can't put a price on Mr. Grohl's contribution to music.
Check out his appearance on Channel 4 News, where he talks all things music and gives some tantalizing tales from the road.