Elvis Presley, the King of Rock and Roll, has been subject to many rumors, myths, and legends since his death.
His pop culture monopoly has led him to become one of the staples of western society including being the progenitor and icon of the rock and roll style alongside some of his contemporaries.
However, one myth that does prove true pertains to Elvis Presley's twin brother.
You might not have even known that Elvis Presley had a twin, so keep reading to learn this tragic but surprising story of Presley's lost brother.
The Early Days Of Elvis Presley
Like all good stories, the best place to start is at the very beginning.
It was a windy winter's day in Mississippi when Elvis Aaron Presley entered our world. Born on January 8, 1935, to Vernon and Glady Presley. The family was living in a two-room shotgun house when they welcomed the King of Rock into the world.
Gladys' only wish, according to biographer Kathleen Tracy, was to have a big family. Unfortunately, this would not turn out to be the case.
Elvis' birth was not a labor of love – his mother had trouble delivering him, possibly due to the fact that no one knew she was carrying twins.
As a surprise to everyone, a weak and shocked Gladys entered labor again with what would have been Elvis' twin.
They named him Jesse Garon Presley.
Unfortunately, Elvis' twin arrived stillborn and marred this important historical and family event with tragedy, a motif that would repeat itself throughout Elvis' life.
There is actually some dispute among reports that his brother was born first, not that it matters, however, most of Elvis' biographies confirm with the family that Elvis was born first.
Presley's family was as destitute as most Mississippi families were at the time, as evidenced by the bare minimum of having a doctor present for Gladys' labor. The family was so poor that the church had to provide them with a burial site and coffin for free to help the grieving parents.
The funeral was attended only by Vernon and Gladys, Elvis in her guarding arms after Gladys asked her friends not to attend.
---
RELATED: What Was Elvis's Last Performance Like?
---
A Mother's Love For Two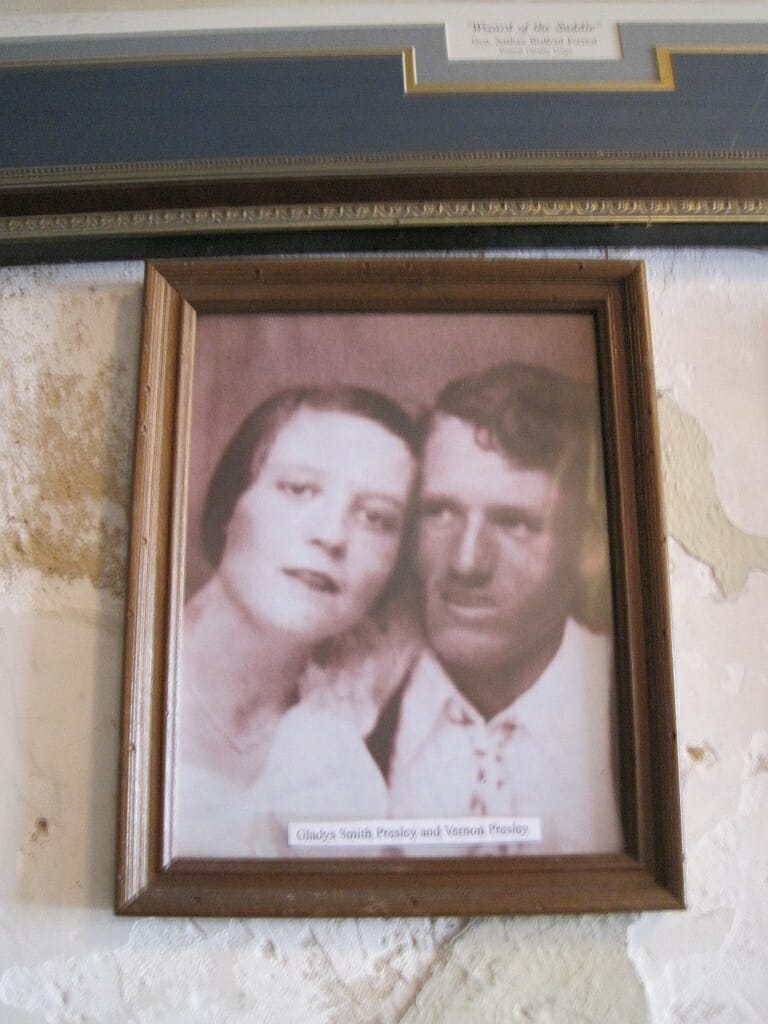 It's not surprising that after such an unfortunate loss of life, Elvis was cherished by his family more and more,
While infant mortality rates were very high in the period, the Presley family could not afford a grave site, let alone extra prenatal care for the mother.
Gladys became quite protective of Elvis after the birth, barely letting Vernon hold him, and what followed was a lifetime of adoration and love from his mother. Enough for two but not enough for Vernon.
After the birth of Elvis, and the loss of his twin brother, Gladys and Vernon's relationship was never the same.
Gladys suffered from severe post-natal depression, while Vernon was undereducated and overworked, unsure how to deal with such a tragedy beyond drinking moonshine with his friends.
Elvis reported many times how his mother made him 'talk to' Jesse through prayer, undoubtedly ingraining some sort of guilt into Elvis, consciously or not.
"If only Jesse could have been here" was a common epitaph from Elvis as his career took off.
Was Elvis Presley's Twin Brother Identical?
For those who know the story, much of the mystery around Jesse was whether he was an identical twin or not. Without proper medical records, it would be quite hard to say.
Studies suggest that most twins have around a 30-45% chance of being identical. The idea of double trouble from identical twins has generated quite the amount of pop culture legend.
Perhaps what's more important is that Elvis felt they were identical. He was once quoted as saying:
Even if nobody else knows, I do. I can feel it. There's no mistaking it.
It is certain that Jesse's premature death shook Elvis. It feels likely that losing a twin in the womb like this had some preconscious effect on Elvis' mental health, perhaps making him more prone to mental health problems as many have assumed.
However, what undoubtedly did affect Elvis was the doubling of love he received from his mother.
Where Was Elvis Presley's Twin Brother Buried?
Years later, when Elvis' mother died in 1958, Jesse came up again in Elvis' life. He wanted to have Jesse reburied next to his mother, but due to the circumstances of his burial, they couldn't find the grave.
Vernon told Elvis they couldn't afford a headstone back then, and that time had warped his memory – he could never find it.
Jesse's grave was never dug up much to Elvis' dismay, but it seems his memory was strong in Elvis.
Final Thoughts On The Sad Story Of Elvis Presley's Twin Brother.
So, yes, Elvis did have a twin, who could have been identical. But he died in the womb, leaving us only to wonder how Elvis' life could have been different.
The absence of his twin affected his relationship with his mother and likely impacted The King in ways we will never know.
For a bit more of the story on Elvis Presley's twin brother, be sure to check out this video from the team over at Grunge.
Before you do that, make sure you have a look at our story on the best Elvis Presley songs from the 1950s. It was the beginning of a legendary career that spanned decades and continues to entertain fans to this day.
Frequently Asked Questions
How Many Albums Did Elvis Presley Release?
Between studio albums and soundtracks, Elvis released over 40 albums with total sales of more than 500 million copies.
How Old Was Elvis Presley When He Died?
Elvis was 42 years old when he died.
Where Did Elvis Presley Live
Elvis lived in "Graceland", an 18-room mansion that he purchased on the outskirts of Memphis when he was only 22 years old.
Where Was Elvis Presley Born?
Elvis was born in Tupelo, Mississipi.