The best part was watching Journey grow into this monster. The band was huge, playing these enormous gigs

– Neal Schon
Key Takeaways From the History of Journey Band
Journey's success and fame can be attributed to their journey of growth, evolving from a jazz-heavy progressive rock fusion band to a mainstream rock sensation.
Guitarist Neal Schon, a founding member, played a crucial role in the band's inception and continued to be a driving force throughout their career.
The addition of Steve Perry as lead vocalist brought commercial success to Journey, with albums like "Infinity" and "Escape" achieving significant chart positions and producing hit singles like "Wheel in the Sky" and "Don't Stop Believin'."
The band faced challenges and conflicts, resulting in significant lineup changes, a temporary hiatus and legal disputes. But, they managed to reconcile and continue their musical journey with new releases and a dedicated fan base.
The band's legacy is a reminder that success in the music industry often comes with personal and financial sacrifices, but their passion for music has kept them going, even in the face of challenges.
In The Road Not Taken, Robert Frost popularised the idea that the choices that an individual makes and the path that they choose to follow determines who they will eventually become and whether they'll fall by the wayside of fate, or end up changing the world.
Neal Schon, guitarist extraordinaire and sole remaining original member of Journey, was according to Bobby Whitlock who first met him in 1970, and played with him briefly when he jammed with Derek And The Dominoes, always going to succeed thanks to his incredible talent and drive.
Even though Schon didn't end up joining Eric Clapton and Whitlock in their short-lived supergroup,  he did impress another guitar legend enough for him to take the teenage virtuoso under his wing and give him his first high-profile, paying job as a guitarist.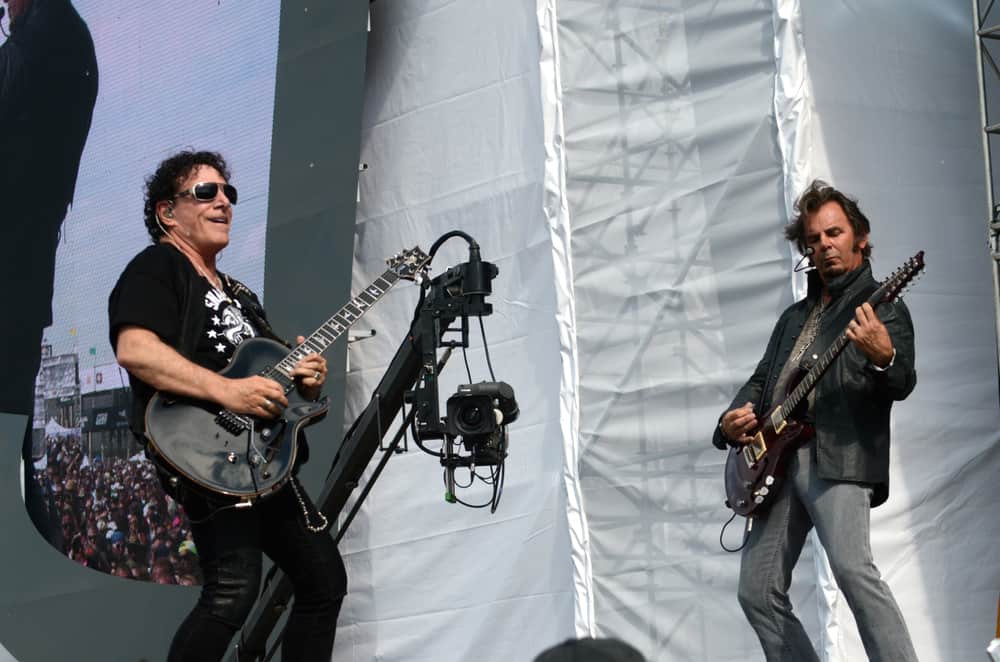 That musician was Carlos Satana who believed in the then seventeen-year-old Schon enough to ask him to become a full-time member of his band.
What does Santana have to do with Journey, one of the world's biggest-selling and most famous hard rock bands?
Well, without the former the latter wouldn't exist, and if Carlos hadn't brought Schon into the fold, the band that would go on to sell eighty million records over the course of their, so far forty-eight-year career might not have followed the path that they found themselves on.
From Caravanserai To Journey
Schon stayed with Santana for two years and was part of the line-up that recorded Santana III and Caravanserai and after leaving the band at just 19 years old, found himself teaming up with a fellow Santana veteran, Greg Rolle under the guidance of Herbie Herbert.
A self-proclaimed flower child and Grateful Dead fanatic, Herbert was also Santana's manager, and by default became Rolle and Schon's manager when they left the band and the foundation on which he was planning to build his next project, a group of talented musicians who could serve as the backing band for any established artist in San Francisco who needed or required their services. 
The Golden State Rhythm Section, which also included former Frumious Bandersnatch members Ross Valory and George Tickner and Tubes drummer Charles "Prairie" Prince was, on paper at least, a great idea.
The musicians all had a flawless pedigree, and when they played together they gelled instantly, the problem with the band was the concept. After they played their first two shows, The Golden State Rhythm Section realized that the idea of being a backing band just didn't work for them and that they wanted to stretch their creative wings and fly.
And the name? That wasn't working for them either but by the end of their first show in Hawaii, and after an abortive radio show contest to find them a new name was swiftly brushed under the carpet and forgotten, the solution to their moniker problem appeared out of the ether when one of their roadies suggested that they call themselves Journey.
Journeying To Next
Someone up there must have liked what they heard, as the newly named Journey's debut mainland show was at a sold-out Winterland Ballroom in San Francisco in front of ten thousand people on New Year's Eve, 1973.
From there, they jumped straight on a plane and flew back to Hawaii to play another gig, but before they returned to the Bay Area to play a showcase gig for Columbia Records, Prairie Prince left and returned to the Tubes and was replaced by Aynsley Dunbar.
That's right, THE Aynsley Dunbar from The Mothers Of Invention and David Bowie's band. As we've already said, somebody up there must have really, really liked what Journey was doing.
Whoever it was up there that had taken a shine to the embryonic Journey wasn't their only fan, Columbia Records liked what they heard too, and in November 1974, the American rock band formed together in the studio to record their debut album (also called Journey) which was released in June 1975.
It entered the Billboard Chart at one hundred and thirty-eight, which was more than a little impressive, and while the direction of the debut bore little resemblance to the band that they would eventually become less than half a decade later, it did ensure that Journey became a fixture on the map that the rock hungry audiences of America regularly looked to for direction.
The band then took their jazz-heavy progressive rock fusion out on the road to play to anyone and everyone they could to promote their debut to, and after the tour, George Tickner left as the touring schedule that the band had undertaken was just a little too much for him. 
Their hard work began to pay off though, as Journey's sophomore album, Look Into The Future which was released in January 1976, entered the Billboard Top One Hundred shortly after it hit the record shop racks. Granted, it entered the chart at Number One Hundred, but it did make the cut.
While the band was happy with their sure but steady progress, their label wasn't quite as thrilled.
When Journey recorded their third album, Next in 1977 they tempered their sound and made it a little more commercial in order to try and appeal to a broader audience, but even with a slightly more melodic approach, when it was released, Next entered the chart at Number Eighty-Five, and like it's predecessors, sales began to fall after the initial week of release.
It seemed as though Journey had reached the height of their fame, and despite the band being "happy" with where they were, Columbia Records were seriously beginning to reconsider their investment. Something had to change, and it had to change fast if Journey wanted to stay with their, still relatively new, label.
The Evolution Of Journey
Even Schon, who wrote most of the band's early material, later admitted that he thought that their first three records were self-indulgent and should have been more focused than they were.
In an effort to appease their label and increase their record sales, Journey asked singer Robert Fleischman to join the band, reigned in some of their wilder musical impulses, and softened their sound even further. Adopting a similar approach to bands like the, at the time, wildly popular Boston they hit the road with Judas Priest, Black Sabbath, and ELP.
But everyone in the Journey camp wasn't enamoured with Fleischman, and following a series of disagreements with Herbie Herbert, the singer was replaced by Steve Perry who Journey's manager had met after hearing a demo by Alien Project, Perry's old band. 
Perry joined the band just in time to record their fourth album, Infinity with them, which was produced by Roy Thomas Baker, who had flown in after working with Queen.
It was a vastly different album for the band, but the addition of Perry coupled with their new direction and having Baker at the helm paid dividends, and Infinity entered the Billboard Chart at Number Twenty-One in January 1978 and gave the band their first hit single, Wheel In The Sky, which entered the Billboard Hot One Hundred and eventually climbed to Number Fifty-Six.
It was enough to convince the band that their new musical direction was the right one to pursue and more than enough to persuade Columbia Records to keep them around.
Change isn't always easy, and Aynsley Dunbar wasn't as keen on Journey's new direction as the rest of his bandmates were, and following an awkward and difficult tour to promote Infinity, he was sacked by Herbert and replaced by former Montrose drummer Stevie Smith.
With Dunbar firmly in their rearview mirror, Journey with Smith in tow recorded their fifth album, Evolution in 1978 and released it in March 1979. It did slightly better than Infinity reaching Number Twenty in the Billboard Chart, but it did something that its forerunner didn't. It gave Journey their first Top Twenty hit.
Lovin', Touchin', Squeezin' climbed to Number Sixteen and made sure that every rock fan with a radio in America knew who Journey was. They weren't just a name on the map anymore, they were a rock and roll destination that an entirely new generation of fans decided to pack their bags and head directly toward for an extended vacation.
Parting Is Such Sweet Sorrow
The Evolution tour was a revelation for the band and was so successful that it saw them having to increase the size of the stage show and the venues that they were used to playing. It also added roughly five million dollars to the band's bank balance, which just confirmed their status, both to the band and their label, as bonafide rock stars.
By the time they recorded their sixth album, Departure, Journey was firing on all cylinders, and armed with 19 songs they embarked on a mission to solidify and magnify their success.
They succeeded and the resultant twelve-song record (the seven "weakest" numbers were dropped during the final mix) gave the band their first top ten album and their first top ten hit, as the lead single Anyway You Want It reached number eight in the Billboard Hot One Hundred.
It was also the last Journey record that founding member Greg Rolle would play on, as he left the band shortly after the end of the Departure tour, to spend more time with his family and work on his own solo career.
But Rolle didn't leave Journey high and dry, as he pointed them in the direction of the man he thought should replace him, and the individual who would help to shape the future sound of the band, Jonathan Cain.
Escaping To The Frontier
With Cain onboard, Journey's meteoric rise to the upper echelons of rock and roll superstardom continued unabated, and their next record Escape was their most successful to date and remains a firm fan favorite.
Critically acclaimed and voted the best AOR (Album Oriented Rock) album of all time by the readers of British Heavy Metal Bible Kerrang! In 1988, Escape was Journey's first album to soar straight to the top of the album charts when it was released in July 1981.
It also gave Journey four top ten singles, Still They Ride On, Open Arms, Who's Crying Now, and arguably the song that the band will be remembered for long after they and every single one of their first, second and third generation of fans are long gone, Don't Stop Believin'.
Described as being the perfect rock anthem by music critic Mike DeGagne, Don't Stop, despite what the bands fans and critics alike think, wasn't Journey's biggest hit.
It wasn't even the biggest hit on Escape, but thanks to the power of rock radio, and then-newcomer on the block, MTV it's still the song that everyone remembers.
If you ask anyone to sing a Journey song, they'll start smiling and either humming or singing Don't Stop, as the tune has become a cultural phenomenon that has ensured that the band will never be forgotten.
Escape led to Journey having to found their own fan club, it enabled them to support the Rolling Stones and pushed them to record a song for the soundtrack to Disney's 1982 Science Fiction spectacular, Tron.
Journey had managed to do what few hard rock bands before them had done. They'd successfully crossed over into the mainstream and had become one of the most famous bands in the world.
And the Journey ride didn't stop there. It didn't even pause for breath, and in the middle of their 1982 tour to support Escape, they returned to the studio to record their eighth album Frontiers, which like Escape before it, went straight to the top of the Billboard album chart when it was released in February 1983, spawned another four (Separate Ways, Faithfully, Send Her My Love and After The Fall) top thirty singles and went on to sell six million copies.
And the tour that the band undertook to support it saw them playing the sort of venues that only the NFL could fill and included a sold-out show in Philadelphia that saw eighty thousand rabid Journey fans singing along with the band.
Raised On Radio
Fearing that if they continued at the same sort of pace they'd burn out, Perry, Schon, and the other members of the band decided to take some time off in 1984.
During the lull in Journey activities, both Steve Perry and Neal Schon recorded and released solo albums, with Schon deciding to frame his as a band effort rather than using his own name to release the resultant record.
The release of the solo, and sideband in Schon's case, records did lead to some speculation in the music press that Journey might be over, to which Schon responded by telling the interviewer that the band was too important to all of the members to let go and the reason that they'd taken time out was ton esquire that it could, and would continue.
When the band confirmed, following a conversation between Schon, Perry, and Cain, that they'd be returning to the studio to record a new album in 1986, their fans and the press heaved a collective sigh of relief.
Raised On Radio proved to be a difficult album to make, as singer Perry assumed production duties and a few months into making the record, with the assistance of Herbie Herbert he fired long time bass player Ross Valory and drummer Steve Smith, citing the age-old musical differences as the reason for their termination.
With a record to complete, Perry and Herbert drafted Randy Jackson and Larrie Londin to help Journey finish their ninth album.
When the record was finally released in April 1986, despite yielding five singles and the top ten hit Be Good To Yourself and climbing to Number Four on the Billboard Chart, Raised On Radio was seen as a reluctant, rather than a triumphant success it failed to attain the same commercial high as Journey's previous release.
So Long Steve Perry
Undaunted by the commercial performance of Raised On Radio (which still sold millions of copies, but didn't sell the additional millions that Columbia hoped a Journey record would), Journey hit the road for a sold-out stadium tour in 1986 that finally culminated in Alaska at the beginning of 1987.
Things weren't all great in the Journey camp though as Herbie Herbert and Steve Perry had continually clashed throughout the tour and by the time it was over, neither man wanted to spend any time in the other company. A line needed to be drawn in the sand, and Perry was the one who picked up a stick and drew it.
Perry decided that enough was enough, and told Schon and Cain that he wanted out, but the keyboard player being the most pragmatic member of the band told that rather than quitting, he should just take some time out. The singer agreed, and Journey decided that it was time that the band and its members needed to go on a break.
Eight Years And A Few Bands Later
What was initially supposed to be a short time out, eventually turned into an extended eight-year hiatus, during which Schon, Cain, and Perry only played together once in 1991 at a Bill Graham memorial show.
As 1995 crawled into view, Steve Perry called Schon and Cain and told them that he'd be willing to return to Journey as long as Herbie Herbert wasn't involved with the band anymore. Cain and Schon promptly fired their friend and manager and hired Eagles manager Irving Azoff to replace him.
With a new manager in place, Journey, including the previously fired Stevie Smith and Ross Valory reunited and began to write and record their tenth album, Trial By Fire.
Even though the record delivered the top twenty hit single When You Love A Woman, when it was released in October 1996, it woefully underperformed and is still one of Journey's worst-selling albums.
The band, especially Schon, rightly blamed the record's lack of success on the fact that it was heavy on ballads and didn't include the sort of uptempo, high-energy, hard rock anthems that the band's fans expected them to write, record release, and play. 
And playing had also become a contentious issue for the band. Perry, following a hiking accident in Hawaii, had discovered that he needed a hip replacement and had kept putting the surgery off.
The singer, as it would later be discovered was also plagued by a number of other physical ailments, and rather than giving the band's fans anything less than one hundred percent, he kept delaying the band's muted tour plans.
Journey couldn't tour to promote their record, which meant that the record, as far as the band being able to get out and play the songs from it for their fans was concerned, was dead in the water.
Back On The Road
It had been more than twelve months since the band had released Trial By Fire, and as Perry was still reluctant to commit to any firm touring schedule, following a difficult conversation with Cain, Steve Perry stepped away from Journey for good and went into semi-retirement.
Worried that the band wouldn't be the same without Perry, Smith also announced that he was leaving Journey. In the aftermath of two of its longest-serving members leaving the band, Journey, or rather the other members of the band, set about finding replacements for their departed comrades. Deen Castronovo, a musical acquaintance of Schon and Cain became Journey's new drummer while former Tyketto and Tall Stories singer Steve Augeri were brought in to replace Perry.
The band finally started touring again in 1998 after contributing a new track to the soundtrack for the film Armageddon and as the millennium dawned they once again entered the studio to record their eleventh album, Arrival which was finally released in April 2001.
Whether it was due to the climatic shift in the musical landscape, or the fact that the band's fans were just older and had moved on from their wild teenage rock and roll years, their latest opus failed to make the mark that the band hoped it would. It entered the Billboard Chart at Number 56, and its lead single fared even worse.
The future wasn't as bright as it had once seemed and Journey, following a brief tour in 2001, decided to take 2002 off to rethink their future.
From Then Until Now
Aguri's tenure in the band was brief due to his deteriorating health, and he was eventually replaced by Jeff Soto from Talisman while the band was on tour with Def Leppard in 2006. Soto spent less than a year in Journey before he in turn was replaced by Arnel Pineda in 2007, who is still a member of Journey and is their second longest-serving vocalist. 
In recognition of their incredible contributions to the music industry, Journey was inducted into the Rock and Roll Hall of Fame in 2017.
Just when it looked like things were finally getting back on track with the band, it was following an ongoing dispute Journey fractured into camps with the official band being led by Schon and Cain and an unofficial version being led by Valory and Smith.
That's when things started to get ugly with both parties threatening to sue each other and hurling lawsuits around like they were going out of fashion. It was an incredibly dark period in the band's history that was finally resolved in April 2021, and both parties when the legalities were concluded were able to walk away feeling as though they had won a partial victory.
Success, as far as Journey is concerned, is an incredibly costly experience, both personally and financially.
Following the conclusion of their ongoing legal battle, Journey released a single The Way We Used To Be in June 2021 and Neal Schon has promised that the release will shortly be followed by a new album. And when it does appear, we'll be the first in line to buy it, as just like their millions of other fans, we'll never stop believin' in Journey.
Journey Band Members Timeline
As you now know, Journey has had several notable members throughout its long and successful musical journey. From the early days to the present, the band has seen talented musicians come and go. Let's take a look at the timeline of the prominent members, categorized by their respective roles in the band.
Founding Members of Journey:
1. Neal Schon (Guitarist)
Joined Journey in 1973 as one of the founding members.
Continues to be an integral part of the band's lineup till today.
Known for his exceptional guitar skills and iconic solos.
2. Gregg Rolie (Keyboardist, Vocalist, and Drummer)
Also a founding member of the band in 1973.
Contributed as the main vocalist, drummer, and keyboard player.
Played a significant role in shaping the band's early sound.
3. Ross Valory (Bassist)
Joined the band in 1973 as a founding member.
Known for his melodic bass lines and occasional backing vocals.
Has had intermittent periods with the band, but remains an important member.
4. George Tickner (Guitarist)
One of the founding members who played guitar.
Actively contributed to the band's early years until his departure in 1975.
Drummers from Journey:
1. Prairie Prince (1974-1978)
Joined the band, replacing Prairie Prince.
A renowned drummer from The Mothers Of Invention and David Bowie's band.
Contributed to Journey's early success and played on their debut album.
2. Aynsley Dunbar (1973-1974)
Joined Journey in 1974 after the departure of their original drummer.
Was an established musician and brought his solid drumming skills to the band.
Left the band in 1978, but played an essential role during their formative years.
3. Steve Smith (1978-1985, 1995-1998)
Known for exceptional drumming skills during Journey's most successful era.
Featured on albums like "Escape" and "Frontiers" among others.
4. Larrie Londin (1985-1986)
Temporarily replaced Steve Smith during his departure from the band.
A short but notable tenure in Journey.
5. Mike Baird (1986-1987)
Filled in for Londin during Journey's "Raised on Radio" Tour.
6. Deen Castronovo (1998-present)
Officially joined the band in 1998, known for versatile drumming and vocals.
Served as the band's drummer until 2020 when he was briefly replaced by Narada Walden.
Rejoined Journey in 2021, becoming the current member.
7. Narada Walden (2020–2022)
Temporarily filled in for Deen Castronovo as the band's drummer.
Made notable contributions during his tenure with Journey.
Lead Singers of Journey:
1. Steve Perry (1977-1998)
Joined Journey in 1977 and became the band's lead vocalist.
Known for his powerful and distinctive voice, he played a pivotal role in the band's success.
Perry's tenure with the band lasted until 1998 and included hit albums like "Escape" and "Frontiers."
2. Steve Augeri (1998-2006)
Joined Journey as the successor to Steve Perry.
Fronted the band for nearly a decade, releasing albums like "Arrival" and "Revelation."
Departed from Journey in 2006 due to health issues.
3. Jeff Scott Soto (2006-2007)
Joined Journey as the lead vocalist following Augeri's departure.
Performed with the band for a short period covering various international shows.
4. Arnel Pineda (2007-Present)
Became Journey's lead vocalist after being discovered through YouTube.
With his remarkable vocal range, he helped the band regain popularity with new audiences.
Continues to captivate audiences worldwide as Journey's current frontman.
Keyboardists of Journey:
1. Stevie "Keys" Roseman (1980-1983)
Filled in for Rolie during Journey's Departure Tour.
Assumed keyboard duties temporarily.
2. Jonathan Cain (1980-present)
Joined Journey in 1980 and became an essential member.
Took over keyboard duties and co-wrote many hit songs.
Bassists and Guitarists from Journey:
1. Steve Perry (1978 – 1987, 1995 – 1998)
Many fans might not know that Perry also played guitar on some of the band's tracks
His contributions as a guitarist added depth and creativity to Journey's music
2. Steve Smith (1978 – 1985, 1995 – 1998)
Steve Smith also proved his proficiency as a guitarist during his time with the band
His ability to switch between drums and guitar added a dynamic element to their performance
3. Randy Jackson (1986 – 1987)
Randy Jackson's diverse musical background brought a fresh perspective to Journey's sound
Jackson later became a well-known TV personality and one of the judges on American Idol.
4. Todd Jensen (2021-Present)
Joined Journey as a bassist for their Las Vegas residency, starting on December 2021.
A seasoned musician with an impressive resume, having played with artists like SEQUEL, HARDLINE, and HARLOW.
Filled in on bass for Journey during the six shows of their residency
Throughout the band's history, Journey has seen multiple personnel changes, but their music and legacy have continued to resonate with fans across generations. These talented individuals have each made significant contributions, leaving an indelible mark on the band's evolution and success.
Frequently Asked Questions about Journey
Q1: What is Journey's net worth?
As of July 2023, Journey Band's net worth is $8.87B.
Q2: Is Arnel Pineda still with Journey?
Yes, Arnel Pineda is currently the lead singer of Journey.
Q3: Are any of the current Journey members originals?
No, none of the current members of Journey are original members. The original members of Journey include Gregg Rolie, Neal Schon, Ross Valory, and George Tickner.
Q4: When was the last time Steve Perry sang with Journey?
The last time Steve Perry sang with Journey was in 1991. After leaving the band in 1998, he rejoined briefly for a reunion album and tour in 1996-1997, but they parted ways again after that.
Similar Stories…