Darrell Abbott was famous for being one of the greatest metal guitarists of all time. Iconically known by his stage name, Dimebag Darrell, Abbott had a successful music career that spanned over 20 years.
Performing with Pantera and Damageplan, both of which he helped co-found with his brother Vinnie, he is considered to be a heavy metal legend.
Darrell remained successful until his tragic passing on December 8, 2004, when a fan shot him dead during a concert on stage in Columbus, Ohio. This tragic event rocked the music industry and still remains one of the most tragic events to ever happen on stage.
How was such a great heavy metal legend's life brought to an end in such a way? What happened in Dimebag Darrell's life before his assassination?
Those are two things we're going to take a look at in this article which takes a closer look at Dimebag Darrell Abbott's life.
Let's get started!
How Did Dimebag Darrell Become Famous?
There's no question as to how Dimebag Darrell Abbott became famous. The guitar legend rose to stardom because of two iconic heavy metal bands.
Those bands were Damageplan and Pantera.
Ranked at No. 92 on Rolling Stones list of "The Greatest Guitarists of All Time", Dimebag's bands were famous for albums such as 'Cowboys from Hell' and 'New Found Power'.
Sadly, Abbott is perhaps equally famous for his tragic death. At the age of 38, when performing in Ohio, Dimebag was one of three people killed by a fan who jumped on stage with a 9mm Beretta handgun.
Who Was Dimebag Darrell Abbott?
So, who exactly was the man who became known as Dimebag Darrell? Darrell Abbott was born on August 20, 1966, in Texas, United States. The second son to Carolyn and Jerry Abbott, his father was a famous producer that worked in the country music industry.
Despite his parent's divorce when he was 13, Darrell and his brother Vinnie lived a perfectly happy life. It is believed that Abbott admired his father's own music career, which is a fair assumption given his passion for the industry.
He started playing the guitar when he was just 12 years old. However, unlike his father's perchance for country music, he was a lover of heavy metal. He continued to develop his skills until he joined the fledgling band Pantera at the age of 16.
It was at this young age that Pantera released its first album. The band would go on to release two more glam metal-style albums in the 12 months that followed.
Abbott continued to develop the band's music in a new direction until it evolved into a pure heavy metal band.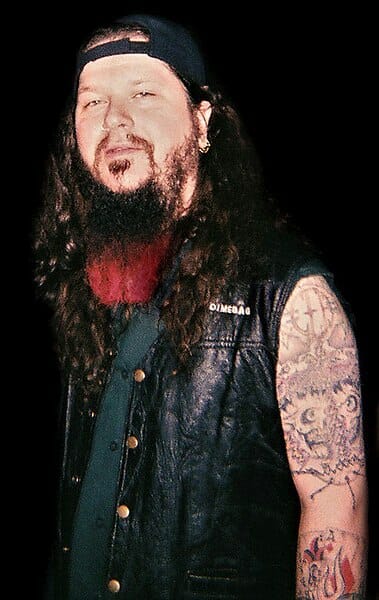 Darrell Abbott As A Kid
As a young child, Dimebag Darrel's love for music quickly grew. His passion for the industry led to his desire to learn the guitar. At the age of 12, Dimebag was given a Hohner guitar by his mother.
At first, Abbott would simply sit in his bedroom with his guitar in his hands as he didn't know how to play it yet. He took most of his inspiration and aspirations from the likes of KISS, Black Sabbath and Judas Priest.
Before long, Darrell would start to enter music competitions, most of which he won by playing his guitar. He was so young that his mother would have to go with him to each competition.
Conveniently for the brothers, Vinnie loved to play the drums. This made it much easier for them to form a band eventually. Dimebag once tried to learn the drums but quit because he felt intimidated by his brother's ability.
It's very clear that the two Abbott brothers grew closer with their shared love for music. It soon became obvious that the two were destined for musical greatness. Their band's first-ever jam session was six hours long. This jam session was called Smoke on the Water.
It was music that made the brothers inseparable. Tragically, it was only Darrell's death that separated the brothers.
A Guitarist With Legendary Status
The legacy Dimebag Darrell Abbott left behind when he died on December 8 lives on. The legendary guitarist is still named on the greatest guitarist lists and his music is still played all over the world.
Despite ranking 92 on the "Greatest Guitarist of All Time" list, many fans and heavy metal lovers would still rank him higher. For many people just starting out, Dimebag Darrell is the guitarist they aspire to be.
His technical guitar playing helped make both Pantera and Damageplan a success. To this day, Vinnie still strives to keep his brother's legacy going.
He is loved and respected by many of his contemporaries, with the lead singer from Korn, Jonathan Davis saying;
If there was no Dimebag Darrell, there would be no Korn.
He Wasn't Always Dimebag Darrell Abbott
One of the more unique things about both Pantera and Damageplan is how they were never afraid to change. While the band's music was much-loved and still is, the band never hesitated to make a change if they thought it necessary.
This can be seen in Pantera's change from a glam metal band to a full-blown heavy metal band. That's not all that changed either. At the start of his music career, Dimebag Darrell Abbott was actually known as "Diamond Darrell Abbott".
He only changed his stage name to Dimebag Darrell to match the band's attitude change. This change occurred around the time Pantera released one of the best heavy metal albums ever. That album was Vulgar Display of Power.
Dimebag Darrell's Relationship With Rita Haney
At the time of his death, Dimebag Darrell was in a long-term relationship with his girlfriend, Rita Haney. A woman with many musical talents of her own, she shared a wonderful relationship with Abbott. In all truth, they had a relationship like not many other famous couples are able to achieve.
Unlike most music relationships we hear about, Haney and Abbott had an incredibly loyal relationship free from the drama and chaos the music industry tends to stir up. Together since 1984, the couple was still together when Dimebag was murdered on stage.
In an interview discussing the legendary heavy metal guitarist, Haney explained how the two met when they were just 8 years old. The two lived in the same neighborhood, regularly meeting up with each other on their bikes.
With just 10 days separating their birthdays, their love story is straight out of the movies and the young friends bonded over their shared love for KISS. Dimebag and Haney continued to be friends for many years until they eventually made the decision to start dating.
They officially started starting in 1984. They remained a strong couple until the day Dimebag died in 2004. Even after his death, Rita still has her love for Abbott. She still thinks about her lost lover every day, cherishing every memory they shared.
Rita Haney fondly remembers Darrell Abbott. She remembers his loving ways and how he always did everything he could to give her the best life.
With great affection and respect for the man she loves, Haney still regularly talks about how the two would often spend time cooking in the kitchen, attending parties, and simply enjoying each other's company.
She was particularly fond of his sense of humor and unparalleled affection.
To this day, Rita Haney still raises money for charity in Dimebag's name. She has also given a lot of her time to organizing two yearly events in Dimebag's name.
One is a jam session and barbecue with rock legends and another is a VIP Poker Run, with motorcycles riding all over Texas.
Dimebag's Career And The Forming of His Bands
Pantera was formed in 1981 when Vinnie's classmates Terry Glaze (guitar), Tommy Bradford (bass), and Donnie Hart (vocals) asked him to join their band.
Vinnie agreed to join the band but only under one condition. That condition was that Darrell could join too. Despite being reluctant too because of Darrell's age, the band agreed.
From there the band quickly began to change. Just a year later in 1982, Donny Hart left. He was replaced on the microphone by Glaze. Tommy Bradford also left the band, with Rex Brown taking his place.
Not long after, Abbott became the band's lead guitarist. At first, he shared the position with Glaze.
Terry Glaze openly admitted that Dimebag was a faster learner and that his hard work helped him become a much better guitar player in just six months.
Soon the brothers were able to play like their inspirations such as Ace Frehley and Eric Carr from KISS. It was from KISS's song Black Diamond that Darrell became known as Diamond Darrell.
Pantera tried hard to create the right image and branding. At the time, most of the band were big lovers of KISS.
Therefore, they decided to take inspiration from their idols and start performing in a similar way. The first steps they took were to wear makeup and spandex on stage.
During this time, the band was signed to Metal Magic Record, which happened to be owned by the boy's father, Jerry Abbott.
Soon after, in 1983, the band released its first album. This album was called Metal Magic. Dimebag was only 16 at the time. The album was a glam metal-style album.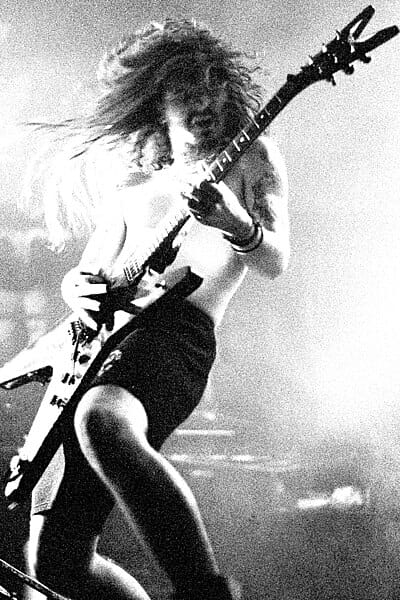 Their Music Starts To Get Heavy
As the band continued to grow and evolve, so did the music. As ambitions grew and Dimebag was more and more influenced by the music of Slayer and Metallica, so was his desire to play louder, more heavy metal-style music.
Glaze was unhappy with the Metallica influence, particularly when it came to the band's Ride the Lightning album, so he decided to leave the band in 1986. Shortly after, Phil Anselmo took his place.
The music continued to evolve and get louder until the band became a fully-fledged heavy metal band. Even though the band changed record labels to Gold Mountain Records, they still released Power Metal under the Metal Magic label.
Why Did The Band Change Record Labels?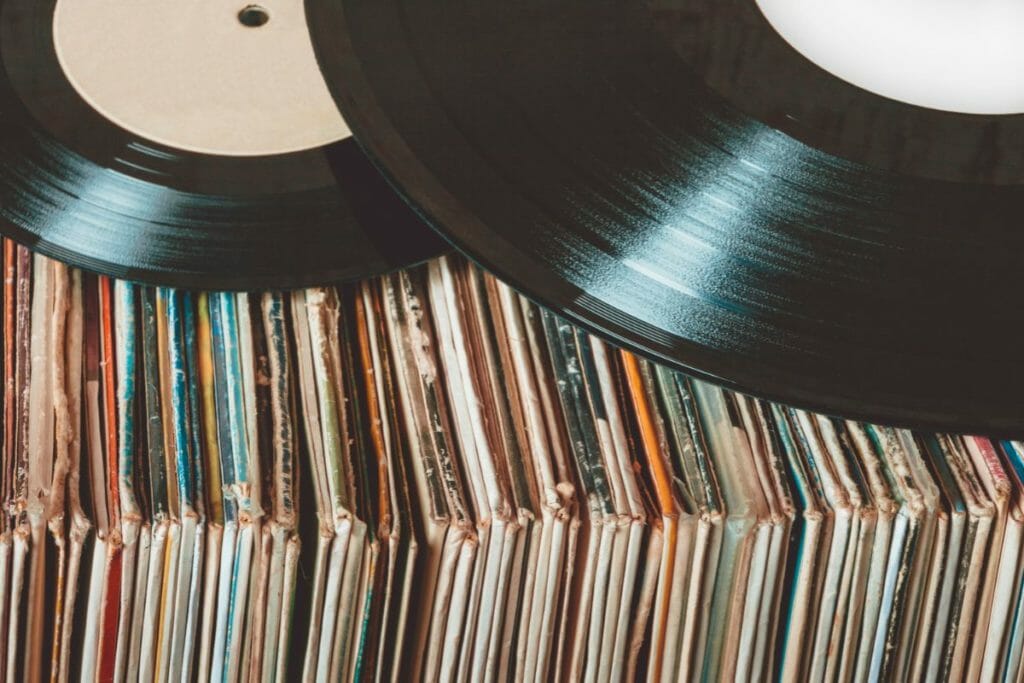 When the band's music evolved into a more traditional heavy metal style, the relationship between the band and Metal Magic started to break down, despite the company being owned by Darrell and Vinnie's father.
The band and record label had different opinions in relation to the direction the band wanted to take. After their fourth album, the two parted ways. A lot of Pantera fans strongly believe that it was the best thing the band could have done.
The label wanted the band to become more like Bon Jovi but the band didn't like that. Instead, the band went on to become one of the best heavy metal bands in the world.
Finding Another Label Was Tough
The search for a new record label wasn't easy for the band and it took them a while to get signed. In the end, Pantera decided to join Atco Records. Atco Records weren't a major label at the time so the decision was a brave one.
Luckily, this band was always bold and happy to change things if necessary. Having said that, Atco Records weren't the band's first choice.
The band's management had contacts at Metal Blade Records so they tried to work with them first.
Why Did Metal Blade Records Say No?
The reason Metal Blade Records said no to Pantera is pretty simple, they couldn't afford the band. The band wanted the record label to pay $75,000 for their new album. At the time, this was too much for the relatively new label.
The label decided that it couldn't take the risk. This led to the band striking a deal with Atco Records instead. Considering the future success of the band, this is probably a decision Metal Blade Records went on to regret.
Cowboys From Hell
Terry Date helped Pantera produce Cowboys from Hell. The band then released the album in 1990. Originally, the band wanted Max Norman to help produce the new release. Unfortunately, he was too busy helping Lynch Mob create their new release.
The album was a big hit. So much so that they spent most of their 1990 tours performing it. The album was the introduction to what would be Pantera's signature sound, and Date went on to produce three more of the band's albums.
It was these tours that elevated the band to new levels of fame and gave Dimebag recognition on the world stage. Sadly, this fame was mishandled by Dimebag who turned to heavy drinking.
Vulgar Display Of Power Came Next
Peaking at No. 44 in America on the Billboard Top 200, the next major album Pantera released was Vulgar Display Of Power in 1992. The band worked hard to release two projects in just two years.
Nobody worked harder than Darrell Abbott though. Dimebag Darrell composed almost all of the tracks on the album.
Interestingly, he created a new tone by pairing his guitar with Brown's. The tracks Dimebag made increased his exposure, giving him more freedom to compose more solos and rhythms.
The album was another huge hit. Not long after, Abbott changed his stage name to Dimebag Darrell. The name was originally coined by Anselmo in reference to the fact that Darrell would never take more than a dime bag of weed at a time, even if it was free. He would later say that it was due to him not wanting to be caught with a larger amount of the drug.
Heavy Drug Taking While Recording
Pantera's albums were recorded at Pantego Sound studio. However, that studio closed in 199 and the band had to find somewhere new. The best option the band could find was Abtrax, a music studio the band had to fly to Nashville to record in.
It was at this studio the Far Beyond Driven album was produced. Flying back and forth and staying in hotels for weeks at a time was costly for the band, but it was actually something else that took its toll. During the long weeks away from home, some band members started abusing drugs.
Although some members of the band started abusing drugs, their next album was still released with success. In fact, in the year that followed the release of the album, Pantera experienced its greatest successes.
It was during this period that their transformation into a true heavy metal band was complete. The hard work for Dimebag Darrell had finally paid off. Reaching No. 1 in the top 200, the album sold more than 180,000 copies in its first week.
Separation Begins
Fractions within the band during the performances of their latest album started to appear. During the band's tours, Anselmo started to suffer from chronic back pain. As a result, he would self-medicate with painkillers, heroin, and alcohol.
This soon resulted in him isolating himself away from the band. He would even take a separate tour bus and meet the band and each venue. Anselmo became addicted to the medication, which he would take alongside a bottle of alcohol to numb any pain he was feeling.
On some occasions, Anselmo would even perform whilst drunk, pausing at times to rant.
The tension within the band got so bad that they even started to record albums separately. When the band recorded its album, The Great Southern Trendkill, band members recorded their part of the album separately before the music was mixed together.
On July 13th, 1996 Anselmo collapsed from an overdose after a performance. The heroin overdose left him clinically dead for a terrifying 5 minutes. Though he recovered and went on to perform again, the situation painted a bad picture of the band.
Over the following months, the band continued to grow apart. This made it increasingly difficult to produce new music. For obvious reasons, it became much harder to get Anselmo to play his part too.
It was now looking like the end really was in sight for the band. Things got harder for Dimebag and Vinny too as their mother was sadly diagnosed with lung cancer.
She died just 6 weeks after being diagnosed. However, the band still managed to release one more album in 2000.
Moving On To Other Projects
Despite their troubles, the band was expected to tour Europe in 2001. However, this was in September and was canceled due to the attacks on the World Trade center. After the cancellation of the tour, the band decided to take a break.
During this break, Pantera's band members decided to focus on their own projects. Brown played a part in Down's latest release, while Anselmo's band released a new album.
There were plans for the band to come back together in 2003 but Brown and Anselmo decided not to return. After years of making music history, Pantera fell apart.
Vinnie And Dimebag's New Band
After the band broke up, Dimebag and Vinnie decided to start a new band. This was no easy decision as the break-up of their previous band hit the brothers pretty hard. However, they went ahead with their plans and started Damageplan.
Patrick Lachman and Bob Kakaha joined the brothers, with Bob on bass and Patrick on vocals. By 2003, the band was signed up to Elektra Records. The first album the band produced sold over 40,000 copies. This was nothing close to the levels Pantera reached.
However, less than 10 months later, the band had sold a fantastic 160,000 copies. The success might not have been as impressive but the brothers found themselves in a much happier environment.
The Fan Base Followed Dimebag And Vinnie
Despite the changes, a lot of Dimebag's fans followed his new band. Of course, the smaller gigs the band performed weren't as spectacular as Pantera's, but that didn't mean that the fans weren't still excited to watch the band perform.
In fact, these smaller gigs gave fans a great opportunity to see their heavy metal heroes up close and personal. Fans were treated to a much more intimate performance.
One of these smaller tours saw the band visit Alrosa Villa in Columbus, Ohio. This was the nightclub in which Dimebag was shot on December 8, 2004, along with three other people.
It was a devastating end to what was an incredible musical legacy. It was also one Dimebag hadn't yet finished creating.
Dimebag Darrell Abbott's Death
Tragically, Dimebag Darrell was shot in the head while performing on stage. He was disgracefully murdered by a 25-year-old former marine called Nathan Gale. An ex-marine cop, Gale left his line of work unceremoniously. While the Marine Corps never released the reasons for his discharge, Gale told his mother it was due to his paranoid schizophrenia.
Unbelievably, Nathan Gale was actually a huge fan of Dimebag's band Pantera. He is thought to have killed Dimebag as a result of the band's split.
Dimebag Darrell wasn't the only person Gale tried to kill. Gale also wanted to kill Vinnie Abbott too. Thankfully, he wasn't successful. However, he did kill another three people.
Vinnie was very lucky to survive the attack. In an interview, he discussed how he managed to hide behind his drums to avoid being murdered too.
Who Were The Other People Killed In The Columbus Nightclub Shooting?
There were three other people killed by Nathan Gale that night. They were Jeff Thompson, Erin A. Halk, and Nathan Bray. Jeff "Mayhem" Thompson was the band's head of security and was shot when attempting to tackle Gale.
Erin A. Halk was just 29 years old when he died. He was an employee that helped set up and run the event. Finally, Nathan Bray was the youngest of those killed. He was a 23-year-old heavy metal fan that had traveled to see Dimebag and the band perform live.
Tragically, Bray was killed by the gunman as he tried to save Thompson and Dimebag. The gunman returned to the stage to open fire again. Police later killed Nathan Gale after he murdered four people.
The Murderer Snuck His Way In
Nathan Gale, the shooter that killed Dimebag and three others, hung around the Alrosa Villa parking lot without any intention of actually taking in any of the other band's performances.
When asked about this outside the venue, Gale explained that he had no interest in the local bands. Instead, he only wanted to watch Damageplan.
While the venue's manager thought Gale was simply a fan without a ticket, a band employee later chased him off.
Unfortunately, the shooter got back into Alrosa Villa by climbing over a wall. He then entered through the club's side door.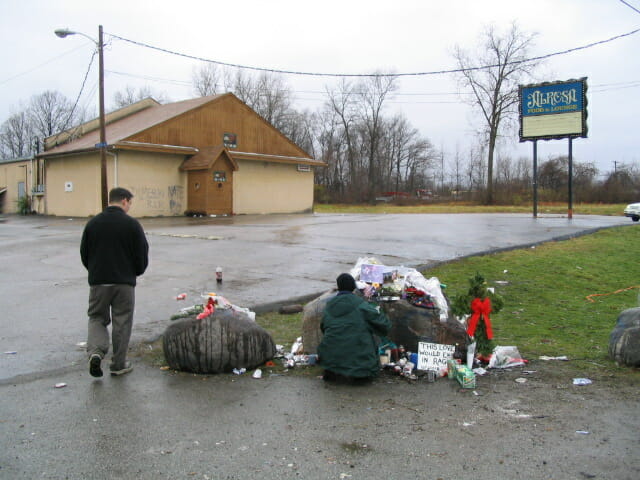 What Happened?
The attack on Dimebag took place just after Damageplan started playing "New Found Power". As the song started, Gale stormed onto the stage past the pool tables that sat next to the stage.
He then pulled out his Beretta 9mm handgun and shot Dimebag in the forehead. After the first shot, most fans and the club's employees didn't realize what had happened.
Some people simply thought there was a problem with the speakers. Bartenders even continued to pour drinks.
Shortly after the first shot, Abbott's guitar made a loud shrieking noise. This was then followed by Gale firing shots into the crowd. At this moment the chaos of the situation became clear to all.
Fans quickly began to understand the horror of what was happening. Travis Burnett was one of the people in the crowd that was injured while Jeffrey Thompson, Erin A. Halk, and Nathan Bray were sadly killed along with Dimebag.
Nathan Bray And Erin Halk Were Heroes
Nathan Bray and Erin Halk both deserve a mention for their bravery during the chaos that took place in the Alrosa Villa.
Nathan Bray didn't hesitate to jump on the stage and attempt to resuscitate Dimebag. He also tried to help Jeffrey Thompson. Bray was shot and killed in the process.
Halk worked for the club and he bravely tried to get the gun off Gale. The killer managed to turn the gun on him and kill Halk. Both gave their lives trying to save others.
Gale Was Killed By Police
Dimebag bled on the stage for approximately 20 minutes. A nurse in the crowd did all she could to try and save him but it was too late. The heavy metal legend died on the scene.
For Gale, his mission was far from over. He eventually took a male hostage, holding a gun against his head. However, local police officer James Niggemeyer managed to appear backstage and shoot Gale with a Remington 12 gauge shotgun. Gale was killed instantly.
The Shooter Was Mentally Troubled
Gale left the marines in 2002 and the official reason was never released. He was generally considered to be a friendly person that never showed any signs of violence.
However, in the months before the shooting, his friends noticed a number of changes that would suggest he had mental troubles.
They noticed that Gale would laugh and talk to himself regularly. Petty crimes also started creeping into Gale's lifestyle. He was even arrested for driving on a suspended license.
Vinnie Passed Away 13 Years Later
13 years after Dimebag's murder, Vinnie Abbott died. Vinnie passed away in 2018 as a result of heart disease. He was only 53.
Today, Darrell and Vinnie are buried alongside each other in KISS caskets. The brothers also rest alongside their mother.
Did Pantera's Split Cause The Shooting?
Considering the split of Pantera was one of the main reasons Gale took it upon himself to murder Dimebag, it's important to understand why the band split up. After all, if they hadn't, there's a good chance Dimebag would still be alive.
Despite their success, the band was affected by tensions from within. Eventually, this took its toll on the band and negatively impacted their music production. The band released their last album in 2000 before finally splitting 3 years later.
During their time together, Pantera released 9 albums. After the band broke up, Dimebag and his brother Vinnie formed another band, Damageplan. It was Damageplan that was performing when Dimebag was killed.
Pantera was hugely successful. They had 18 years of continued growth and success before their break up.
The huge fan base they had helped the band sell more than 7 million records, with Far Beyond Driven alone selling more than 1.4 million copies.
Upon their separation, most fans were left feeling upset. However, one man took his feelings to a horrific level.
It is believed that it was his upset towards Pantera's break-up that played a part in Gale's decision to murder Dimebag. He also tried to kill his brother Vinnie, as they both founded the band.
On the night Abbott was murdered, there were four different bands performing at the nightclub in Ohio. Despite having a capacity of 600, only approximately 250 fans bought tickets.
To Summarize – A Wonderful Life Cut Too Short
Dimebag Darell Abbott led a wonderful life that was cut far too short. A master of his craft, together with his brother, Dimebag Darrell was instrumental in creating two excellent bands that made some of the very best heavy metal albums.
While his biggest success came with Pantera, he was also on the right path to success with Damageplan too.
If it wasn't for Nathan Gale murdering Dimebag on December 8, 2004, we can all be sure he would have gone on to make even more hits.
Today, his legacy lives on in the historic music he produced and through the dedication of his long-term partner Rita Haney. One thing is for certain, they'll never be another like Dimebag Darrell.
To get some more insight into the life and death of Dimebag Darrell Abbott, make sure you watch this video from Mirror Mind.
Frequently Asked Questions
How Did Dimebag Darrell Die?
Dimebag Darrell was fatally shot in the head while performing with his band Damageplan at the Alrosa Villa nightclub in Columbus, Ohio.
When Did Dimebag Darrell Die?
He died on December 8, 2004.
Who Killed Dimebag Darrell?
Dimebag Darrell was killed by a deranged fan and former marine Nathan Gale.
How Old Was Dimebag Darrell When He Died?
Dimebag Darrell was 38 years old when he was shot.