Pantera is one of the archetypal thrash metal bands, originally starting as a glam rock band with a different vocalist, the band took a new direction into heavier music with the instating of Phil Anselmo as the new Pantera lead singer.
While a long period of success followed, recent details from Phil Anselmo show that creative success doesn't always lead to happiness as he discusses his substance abuse issues which caused the band to fracture while creating their highly critiqued album The Great Southern Trendkill.
Keep reading to find out how Anselmo's own troubles marred one of the band's most successful musical periods.
A Change In Direction For Pantera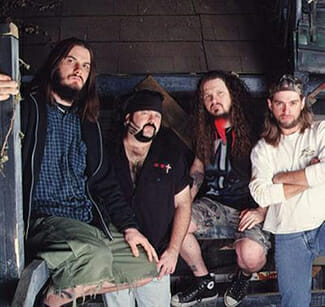 Many casual Pantera fans will be surprised to hear that the popular thrash metal band initially started life as a glam outfit.
Originally performing under the names 'Gemini' and 'Eternity', before eventually landing on 'Pantera' the band consisted of Vinnie Paul Abbott on drums, 'Dimebag' Darrell Abbott on lead guitar, Terry Glaze on rhythm guitar with vocalists Donny Hart and Tommy Bradford completing the band's initial glam set up.
Only Dimebag Darrell, his brother Vinnie, and Rex Brown, who replaced Bradford on bass, would join Anselmo in the later heavier rebranding of the band.
Yet, the initial glam setup drew some attention in the underground scenes of the Southern US states, supporting other legendary bands such as Quiet Riot – prior to lead singer Kevin DuBrow's death, and Dokken.
Their first album Metal Magic (1983) was ironically a glam album, produced by the father of Dimebag and Vinnie, Jerry Abbott.
This was followed by a slightly heavier release Projects in the Jungle the following year, continuing to be produced by Jerry Abbott.
The heavy metal press began to have their ears pricked by their third album in this glam era I am the Night in 1985.
Phil Anselmo's Introduction
With the success of heavy metal in the US at the time, following the success of Metallica (whose singer, James Hetfield had his own struggles with addiction), Slayer, Anthrax, and Megadeth, often referred to as 'The Big Four', Pantera chose to push the heavier sound they had been playing around with.
The big change here was the introduction of the new Pantera lead singer, Phil Anselmo who was already big into the heavy metal scene, as well as the loss of certain band members who weren't fit for their foray into a heavy metal image.
What followed would comprise 7 years of success as a heavy metal outfit that would soon become a foundational band of the metal genre.
Four albums followed Anselmo's new position in the band, most notably Cowboys From Hell featuring the single of the same name that became the go-to song to explain Pantera's new heavy thrash style accompanied by Anselmo's fitting raspy vocals.
Back Troubles Lead To Drug Troubles For The Pantera Lead Singer
In 1994 Anselmo gained a bad rep after being charged with the assault of a security guard when fans weren't allowed to rush the stage.
This landed him on a $5000 bail which he paid the following day. He plead guilty to these charges in 1995 and was ordered to undergo 100 hours of community service.
On top of some clear aggression issues, Anselmo reportedly suffered a back injury in the mid-90s which led to a lot of pain for the singer who was already constantly touring with a very active metal band.
To get over the pain he self-medicated with alcohol, painkillers, muscle relaxers, and later, heroin. This prolonged drug abuse and pain management began to affect his musical performances as well as his personal relationship with the band.
Doctors suggested that with rest and time his back could have healed but on a rocketship to metal stardom, neither he nor the band was likely to put the brakes on.
Phil Anselmo's Increasingly Troubling Behavior
During this period Anselmo was known for his on-stage rants, likely not supported by the band, where he would often make outlandish remarks about race.
While Anselmo declares he isn't racist, his comments weren't taken lightly by the band or their critics.
In Anselmo's own words he was:
[…] in a superbly dark fucking spot when we did that record…
Referring to The Great Southern Trendkill,
[…] and what I remember about doing it was pretty ugly but I was surrounded by beautiful things
It was the first record I did away from the band. I was injured, I was addicted to drugs.
Anselmo recorded his parts on the record alone in Nine Inch Nail's frontman Trent Reznor's studio, while the rest of the band recorded the album in Texas.
The vocal overdubbing done by Anselmo had a demonic edge that certainly added to the record's dark feel.
Songs such as 'Suicide Note Pt.I' and 'Pt. II' as well as 'Drag the Waters' exemplify this strange isolated feeling to Anselmo's vocals as well as the lyrics targeting his drug abuse.
The Release
The album was released with great success in May 1996, however, two months later while on tour Anselmo underwent cardiac arrest after a show after taking a higher-than-usual dose of heroin. Anselmo literally died for a short period but was revived by paramedics.
The band released a press release stating: 'I, Phillip H. Anselmo […] injected a lethal dose of heroin into my arm, and died for four to five minutes.'
It seemed this press release was the only way for the band, their fans, and Anselmo to recognize how dangerous his self-medication with heroin was and is.
Yet Anselmo recognizes that
sometimes when you're in those dark places, they make for some goddamn good music, or interesting expression of music, and art in general.
This is a good description of the eighth studio album from Pantera, the music expressed what was going on in the band, it was, disjointed, complex, and deconstructed, which created one of their most cult-acclaimed albums.
Final Thoughts
In 2005 Anselmo stopped using hard drugs so he could be cleared for surgery following the success of Pantera's final album with Anselmo – Reinventing the Steel in 2000.
The diagnosis was that degenerative disc disease was what led to his back pain and injuries. After several months of rehab and rest, Anselmo returned to touring and music clean from hard drugs.
This story shows how dark times can create some extremely compelling music that occurred through Phil's own demons and his falling out with the band.
But it is also a story of how self-medication can be fatal, especially when heroin is involved.
Luckily, Anselmo survived his journey with drugs and lived to see himself become a legend in metal alongside his bandmates who changed the genre forever. Unfortunately, troubles with addiction are all too common in the industry and have led to the members of many bands taking time away from their projects, including Korn bassist Fieldy.
To find out how the Pantera lead singer Phil Anselmo finally managed to quit hard drugs, be sure to check out this video from Loudwire.