Tastes so good,

Makes a grown man cry

Sweet Cherry Pie
Cast your mind back to the embers of glam rock and hair metal that were just burning out in the 1990s to make way for a new generation of rockers. You may remember a sultry music video for a tongue-in-cheek song about a woman who could make a grown man cry.
We're talking about Bobbie Brown in Warrant's music video for their single 'Cherry Pie'. What this video represents is the start of a series of seductive scrapes, undertaken by Miss Brown, within the changing world of metal and rock music.
There's no better way to understand this part of rock history than through the eyes of Miss Bobbie Brown, who co-wrote a memoir in 2014 titled Dirty Rocker Boys, which is essentially the female version of the infamous Mötley Crüe tell-all, The Dirt.
Being the most notorious band in the world, Mötley Crüe has no shortage of scandalous stories, including the tragedy of Vince Neil's car crash that claimed the life of Nicholas "Razzle" Dingley, of Hanoi Rocks fame.
The scrapes that Miss Brown tells give us a unique insight into many lives as well as the industry itself. The memoir has everything, dirty secrets, mysterious deaths, sex, drugs, and most importantly, rock and roll.
Follow us through Miss Brown's journey to gain a unique insight into this period of rock history!
The Early Life Of Miss Louisiana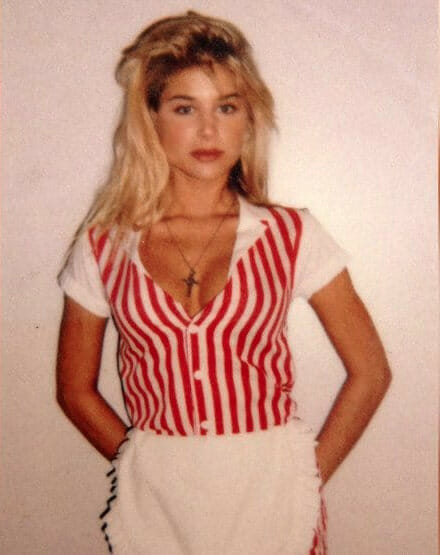 Like any good story, we need to go back to the beginning, before even the 'Cherry Pie' video.
Bobbie Jean Brown was born in Baton Rouge, Louisiana in 1969. She was the eldest of four children, which would have caused her to grow up quickly in within the confines of a working-class family in the South during the 60s.
This became evident as her parent's relationship began to go downhill. She discusses in the book how much this affected her, as the eldest of the family, she had to step up in order to meet her sibling's needs for love and care.
They divorced by the time Bobbie was a freshman in high school, with her mother remarrying soon after. Bobbie likely felt some release as that part of her life was over and looked to set loose and become her own woman, wanting to get away from the bluegrass of Louisiana.
As she grew older she realized her good looks could carry her far beyond her humble upbringing, finally getting the attention she missed out on as a kid, she entered, and won Miss Louisiana Teen USA 1987, and represented Louisiana in the Miss Teen USA 1987 pageant.
Before long, she was starring in commercials for major brands, including "The King of Beers" – Budweiser. Soon she was drawing interest from many who wanted to use Brown's magnificent features to sell their goods.
Bobbie Brown The Model And Actress
By 1990 she was already on the box and in American homes all over the country. She hosted the fashion show Preview: The Best of the New, as well as three episodes of Married… with Children.
She also made an appearance in the 1993 film Last Action Hero, starring alongside Arnold Schwarzenegger.
Later she reports that the opportunities presented to her in this industry were frequent and ready to be snatched by a willing young woman who so wanted them.
But her later relationships and abuse troubles took priority.
---
RELATED: Meet The 'Super Groupie' – Pamela Des Barres
---
Bobbie Brown – Sweet Like Cherry Pie
What soon became clear is that Brown was suited perfectly for music videos, especially rock'n'roll music videos. Thanks to her blue eyes, long blonde hair, and curvaceous figure, she was the perfect fit as the archetypal dream girl of many a young fan of rock and roll.
She started off by appearing in a few music videos for the rock band Great White, appearing in 'Once Bitten, Twice Shy' and 'House of Broken Love', and later Hurricane's 'I'm On To You', 'Louie Louie' and 'Sittin' In The Lap Of Luxury'.
Although, she was best known for her performance in Warrant's 'Cherry Pie'.
The track 'Cherry Pie' itself, reached number 10 in the Billboard Hot 100, with many describing it as a 'hair metal anthem'.
The music video itself perhaps garnered more attention than it should have for what is a fairly shallow song. Lead singer Jani Lane admits he wrote in 15 minutes. Once being quoted, on a bad day, as saying:
'I could shoot myself in the head for writing that song'.
But in her books, Bobbie tells of how creative Jani Lane really was, and how his creativity influenced her as well as the band and genre in general.
She reports many times seeing him writing and dealing with publishing: "He was a really creative and prolific guy"
Yet, Jani Lane heavily defended the music video at the time, one which Howard Johnson, when writing for Classic Rock, ranked as No. 3 on his list of The Top 10 Best Hair Metal Videos.
Lane suggested that the criticism of the video as 'sexist' was missing an important hue of irony:
"It's so over the top, how could anyone think it was anything but a spoof of other hair metal videos, you know?

If people think it was sexist, it was only sexist as a parody of sexism."
This came as a result of the video being banned on the Canadian music network MuchMusic on the grounds that it was what they deemed as 'overly sexist'.
While sexism is a bit of a reach, watching them drop a slice of pie in Miss Brown's lap and then proceed to hose her down might be a little too direct for the overly polite Canadian viewers (sorry Canada).
A Whirlwind Romance Between Bobbie Brown And Jani Lane
It seems like it might have all been a bit too much for Jani Lane to resist, having spent time with Miss Brown while filming, had found he had fallen in love with the pin-up girl himself. It seems that Lane started to pursue her directly after filming, even though he knew she was taken.
Alongside contemporaries such as Bebe Buell and Sable Starr, Bobbie Brown clearly had a thing for guys in a band. Most of her relationships are composed of members of rock bands, and other celebrities.
Even before Lane, she was dating Matthew Nelson of the band Nelson, but Lane sent him a rather direct and clear message on The Howard Stern Show, declaring his love for Brown:
"Matthew Nelson, I don't even care who you are or what you think. I'm gonna marry Bobbie Brown.

I love her, and she is the one woman in the world for me."
This clear declaration of love seemed to work and turned the head the most sought-after girl in this period, as she soon fell for Lane.
Whirlwind romances are not that uncommon within the world of Rock and Roll, and this is one for ages.
After their first date at a Warrant gig, they were both in love, and merely four months after they met, Brown and Lane were pregnant with their only child who would be called Taylar Lane.
A hair metal relationship of dreams, but it soon turned rather sour.
In her memoirs Brown remained rather open about how her father and his troubled relationship with her mother affected a lot of her own relationships, being unwilling to stick around for too long when things got ugly.
Brown goes on to report how after their wedding, bearing in mind they had been together for no more than a year, she started to realize his drinking would become an issue and that he turned 'mean' when he drank.
This all came to a head when Janie Lane cheated on Miss Brown, rather unbelievably, and she was heartbroken as a result and left him.
The Dirt Between Bobbie Brown And Tommy Lee
After breaking up with Lane for cheating, she quickly found solace in the arms of Tommy Lee, whom she was engaged to, soon after her divorce with Lane. Although this proved to be another fling as she tells of how they broke up amicably soon after.
We all have heard of Mötley Crüe's tell-all book The Dirt, and Brown herself clearly took inspiration from their honesty.
In Brown's memoir, she talks a lot about her time with Tommy Lee, the drummer for Mötley Crüe, which she describes as the moment she 'went off the deep end for real'.
Yet, this seems more like two lost souls who sought shelter in each other's damaged egos.
Even Tommy Lee's sister, Athena Lee, a future colleague on Brown's later appearances on the reality TV show, Ex-Wives of Rock, commented that Brown was 'much nicer about my brother than expected'.
Much of the book describes her time with Tommy Lee, her struggles with drugs, and what she describes as her downfall at that time. Although after her relationship with Tommy she seemed to enter an even darker period, after some sunlight.
From Bad To Good To Worse
In what proves to be a classic Tommy Lee story, revealed by Brown, only four days after her break up with Lee he had become married to Pamela Anderson, and another whirlwind romance in Rock history ensued.
The first chapter of her book starts with the scintillating opening "Wait, what happened? Last week, Tommy Lee was my fiancé. This week he's married. To Pamela Anderson…' If this doesn't grip you to buy her book and read the gossip yourself, we don't know what will.
Moreover, after her breakup with Lee, Brown was still very much 'the girl next door' and had a string of celebrity romances with Leonardo DiCaprio, Kevin Costner, Mark McGrath, Dave Navarro, Sebastian Bach, Ashley Hamilton, Rob Pilatus of Milli Vanilli, Matthew and Gunnar Nelson, Orgy's Jay Gordon, and many more.
Brown is quite aware of how these relationships were constantly ending badly, and she describes how her intention was
simply riding the wave of attention that I was getting.
This likely had a lot to do with how at the time, she was in and out of rehab for what had grown into a list of drug addictions she had developed behind the scenes, reflecting how the industry affected her.
Like Lee and most other rock stars of the time, what had fallen in Brown's lap was not in fact a piece of Cherry Pie but was actually a world of partying, drugs, and few rules or restrictions.
This seems to have led Brown to become addicted to both cocaine and methamphetamine.
She describes both were for emotional suppression, likely things for her childhood that were unpleasant, as well as practical reasons.
She describes taking meth before modeling shoots in order to lose weight quickly as well as to kick the blues away so she could seem jolly to the photographers.
What's clear is that there was a lot of pressure on a young woman, from the culture she loved as well as the industry she excelled in, which ultimately led her to drugs in order to keep her boat afloat.
A story that has been heard a million times in the world of rock, and repeats itself pretty clearly within Brown's romantic relationships.
Her romantic relationships seemed to have played a serious role in her degenerating mental health during this period as she describes how one of the worst relationships of her life resulted in her developing Trichotillomania – a stress response to trauma that causes you to pull your hair out.
"It was the most traumatic, tumultuous, constant fighting, emotionally degrading… the worst relationship of my life'.
While she doesn't reveal the perpetrator of the trauma, thanks to being sober she had this rare stress response that was a thing she had never encountered before, which she tells did eventually clear up once the relationship was doused.
Her story shows how our relationships can ruin us, turn us to drugs, and trigger biological stress responses when you leave trauma unresolved. But what was clear from Brown's story was that the right temperament can steady the boat once more.
Regret And Missed Opportunities
Yet, Brown's memoir is also full of advice for those in a similar situation. While Brown survived the party her book is a cautionary tale to many women in her industry and still stands as a great piece of wisdom that is evergreen for the modern female influencers of the world.
Brown is open about the fact that her drug issues, unresolved trauma, as well as her romantic obligations within relationships as some of the main reasons she missed out on opportunities that could have helped her to become more independent.
One huge opportunity she describes is that she missed an audition to be in Steven Spielberg's Hook, as well as attending but failing an audition to be in Casino with Robert De Niro.
Brown had even signed a record deal with Britney Spears' label RCA, yet she describes that she 'screwed that up as well' and Spears ended up taking the role – which could have been Brown herself.
She continues that she missed a chance to appear in an Adam Sandler movie as well as being on the cover of Playboy.
When you are prone to whirlwind romances, have children, and are dependent on drugs and people, these opportunities can slip through your hands like sand.
Everything Comes Back Around
What Brown's story does show is that with the right mindset, morality, and work ethic, things always come back around.
She describes how 'I've been given this opportunity to come back. Not everyone gets given that second chance, so I'm really grateful.'
After having lived in regret for decade, what she describes as a 'miserable place to be' she realised how 'stupid' she and her behavior was. Resolving to make the most of the new opportunities presented to her.
These opportunities started when she wrote and hosted the VH1 docuseries Do It For The Band: Women Of The Sunset Strip. This was essentially a documentary about women like Brown who had been the leading ladies in their own right within the industry.
Yet, in 2012, she found the best realization of this idea, by joining the cast of the reality TV show Ex-Wives of Rock, which aired on the Fuse network. The lineup also included her previous lover's sister, Athena Lee, sister of Tommy Lee, who became a close friend.
Her investigations into the lives of similar people who were embedded in the rock industry at the time led her to release the book where we get most of the information around Brown's life, her 2013 memoir, co-written by Caroline Ryder, Dirty Rocker Boys: Love and Lust on the Sunset Strip.
The honest and frankly amazing stories she tells in this memoir are what earned its reputation as one of the must-read rock memoirs of the period as she tells tales from many of the stars during this time.
As well as her honest depiction of the society where she grew and fell herself, not making herself seem great or those around her, her honesty is invaluable to women in the industry as well as a genuine eposeé on the inner workings of rock.
Her most recent memoir: Cherry on top: Flirty, Forty-Something, and Funny as Fuck was written around 2018 but faced publication issues as COVID ruined many other book releases.
This book focuses more on her normal life as a mother, being single as an older woman and mother, as well as her pursuit of comedy. The book provides another part of the puzzle to figure out the keys to success in life, and the rock industry.
She revealed to Fox news that the book had come from a scare with death herself. She reports that she fell down the stairs quite badly, hitting her head on a table, a type of fall the doctors told her most people die from.
This gave her a big wake-up call at the time and made her really think about what brings her joy, what she is doing with her life, and how she can help others.
She has recently started a podcast, written this second book, as well as attempted stand-up comedy. Her talents match her reputation even to this day.
New Secrets Revealed
Part of this continued fame for Brown led her to reflect on her life in a way that let her reveal some truth about the tragic death of her lover Jani Lane, who died of supposed alcohol poisoning in a hotel at the age of 47.
While Brown had put her substance abuse behind her along with her stress responses, Lane ahd clearly struggled with something seriously deep to keep his 20-year-old drinking habits this long and to a fatal end.
Many wondered what had actually happened with Lane that led to such a sad and tragic end.
As recently as 2020, Brown's insight into the industry remains invaluable.
She reveals in her new book that Lane had confided in her near the end of his life, and had admitted to her that when he was touring as a young man, a 'famous heavy metal band' and their manager drugged him, and proceed to assault and rape him'.
Lane had never told anyone this, Brown said she didn't even know when they were married.
Brown talks in the book about how she wished the #MeToo movement was around then, for Lane's sake. When she initially heard she tells of how she tried to get him to speak up but he was too embarrassed and emasculated.
Instead, he chose to keep this trauma inside, feeling he couldn't say anything due to his gender and his desire for fame. She felt sorry for him, and also shared how hopeless he felt and unwilling to tell his story.
It was clear to her that this was what led to his drinking issues, as a mode of suppression and eventually his trauma overcame him and led to his death.
The Response
It seems clear that Brown's intentions are pure, by providing this insight into the life of a victim within the rock industry others could perhaps share their story and improve the reception of men's sexual abuse stories.
Moreover, Brown's comments have been verified since she made them. A 2004 recording of Lane reveals a slip of his tongue, or a call for help, that verifies Brown's claim. He states "I don't care. I've been married divorced, married, raped, I don't care.'
Importantly, a later anonymous tip to the magazine Metal Sludge that revealed "This actually happened and was very traumatic for him. He shared it with me on Thanksgiving at my house". Metal Sludge also got another anonymous tip which also confirmed this to be true.
Anonymous tips? Archived recordings? This is the stuff of murder mysteries and Scandinavian dramas, but it became a reality for Brown.
She revealed to FOX that she herself may have more info on what really went down, and she wants to find out what really happened in order to honor her ex husband and the father of her child.
Part of this pursuit included a trip beyond the grave. Brown, an open believer in spirits and séances, chose to attempt to communicate with Lane from beyond the grave.
While she was aware of how many people thought she was crazy and gave her shit for her beliefs, she says that it helped her feel like Lane was okay with what happened but pushed her to resolve the issue within our world.
It is clear that someone noteworthy and famous was the perpetrator in this heinous crime, which has led to people burying information and hiding their identity, and even why Lane may have felt extra pressure to keep his mouth shut.
Final Thoughts
Bobbie Brown continues to be an important and powerful spokesperson for the dangers that modeling, the rock industry, as well as unresolved trauma can eventually lead to. Her wisdom and stories remain priceless for those who are in similar positions.
Now with her added quest to help resolve her ex-husband's traumatic experience she has gained an even more powerful voice that can seek to help out those who are also voiceless victims of sexual abuse, both female and male, both on and off stage.
Besides speaking to rock stars beyond the grave, Bobbie still regularly performs her stand-up, is considering writing another book in order to provide this story with more voice, and also potentially making her first book Dirty Rocker Boys into a potential film or TV series.
What is clear is that Bobbie's story is one of a kind, and while she was never explicitly in a band herself, her external view of the industry helped to voice some of its often neglected parts: the view of women in the rock genre at the time, drug abuse stories, as well as unspoken victims of sexual abuse.
Read Bobbie's story yourself in her books, they are 100% worth the read. Her first book is regarded by many as important as The Dirt, both being considered essential texts to read if you want to understand the period.
Bobbie's unashamed view of the rock industry shows how crazy it really was and how it affected both performers and those who knew and loved them.
For these reasons many regard her first book as one of the best Rock memoirs out there, especially for women.
While we all know her as the 'Cherry Pie' girl, Bobbie has gone on to show that she is so much more than her video vixen label, more than just a pretty face, but a caring and clever individual. One whose talent exceeds her reputation, and as someone who is actively attempting to do good in her industry and community.
For a bit more insight into her, and some other Ex-Wives of Rock, check out this video from Global News.