As we all know, few celebrities choose to publicly televise a moment as special as their wedding, save the Kardashians and perhaps some other reality show stars. However, as he did in many other ways, eccentric pop singer, Herbert Khaury, better known by his stage name "Tiny Tim," failed to follow the status quo when he married Miss Vicki.
Instead, Khaury performed his televised nuptials with his betrothed, Miss Vicki, on The Tonight Show with Johnny Carson, in front of an audience of 45 million people in 1969.
The event was one of the most watched occurrences of the '60s. It had more viewers than the Nixon/Kennedy presidential debate and the famous "I Have a Dream Speech" by Martin Luther King Jr.
Keep reading to learn more about the unusual story behind what happened during the televised ceremony where Tiny Tim married his sweetheart, Miss Vicki.
Tiny Tim: Legendary Ukelele Player
As one of music's most notorious novelty acts, most people know Tiny Tim for his highly-acclaimed cover of "Tiptoe Through the Tulips." In this cover, he half-sings and half-yodels the famous lyrics in a high-pitched voice. This unusual and almost comical rendition of the song earned him a place in the spotlight.
Tiny Tim began to appear on TV, in interviews, and even for a Grammy nomination. He also continued to release music off the back of his growing fame.
After releasing his famous ukulele cover, Tiny Tim recorded several other songs, one of the most notable being "Nowhere Man" on The Beatles' 1968 Christmas album. The Beatles asked Tiny Tim to record this song after taking a great fascination with his work.
Tiny Tim also recorded a cover of "Livin' in the Sunlight, Lovin' in the Moonlight," which he performed similarly to "Tiptoe Through the Tulips."
Because of his odd appearance and unusual voice, the chance to see a wedding involving one of music's most offbeat personalities enchanted the imaginations of many.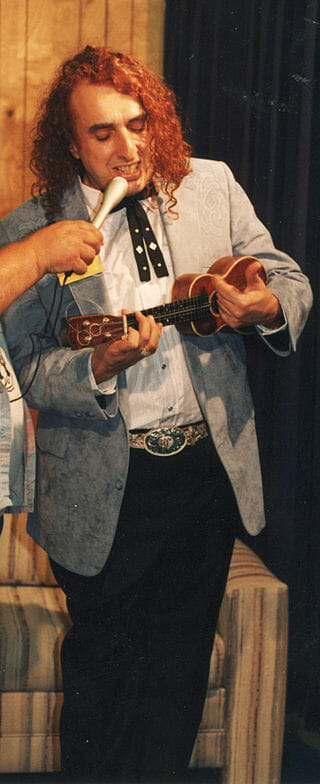 Who was Miss Vicki?
Victoria Budinger, who Tiny Tim called Miss Vicki, was Tiny Tim's 17-year-old fiance. Like his other sweethearts and wives, Tiny Tim referred to Victoria as "Miss Vicki" as an overly-romanticized display of love and respect.
When he married Miss Vicki, Tiny Tim was 37 years old. Your maths is correct, the two had a 20-year age gap at the time of their marriage.
Despite their immense age difference, Miss Vicki's family gave their blessing to Tiny Tim and Miss Vicki's wedding. The family reportedly liked Tiny Tim, so their match was initially a happy one.
How Miss Vicki And Tiny Tim's Wedding Became a TV Special
Tiny Tim announced his engagement to Miss Vicki during an interview on the Tonight Show with its famous host, Johnny Carson. During the interview, Mr. Carson asked Tiny Tim if this was his first marriage, to which he ironically responded "Yes, Mr. Carson, and last."
In addition to his other unusual tendencies, Tiny Tim told the public that he was a devout Christian who had saved himself for marriage. He told Mr. Carson that he had "slipped in that" by kissing Miss Vicki a few times, but still, he had "never had any relations with a woman."
During his interview, he also mentioned that "a lot of prayers were involved" in deciding to marry due to Vicki's youthful age, but that he had "always loved youth…in the right way."
Miss Vicki was present at the beginning of the interview to show off her engagement ring, but she left part of the way through. Mr. Carson took advantage of this moment to ask Tiny Tim if he and Vicki would marry each other on live TV. Tiny Tim ecstatically agreed to Carson's proposition.
Vicki, on the other hand, was much less thrilled about the arrangement, as she had anticipated that the wedding would occur in a more intimate setting at her parents' home. However, the American pop singer got his way in the end, marrying Miss Vicki on the Tonight Show on December 17, 1969.
The Wedding Of Tiny Tim And Miss Vicki
Fitting Tiny Tim's traditional and Victorian-like tendencies, the couple wore Victorian-era clothing on the day of their nuptials. Jeffrey Martin designed both handmade outfits, which the couple proudly donned during their ceremony. The service itself only lasted six minutes, which ended with a toast between Carson and the newlyweds.
Not-so-coincidentally, the Tonight Show imported 10,000 tulips from Holland to decorate the set for Tiny Tim and Miss Vicki's wedding. Due to the short and relatively boring nature of the ceremony, Tiny Tim and Miss Vicki were not the only guests on the Tonight Show in that episode.
Florence Henderson, Phyllis Diller, and Nick Lucas also attended this extraordinary event as guests of Carson. Reportedly, these guests didn't take the ceremony seriously during their attendance, despite its legal and binding nature for Tiny Tim and Miss Vicki.
Shockingly, the only event in the 1960s to surpass Tiny Tim's bizarre wedding in its audience was the moon landing. The wedding even earned Carson the highest Nielsen ratings of his career to that point. He became a much more popular talk show host due to the amount of exposure he received after televising the wedding.
A Made For TV Ceremony
The six-minute ceremony itself is surprisingly lackluster considering the amount of fascination that surrounded the whole event. Not even Tiny Tim or Miss Vicki's face is visible while they say their vows. The camera solely focuses on the face of the reverend directing the wedding.
Both Tiny Tim and Miss Vicki seem nervous while saying their vows, speaking so softly that they are barely audible at times. The tone of the wedding is solemn and strictly Christian, with God presiding over the whole event. There is an awkward pause as Tiny Tim and Miss Vicki struggle to put on each other's rings.
Like Tiny Tim and Miss Vicki, the wedding guests wear Victorian-inspired garb. The set looks like the walls of a Victorian house with several bouquets of tulips spread out in front of it.
After Tiny Tim and Miss Vicki kiss and seal the deal, they walk the short distance from the set built for their wedding to the set where Johnny Carson waits. The audience applauds them as they awkwardly walk to meet Mr. Carson and share a toast.
The entire event is slightly uncomfortable to watch, and far from the novelty act that one would expect from a character as big as Tiny Tim. It is anticlimactic at best.
After the ceremony, however, Tiny Tim sang a love song to Miss Vicki in his characteristic falsetto. The pair looks quite happy with one another as Carson closes out that episode of the Tonight Show.
What Happened to Tiny Tim and Miss Vicki?
Perhaps unsurprisingly, Tiny Tim and Miss Vicki divorced each other 3 years after their wedding. Before the divorce, however, they conceived a daughter together named Tulip.
Victoria told an interviewer that Tiny Tim did not have much involvement with his daughter's childhood. Victoria had to work multiple jobs to help put food on the table for her child. Their divorce was difficult, laden with hostility due to their messy situation involving Tulip and opposing life views.
Miss Vicki and Tiny Tim always wanted different things. Where Miss Vicki wanted a stable home and children, Tiny Tim wanted a life on the road. Their differing views on their wedding set the tone of their marriage from the start.
She also reported that though they stayed married for eight years, their relationship had ended by their second anniversary. Victoria gave birth at 19 without Tiny Tim present and received virtually no support from Khaury until her daughter grew up.
Now, Tulip has children of her own. Khaury reportedly assisted the family later in life, trying to mend his relationship with his daughter and Victoria. He died in 1996 of a heart attack at a ukelele festival, shortly after Victoria gave her 1995 interview.
Victoria says that she received an immense amount of unwanted attention during the years immediately after the wedding. Despite this seemingly discouraging attention, Miss Vicki said that she did not regret marrying Tiny Tim. Victoria stated that "[she] was just a kid, thinking 'this will be fun.' And it was. So don't regret it."
Victoria married several times after her divorce from Khaury, though she hasn't publicly stated how many husbands she's had. Khaury also remarried twice. He died while still married to his third wife, Miss Sue.
What Happened To Miss Vicki
Victoria Budinger, whose name changed to Lombardi at some point after divorcing Tiny Tim, lived in Maple Shade, New Jersey in the '90s. However, her daughter, Tulip, reportedly lives in Pennsylvania now with her four children.
Victoria regularly turns down interviews and opportunities to exploit her involvement with the life of Tiny Tim. She seems very adamant to stay out of the public eye, with her last real interview occurring in 1995.
Perhaps one of these days we will hear more from the now 70-year-old Miss Vicki. Until then, all we can do is wish her and her family the best as we gawk at this unique relic of the past.
To watch the wedding between Miss Vicki and Tiny Tim, have a look at this video from Johnny Carson himself.
Similar Stories