The home is a tangible reflection of the self, a means of expressing our inner feelings and thoughts in an external setting. Given this, it's no surprise that someone as unique, sensuous, and idiosyncratic as Prince had an incredibly distinct dwelling!
Before the music legend's untimely passing, the magic that lay within Paisley Park was only a matter of imagination, as very few were allowed to cross its threshold. Those who were given access to the "Purple Rain" songwriter's home were bound to secrecy, leaving the rest of us in wonder.
Before Prince's departure (or as I prefer to say, his return to his home planet), he didn't have definitive plans to open his estate to the public. However, the executors of his estate felt that transforming it into a public attraction would be a fitting tribute.
Today, the doors of Paisley Park are open to all. If you're interested, remove your shoes and follow me as I guide you through one of the most significant structures in music history.
Keep reading below to see the unique style of Prince through the beautiful Paisley Park photos.
Where Is Paisley Park?
Prince, one of the most iconic musicians of all time, could have chosen any place in the world as his base. Yet, he chose Chanhassen, Minnesota. If you've never heard of it, you're likely not alone.
While Chanhassen boasts beautiful natural attractions like Lake Minnewashta Regional Park and Lake Ann Beach, its primary claim to fame (aside from Paisley Park) is The Temple of Eck, a spiritual sanctuary for the Eckankar religion, established by Paul Twitchel in the 1960s.
So, why did Prince, the flamboyant, high-heel-wearing, feather boa-donning, guitar god, and musical maximalist, choose this low-key suburb of the Minneapolis-St. Paul area for his home? Simply put, it was already his home.
Prince was born and raised in Minneapolis, and Paisley Park is built in his hometown. This intriguing contrast between his larger-than-life persona and his clear dedication to his small local community is palpable. Even today, this suburb just beyond the Twin Cities houses only 23,000 residents.
From The Outside Looking In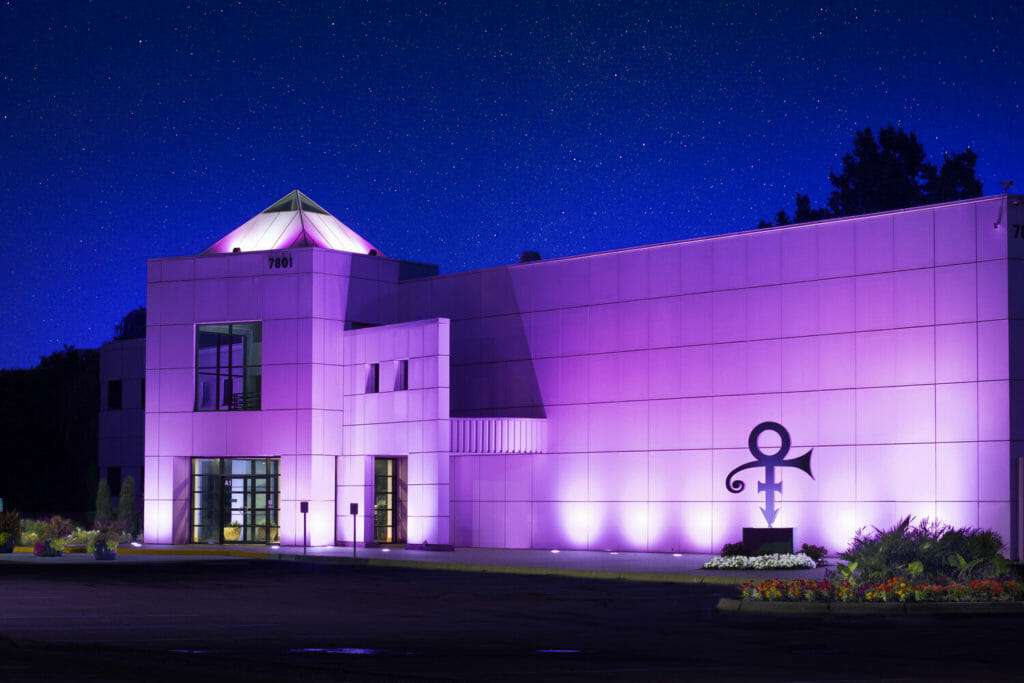 If you've never seen Paisley Park's exterior, you may be surprised. It's quite, well… understated. Blasphemy, I know! But as shocking as it may seem, the home of pop music's most flamboyant maverick resembles an Ikea more than a rock star's mansion.
Its sheer size is attention-grabbing, yet stylistically, Paisley Park stands apart from any other suburban office park only when bathed in vivid purple up-lights under the cover of darkness.
Designed by then 23-year-old architect Bret Thoeny, Paisley Park is comprised primarily of white metal squares interspersed with large square windows. Apart from the occasional Louvre-style glass pyramid on the roof, it's a rather standard-looking compound.
Why Did Prince Choose Bret Thoeny To Design Paisley Park?
When Prince conceived Paisley Park, he had previously collaborated with Thoeny on the design of a studio at his old property. Their successful first project together paved the way for their partnership on the second endeavor.
It's crucial to note that such a project was quite unprecedented during that time. Constructing entire compounds dedicated to a single artist was relatively unexplored, making it an innovative and intriguing challenge, regardless of the architect's experience.
Thoeny, a California-based architect, had to produce numerous architectural models and transport them to Minnesota for Prince's review. Interestingly, Prince showed no interest in deciphering blueprints, which added an extra layer of complexity to this multimillion-dollar project.
Despite the daunting task, the duo managed to finalize the details rather swiftly. Their resulting design, which was notably streamlined and minimalistic, might seem at odds with Prince's flamboyant persona. However, there were a couple of key reasons behind this unexpected design direction.
Firstly, Prince and Thoeny agreed that the building should complement the landscape instead of overpowering it. As a result, they opted for an exterior that reflected the simplicity of the surrounding terrain. Secondly, the initial intention for Paisley Park wasn't always as Prince's personal residence…
A Commercial Property Turned Residence
The Paisley Park construction team broke ground on the project in 1985 at the peak of Prince's career. Purple Rain was released two years prior, establishing him as the pop master of the universe, and now he had plans… BIG plans!
Initially, Paisley Park was to serve as a commercial recording facility for Prince's very own label of the same name. Numerous renowned artists such as Sheila E., The Time, Mavis Staples, and George Clinton recorded in Paisley Park when it was strictly a commercial property, but things would not end well for the nascent label.
When things got a little heated between Prince and Warner Brother Records in 1994, Warner Brothers terminated Paisley Park Records' distribution contract, effectively burying the label before it really had time to flourish.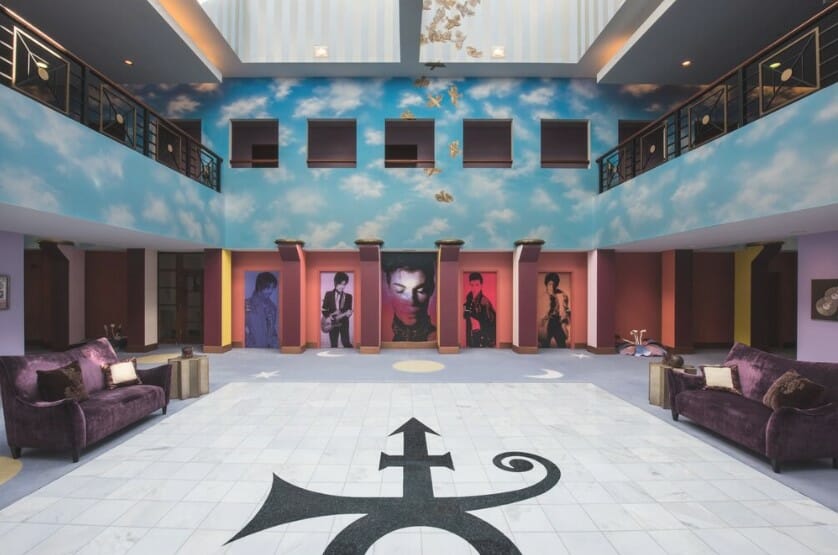 As he was producing all the music recorded by Paisley Park artists, Prince had already taken up residence in the facility, but instead of taking off when the Warner Bros deal went south, he doubled down and made Paisley Park his official home.
In many ways, an enormous music recording facility was perfect for the artist formerly and presently known as Prince, as his work ethic was legendary. He was obsessed with music and would spend hours on end playing instruments, singing, or recording, and being that every single room in Paisley Park was and still is wired for sound, he could record wherever he was in the building.
It didn't matter if Prince was sitting on the toilet, fixing himself a snack, or lying in bed; he could track music. Paisley Park was no doubt already a phantasmagoria of purple and off-the-wall design before the Siamese record label was trimmed.
But once it officially became the palace of Prince, we can assume that he really let loose in order to create something that truly felt like a home.
---
RELATED: The Enduring Impact Of Elliott Landy
---
How Big Is Paisley Park?
All accounted for, Paisley Park covers a whopping 55,000 square feet, which is roughly the size of an enormous superstore. It cost the music legend $10,000,000 to build, which, adjusted for inflation, comes to about $25,000,000.
Now, considering Minnesota has famously low construction costs, you can only imagine how much it would have set Prince back in almost any other location.
This may well have been another contributing factor in Prince choosing to build Paisley Park in his hometown, but I like to think it had more to do with community and roots than anything financial in nature.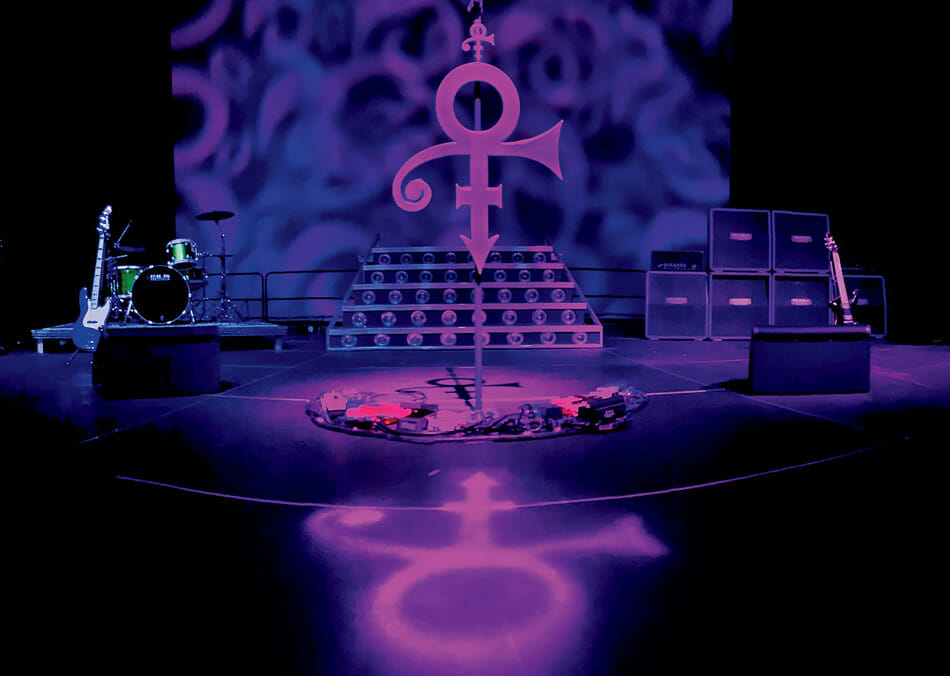 How Much Is Paisley Park Worth Now?
The simple fact that Paisley Park belonged to Prince meant that the value of the property has skyrocketed far beyond the already mind-bending construction costs. Current valuations position it around the $200–$300 million mark.
Although, as a giant relic of music history, I think most would agree that it has become a priceless structure, beyond the influence and reach of money — It belongs to all of us now!
Why The Obsession With The Name "Paisley Park"?
Before we continue our tour of this magnificent musical structure, let's quickly touch upon Prince's fixation on Paisley Park as a name. As any Prince fan worth their salt will know, "Paisley Park" started out as a song, the lyrics of which detail a mythical place of the same name…
"Admission is easy. Just say you believe, and come to this place in your heart; Paisley Park is in the heart."
In the song, Paisley Park is an internal empyrean, a "place" where "There aren't any rules" and people go to forgive those who have wronged them or find inner peace. It's essentially a metaphor for the love we all have inside us, the place within Prince from which his own musical muse sprung infinitely forth.
Combine this with the fact that "Paisley Park" was released by Prince and his band The Revolution the same year Paisley Park the building was being designed, and, admittedly, it seems like the perfect name for the compound and adjoined record label.
---
You Might Like: We Rank Prince's Best Songs
---
Greeted By Doves
Prince was all about love, which likely had something to do with the fact that he had two pet doves, Majesty and Divinity. Their aviary was situated inside the entrance to Paisley Park, but sadly, if you visited today, neither Majesty nor Divinity would be there to greet you, as they have now both joined their keeper in the great beyond.
Majesty died in 2017, just a year after Prince, and Divinity died on February 2nd, 2021 at the ripe old age of 28 years old. According to Prince's sister, when he passed on, both birds ceased singing and only reconvened their throatings when Prince's music was played through the sound systems of Paisley Park.
This original dove duo (who boast vocal credits on Prince's 2002 track "Arboretum") have now been replaced by a new generation of lovely birds, so you will still get songs on arrival, but not by the feathery veterans Prince himself loved.
Paisley Park Is Overwhelmingly Purple
I don't think it will come as a surprise to anyone to hear that the color purple is a running theme inside Paisley Park. Prince has long been associated with this regal and sensuous color, a link impressed in pop culture by his bottomless purple wardrobe, his custom purple Yamaha piano, and his infamous record Purple Rain on the cover of which he straddles a purple motorbike.
Why the obsession with this color? Well, he's never come out and explained his attachment to purple in an interview or in writing, but as it was considered the color of royals back in the days of the Roman and Byzantine empires, it seems fitting for a Prince, no?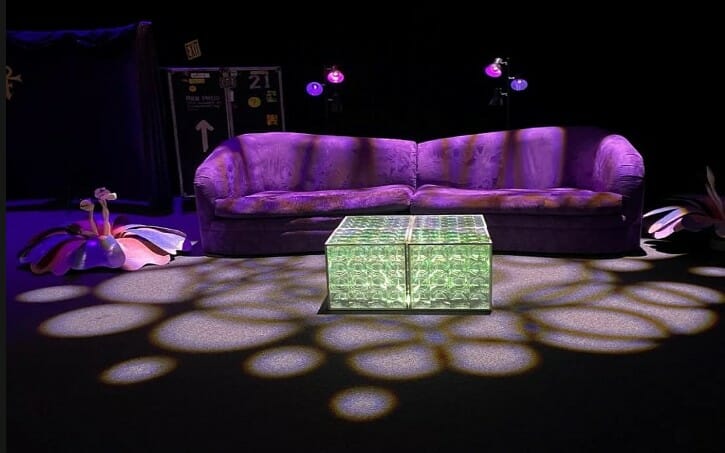 What's more, purple is considered a traditionally feminine color, meaning it fits right into the androgynous sexuality he exuded in his style and manner. It's also the first color listed in Jimi Hendrix's "Bold as Love", an artist Prince was particularly inspired.
Whatever the reason, Paisley Park is suffused with purple. Most of the furniture is purple (usually upholstered in velvet), the decor is mostly purple, the lighting is predominantly purple, and some of his infamous purple outfits are on show.
The Ubiquity Of His"Love Symbol #2″
In 1993, Prince embraced a dramatic change by transforming his stage name into an emblem known as Love Symbol #2. This sign, a fusion of the masculine (Mars) and feminine (Venus) love symbols, was an explicit acknowledgment of his androgynous style.
During this period, he referred to himself as "The Artist Formerly Known as Prince" or simply "The Artist". Many perceived this as a mere publicity gimmick, but it was deeply intertwined with the discord between Prince and Warner Bros that I mentioned earlier.
The reason behind this significant name alteration was primarily his escalating conflict with the label. Prince expressed his discontent by saying:
Prince is the name my mother gave me at birth. Warner Brothers took that name, trademarked it, and used it as their primary marketing tool to promote all the music I wrote.

The company owns the name Prince and all related music marketed under it. I became merely a pawn, utilized to generate more revenue for Warner Brothers.

The first step I took towards emancipation from the chains that bound me to Warner Brothers was changing my name.
The core issue between the clashing parties was Warner Bros' insistence that Prince only release an album every 18 months, a stipulation that was excessively restrictive for an artist who claimed he "could release a record every seven months."
Three years after his name alteration, Prince achieved his goal and was released by Warner Bros. However, it wasn't a mere three-year conflict. Prince had orchestrated numerous acts of defiance before he implemented the ultimate name-change strategy.
For example, he would often inscribe "SLAVE" on his face before appearing on stage for a live performance.
His resistance against Warner Bros was one of the earliest high-profile instances of an artist confronting the corporate behemoths of the music industry, which often aim to control rather than elevate.
Upon winning this long-standing dispute, Prince no longer needed the symbol as a pseudonym. However, it had become an integral part of his celebrity identity and a triumphant emblem, so he retained it.
This symbol can be found inlaid on the floors of the entrance hall and various other rooms, manifested as a colossal neon sign, painted on the sides of monitors and mixing desks, and hanging from ceilings. Even before entering the complex, it's impossible to overlook the enormous statue of the symbol positioned prominently out front.
A Sprawling Sound Stage Exists Within
One of the non-negotiable elements Prince insisted on during the design phase was the inclusion of a gigantic, Hollywood-grade sound stage. It was intended for rehearsing stage shows, auditioning bands, and hosting lavish parties. Presently, it serves as a fully functional wedding and event venue.
This expansive 12,500-square-foot space is available for booking. The opportunity to party at Prince's place is available, although the experience comes at a significant cost. The area can hold up to 1,000 people depending on the arrangement and has a seating capacity of 400.
The Compound Boasts Three Full-Size Recording Studios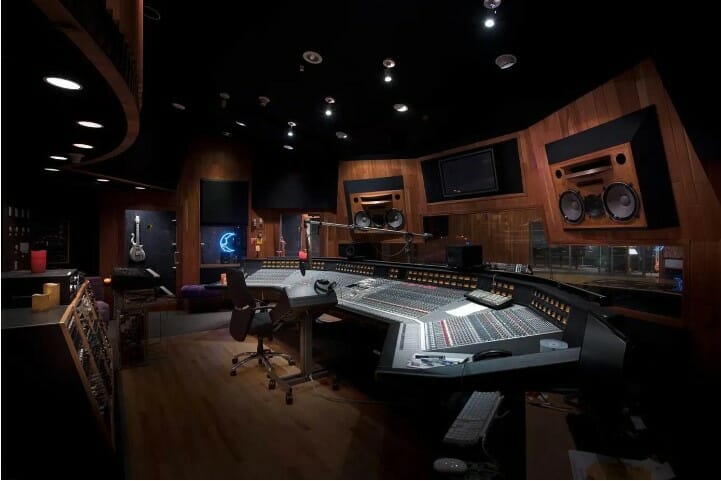 While three recording studios might appear modest for such a grandiose compound and a highly productive musician, these studios were far from ordinary.
Prince requested two substantial 48-track studios and one slightly smaller 24-track studio. This way, regardless of the scale of his musical aspirations, he could materialize them right at his residence.
To provide a sense of the magnificence of these spaces, Studio A alone spans 1,500 square feet. It comprises an acoustically live room with granite walls, a large central room, a wooden isolation room, a dual vocal isolation booth, and a primary control room. In essence, these are top-tier recording facilities.
Paisley Park Houses a Nightclub
Prince's dance parties were renowned, and while his mansion offered ample space for his festivities, he went a step further by setting up a dedicated nightclub for hosting his often spontaneous events.
A larger-than-life mural of Prince, wearing high-heeled sandals with socks yet looking undeniably attractive, overlooks this room. Occasionally, the man in the painting would appear in person to briefly interact with awestruck guests.
At other times, the elusive musician wouldn't show up at all. It was in this room and other performance-ready spaces within Paisley Park that Prince hosted his notorious secret shows. Sometimes he would appear and perform a few songs, while other times he was nowhere to be seen.
There have even been stories of him making a fleeting appearance at these events in an unusual manner, such as cycling around the parking lot before hastily retreating into his labyrinthine residence.
Prince Owned a "Galaxy Room"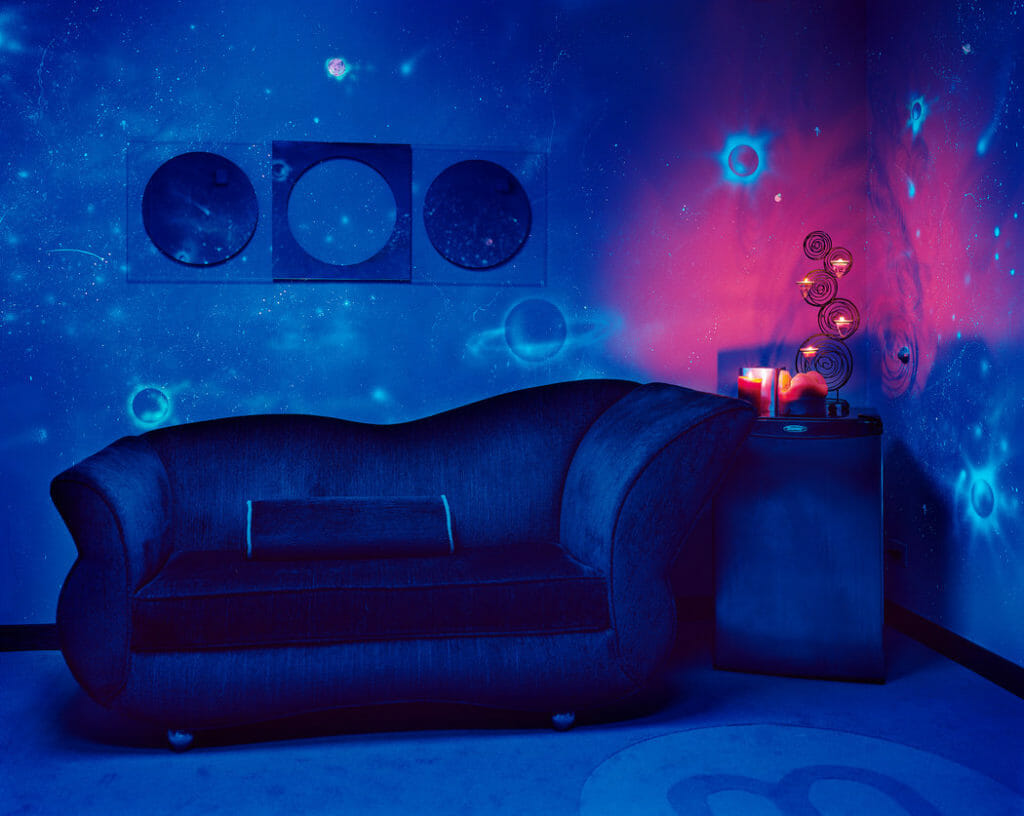 The precise nature of a "Galaxy Room" is somewhat vague, given that not many of us have one. However, considering the profusion of ultraviolet lights, images of planets and stars, and uniquely shaped furniture, it seems to function as a form of meditative sanctuary.
Connected to the compound's recording and production facilities, one could envision Prince retreating to this room to recenter himself before resuming his work. As far as anyone can ascertain, this room served as a space for incense burning, chakra alignment, and contemplation of the sacredness of creation.
Prince Created A "Knowledge Room"
In his later years, Prince's faith as a Jehovah's Witness took a significant role in his life, equal to his passion for music. He allocated a dedicated area within Paisley Park, known as the "Knowledge Room," for his spiritual pursuits.
This room served as Prince's private retreat for religious study and spiritual connection. Its original purpose remains a mystery, but given the vastness of the structure and its solitary occupant, it likely served various roles in response to Prince's evolving life and creative journey.
Prince's conversion to the strict religious doctrine astounded many, considering the explicit and provocative nature of much of his previous work. However, his spiritual shift was not an abrupt decision.
Larry Graham, the bassist for Sly and Family Stone, had spent years persuading Prince before he finally committed his heart and time to the faith. True to his nature, Prince fully immersed himself in the religion. And yes, that included the door-to-door evangelism associated with Jehovah's Witnesses!
Imagine your day interrupted by Prince on your doorstep, sharing his faith. Such was the reality of his commitment.
The Custom Costume Department Existed
Prince was not one for off-the-rack clothing. Instead, his wardrobe was tailor-made on-site. Intriguingly, he did not own any casual attire; his public persona mirrored his private one, necessitating a busy custom costume department.
Among his extensive collection were 3000 pairs of shoes, each with a minimum 3″ heel, and notably, no slippers.
The Enigmatic Circular Building
A separate circular structure from Paisley Park's main building invoked much speculation. Some assumed it was Prince's residence, but this has largely been debunked.
Others suggested it was a storage unit. However, the most accepted theory is that it was intended to be a free eatery for guests, though it never became operational.
Known as "The Egg," its appearance is curiously similar to a guard tower.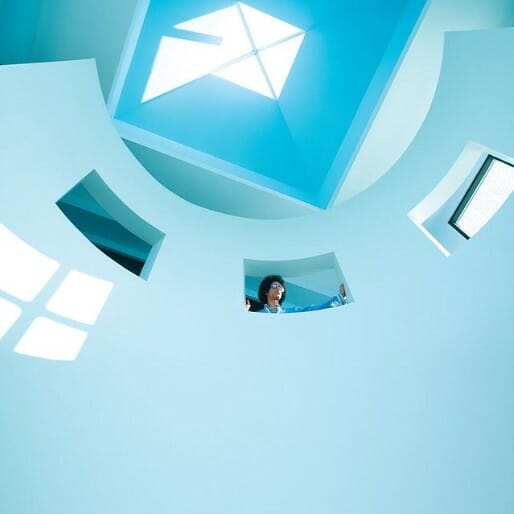 Plenty Of Additional Dedicated Areas
Prince's ambitions extended beyond the vast 12,500 square-foot sound stage. His requests included multiple dance and rehearsal halls, video editing suites, and numerous offices, including a grand two-story personal office.
Need for Sleep?
Interestingly, Paisley Park housed numerous luxurious beds, but not for the reasons one might assume given Prince's status as a sex symbol. These beds were more a testament to his workaholic nature than anything else.
Music was Prince's lifeblood, and his dedication often led to long work hours. The scattered beds enabled him to snatch moments of rest without interrupting his packed schedule, even offering three within his office alone.
For Prince, working late into the night on music was not uncommon. The strategically placed beds allowed him to manage sleep throughout the day, ensuring his workflow remained undisturbed.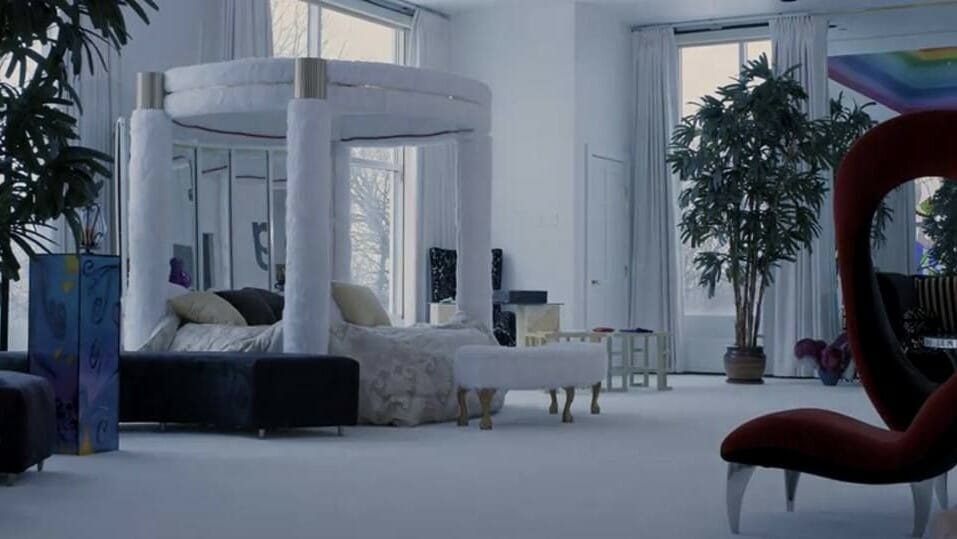 Paisley Park Is Famously Disorienting
Riddled with long hallways that lead to near-identical windowless rooms, it's incredibly easy to lose your bearings in Paisley Park, and this is largely by design.
While later in his career, Prince's isolation seemed something to pity, a cruel consequence of worldwide mega-stardom, he repeatedly mentioned that he valued the privacy of his solitude, as it meant he could be himself and get more done.
The confusing layout of Paisley Park, strewn with lush rooms with similar visual elements meant visitors could grasp few specifics to report to outsiders, ensuring Prince's privacy remained intact.
Furthermore, the cave-ishness of this complex removes the distractions of the outside world, meaning artists that came to record could focus on the task at hand and do good work.
Those Who Prince Allowed In Were Not To Talk About It On The Outside
Prince the pop star belongs to all of us, but Prince the man belonged to no one, which is why anyone permitted to enter Paisley Park during his lifetime had to surrender their phones and any other audio or visual recording devices they had.
Guests were also encouraged never to say a word about what they saw inside the complex.
You may think it's surprising that not a single one of the people who witnessed the interior of Paisley Park blabbed, but when the penalty for loose lips is never working or even talking to Prince again, it's pretty easy to understand why people took the request for silence seriously.
Paisley Park Still Has Its Secrets
While you can book a tour of the zones of Paisley Park that Prince deemed public spaces, his living quarters are strictly out of bounds, and, to this day, we're not sure what they're like.
All we know is that they're situated on the upper floors of the building where windows invite natural light without also inviting prying eyes.
Presumably, only Prince's wives and girlfriends ever got to glimpse into his most private of sanctuaries, and none of them have disclosed any details.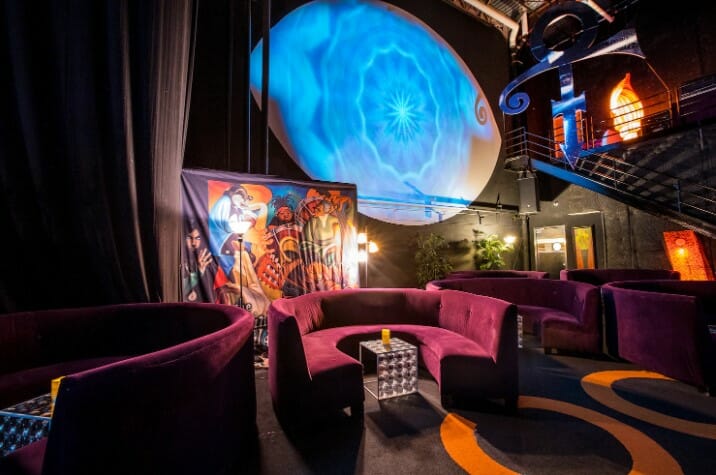 Who Is In Charge Of Paisley Park Operations?
When Prince left the world behind, it was unexpected to say the least, but not just to us. Leaving nothing in the way of a will, it's fair to say that Prince himself didn't expect to be shuffled loose of the mortal coil any time soon.
With his absence began a grueling 6-year effort to organize and distribute his estate valued at $156 million. Most assets were shared out among Prince's siblings or bought by the music company Primary Wave. The question of what to do with Paisley Park still stood, though.
Embedded in musical history and culture, it seemed private ownership was out of the question, but to operate it in the public sphere would take a lot of work. The solution?
Bring an entity on board with experience in such niche affairs, an entity such as Graceland Holdings, the company responsible for the museumification of Elvis Presley's former home.
A Tiny Home Within A Gargantuan Home
It's common practice to spread our dearly departed's ashes across their happy place, perhaps a mountain top, a beach, or a certain stretch of ocean, but for Prince, Paisley Park was the happy place.
This is why somewhere within this mammoth compound is a tiny model of Paisley Park, and within this scaled-down replica rest the ashes of the late, great musician and singer.
Paisley Park Tour Packages
Paisley Park tours allow you to embark on a journey through the very spaces where Prince created his iconic music, hosted exclusive events, and spent countless hours rehearsing and performing. Their tours extend beyond the standard museum experience, offering guests an exclusive peek into Prince's life, his process, and his legacy.
The Paisley Experience
The Paisley Experience comprises a guided tour incorporating the following:
A walkthrough of Paisley Park's ground floor, housing the studios where Prince forged, produced, and fine-tuned his greatest hits.
A grand soundstage and concert hall, the very spaces where Prince rehearsed for his tours and conducted private events and concerts.
A visit to the N.P.G. Music Club, the site of numerous of Prince's nocturnal performances.

Typical duration of this tour: 90 minutes
The VIP Experience
The VIP Experience encompasses everything in the Paisley Experience, PLUS:
An extended tour time by 30 minutes.
Admission to extra rooms, content, and studio sections.
An exhibition of additional artifacts from the Archives.
A special opportunity to take an exclusive photograph.

Typical duration of this tour: 120 minutes
The Ultimate Experience
The Ultimate Experience is inclusive of the VIP Experience, and provides exclusive admittance to extra spaces and exhibits. Available only on specific days and often fully booked, this comprehensive tour offers an extended 3-hour guided exploration, including:
Access to Studios A, B, and C.
A private screening session of unique video footage in Paisley Park's Editing Suite.
An exclusive audio playback session in the control room of Studio B.
Visitors opting for the Supreme Paisley Adventure will also gain access to archived items not displayed during the G.A. and Elite tours, offering a more thorough museum experience.
The tour concludes with a light beverage.

Typical duration of this tour: 3 hours.
End Of The Tour
And so concludes our tour of one of the most mythologized and mystifying buildings in the world, a building with music both literally and figuratively wired into its architectural DNA.
Being that it was not just Prince's home, but his base of sonic operations, it's perhaps the most essential artifact of pop music history. For instance, Graceland is cool and all, but, by and large, it's just a home, and people visit to celebrate Elvis rather than his music.
By contrast, Paisley Park is all about the music. Some might argue that it's a little impersonal, but others would argue the contrary, that a celebration of Prince's music and artistic process is about as intimate as it gets.
Frequently Asked Questions
How Far Is Paisley Park From The Mall Of America?
Paisley Park is approximately 20 miles away from the Mall of America, depending on the exact route you choose. By car, the drive typically takes around 30 minutes, depending on traffic conditions.
Who Owns Paisley Park?
Paisley Park was turned into a museum after Prince's death. Tours of the museum began in October 2016. The tours were originally organized and managed by Graceland Holdings, which manages Elvis Presley's Graceland.
As of Oct. 1. 2019, Prince's Estate took over the charge of running Paisley Park, and today,  Prince Legacy LLC and Prince OAT Holdings LLC. own Paisley Park.
Where Did Prince Live Before Paisley Park?

Before his fame took off, Prince lived in various locations around Minneapolis. One of the most notable was a purple house in Chanhassen, Minnesota, which Prince owned in the early 1980s.
The house has since been demolished but the original gates remain.