Long before the cassette player, the CD player, and the MP3 player, there were vinyl record players.
Most people consider a record player as something that big, bulky and can only be set up at home, however, there are a number of great options that are light, inexpensive and designed to go with you on all your adventures.
Read on as we take you through what we believe are the best portable record players to suit all needs and budget for 2022.
Key Features to Look for in Portable Record Players
Before making your decision, we recommend being familiar with the key features you need to look for in portable record players. That way, you can be sure that all your expectations will be met.
It's important to note that no portable record player will provide you with the sound quality and performance of a dedicated Hi-Fi sound system – you are sacrificing quality for convenience, portability and a much lower cost.
Below is a list of the most important features you need to consider before buying a portable record player:
Design aesthetics – decide whether you will go for a retro or vintage styling or go for a more modern design
Robustness and durability of the manufacturing
Built-in speakers or decide whether you will link the record player to your external audio sound system (this makes it essentially non-portable and defeats the purpose of a portable record player)
Size and weight
Belt drive or direct drive
Extra features like Bluetooth and USB connectivity
Do you want to convert your vinyl to MP3?
Rocks Off Magazines 7 Best Portable Record Players in 2022
-
The Best Portable Turntables & Record Players
A Quick Look
Price

BEST OVERALL

Crosley Executive Vintage Portable Suitcase Turntable

Built-in bluetooth receiver lets you stream your music wirelessly to the executive's dynamic full-ra
Adjustable pitch control
Belt-driven turntable plays 3 speeds: 33 1/3, 45, and 78 rpm records
Built-in full range stereo speakers with auxiliary input and rca audio output
Usb enabled to connect to windows pc or mac - take your music from vinyl to digital in a flash

Check Latest Price

Most 'High-End'

Audio-Technica AT-LP60 Automatic Turntable

Experience the high fidelity audio of vinyl
Fully automatic belt drive turntable operation with 2 speeds: 33 1/3, 45 rpm
Anti resonance, die cast aluminum platter
Redesigned tone arm base and head shell for improved tracking and reduced resonance
Ac adapter handles ac/dc conversion outside of the chassis, reducing noise in the signal chain

Check Latest Price

Numark PT01USB | Portable Turntable

Class-compliant usb connection, includes usb cable
10% pitch control
Converts all 45s, 78s and 12-inch lp records
Includes ac adapter or battery-powered by six "d" cells (not included)

Check Latest Price

ION Audio Vinyl Motion Portable Turntable

Portable, self-contained suitcase-style turntable for 33 1/3, 45, and 78 rpm records
Built-in stereo speakers for great sound anywhere
Rechargeable battery for up to 4 hours of enjoyment between plug-ins
Rca outputs to connect to larger stereo systems, headphone jack for private vinyl listening
Ez vinyl/tape converter software converts records to digital files via usb

Check Latest Price

Most Features

MUSITREND 9 in 1 Turntable

9-in-1 record player --- the vinyl player measures 12.8 * 11.6 * 7.9 inch and is not only a high qua
Am / fm digital radio --- let our eyes rest and listen to radio news, enjoy one of your favorite com
Wireless player and turntable recorder --- transmits music wirelessly up to 10 meters. it's easy eno
3-speed vinyl player --- the turntable rotates 33, 45 and 78 rpm discs in 7, 10 and 12 inch formats
Great high-end gift idea --- an old-style vinyl player perfectly translates the features of the viny

Check Latest Price

Most Stylish

Crosley Cruiser Deluxe Suitcase Turntable

Vinyl-wrapped turntable with color based on a 2018 pantone favorite
Built-in bluetooth receiver lets you stream your music wirelessly to the cruiser's dynamic full-rang
Adjustable pitch control
Belt driven portable turntable plays 3 speeds: 33 1/3, 45, and 78 rpm records
Dynamic full range stereo speakers; rca and headphone jack outputs

Check Latest Price

GOODNEW Vinyl Record Player

Usb record player - as a usb record player and simply connects to your pc via usb cable. use the inc
Stylish - vintage styled stand-alone vinyl record player. briefcase / suitcase design for easy porta
Three speeds - adjustable to play 33 1/3, 45 or 78 rpm records.
Built in speakers - dynamic full range stereo speakers. rear phono connection for connecting the rec
Dynamic, balanced tone arm with soft damping control

Check Latest Price
With an overwhelming number of portable record players on the market today, we've narrowed down your choice to what we think are the very best in this category, across all budgets.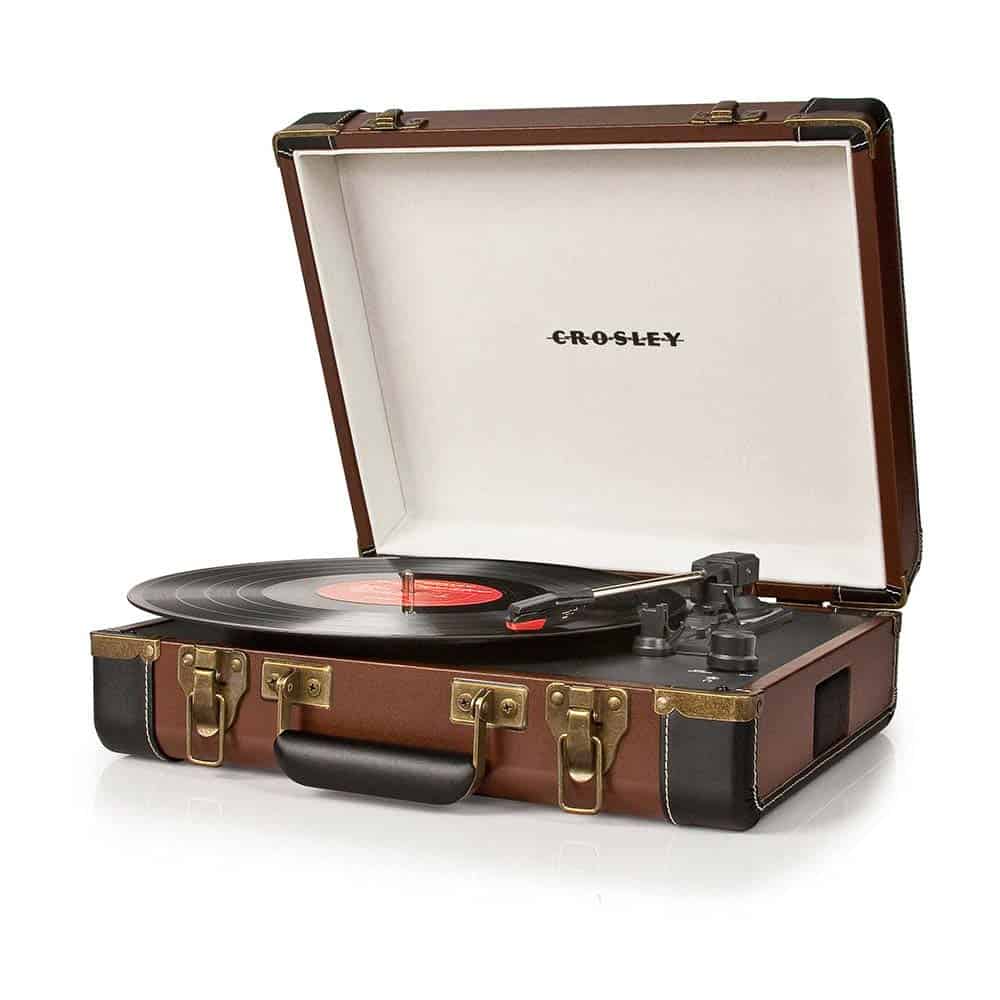 With its appealing vintage aesthetic, great portability and solid sound – the Crosley CR6019D0-BR Executive model is the best in the category when it comes to portable turntables and record players.
As a 3-speed portable record player, the Crosley Executive can play all of your 33 1/3, 45, and 78 vinyl, as well as enable you to stream your favourite digital music wirelessly through its dedicated Bluetooth receiver.
All of this comes through the Executive's dynamic full-range and built-in speakers – or if you prefer to get a bit more out of it, you can easily connect full-range external stereo speakers via the RCA audio output.
Here's a quick run-through of the Crosley Executive with Jason from Crosley:
The Executive is also equipped with easy to adjust pitch control, allowing for a personalized listening experience, and its belt drive and ceramic cartridge makes for a nice and smooth listening experience, anywhere you desire.
Furthermore, you can use the USB port to easily record and turn your vinyl records into a digital format for storage and playback, using the recommended software.
The combination of features, quality, price and portability make the Crosley Executive our pick for the best overall portable turntable you can buy!
Pros:
Stylish design
Adjustable pitch control
USB enabled
Ceramic cartridge
Cons:
The built-in speaker could be louder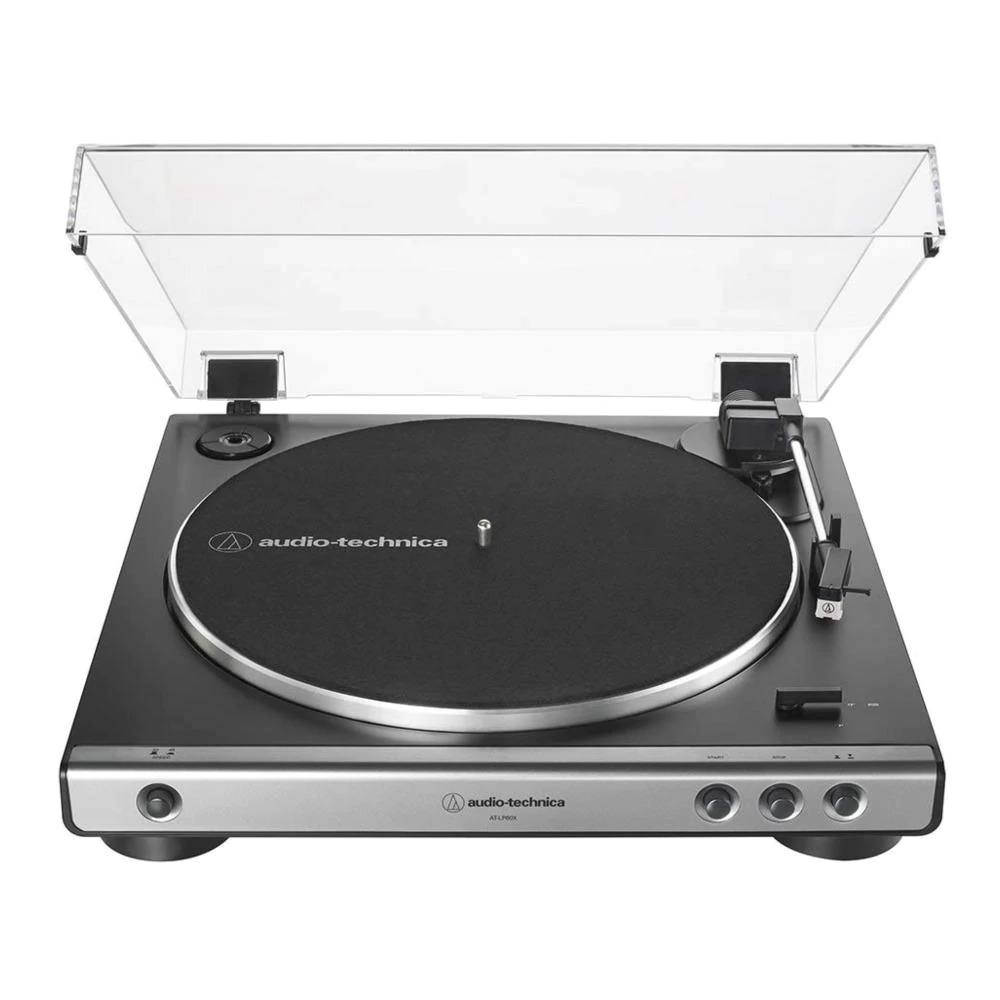 The Audio-Technica AT-LP60 turntable is not the most portable on this list but is definitely the best quality.
It boasts a nice compact body and a solid die-cast aluminium platter – generally being very well built from start to finish for its price.
It comes with a list of great features making it super versatile, easy to use and friendly to your favourite vinyl records. Some of its best additions include:
Fully automatic and belt-driven
Two speeds: 33-1/3 & 45 RPM
An anti-resonance die-cast aluminum platter
A high-quality dual magnet phono cartridge with a replaceable diamond stylus
Switchable phono pre-amplifier for phono- or line-level output
Maybe not a true portable record player in the sense it has no built-in speakers, but if you're looking for something light and robust that can be moved easily if needed – this is your pick. The sound quality is unmatched by anything else in this category.
Pros:
Attractive, sleek design
Built-in phono preamp
Dust protection
Replaceable stylus
Fully automatic belt drive system
Balanced, smooth sound quality
Cons:
No built-in speakers
Phono cartridge non-upgradeable
No Bluetooth connectivity
No carry case
No 78 RPM
If you are looking for a budget-friendly portable record player, then the Numark PT01USB is an excellent option. The built-in speakers deliver a clear and quality sound that can be enjoyed anywhere.
This portable record player comes with a USB port that you can use to connect to a computer and with the free EZ Vinyl Converter software, it makes it easy to convert your precious vinyl collection into a digital format. Don't be fooled by its basic design, as it's built tough and durable.
The built-in loudspeaker has a pitch control feature, making your listening experience more personalized. In addition to the built-in speaker, you can send your music to powered speakers via the RCA line-level outputs, and you can also enjoy private listening with your headphones via the 1/8" headphone jack.
The long battery life is especially handy for those that want to use it on the go. Its 3-speed rates allow you to enjoy a variety of vinyl record sizes. Thanks to its portable handle and hard dust cover, you will not worry about carrying it from one location to another.
Pros:
Budget-friendly
Easy to set up and use
Long battery life
Built-in speaker and pitch control
Cons:
No Bluetooth connectivity
Basic design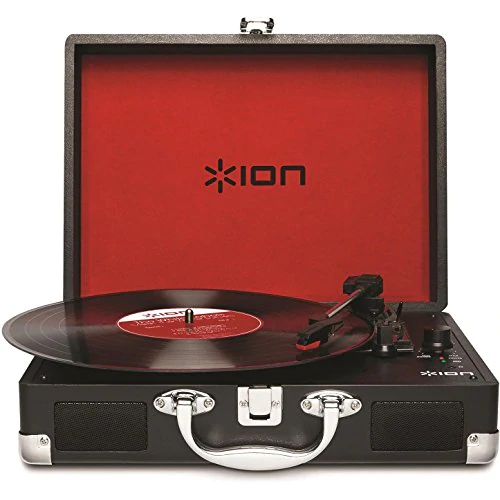 Among the most significant advantages of having a portable record player like the Ion Audio Vinyl Motion is that it has a long battery life, up to four hours.
To complement the digital age, this portable record player can quickly convert old vinyl records into digital format. This means that you can store them as MP3 files (all the important software you need to make it happen is included).
The portable record player's convenient carrying handle and built-in speakers make it possible for you to experience your vinyl collection anywhere you want.
To top it off – it comes with a generous list of accessories such as Vinyl converting software, power adapter, audio cables, USB cable, cartridge with a pre-assembled stylus, dust cover, slipmat, 45 RPM adapter, and a quick start guide.
Pros:
USB port and built-in speakers
Simple vinyl conversion software
Headphone jack
Protective dust cover
4-hour battery life
Cons:
Plastic design is not the sturdiest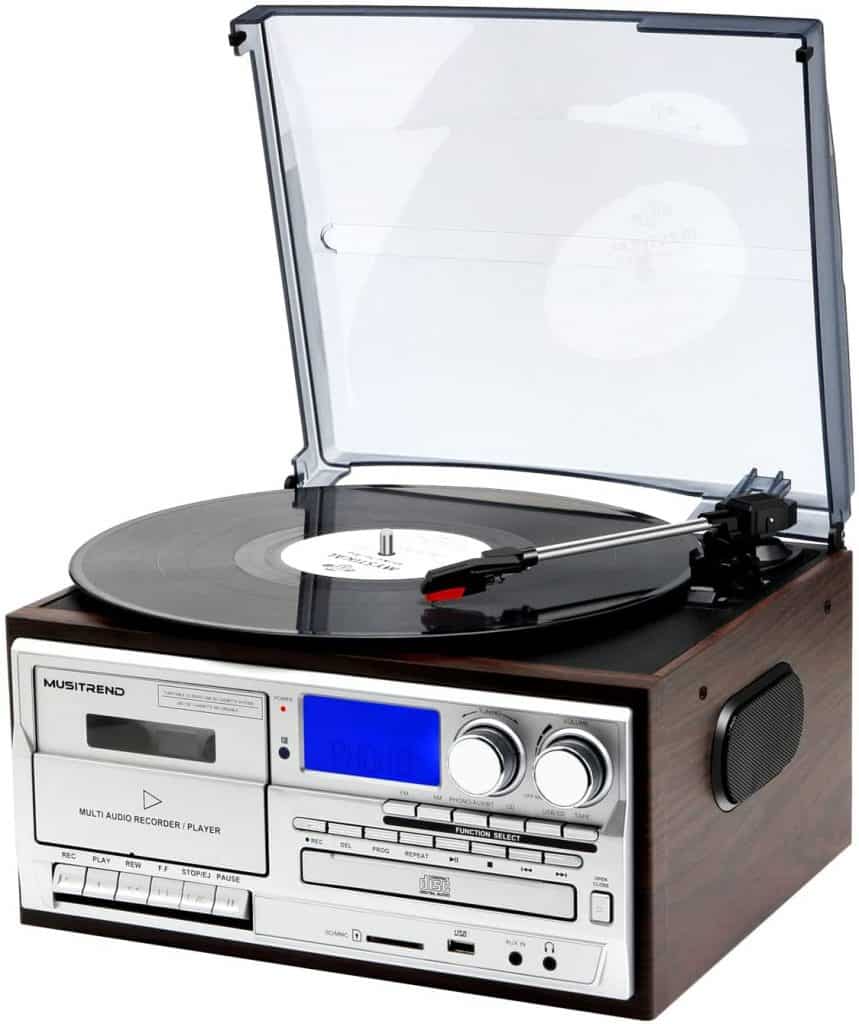 The Musitrend 9-In-1 Portable Record Player is so much more than a portable turntable – it's a complete portable entertainment system!
With more features and options that you probably have fingers (not including thumbs here!), the Musitrend 9-in-1 gives you:
A 3-speed vinyl player for your 33, 45 and 78 rpm discs in 7, 10 and 12-inch formats
Turntable recorder
AM / FM digital radio
CD player
Cassette player
Bluetooth connectivity
USB / SD playback and encoding
3.5mm Aux-In jack for playing music from devices and headphone jack
LINE OUT connector for external speakers.
Packing all of this into an awesome retro design with two built-in stereo speakers, this portable powerhouse lets you take your favourite vinyl with you anywhere, as well as any and almost every other format of music you might own!
This is definitely our pick for the most versatile and feature-rich portable turntable you'll find.
Pros:
Great retro design
Countless features and functions
Option to connect better external speakers for much bigger and clearer sound
Cons:
Jack of all trades – master of none
With the Crosley Cruiser Deluxe by your side, you can mobilize music in awesome style.
With a classic and elegant design, paired with pitch control and Bluetooth connectivity – the Cruiser Deluxe not only lets you spin your favorite vinyl records, but also allows you to stream music from your Bluetooth-enabled device wirelessly to the turntable's dynamic full-range speakers and customize your listening experience.
Its wood construction and vinyl leatherette material make it the best looking option on this list in our opinion and if you are particular about color, this portable record player comes with over 10 options including rare colors like lime green, fuchsia, and powder blue.
Like most portable record players on the market, the Crosley Deluxe comes with the usual three-speed options as well as rear RCA outputs, Bluetooth functionality and a built-in headphone jack.
Pros:
Stylish design
Various color options
Leather and wood material
Adjustable pitch control
Belt-driven
Lightweight
Cons:
No USB connectivity
Speaker tends to be a little weak in volume
The GOODNEW Vinyl Record Player is among the most compact record players on the market.
This record player allows you to play all of your 7", 10", and 12" sizes complete with the usual three-speed options.
Its fully automated operation is one of the highlights, having an automatic stop on/off switch built inside the turntable.
It comes with a strong output connection with options of an aux jack including RCA out and lines out, USB and Bluetooth connectivity.
As for the sound quality, having built-in dual stereo speakers and a diamond ruby stylus helps it hit the mark, but pairing up some external speakers will really get you bopping!
Pros:
Sturdy suitcase
Includes FM radio
Dual stereo speaker
USB and Bluetooth
Ruby Stylus
Cons:
Heavier compared to other portable record players
Limited to 3-hour battery life
Major Components of a Portable Record Player
At first glance, a portable record player might look simple, but they are not.
To spin records at a constant speed and reproduce the data from grooves into the electrical signal, efficient, functional design is essential. B
elow are some of the major components you'll find in a portable record player:
Turntable: The turntable refers to the part where the record sits. This part is commonly made of aluminum, plastic, or metal. However, aluminum is the most preferred due to its stability and ability to reduce vibration.
Stylus: The stylus, better known as the needle, is the part that rests on the actual record. It is the part you see running in the grooves while the record plays.
Tonearm: The tonearm is responsible for holding the needle and connecting it to the record player housing. It works together with the cartridge.
Cartridge: The cartridge translates the record's groove that the needle is reading into actual sound. The vibrations produced by the needle riding the grooves will travel through the wires in the tonearm, ensuring that it will reach the cartridge.
Bearing: The bearing is the reason why a turntable produces a friction-free rotation. It also promotes quiet and smooth rotations.
Plinth: The plinth is also known as the base of the record player. It is responsible for holding other components necessary for playing the records. It also helps in preventing the vibration that may affect the sound quality.
Specifications of a Portable Record Player
Knowing the specifications of a portable record player will help you compare the different models. Apart from methods of connectivity and vibration dampeners, you also need to be familiar with the following specs.
Playback Speed: Most portable record players have 3-speed rates (33 1/3, 45, 78 RPM). But be aware that not all record players can play 78 RPM records properly. Due to wider grooves, the 78 RPM records will require you to use a special stylus and cartridge.
Speed Variation: This spec refers to the platter rotation accuracy on the turntable. The sound quality can be lowered when there are deviations in the record speed. That is because it can change the pitch or even deliver an audible interface while you are listening to music.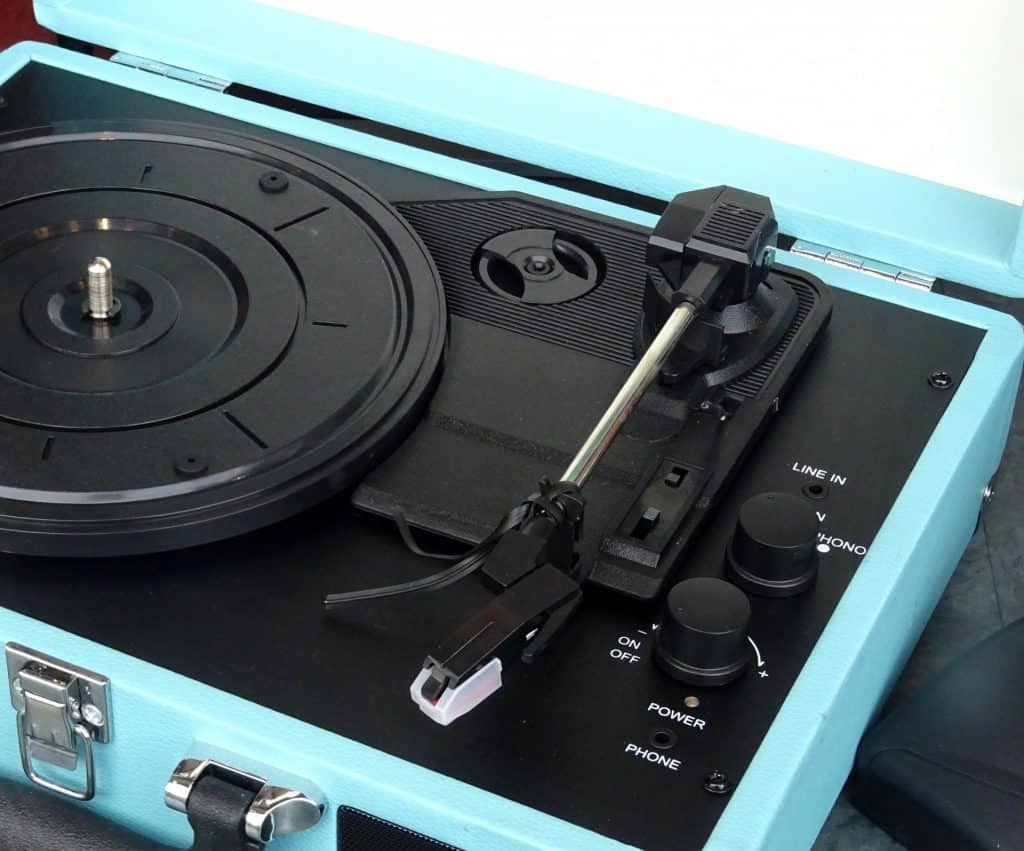 Frequently Asked Questions
Choosing the best portable record player for your needs requires time and thought to ensure that you will get the right one. To help you be more familiar with record players, consider the following frequently asked questions:
Is it possible to connect my external speakers to the portable record player?
Depending on the model you have, you can connect the external speakers to a portable record player.
In fact, most options equipped with built-in speakers can be connected to an external audio system to achieve a better listening experience.
Do I need to use a preamp with my portable record player?
No, there's no need for you to use a preamp with most portable record players.
Does a vinyl record wear out?
Eventually, vinyl records will wear out. To enjoy your favorite vinyl records for years to come, you can convert and save them into digital format.
Will I need to purchase a speaker for my portable record player?
The answer will depend on the model you have purchased. But, most of the modern portable options are equipped with built-in stereo speakers already.
What is the best way to clean my portable record player?
Make sure to gently dust your record turntable on a regular basis using a soft duster or a lint-free cloth, and give a deeper clean on a less frequent basis. Read our article on how to clean a record the right way, this will maximize the shelf life of your vinyl record collection and turntable.
Do all portable record players come with cartridges?
All of the above portable record players come with cartridges.
Can I upgrade my portable record player?
Although many portable record players today can be upgraded, some models cannot be upgraded at all. Most models that can be upgraded come with an expensive price tag because they tend to produce better sound quality.
Conclusion
To get the most out of your music listening experience on the go, a portable record player can be a great option. Portable turntables are generally much cheaper than dedicated Hi-Fi or audiophile turntables, but as you expect, generally aren't as high quality. It makes them a great starting point to 'wet your feet and get going with vinyl.
If it's your first time buying a portable record player, we hope this comprehensive buying guide has helped you out.
-
The Best Portable Turntables & Record Players
A Quick Look
Price

BEST OVERALL

Crosley Executive Vintage Portable Suitcase Turntable

Built-in bluetooth receiver lets you stream your music wirelessly to the executive's dynamic full-ra
Adjustable pitch control
Belt-driven turntable plays 3 speeds: 33 1/3, 45, and 78 rpm records
Built-in full range stereo speakers with auxiliary input and rca audio output
Usb enabled to connect to windows pc or mac - take your music from vinyl to digital in a flash

Check Latest Price

Most 'High-End'

Audio-Technica AT-LP60 Automatic Turntable

Experience the high fidelity audio of vinyl
Fully automatic belt drive turntable operation with 2 speeds: 33 1/3, 45 rpm
Anti resonance, die cast aluminum platter
Redesigned tone arm base and head shell for improved tracking and reduced resonance
Ac adapter handles ac/dc conversion outside of the chassis, reducing noise in the signal chain

Check Latest Price

Numark PT01USB | Portable Turntable

Class-compliant usb connection, includes usb cable
10% pitch control
Converts all 45s, 78s and 12-inch lp records
Includes ac adapter or battery-powered by six "d" cells (not included)

Check Latest Price

ION Audio Vinyl Motion Portable Turntable

Portable, self-contained suitcase-style turntable for 33 1/3, 45, and 78 rpm records
Built-in stereo speakers for great sound anywhere
Rechargeable battery for up to 4 hours of enjoyment between plug-ins
Rca outputs to connect to larger stereo systems, headphone jack for private vinyl listening
Ez vinyl/tape converter software converts records to digital files via usb

Check Latest Price

Most Features

MUSITREND 9 in 1 Turntable

9-in-1 record player --- the vinyl player measures 12.8 * 11.6 * 7.9 inch and is not only a high qua
Am / fm digital radio --- let our eyes rest and listen to radio news, enjoy one of your favorite com
Wireless player and turntable recorder --- transmits music wirelessly up to 10 meters. it's easy eno
3-speed vinyl player --- the turntable rotates 33, 45 and 78 rpm discs in 7, 10 and 12 inch formats
Great high-end gift idea --- an old-style vinyl player perfectly translates the features of the viny

Check Latest Price

Most Stylish

Crosley Cruiser Deluxe Suitcase Turntable

Vinyl-wrapped turntable with color based on a 2018 pantone favorite
Built-in bluetooth receiver lets you stream your music wirelessly to the cruiser's dynamic full-rang
Adjustable pitch control
Belt driven portable turntable plays 3 speeds: 33 1/3, 45, and 78 rpm records
Dynamic full range stereo speakers; rca and headphone jack outputs

Check Latest Price

GOODNEW Vinyl Record Player

Usb record player - as a usb record player and simply connects to your pc via usb cable. use the inc
Stylish - vintage styled stand-alone vinyl record player. briefcase / suitcase design for easy porta
Three speeds - adjustable to play 33 1/3, 45 or 78 rpm records.
Built in speakers - dynamic full range stereo speakers. rear phono connection for connecting the rec
Dynamic, balanced tone arm with soft damping control

Check Latest Price
Similar Articles: