A record player with speakers built in to it is undoubtedly convenient – but, the real question is – are they any good!?
The answer is … it depends.
On the whole, this is a category filled with cheaply-made and poorly built units that can cause endless headaches, frustrations and actual damage to your favourite vinyl records.
That being said – there are a few brands and models that do a fantastic job of combing the convenience and usability of a turntable with in-built speakers, with the decent sound quality and performance you're after.
In this buyers guide, I will take you through a round-up of the 5 best record players with speakers we believe are available in 2021.
With a personal background in Hi-Fi systems, music and audio – I happily recommend these as a great gift for friends or family, or as an excellent starting point for anyone wanting to make their first move into vinyl records.
They definitely make the experience simpler and much less expensive, without sacrificing too much sound quality.
All right – let's get into it!
The 5 Best Vinyl Record Players With Built In Speakers for 2021
With an overwhelming number of turntables with speakers on the market, we've narrowed down your choice to what we think are 4 of the very best. These carefully considered and honest reviews should make your decision much easier.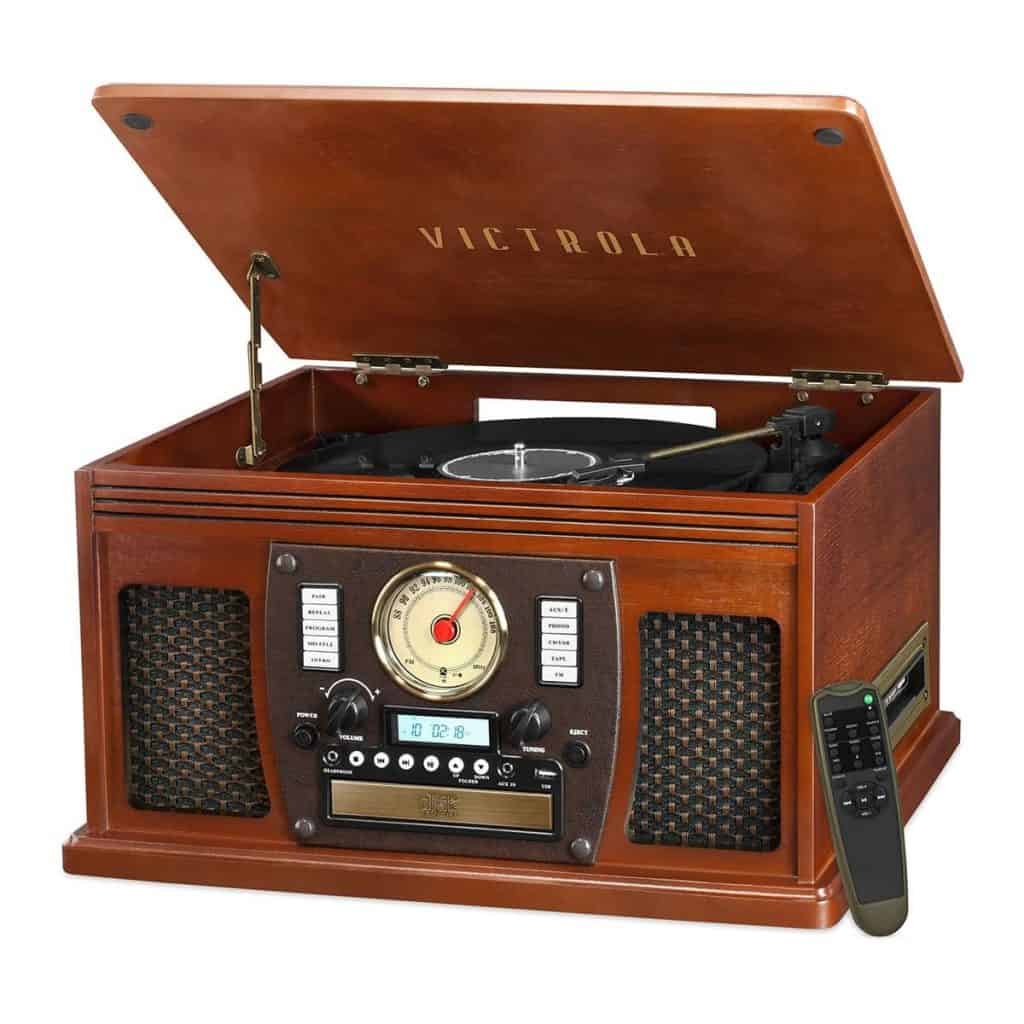 Victrola has been in business as long as people have been learning to play music! Well, maybe not that long, but they were founded in 1906 and are known worldwide for their focus on design, craftsmanship and sound.
The Victrola Navigator 8-in-1 Music Center is definitely the most 'feature-rich' record player with speakers on this list, offering (yep, you guessed it) 8 different ways to play your favourite music.
In the record playing department, the Navigator offers a 3-speed (33 1/3, 45, 78 rpm) belt-driven turntable that not only offers an impressively decent sound quality for the setup but also the capability to record vinyl records directly to your computer, with a Mac and PC compatible software and USB cable included.
For all of your other listening needs, the Victrola Navigator offers a built-in CD Player, USB Player, FM Radio, RCA, headphone jack … and even a cassette player! Add to that built-in Bluetooth for music streaming from your tablet, smartphone or MP3 and that just about covers every single way of listening to music possible.
A truly a complete music center, the Navigator is a brilliant blend of modern technology and retro-styling, offering a great aesthetic with easy to use switches controls as well as a full function remote control. The in-built stereo speakers mean that you have everything you need to be up and running straight out of the box, however, you also have the option of connecting more powerful external speakers if desired as well.
With four colors available (Mahogany, Black, Espresso and Oak) and a striking vintage style, the Victrola Navigator is not only a versatile and well-built player, but is also the talking point of any room you put it in.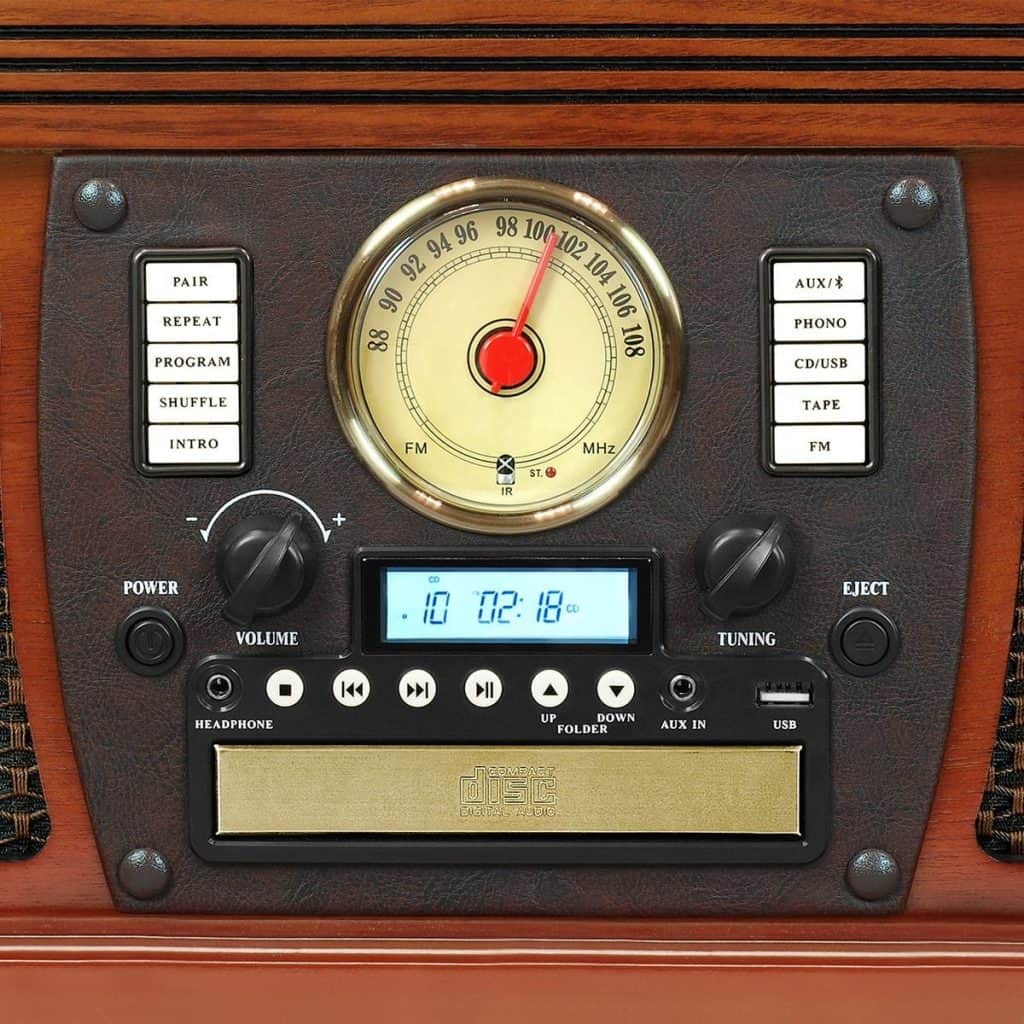 Pros:
Stunning, wooden appearance becomes a centerpiece in any room
Good sound quality
Offers countless ways to play your music
Vinyl recording function
Cons:
Heavy and less portable compared to other models
Number 2 on our list again comes from the iconic and long-standing audio brand 'Victrola', however, this model is much sleeker, more compact and even portable!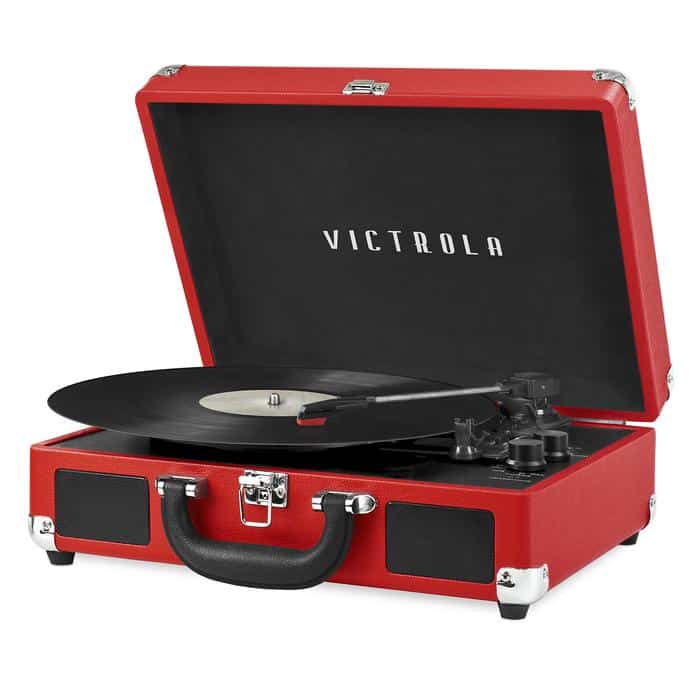 Despite it's smaller portable size the Victrola 'Journey' 3-Speed Bluetooth Portable Suitcase Record Player is not short on features.
Accompanying a 3-speed (33 1/3, 45, 78 rpm) belt-driven turntable unit is a Bluetooth receiver, 3.5mm Aux-In port, RCA out, headphone jack and of course, built-in stereo speakers. Furthermore, Victrola have gone the extra mile with this one and included a custom tuned pre-amplifier and sound isolating feet for improved audio clarity and bass performance, as well as a replacement turntable needle should the original ever break!
The controls are simple and straight-forward to use, and it even packs in an auto-stop switch to stop your records spinning once they've finished and prevent any damage or wear.
The build quality is notoriously sturdy and robust and offers countless finishes to choose from to suit your style. From psychedelic tie-die and camouflage vinyl through to classic matte wraps and the good ol' America flag – you're sure to find something you love.
Being so portable and robust means the Victrola Journey is a great party-starter, perfect for taking with you to any gatherings or outings. Still managing to be rich in features and sporting over 35,000 positive reviews (🤯) – the Journey is simply a brilliant unit for what you pay, and may well be the best 'value' record player with in-built speakers on this list.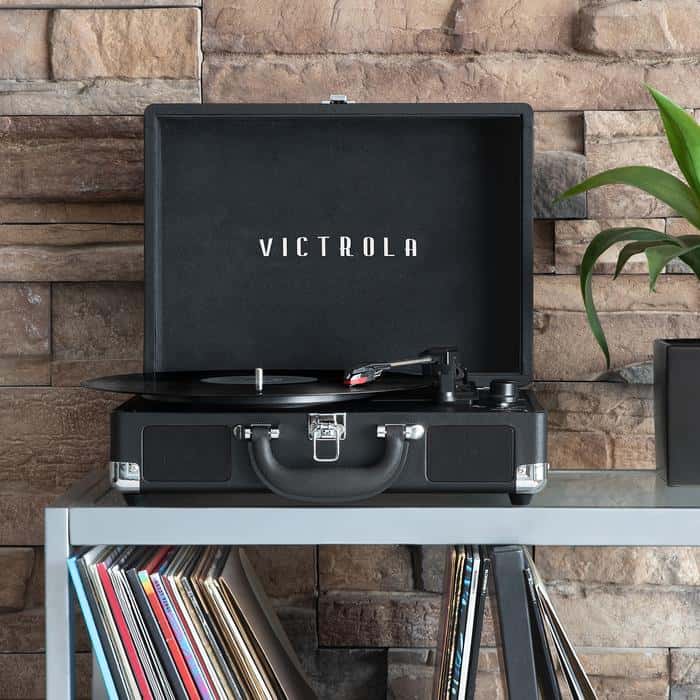 Pros:
Light, portable, & sturdy
Good feature set for it's size
Heaps of finishes to choose from
Custom pre-amp and replacement needle included
Made by a reputable and long-standing audio brand
Over 35,000 happy customers!!
Cons:
Not a 'big' sound capable of filling larger rooms.
If you're looking for the convenience of a record player with speakers built in, and the style of something that seems much grander and more expensive than it actually is – then the LuguLake Retro all-in-one turntable is definitely your ticket.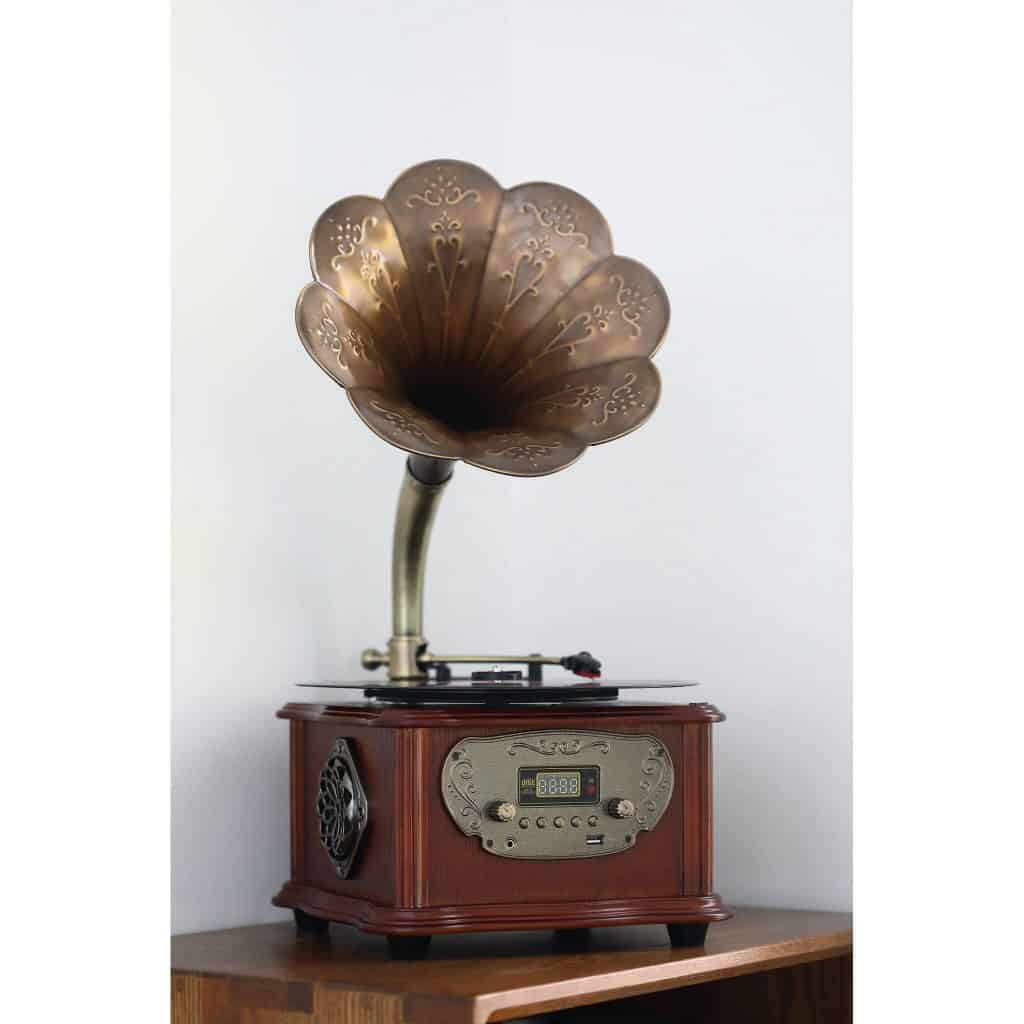 Arguably the best looking all-in-one record player on the market anywhere, the Lugulake Vintage Phonograph also comes with an impressive set of features and decent sound quality for the price!
Offering a belt-driven 2-speed turntable for your 33s and 45s, the Lugulake Vintage also comes with a quick-fit adapter that can easily fit your 7″, 10″ & 12″ records. The tonearm is finished with a replaceable ruby stylus that extracts a surprising amount of detail from your favorite vinyl records.
The sound comes from a total of 3 in-built speakers – 1x 10W tweeter inside the hand-constructed pure copper horn, and 2x 20W full-range stereo speakers in the base. This all combines for a near 360 degree sound path, allowing you to place it wherever best suits your room.
While it may look like it's dropped straight out of the 1920s, the Lugulake Vintage also offers FM Radio, Bluetooth connectivity, a 3.5mm aux in port and a full function remote allowing you to listen to music in every which way possible.
All housed in a sturdy and well-built base with a number of hand-finished components, the Lugulake Vintage is an excellent blend of old-world style with modern capability and convenience.
Find me a better looking turntable … I'll wait.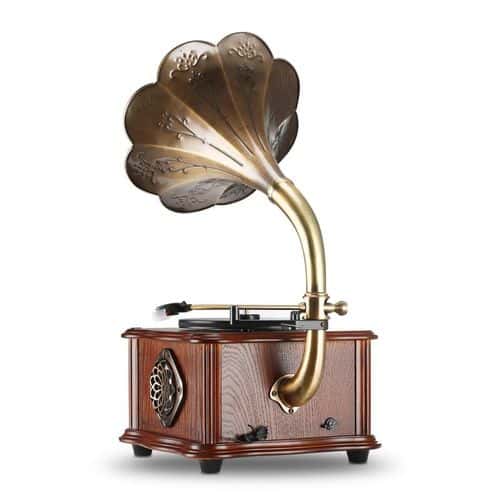 Pros:
Unmatched style and elegance
A good overall sound and feature set
A real talking point for any house guests
Cons:
It's a look you either love or hate
Obviously not as portable as others
Standing proudly on its own 4 feet is the Crosley 'Sterling' – the top of the line turntable with built-in speakers from the widely known audio brand, Crosley.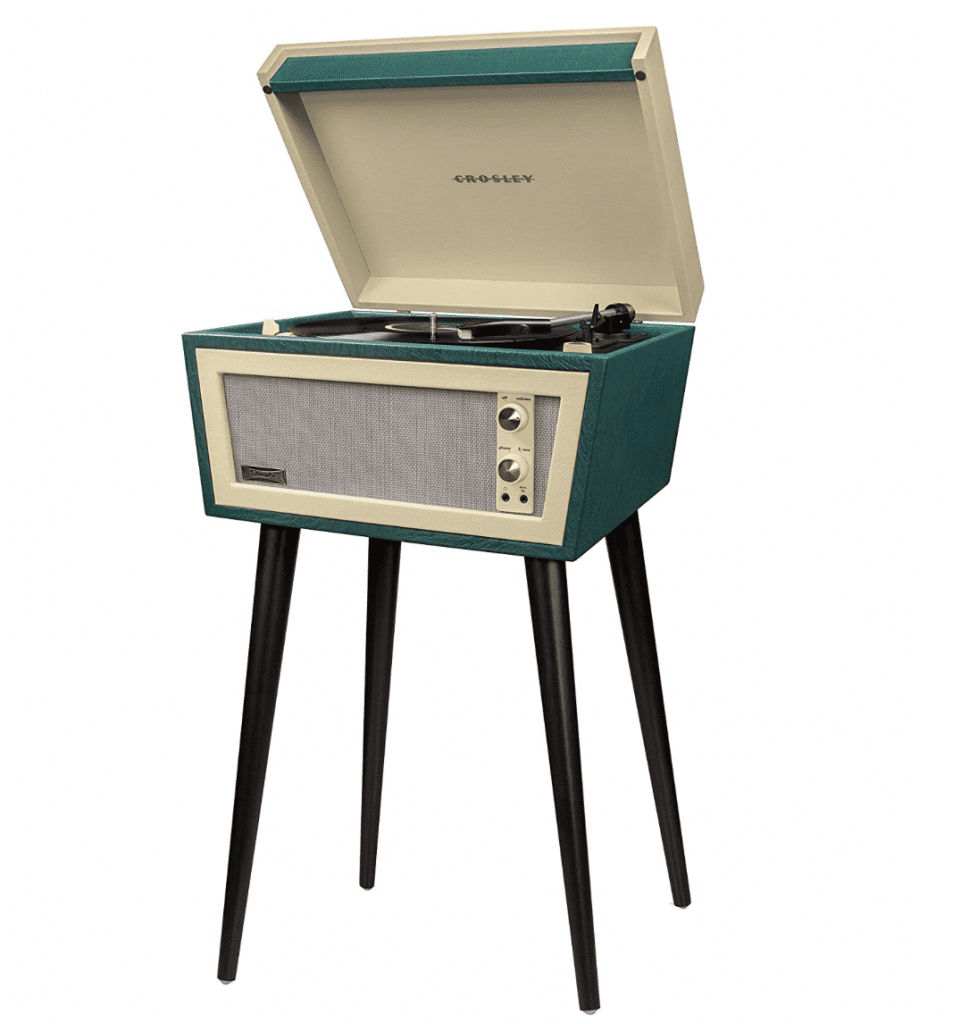 A quick glance will let you know that this one is a little different to the previous models we've listed in that it comes with its own attachable legs! This is obviously very useful if space is at a premium and you don't have any table or shelf space to spare, however, they easily detach if you want to easily take it with you.
The Sterling operates a 2-speed belt-driven turntable for 33 1/3 and 45 RPM records, catering for 7″, 10″ & 12″ LPs and also offering pitch control. It utilises a notably high-quality needle and cartridge setup for turntables in this category, fit with the AudioTechnica AT-3600 moving-magnet cartridge with a diamond tip stylus.
Sound comes from a stereo pair of built in dynamic full range speakers, however, the Sterling also offers an RCA-line out allowing you to connect an external set of speakers for a bigger sound if you desire.
As with most of the models in this category, you can also stream via bluetooth or attach your device via aux cable for many more options beyond just vinyl.
The vinyl wrapped finish, color schemes and shape of this one give it a real 1950s feel, and combined with a few higher quality components like an AudioTechnica cartridge – this is a great example of 'form meets function'.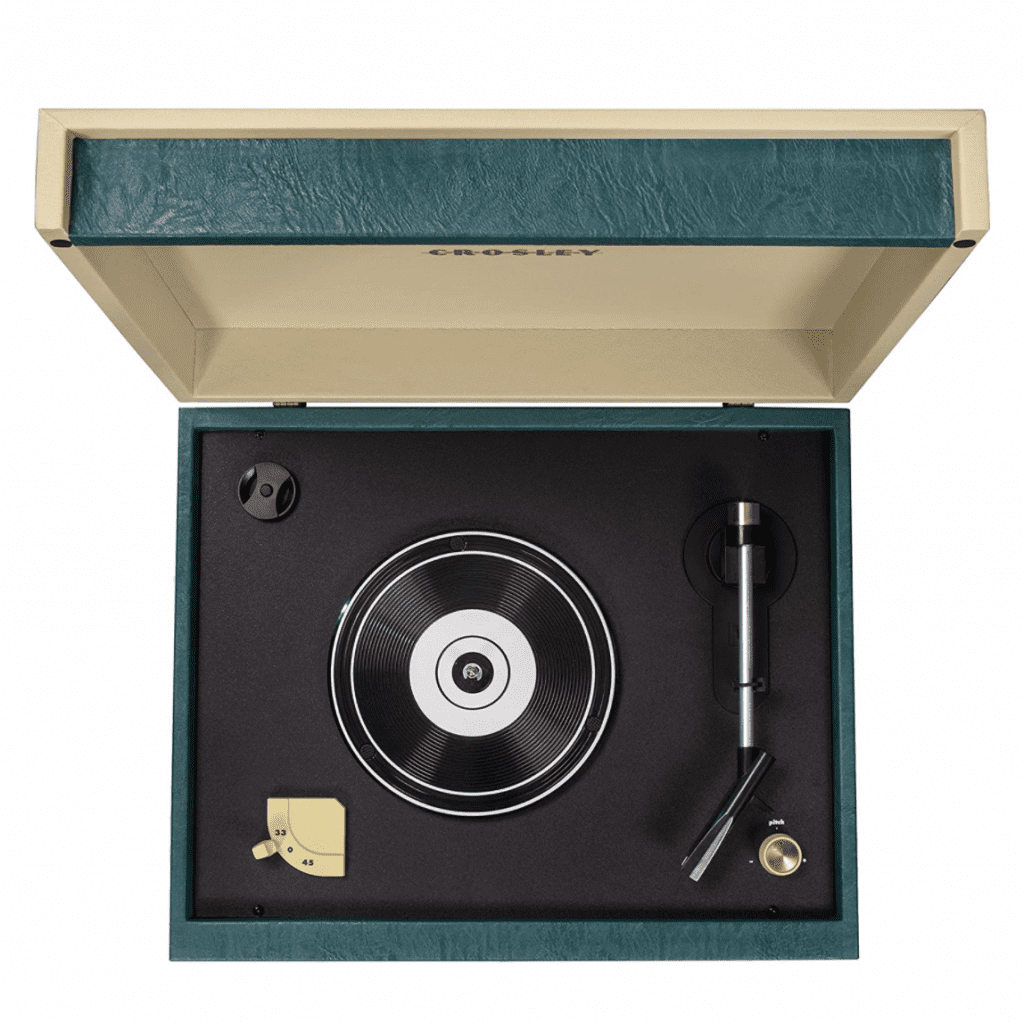 Pros:
Good build quality and components
A great 1950s retro look
Comes with its own legs!
Cons:
Not as cheap or as portable as some of the entry level Victorla models
5.) The Absolute Cream Of The Crop – Andover Audio Model-One Turntable Music System
When it comes to record players with speakers combined – there are none better than the Andover Audio Model-One Music System.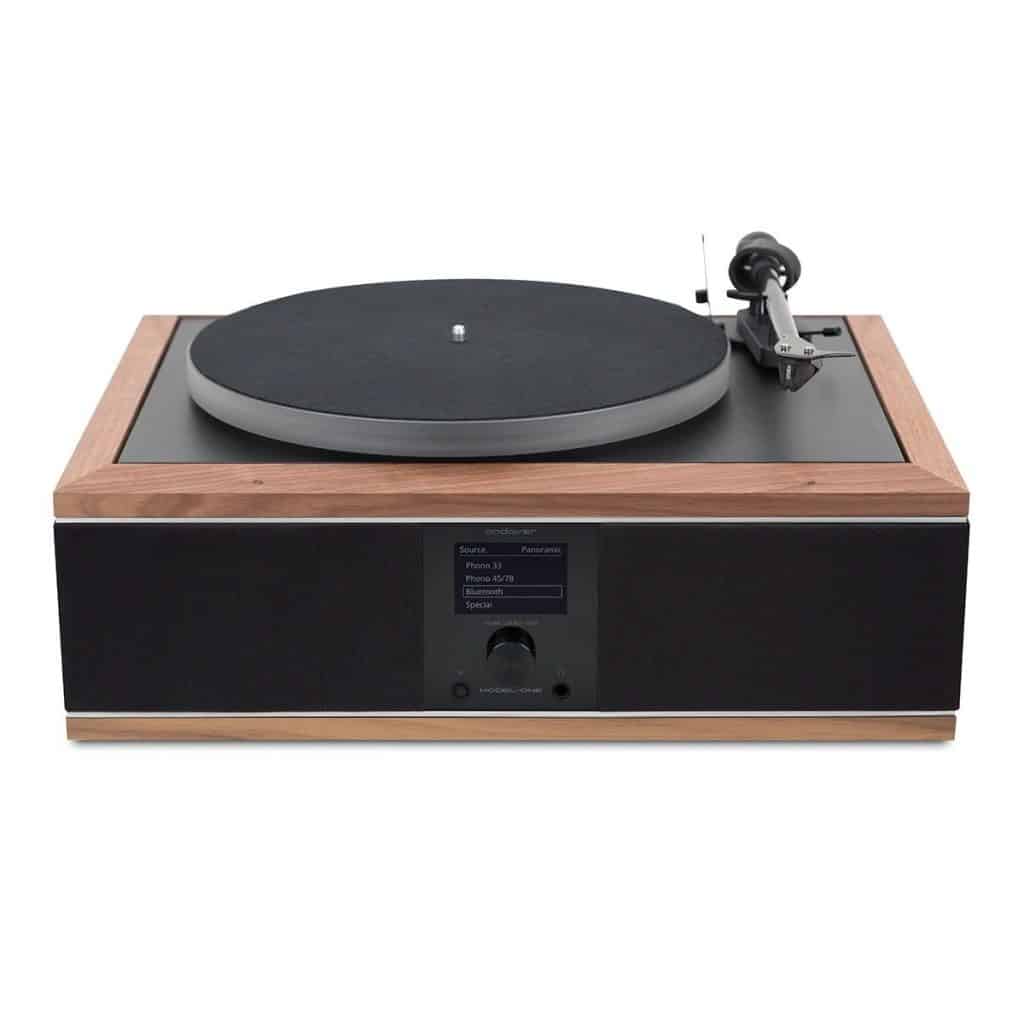 The Andover Audio Model One is hands down the best quality purchase you can make in this category – offering genuine Hi-Fi audio performance with the convenience of an 'all-in-one' music system.
The Model one plays all your favourite 33, 45 and 78 records via a dedicated custom turntable based on the award-winning Pro-Ject Debut Carbon Espirit SB. It all comes fit standard with a carbon fibre tonearm, Ortofon 2M Silver Cartridge and acrylic platter. If you know anything about Hi-Fi – you'll know that this is a powerfully impressive setup designed to extract incredible detail and sound quality from your vinyl.
The Andover Audio Model One is also fit with the latest Bluetooth 4.2 (with APT-X) for your wireless devices and offers a suite of other connectivity options such as:
RCA, Optical, Coax and 3.5mm jack inputs
RCA stereo out, headphone out and a sub out
USB (both in and out)
The sound from the model one is delivered by an integrated loudspeaker system composed of four 3.5″ aluminum diaphragm woofers and two Air Motion Transformer tweeters. This is all amplified by a Class-D 150W amplifier and provides clarity, balance and a frequency-range like nothing else in this category comes close to.
The build, design and aesthetic of the Model One can all be described as refined and elegant – offering beautifully simplistic yet effective functionality that allows EQ selection, stereo image listening modes and the proprietary Andover IsoGroove Technology to reduce distortion and vibration.
The other options on this list simply don't hold a candle to the Andover Audio Model one when it comes to sound quality, build quality, design and performance. But they also are a lot lighter on the wallet.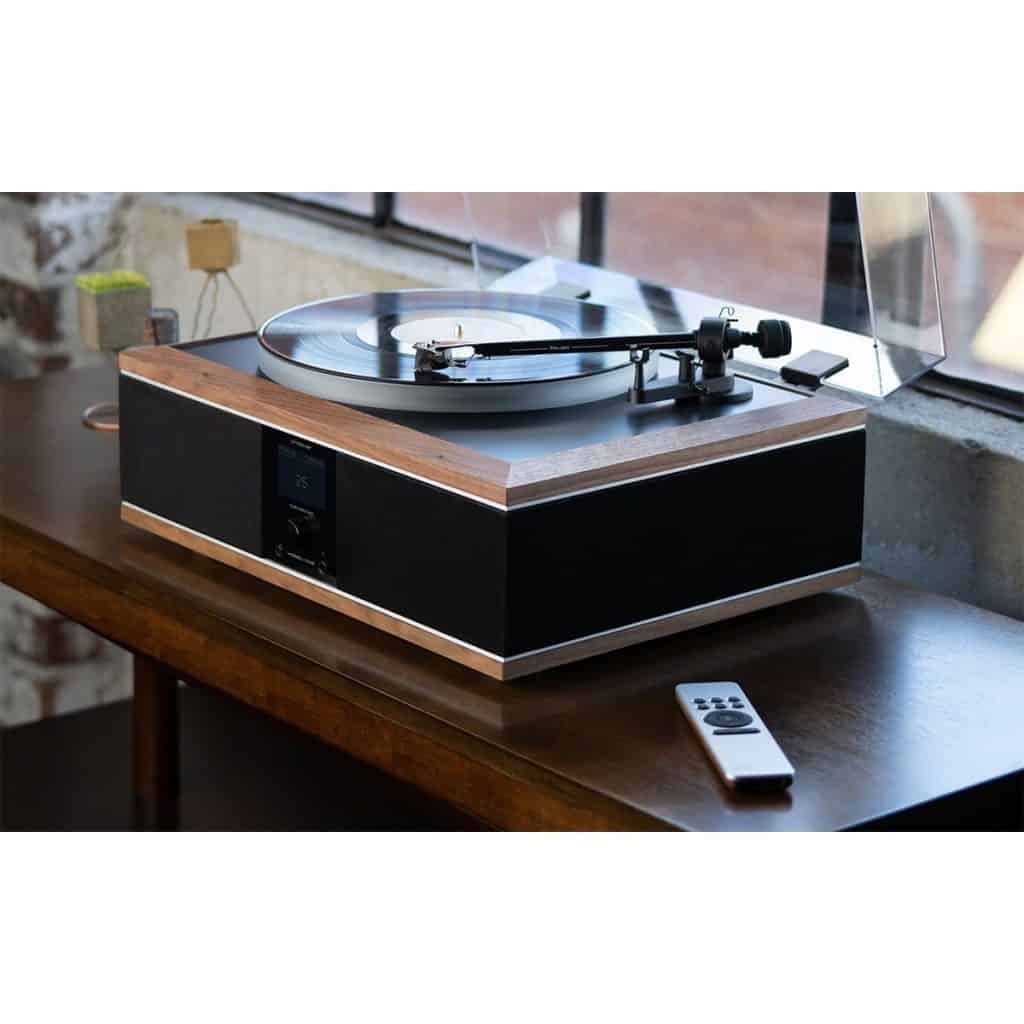 Pros:
The best of the best record player with speakers on board you can buy
Sound quality approaching a dedicated Hi-Fi system
Obviously much more expensive than it's lesser quality counterparts
Cons:
Price – the most expensive on this list, but for very good reason
Is a Record Player with Speakers What I Want?
Ok everyone – let's be honest here.
All-in-one record players are an excellent gift item or inexpensive starting point if you're looking to 'dip your toes' into the world of vinyl records and record players.
They are convenient, easy to use and don't cost anywhere near a dedicated Hi-Fi system. However, if you're expecting world-class sound quality and breathtaking performance, you'll probably be disappointed (with the exception of the Andover Audio Model One).
The models we've listed here are the best in this category in our opinion, offering a number of different features, functions and price points between them.
If you're at the stage where you're looking to take your Hi-Fi a bit more seriously and bring breath-taking performance into your own lounge room, we highly recommend stepping beyond a simple record player with speakers, and moving more towards a dedicated 2-channel system from a quality retailer such as World Wide Stereo or Audio Affair (use the code ROM20 at Audio Advice for £20 off all orders over £250.)
We hope this has helped you discover the best all-in-one turntable solution for you, if you're interested in finding out about more awesome audio gear check our Rocks Off Resources page, and if you have any questions at all – don't hesitate to shoot us an email!
Similar Articles: