As a veritable institution of modern music, Bob Dylan's contributions to the musical canon cannot be overstated. From his emergence in the '60s as a folk troubadour and protest singer, he has morphed into a genuine musical giant, defying expectations and routinely surprising listeners. With a discography that spans more than 60 years and 39 studio albums, the scale of Dylan's output is almost as staggering as its consistent quality.
His genius lies not just in the lyrics – poetic and often cryptic – but also in his melodic inventiveness and his ability to merge various musical traditions, from folk, rock, and blues to country, gospel, and beyond. Each album in his vast discography presents a new facet of Dylan, a fresh perspective that shows him forever pushing boundaries and questioning the status quo.
Throughout this constant evolution, Dylan has tackled an extensive range of themes and subjects. His works have confronted war, civil rights, love, betrayal, mortality, and the human condition itself. Each album is not just a collection of songs, but a snapshot of the era it was created in, a reflection of the artist's inner workings and the world around him.
Ranking Bob Dylan's best albums is a daunting task. Given his unparalleled and prolific career, choosing his top albums feels almost reductive. Yet, it provides us with an opportunity to revisit and appreciate his expansive body of work and his immense influence on music and culture.
So, let's take a trip down the metaphorical Highway 61, traversing the peaks and valleys of Dylan's discography, journeying through time, sound, and lyrics. From his early folk roots to his electric revolution, from his gospel era to his late-career renaissance, we will journey through the 23 best albums of Bob Dylan's enduring and varied career.
Buckle up, folks – it's going to be a fascinating ride.
PS. Don't ask me why I decided to start at number 23. With more than 40 studio albums to his name, I had to draw the line somewhere.
Bob Dylan's Best Albums. From The Bottom To The Top
#23. 'World Gone Wrong' (1993)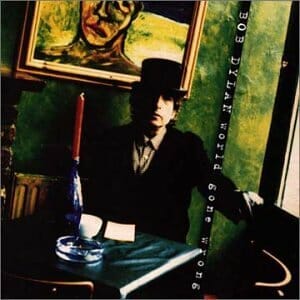 With 'World Gone Wrong', Dylan ventures back into his roots, presenting a haunting compilation of traditional folk and blues covers. Dylan's stripped-back renditions of these classics provide an intimate glimpse into the songs that shaped him in his formative years. Each track is infused with a raw, unfiltered energy that takes listeners on a nostalgic journey back to a bygone era.
#22. 'Shot of Love' (1981)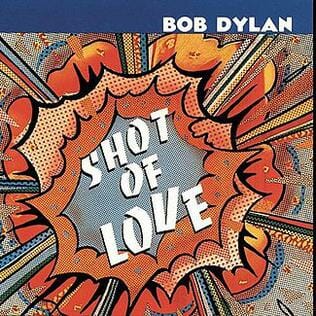 Dylan's third 'born-again' Christian album, 'Shot of Love' is a rich tapestry of religious and secular themes woven together with classic Dylan flair. The album, which blends elements of blues, gospel, and rock, has a potent track, "Every Grain of Sand," considered one of Dylan's most poignant compositions, revealing the depths of his spiritual and artistic journey.
#21. 'Under the Red Sky' (1990)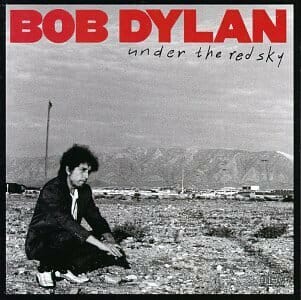 Despite its lukewarm reception upon its release, 'Under the Red Sky' has aged like fine wine, becoming a hidden gem in Dylan's discography. The album's surreal, fairytale-like lyrics combined with its rock and blues-infused soundscape make for a captivating listening experience. It's an eclectic and unpredictable sonic journey that fully showcases Dylan's diverse musical tastes.
#20. 'Street-Legal' (1978)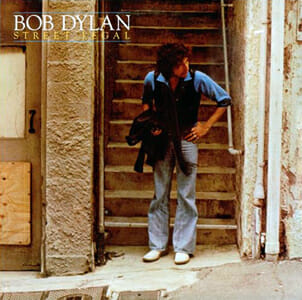 'Street-Legal' is Dylan's intriguing venture into jazz and big-band arrangements. The album's expansive sound, combined with Dylan's rich and imagery-filled lyrics, creates a cinematic sonic landscape. From the brooding "Changing of the Guards" to the fervent "Senor (Tales of Yankee Power)," the album displays Dylan's ability to blend the philosophical with the personal.
#19. 'Empire Burlesque' (1985)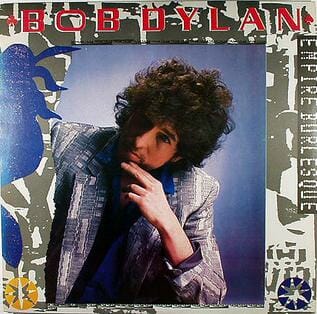 Despite the '80s production that may not have aged particularly well, 'Empire Burlesque' houses some of Dylan's most underrated songwriting. The album oscillates between hard rock and pop, underlined with a heart of pure blues. "Tight Connection to My Heart" stands out as a prime example of Dylan's skill in crafting evocative love songs.
---
RELATED: Meet Anna Dylan – Daughter Of Music Royalty
---
#18. 'The Basement Tapes' (1975)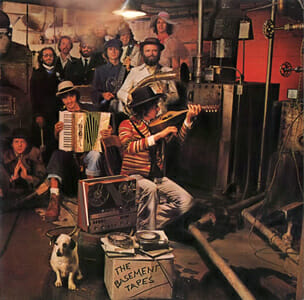 'The Basement Tapes' offers an insider's glimpse into the relaxed, creative jam sessions between Dylan and The Band in the late '60s. It's raw and unpolished, a bootleg-style collection of tracks that range from folk ballads to comedic ditties. The track "Tears of Rage," co-written with Richard Manuel, captures the soulful depth and collaborative spirit that characterized these legendary sessions.
#17. 'John Wesley Harding' (1967)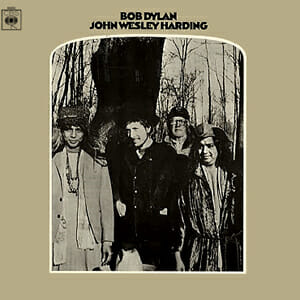 In 'John Wesley Harding,' Dylan trades psychedelic sounds for a more stripped-back, country-folk style. His minimalist approach lets the profound storytelling in tracks like "All Along the Watchtower" and "The Ballad of Frankie Lee and Judas Priest" shine through. This album underscores Dylan's flexibility as an artist and his ability to defy expectations at every turn.
#16. 'Another Side of Bob Dylan' (1964)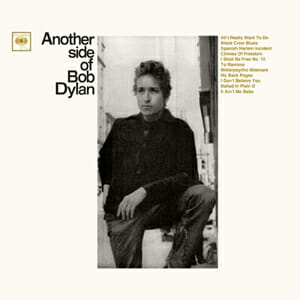 With 'Another Side of Bob Dylan', Dylan explores his introspective and poetic side, presenting a collection of songs that range from the melancholic "Ballad in Plain D" to the playful "I Shall Be Free No. 10." The album, completed in one night, marked a significant shift from the overtly political songs of his earlier work, revealing a more personal and multi-dimensional side of Dylan.
#15. 'Desire' (1976)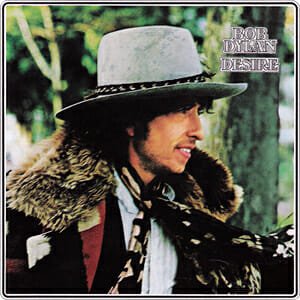 'Desire' is an album replete with vivid storytelling and vibrant musical styles, making it one of Dylan's most evocative works. The gripping "Hurricane," about the controversial imprisonment of boxer Rubin Carter, sees Dylan's return as a protest songwriter. With its poignant narratives and passionate performances, 'Desire' is a testament to Dylan's enduring cultural impact.
#14. 'Planet Waves' (1974)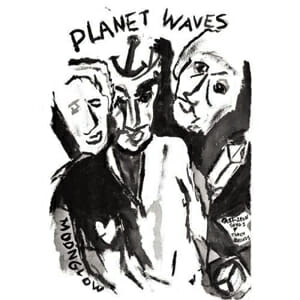 'Planet Waves' marked Dylan's reunion with The Band, resulting in an album that brims with a palpable sense of camaraderie and mutual respect. It boasts emotional tracks like "Forever Young" and "Dirge," demonstrating Dylan's knack for crafting timeless, relatable anthems. 'Planet Waves' is a vibrant celebration of the synergy between Dylan and The Band, capturing a pivotal moment in Dylan's career.
---
RELATED: Bob Dylan's 10 Greatest Songs
---
#13. 'Time Out of Mind' (1997)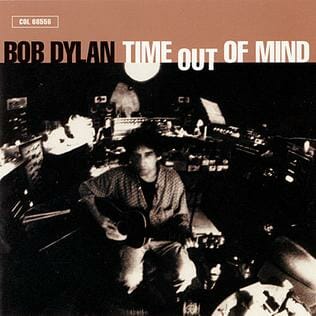 'Time Out of Mind' marked a potent return for Dylan after a lengthy recording hiatus. The album is filled with melancholic tracks that reflect themes of mortality, regret, and lost love, characterized by Dylan's gravelly voice and Daniel Lanois' atmospheric production. Its closing track, "Not Dark Yet," stands out as one of Dylan's most profound late-career songs, demonstrating his enduring lyrical prowess.
#12. 'Modern Times' (2006)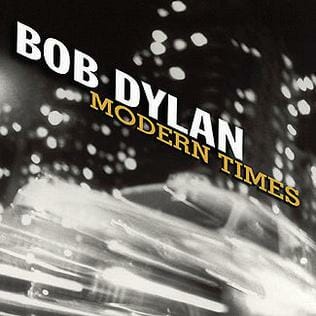 'Modern Times' saw Dylan tapping into various traditional styles of American music, with elements of blues, country, and folk interwoven throughout. The album feels both familiar and fresh, a testament to Dylan's ability to take the old and make it new. The Grammy-winning record showcases Dylan's ability to resonate with listeners across different generations.
#11. 'Nashville Skyline' (1969)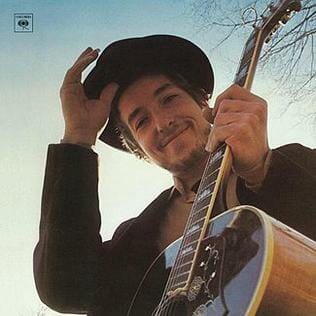 'Nashville Skyline' is a distinct departure from Dylan's previous works, as he embraces country music with a newfound fervor. Dylan's smoother, laid-back vocals and the album's upbeat, catchy melodies create a warm, inviting soundscape. With this album, Dylan once again proved his ability to traverse musical genres with ease and authenticity.
Bob Dylan's Top 10 Albums
#10. 'Slow Train Coming' (1979)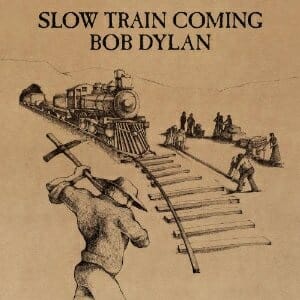 'Slow Train Coming' marks the beginning of Dylan's born-again Christian phase, exploring themes of faith and spirituality. The album's fusion of rock, soul, and gospel, coupled with Dylan's impassioned vocals, makes for an immersive listening experience. "Gotta Serve Somebody" won Dylan his first Grammy Award, underscoring the album's cultural impact.
#9. 'The Times They Are a-Changin" (1964)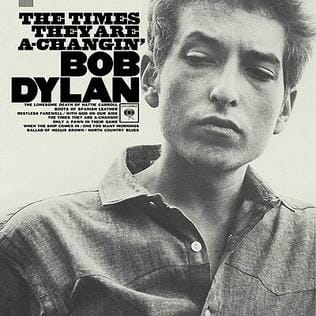 'The Times They Are a-Changin' is a landmark album in Dylan's career, filled with politically charged folk songs that reflect the social unrest of the 1960s. With its stirring anthems and powerful lyrics, this album helped cement Dylan's reputation as the voice of his generation. It's an enduring testament to Dylan's ability to channel the spirit of the times through his music.
---
RELATED: Joni Mitchell & Bob Dylan On The Road
---
#8. 'Tempest' (2012)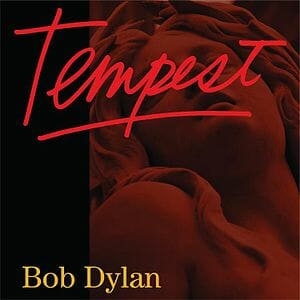 'Tempest' showcases Dylan's masterful storytelling abilities, filled with tales of love, loss, and historical events. The title track, a 14-minute epic about the Titanic's sinking, is a captivating narrative masterpiece. Throughout the album, Dylan's raspy voice delivers each lyric with a potent mixture of wisdom and world-weariness.
#7. 'Love and Theft' (2001)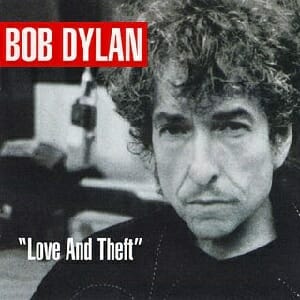 'Love and Theft' is a celebration of American music, encompassing blues, folk, rock, and even vaudeville. The album is a testament to Dylan's versatility and his ability to draw from a range of musical influences. With its toe-tapping rhythms and wry lyrics, 'Love and Theft' is a showcase of Dylan at his most playful and engaging.
#6. 'The Freewheelin' Bob Dylan' (1963)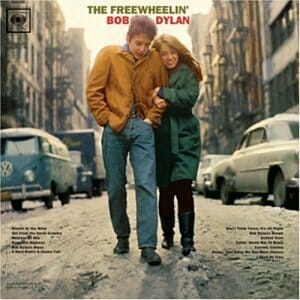 'The Freewheelin' Bob Dylan' marks Dylan's transition from a promising young talent to a formidable songwriter. This album is home to some of Dylan's most renowned songs, such as "Blowin' in the Wind" and "A Hard Rain's a-Gonna Fall," which became anthems for social and political change. It's a snapshot of Dylan at his most earnest and impassioned, etching his name in the annals of music history.
The 5 Very Best Bob Dylan Albums
These albums are the absolute best, and countless nights of my childhood saw them scattered across my family coffee table as my parents discovered the benefits of a new 5 CD changer in their HiFi stack.
#5. 'Oh Mercy' (1989)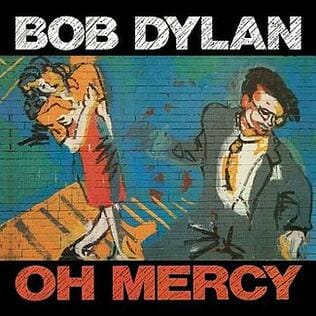 With "Oh Mercy," Bob Dylan made an impactful resurgence, reclaiming his artistic prowess following a relatively lackluster period in the 1980s. This album showcases his newfound introspection and atmospheric musicality. Collaborating with respected producer Daniel Lanois, Dylan embarked on a creative journey that resulted in a body of work hailed for its cohesive and captivating sound, accompanied by profoundly introspective and thought-provoking lyrics.
In "Oh Mercy," Dylan's matured songwriting skills shine through in each track, capturing the essence of his experiences and reflections. The album resonates with a sense of deep introspection, as Dylan explores themes of love, loss, redemption, and the complexities of the human condition. With a keen ear for melody and poetic precision, Dylan weaves tales that evoke both personal introspection and universal emotions, inviting listeners into a captivating musical realm.
Lanois's deft touch and keen understanding of Dylan's artistic vision enhanced the album's sonic landscape, providing a rich tapestry of sound that complemented the lyrical depth. The result was an enchanting blend of folk, rock, and blues, infused with a distinct atmospheric quality that became a signature of "Oh Mercy."
Upon its release, "Oh Mercy" received widespread critical acclaim, with reviewers lauding its artistic integrity and the profound impact of Dylan's lyrical craftsmanship. The album was hailed as a triumph, marking Dylan's triumphant return to form and solidifying his status as a musical icon. It not only revitalized his career but also garnered renewed appreciation from both critics and fans alike, who recognized the profound artistic growth encapsulated within its tracks.
#4. 'Bringing It All Back Home' (1965)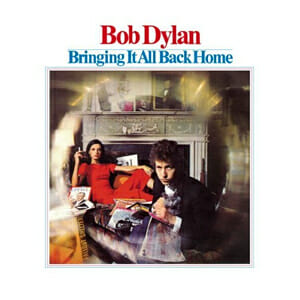 "Bringing It All Back Home" marked a groundbreaking turning point in Bob Dylan's musical journey as he embarked on a transformative shift from folk to rock. This pivotal album introduced a bold new direction for Dylan's sound, pushing the boundaries of conventional folk music and defying the expectations of both critics and fans alike. With its distinctive structure, the album was divided into two distinct sides: one electric and one acoustic, a move that would forever alter the course of Dylan's career.
On the electric side of "Bringing It All Back Home," Dylan fearlessly embraced the power of rock instrumentation, incorporating electric guitars, bass, and drums. This departure from his traditional acoustic folk style caused a sensation in the music world, challenging established norms and provoking passionate debates among his followers. Dylan's willingness to experiment with this new sonic landscape showcased his unwavering commitment to his own creative vision.
Simultaneously, the acoustic side of the album retained elements of Dylan's folk roots, providing a nostalgic and introspective counterbalance to the electrifying energy of the rock-infused tracks. With stripped-down arrangements and his unmistakable poetic lyricism, Dylan offered a glimpse into the introspective singer-songwriter that he had been known for, maintaining a connection to his folk origins while boldly venturing into uncharted musical territory.
The innovative sound of "Bringing It All Back Home" was matched by its insightful and thought-provoking lyrics. Dylan's songwriting reached new heights as he delved into themes of social commentary, personal introspection, and cultural observations. His lyrics were steeped in symbolism, capturing the essence of a rapidly changing world and challenging listeners to question societal norms and values.
---
RELATED: Carolyn Dennis: The Secret Wife of Bob Dylan
---
#3. 'Blood on the Tracks' (1975)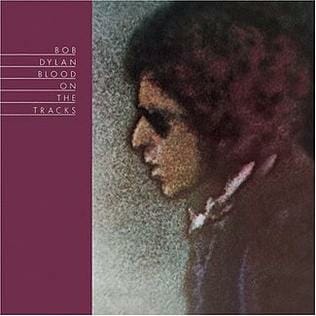 "Blood on the Tracks" stands as proof of Bob Dylan's emotional depth and vulnerability, and is often seen as one of his most personal and introspective albums. Widely believed to have been inspired by the dissolution of his marriage, the record delves into themes of love, loss, heartbreak, and introspection with unparalleled honesty and rawness. The result is a collection of songs that strike at the core of human emotions, leaving a lasting impact on listeners.
Dylan's lyrics in "Blood on the Tracks" cut through pretense and expose the raw truth of his experiences. Each track offers a window into his soul, as he navigates the tumultuous terrain of a broken relationship. From the bitter resentment expressed in "Idiot Wind" to the haunting introspection of "Tangled Up in Blue," Dylan's words evoke a wide range of emotions, capturing the complexities of love's unraveling and the accompanying feelings of sadness, longing, and regret.
The acoustic, stripped-down sound of the album serves as the perfect backdrop for Dylan's poignant storytelling. The simplicity of the arrangements, predominantly featuring Dylan's guitar and harmonica, creates an intimate and immediate connection between the artist and the listener. The absence of elaborate production allows the focus to remain on the emotional weight carried within the lyrics, enhancing the album's authenticity and drawing the audience further into Dylan's world.
As you listen to "Blood on the Tracks," you can't help but embark on a cathartic journey alongside Dylan, experiencing the ebbs and flows of love's unraveling firsthand. The album's tracklist unfolds like chapters in a book, guiding the listener through a range of emotions and perspectives.
"Blood on the Tracks" remains a timeless masterpiece, celebrated not only for its deeply personal nature but also for its universal resonance. Its ability to capture the essence of human emotions and the universal experiences of love and loss has allowed it to transcend its original context, resonating with listeners across generations. The album's enduring impact lies in its ability to evoke empathy and understanding, inviting listeners to reflect on their own experiences and find solace in the shared human condition.
#2. 'Blonde on Blonde' (1966)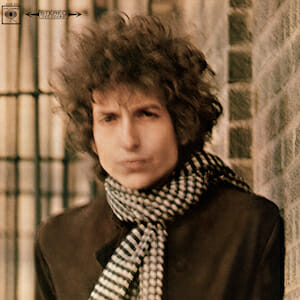 "Blonde on Blonde" is an undeniable milestone in Bob Dylan's illustrious career, and its impact on the rock music landscape as a whole is immeasurable. Released in 1966, this double album solidified Dylan's position as a visionary artist, pushing the boundaries of songwriting and musical experimentation. With its complex lyrics and innovative blend of genres, ranging from blues to folk-rock, the album presents a sonic tapestry that remains unmatched in its richness and depth.
As usual, at the heart of "Blonde on Blonde" lies Dylan's mastery of lyrical storytelling. The songs on this album transcend conventional song structures, embracing an enigmatic and poetic approach. With intricate wordplay, vivid imagery, and a touch of surrealism, Dylan weaves narratives that captivate the imagination.
The enigmatic "Visions of Johanna" stands as a prime example, with its vivid portrayal of characters and places, delving into themes of longing, disillusionment, and transient connections. Each track on the album offers a glimpse into Dylan's creative genius, inviting listeners to unravel the layers of meaning within his words.
Drawing from blues, rock, folk, and even hints of country, the album creates a kaleidoscope of sonic textures that evolve and transform with each track. From the energetic and iconic opener "Rainy Day Women #12 & 35" to the introspective and soulful "Just Like a Woman," Dylan's musical vision is on full display, showcasing his ability to seamlessly blend diverse genres into a cohesive whole.
"Blonde on Blonde" is an extraordinary achievement in Bob Dylan's career and a seminal moment in the history of rock music. Its complex lyrics, genre-bending sounds, and expansive musical vision create a multi-layered soundscape that continues to captivate and inspire. From the enigmatic and surreal to the heartfelt and introspective, the album showcases Dylan's unparalleled songwriting prowess and his ability to push the boundaries of creativity.
#1. 'Highway 61 Revisited' (1965)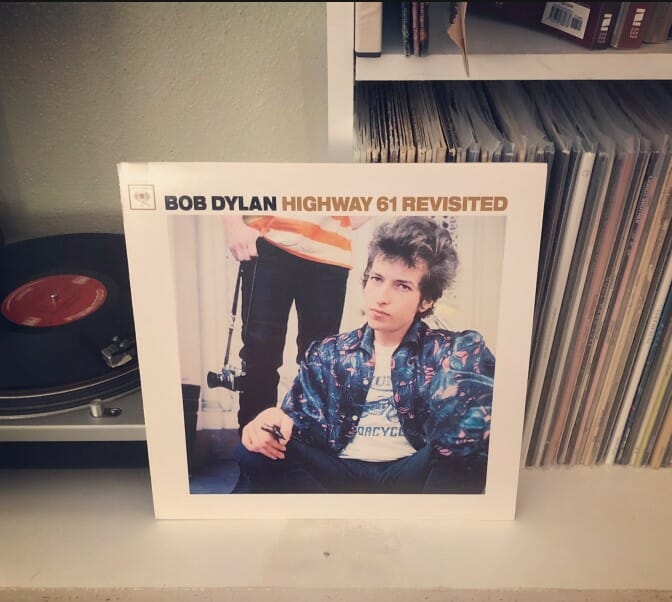 Could it really be any other album than this in the number-one spot? "Highway 61 Revisited" remains a pinnacle of artistic achievement and one of the most influential records of the 20th century.
At the forefront of this groundbreaking album is the legendary "Like a Rolling Stone," a true tour de force that revolutionized the landscape of rock music. Clocking in at over six minutes, the song defied the conventions of radio play at the time, challenging the boundaries of song length and structure. With its anthemic energy, scathing lyrics, and iconic organ riff, "Like a Rolling Stone" became an instant classic and a defining moment in Dylan's discography. It captured the zeitgeist of a generation and became a rallying cry for societal disillusionment and personal liberation.
Beyond its revolutionary opening track, "Highway 61 Revisited" is an album that continues to captivate listeners with its raw energy, brilliant lyricism, and fearless exploration of new sonic territory. Dylan's songwriting reaches new heights, delving into themes of social commentary, existential musings, and cultural introspection. Tracks like "Desolation Row" take listeners on an epic journey, painting vivid and surreal landscapes with their poetic storytelling. Each song on the album stands as a testament to Dylan's unparalleled ability to capture the essence of the human condition and reflect the complexities of the world around him.
The album's bold musicianship plays a crucial role in its impact and enduring legacy. Dylan's collaboration with a talented ensemble of musicians, including guitar virtuoso Mike Bloomfield, resulted in a sonic landscape that pushed the boundaries of rock music. The electrifying guitar solos, dynamic rhythms, and innovative arrangements serve as a perfect complement to Dylan's lyrics, creating a cohesive and captivating sonic experience. The album seamlessly blends elements of rock, blues, folk, and even hints of psychedelia, forging a unique and influential sound that has left an indelible mark on the music industry.
"Highway 61 Revisited" continues to be regarded as one of the most influential albums in the history of popular music. Its impact reverberates through the work of countless artists who have been inspired by Dylan's fearless artistic exploration and his ability to merge social commentary with poetic lyricism. The album's legacy extends far beyond its initial release, and feels as relevant today as it did upon it's release.
Final Thoughts
Exploring Bob Dylan's best albums is akin to embarking on a mesmerizing journey through the tapestry of his musical genius. From the folk-infused melodies of "The Freewheelin' Bob Dylan" to the poetic introspection of "Blood on the Tracks" and the groundbreaking rock sound of "Highway 61 Revisited," Dylan's discography is a treasure trove of timeless classics and artistic milestones.
Each album represents a distinct chapter in Dylan's evolution as an artist, showcasing his unparalleled ability to capture the essence of the human experience with his lyrics and push the boundaries of musical conventions. Whether through his thought-provoking social commentary, evocative storytelling, or raw emotional vulnerability, Dylan's music has left a permanent mark on the fabric of popular music and continues to inspire generations of musicians and fans.
Whether you're an ardent Dylan enthusiast or a newcomer to his music, immersing yourself in his best albums is a transformative experience. It invites you to explore the depths of his songwriting, immerse yourself in his melodies, and discover the evergreen relevance of his poetic words. Through his music, Bob Dylan has not only shaped the landscape of popular music but also touched the hearts and minds of millions, forever etching his name in the pantheon of musical legends.
To finish off, I'll leave you with one of my personal favorites, 'Subterranean Homesick Blues' from his 1965 album "Bringing It All Back Home". Keen-eyed readers might recognize the person in the background, do you?
Shoot me an email and let me know!