In some ways, Johnny Horton was an outlaw in a post-outlaw age. He was a man out of his time. At a point when country music was crossing over into the mainstream, Johnny retained his rebellious streak.
It's what set the Honky-Tonk Man apart from other country heroes of his day, and places him in a league with the likes of his close friend Johnny Cash.
Johnny Horton – Early Life
Paradoxically for a man so closely associated with the splendor of the western plains, Johnny was born in Los Angeles. But his family soon relocated to the town of Rusk in East Texas, and that's where he grew up.
He headed to college on a basketball scholarship but didn't make any inroads. He eventually dropped out without completing a degree.
To begin with, it looked as though his artistic leanings were heading down a cinematic rather than a musical route. He got a job in the mailroom at Selznick International Pictures in Hollywood. It was there that he met the woman who would become his first wife, Donna Cook. She was working as a secretary at the time.
But he was above all a nomad. In 1948 he took an interesting career segue, he headed up to Alaska to prospect for gold. And though he never did hit the mother load, that was when he started writing songs.
Embed from Getty Images
He built up a comprehensive body of work, and on his travels around the USA, he began to perform live. Heading south, he won a talent contest in Henderson, Texas. This buoyed him, and he decided to head back out to California, this time with music on his mind.
The Singing Fisherman
Cliff Stone's Hometown Jamboree was a popular country music radio show which began in 1949 broadcasting in and around Pasadena and LA. That was where Johnny Horton got what might legitimately be called a big break.
His popularity as a guest star led to his own show, The Singing Fisherman. This, in turn, led him to record a grand total of ten singles for the Cormac record label. And though Cormac folded in 1952, Johnny had already built up a comprehensive body of work, and the masters were acquired by Abbott Records.
Through The Singing Fisherman and his subsequent singles, Johnny had proved himself to be a go-getter with a lot of natural talent, and so there was no risk of him being out of work for long. It was around this time that he married his sweetheart Donna Cook, and headed out on the road again.
Johnny's popularity as a guest on the radio show Louisiana Hayride led him to relocate to Shreveport, Louisiana permanently, where the show was recorded. He also signed a contract with Mercury Records.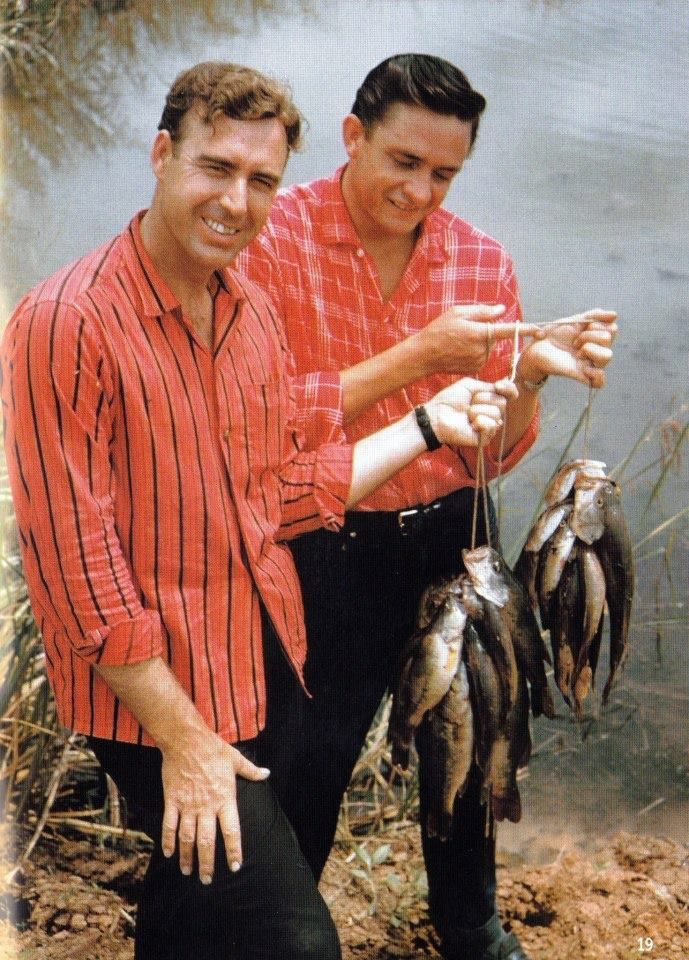 This was when his career really began to gather some momentum. He headed out on the road in 1952 with a touring band under the name of The Singing Fisherman and The Rowley Trio, but this eventually evolved into the more recognizable Johnny Horton and the Roadrunners. The band consisted of Horton as lead singer, Jerry Rowley on the fiddle, Jerry's wife Evelyn on the piano, and his sister Vera on guitar.
He built up a solid reputation and fanbase in the country music scene, but the hard work took its toll on his marriage. He and Donna soon divorced, and she relocated back to her spiritual home of Los Angeles.
Johnny quickly remarried, this time to Hank Williams's widow, Billie Jean. Domestic bliss seemed to suit Johnny and Billie Jean, and when Johnny's contract expired he seemed content to let his music career lie. At the time, his best selling record was "All for the Love of a Girl," which sold around 40,000 copies.
Being a passionate fisherman, he got a job in a bait shop and lived the authentic country lifestyle that some of his contemporaries could only dream of. However, this was to prove short-lived.
Embed from Getty Images
Johnny Horton's manager and bassist, Tillman Franks, soon got him a contract with acclaimed hit-makers Columbia Records. Not long later he was headed out to Nashville in a rented car to cut a new recording.
But the country music singer was aware of the changing tides in the popular music arena. Elvis Presley had effectively challenged the musical status quo with his rock 'n' roll look and style. Nothing would ever be the same again. This caused the former Singing Fisherman to re-think his approach.
Honky-Tonk Man
His next single, released in January of 1956, was called "Honky-Tonk Man," and it was significantly influenced by the rockabilly sound and aesthetic that Elvis had helped to popularize. Released as a single with another one of the four songs recorded that day, "I'm Ready if You're Willing," the band went on tour.
The record was a hit, reaching number 9 in the country charts and number 14 in the overall bestseller charts.
A review of "Honky-Tonk Man" in the March 10 issue of Billboard said, "The wine, women and song attractions exert a powerful hold on the singer, he admits. The funky sound and pounding beat in the backing suggest the kind of atmosphere he describes. A very good jukebox record."
The review of his track "I'm Ready if You're Willing" was also favourable, it said "Horton sings out this cheerful material with amiable personality. This ever more popular stylist ought to expand his circle of fans with this one."
Embed from Getty Images
After that, he had a string of successful singles. Each one adding to his already sterling reputation as a bona fide commercial prospect. One of them, "I'm a One Woman Man," was praised as "smart and polished" by Billboard and described Johnny Horton as "singing with a light, airy touch. Guitar work is just as convincing, adding up to listenable, commercial stuff."
The band continued touring the United States and Canada, with the record reaching number 7 on the Jockey chart and number 9 on the Best Seller and Jukebox charts.
At home, Johnny and Billie Jean Horton had two daughters together, Yanina (Nina) and Melody. Johnny also adopted Billie Jean's daughter Jeri Lynn. His family life and his professional life had never been more settled or more successful.
In 1959, Johnny Horton was to have the biggest success of his entire career. On his album "The Spectacular Johnny Horton", was the single "The Battle of New Orleans," a tongue in cheek historical saga written by Jimmy Driftwood. It became his biggest seller yet, reaching number one in both mainstream and country charts, and even winding up as Billboard's number one song for 1959.
"The Battle of New Orleans" became an instant classic and won a Grammy Award in 1960 for Best Country & Western Recording along with the Grammy Hall of Fame Award. Its reputation has only increased as years have gone by, and "The Battle of New Orleans" was eventually ranked at number 333 in the Recording Industry Association of America's "Songs of the Century." That is to say, an intrinsic part of America's cultural heritage. A real portrait of the zeitgeist.
Despite "The Battle of New Orleans" being covered by many artists since it was written by Jimmy Driftwood, Johnny Horton remains the most well-known version.
Hot on the heels of "The Battle of New Orleans," Johnny scored two more major hits. The first was "Sink the Bismark," another war song. It was written to tie-in with the US release of the British war movie Sink the Bismarck! but proved a viable hit in its own right.
Next came "North to Alaska," another movie tie-in, this time for an old-school western starring John Wayne. That song was released in August of 1960 and hit number one in the Billboard Country Singles charts once again. The Western Writers of America picked it as one of the Top 100 Western songs of all time.
Around the time of the release of his hit single "North to Alaska," Horton claimed to have begun having premonitions of an early death. Tragically, his premonitions became true.
Johnny Horton Death and Legacy
Johnny's winning streak came to an abrupt end, though, within three months of the release of "North to Alaska." On November 4th in 1960, Horton and band members Tommy Tomlinson and Tillman Franks were traveling from the Skyline Club in Austin, Texas, to Shreveport when they crashed into an oncoming vehicle.
Horton passed away on the way to the hospital, his band members barely scraped out alive. Billie Jean was a widow for the second time.
In Cash: The Autobiography, Cash recalls the moment he heard about the accident. "I locked myself in one of the hotel's barrooms and cried."
As an admirable friend, Cash dedicated his rendition of Horton's "When It's Springtime in Alaska (It's Forty Below)" on his album Personal File to Horton himself, saying "Johnny Horton was a good old friend of mine."
Within moments his rising star was unceremoniously snuffed out. But Horton leaves behind him a formidable body of work and a profound cultural impact. From "Honky-Tonk Man" to "The Battle of New Orleans", The Spectacular Johnny Horton changed the face of country music forever.
Similar Stories…