Success is worrying about every damn thing in the world, except money.

Johnny Cash
A true legend of the American Country music scene, Johnny Cash is one of the most well-known and influential musicians of his generation. His lengthy career resulted in thousands of songs being written, more than 90 albums released, and even several film roles.
Despite his sad passing in 2003, his popularity has not diminished. Several boot-leg and b-side recordings have been published since his death and continue to rank in contemporary charts.
As a result of his successful 50-year career, Johnny Cash's net worth grew to be quite significant. In this article, we explore the background of the man in black, how much he was worth and who inherited his money when he died.
A Tough Start To Life For J.R Cash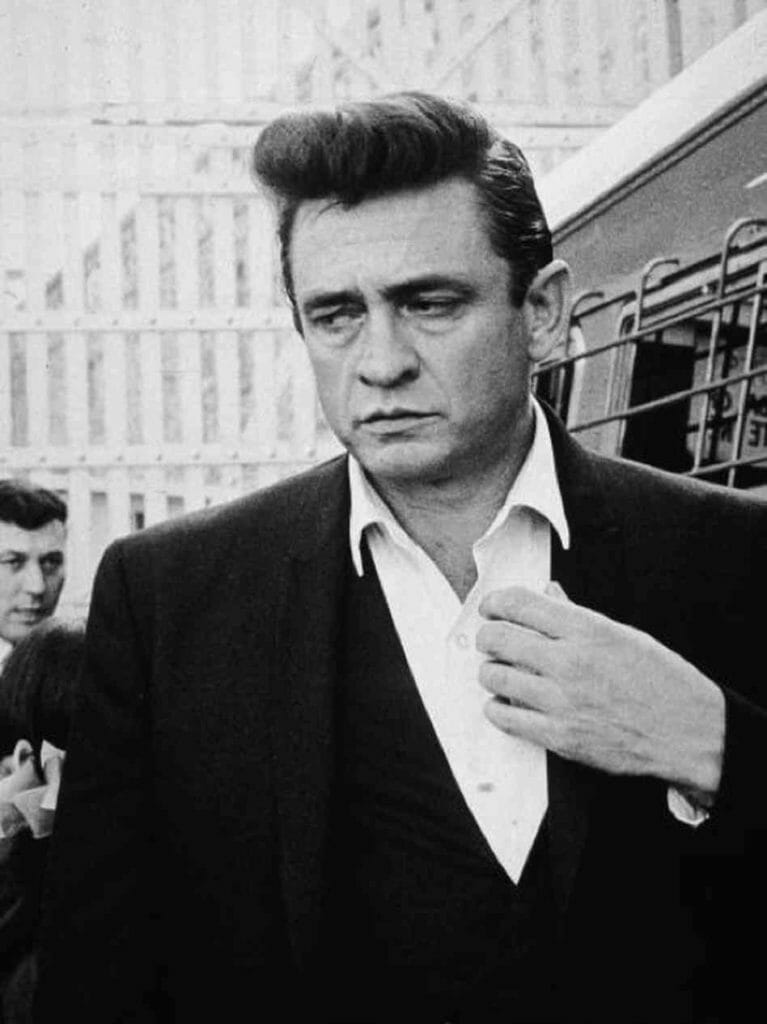 Johnny Cash was born in 1932, the middle child of seven siblings, to a family of share farmers in rural Arkansas. Born during the darkest times of the Great Depression, his family had next to no money and everyone had to contribute around the farm in order to make ends meet.
A tragedy struck the young Johnny Cash when his elder brother Jack, whom he adored, fell with some force onto an unguarded table saw at work and died from his injuries a week later. According to his autobiography, he often felt guilt over the incident and spoke about how he looked forward to meeting his brother in heaven.
By the age of 18, Johnny was enlisted in the Air Force. Here he wrote some of his early songs such as 'Hey Porter' and 'Cry, Cry, Cry'. It was also in the Air Force that he started his first band: 'The Landsberg Barbarians' named after his posting in Landsberg, West Germany.
After serving 4 years, he was honorably discharged in 1954 with the rank of Staff Sergeant and returned home to the States with his first wife Vivian Liberto Cash.
Upon his return home, Cash and his wife chose to settle in Memphis Tennessee, where he worked in appliance sales while studying for a career as a radio presenter. It was during this time that he started playing music with Luther Perkins and Marshall Grant – The Tennessee Two.
The Beginnings Of A Legacy
With the Tennessee Two, Johnny originally wrote gospel songs which, while being very popular at the time, were not the preferred style of music for the man in black.
Johnny mustered the courage to visit Sun Records and Sam Philips to whom he and his band auditioned with a gospel song. Unbeknownst to them at the time, Phillips was moving away from Gospel into what would end up becoming the Rock n Roll movement.
The rumor goes that Phillips told Johnny to:
Go home and sin, then come back with a song I can sell.
It wasn't until Johnny played the early version of his rockabilly style, which he thought wasn't popular, that Phillips signed him to Sun Records.
The first hits he released were the songs he wrote while serving in the Air Force, 'Hey Porter' and 'Cry, Cry Cry'. This was to be the beginning of an impressive career that would span over 50 years, and continue on past his death.
In early December 1956, Johnny Cash was in the studio with Phillips while Carl Perkins was recording tracks accompanied by Jerry Lee Lewis. Elvis Presley happened to drop in to the studio and Phillips left the tapes rolling while the musicians jammed.
The recording was later released with the title 'Million Dollar Quartet". Ironically half the album could be considered "gospel music".
When Cash's career started taking off in the late 1950s he soon developed a dependence on alcohol and other substances, including amphetamine and prescription barbiturates. This was the story for much of his early touring career. He was often getting into trouble due to his addictions, earning himself a bit of an outlaw image.
Sometimes I am two people. Johnny is the nice one. Cash causes all the trouble.

They fight.
Alongside some of his contemporaries, this outlaw image that Cash accidentally stumbled into, created the foundations for the iconic rock and roll lifestyle that inspired many bands in the future.
By 1958 Cash had finalized his contract with Sun and signed a lucrative new deal with Columbia Records. Due to the terms of his previous contract, Phillips had the rights to previously recorded yet unreleased music and continued to release records alongside the new material from Columbia.
The 1960s and '70s continued the success he had found in the previous decades as he toured with 'The Carter Family', which included his future wife, June Carter. He also starred in The Johnny Cash Show and performed the now infamous Folsom Prison concert.
By 1980 he was inducted into the Country Music Hall of Fame. At the age of 48, he was the youngest ever inductee.
From High Street To Low Street
The '80s were not a kind decade to the man in black. An unfortunate relapse into an addiction to painkillers and a string of unsuccessful releases seemed to end his popularity and resulted in him leaving Columbia Records.
After an unsuccessful 4 years at Mercury Records, and receiving little interest from the major record labels, he signed with Rick Rubin's American Recordings in 1994. Under this label he released 'American Recordings', an album recorded entirely in his living room, accompanied only by his Martin Dreadnaught guitar.
The album featured covers of contemporary artists, selected by producer Rick Rubin and although it was not a huge commercial success, it won that year's Grammy Award for Best Contemporary Folk Album.
The Tragic Death Of Johnny Cash & June Carter Cash
During this time Johnny had been diagnosed with a neurodegenerative disease called Shy-Drager syndrome. This led to many health complications for the musical legend, including being hospitalized with pneumonia.
At one point in 1997, he was given just 18 months to live.
Despite the diagnosis, the man in black didn't slow down his musical production and released two albums in the early 2000s, including 'American IV – The Man Comes Around' in 2002. This album is perhaps best known for its covers of "Personal Jesus' by Depeche Mode and 'Hurt' by the heavy metal band Nine Inch Nails.
Shortly after, June Carter Cash, the love of his life, died on May 13 2003 aged 73.
When June died, it tore him up. He said to me; "You have to keep me working because I will die if I have nothing to do."

Rick Rubin
Only four months after his wife died, and after releasing yet another recording, Johnny Cash died from diabetes complications on September 12 2003 aged 71.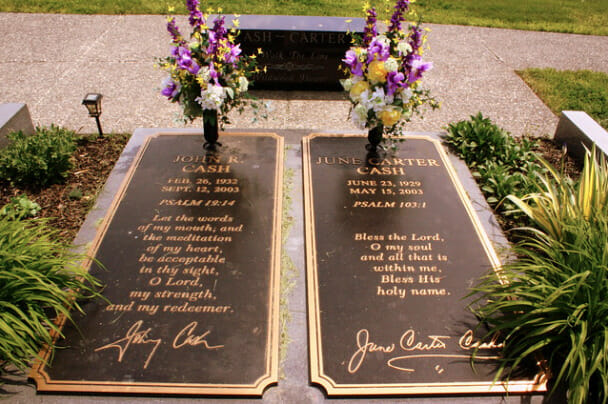 What Was Johnny Cash's Net Worth When He Died, And Who Inherited It?
When you consider Johnny Cash's prodigious recording career, the numerous hit singles, more than 90 million album sales, the many successful touring acts and concerts, and the fact he made music right up until his deathbed, it would be safe to assume that Johnny Cash's net worth was quite substantial.
As one of the most well-respected, and best-selling musicians of all time, Johnny Cash's net worth was estimated to be around $60 million at the time of his death. (According to Celebrity Net Worth)
Considering he had two wives, with which he had children with both, five in total, it is worth asking who received his bigger-than-life estate.
Johnny had indeed left a will behind, one strange part of his will was to have his own museum sold.
The 'House Of Cash' was initially a 15000 square foot plantation where June and John lived for a while. There was a museum on-site, dedicated to Johnny Cash, but his will declared it to close after his death.
The Family Feud Over Johnny Cash's Estate
However, the remarkable amount of wealth that Johnny had amassed and barely used was mainly left to his only son John Cash, while his daughters only received $1 million each.
Not only did John receive this huge wealth, but he also, specifically, got the publishing rights to the song 'Ring Of Fire' whose copyright was shared by June, Johnny, and another songwriter.
Johnny's daughters were unhappy with what they had been left with and challenged the will in court. Though they could only challenge the publication rights to 'Ring Of Fire', as John's share of the wealth was directly mentioned in a clause of the will.
They failed to win the case and the money has since stayed with John Cash. It remains unknown what John has done with the money, nor whether any more has gone to his sisters, or even if they are friendly or not.
Yet, John was more active with Johnny's actual music career. He actually toured with Johnny as a rhythm guitarist in the 1990s. He was also the associate producer on Johnny's albums American III and American IV. After his father's death, he continued to produce music under Cash Cabin Productions, including some of his mother's albums.
Final Thoughts On The Life Of The Man In Black
Johnny Cash's story is a truly unbelievable one and one that will continue to influence artists around the world for generations to come.
While he started his life among some of the poorest in the country, by the end of his illustrious 50+ year career he had become one of the biggest selling musicians of all time and amassed an astronomical net worth of around $60 million by the time of his death.
Johnny Cash epitomizes the rags-to-riches story and is very much an example of the success of the American Dream.
Make sure to check out this video from the Johnny Cash Infocenter, filmed at his peak in 1971.
Frequently Asked Questions
When Did Johnny Cash Die?
Johnny Cash died on the 12th of September 2003. He was 71 years old.
How Many Albums Did Johnny Cash Make?
Johnny Cash released almost 200 albums including:
67 studio albums, 16 live albums, 105 compilation albums, and 4 soundtracks.
Who Was Johnny Cash's First Wife?
Johnny Cash married his first wife, Vivian Liberto shortly after his return from West Germany in August of 1954.
Who Are Johnny Cash's Children?
Johnny Cash had four daughters with his first wife Vivian Liberto, Rosanne, Kathy, Cindy, and Tara.
He also had one son, John Carter Cash, with his second wife June Carter.
Who Was June Carter Cash?
June Carter was Johnny Cash's second wife. They were married on March 1st, 1968, and remained married until her death in 2003.
How Much Was Johnny Cash Worth He Died?
It is estimated that Johnny Cash had a net worth of approximately $60 million when he died.
Did Johnny Cash Go To Prison?
During his life, Johnny Cash was arrested seven times for various misdemeanors and spent one night in prison each time.
How Did Johnny Cash Die?
Johnny Cash died in hospital of complications surrounding his diabetes. It has often been said that he died of a broken heart after losing his wife June four months earlier.