Having sold more tickets and albums than any of their contemporaries, Metallica is without a doubt the biggest metal band of all time, reaching such omnipresence that it's hard to believe that they started out playing the music of the societal outcast.
Metallica were the musical Dr. Frankenstein responsible for stitching up aspects of American hardcore punk popping off in DC and British heavy metal dominating the alternative landscape across the pond. The monster that was born?
Thrash metal… a cacophonous, ugly, abrasive, and ludicrously fast subgenre of metal — It's aliiiive!
But Metallica didn't just change the metal scene forever with their first release, Kill 'Em All.
For nearly two decades, every record bearing their name altered the musical landscape, and we'll be looking at their most impactful tracks in this article.
Without further adieu, her are some of the best Metallica songs that reshaped the face of Metal.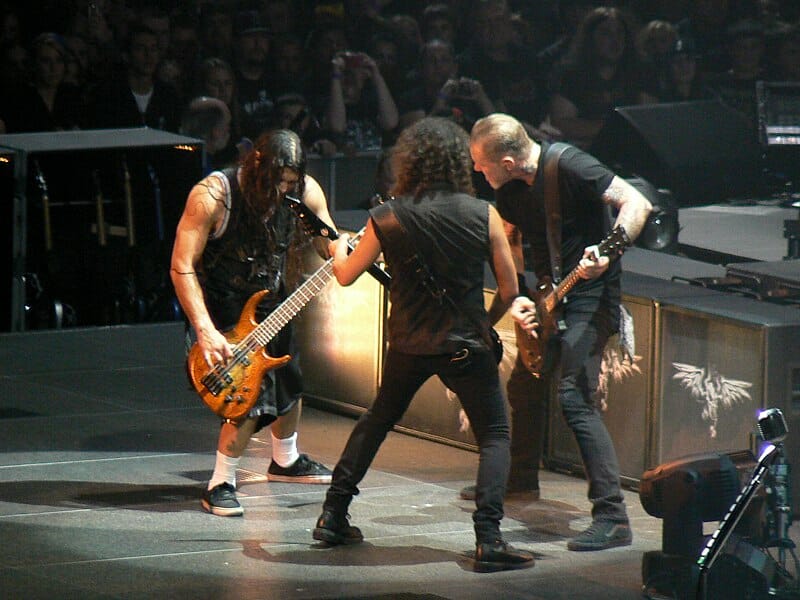 15. "Sad But True" — Metallica (1991)
Ah, "The Black Album" the point at which many believe Metallica's trajectory had begun its downward descent, yet pummeling tracks like "Sad but True" showed us that the new Metallica had some rocket fuel left in the tank.
Is it a much slower jam than lovers of their first few records enjoy? Yes, but this more deliberate and groovy cut reminiscent of Dimebag Darrel riffs to come on Pantera's Far Beyond Driven still had a seismic impact on the metal scene.
14. "Some Kind Of Monster" — St. Anger (2003)
Listen to the opening drop C riff of "Some Kind of Monster". I mean… really listen. Hear the reverberation rattle the taut spring of the reverb, a physical tension that mirrors the sonic tension developing in this dark, spaghetti western showdown opening.
Hear the in-room loudness of this passage shaking the slackened wires of Lars's piccolo snare, adding a serpentine hiss reminiscent of dusty, old, warped vinyl.
Hear amp feedback promising to scream but never quite making good on its threat, instead adding upper harmonics to the tuned-down drone before James and Kirk join forces to form a driving, juggernaut riff that hits like a blunt force trauma.
Don't get me wrong, St. Anger deserves a lot of the flack it gets, but if every song were as artful and tense as "Some Kind of Monster", it would have been an entirely different record.
13. "Seek And Destroy" — Kill 'Em All (1983)
"Seek and Destroy" was Metallica's first foray into true riffage.
They weren't just shredding power chords at a million miles an hour — On this track – written way back when Megadeth's Dave Mustain was still in the band – the guitars are articulate and single-note-centric, searing the tune into your brain for life after one listen.
12. "The Unforgiven" — Metallica (1991)
On "The Unforgiven", Metallica flex their cinematic capabilities, leaning into twangy Western-style leads that could easily set the sonic backdrop for Clint Eastwood roaming the desert on horseback, shaking the last droplets from his waterskin between lips as cracked as the floor below.
The volume swell of the horn that kicks things off in itself was novel to the metal world, even this late in the game, but the track refuses to be hemmed into a corner throughout, hitting the listener with the inimitable Metallica sound, but in a completely unfamiliar package.
11. "Orion" — Master Of Puppets (1986)
Named "Orion" for the spacey bridge, this instrumental track showed the metal world how dynamic the genre could be without losing its razor edge.
The harmonies are dreamy, the passages are distinct yet fundamentally linked, and Cliff Burton's bass work might be one of his best musical moments before he was tragically taken from us in the infamous tour bus crash.
Cliff was responsible for orchestrating a lot of this track, on which you can hear the classical lessons he was giving his bandmates paying dividends.
---
RELATED: 10 Bob Dylan Songs That Defined His Career
---
10. "Blackened" — … And Justice For All (1988)
Metallica go prog with their opener for 1988's … And Justice for All, utilizing a number of shifting time signatures to vary their thrashy chops and keep headbangers on their toes. It just so happens to have one of the catchiest singalong choruses of the band's entire catalog, too!
9. "Welcome Home (Sanitarium)" — Master Of Puppets (1986)
"Welcome Home (Sanitarium)" was my first favorite Metallica track, and y'know what? It's still up there in my top 5.
In my opinion, Hammet's lead work is at its peak on this cut, and Hetfield's subtly tremolo-infused arpeggios bring an emotionality to the table that was rarely seen in metal at this point of the 80s.
8. "Battery" — Master of Puppets (1986)
The incendiary opener to what is most certainly Metallica's most infamous album, Master of Puppets, "Battery" is s thrash metal masterpiece that puts James Hetfield's superhuman right-hand front and center.
But that's not particularly the thing I want to draw your attention to here.
Rather, the thing that lands "Battery" on this list is the gorgeous flamenco-style intro that Kirk steadily builds with lead harmonies. You simply couldn't find anything like this elsewhere in the 80s metal scene.
7. "Fade To Black" — Ride The Lightning (1984)
I, for one, am sick of people saying that Metallica lost their venom in the 90s when their "Black Album" hit the shelves.
Ride the Lightning was released in 84, and "Fade to Black", one of the standout tracks is a country-tinged true blue ballad. Hell, the verses were recorded on acoustic guitars!
Of course, we all love it when that typical Metallica chugga-chugga chorus arrives, followed by the thrashy build to an exquisitely melodic Kirk Hammet solo, but the reason these heavy sections feel so, well… heavy, is the tenderness of what precedes them.
A song about depression and suicide wasn't exactly novel at this point on the metal timeline, but one that sounded overtly as opposed to obliquely sad absolutely was a first.
6. "Enter Sandman" — Metallica (1991)
We all know "Enter Sandman" is overplayed and in its popularity has become sort of a parody of metal music, but you can't deny the impact this track had on the scene, with that classic Kirk Hammet lick carrying an album that was otherwise tragically light in the riff department.
5. "Master Of Puppets" — Master Of Puppets (1986)
"Master of Puppets" is almost completely devoid of the harmonic nuance Metallica had developed by this stage in their career, instead choosing to focus on blistering speed and overtly evil-sounding power chord progressions, and it goes so hard that it set the standard for all other thrash acts of the mid-80s.
Detailing the ravages of drug addiction, this rip-roaring, high-drama sonic assault exhibits Hetfield pumping out down strokes at a mind-blowing 212 BPM. In other words, this dude can play 7 down strokes a second!
---
RELATED: 10 ZZ Top Songs That Don't Get Played Enough
---
4. "For Whom The Bell Tolls" — Ride The Lightning (1984)
In his chromatic opening to "For Whom the Bell Tolls", Cliff Burton proved that the bass guitar could take the helm in a guitar-centric genre to great effect, but that's not the only intriguing thing about this track.
Largely based on the Hemingway book of the same title, this 84 release was one of the first metal songs ever to have a clear literary influence.
3. "Hit the Lights" — Kill 'Em All (1983)
Arguably one of the most influential metal songs of all time, "Hit the Lights" wasn't just Metallica's first ever true barn burner, it was their first track period, and it provided the blueprint on which thrash metal was developed.
Without this track, it's quite possible that Metallica would have had a completely different trajectory, as would the genres in which they operate.
2. "Nothing Else Matters" — Metallica (1991)
Say what you will about this frightfully radio-friendly track, but "Nothing Else Matters" is a genius composition that shook the metal world with its understated tenderness — As James remarks in the lyrics "I never open myself this way.".
You'll rarely find a Metallica diehard spinning this cut, but I think everyone can appreciate the fact that this Zeppelin-tinged slow burner bridged the gap between thrash metal and the world of pop, making heavy music much more accessible to the world.
What's more, this is one of the few tracks on which Hetfield takes lead guitar duties, and he absolutely kills it.
Though his solo is slow, heartfelt, and lasts only 30 seconds, he delivers a quality-over-quantity guitar clinic that left people in the metal community questioning whether the more-is-more approach so popular at the time was really as great as they thought.
1. "One" — … And Justice for All (1988)
I consider "One" to be the most essential contemporary metal song, and not just because it became the first cut in Metallica's catalog to get the music video treatment, although that certainly did help to raise its (and their) profile.
At this point in time, MTV was littered with Poison and Warrant videos defined by bikini-clad women and vanity excess.
Metallica decided that if they were taking to MTV, they'd do it their way, swapping the sexism and self-adoration for a stripped-back rumination on the horrors of war, using footage from the 1971 movie Johnny Got His Gun as the thematic basis of their visuals.
Even to this day, I get chills watching the "One" music video, but as I said, that's not the only thing that makes this the quintessential metal track.
From Hetfield's strained vocals and Kalashnikov picking, to Hammet's face-melting finger-picked solo, to Ulrich's iconic sextuplet double kick passage, "One" shows the constituent parts of Metallica at their very best.
That is, of course, with the exception of the newly recruited Jason Newstead whose bass work was famously drowned out in the mix by walls of distorted guitar.
---
RELATED: Which Singers Get's Paul Stanley's "KISS" Of Approval?
---
Final Thoughts
It's fair to say that Metallica's game-changing days are well and truly over, as Metal has ventured into far more experimental, faster, and horrifically heavier territories since their heyday, but we thank them for the essential listening they provided along the way.
I can't speak for anyone else, but without Metallica, I'd be a completely different person, and the genre would be decades behind, if not completely unrecognizable, without the tracks listed above.
If you want to keep going down the Metallica rabbit hole, check out our stories on the Metallica member's substantial net worth, or the woman behind the man – Francesca Hetfield.
See you next time rockers.