It goes without saying that Metallica is one of the most popular and successful metal bands of all time.
During the 1980s they formed the sub-genre of thrash metal alongside a few other famous bands, collectively known as the 'big four': Metallica, Anthrax, Megadeath, and Slayer.
Metallica still releases albums to this day and continue to headline festivals across the globe only adding to their legacy and wealth. Which is the exact focus of this article – the Metallica member's net worth.
Over their illustrious career, Metallica has sold an RIAA certified 66 million records in the US and over 150 million worldwide, making them the most successful metal band of all time, and one of the most successful artists of all time.
In 2018, they won the Polar Music Prize attesting to their success, considered to be 'the Nobel Prize of music'.
Each member of the band has their own endeavors which each add to their net worth, but with their music sales alone the whole band and their individual members will likely have amassed a serious amount of net wealth.
Forbes placed Metallica among the 'Top 10 Highest Earning Artists' as recently as 2019.
In this article we will explore each Metallica member's net worth and the reasons why they may differ by band member.
Let's go!
What Is Metallicas Net Worth?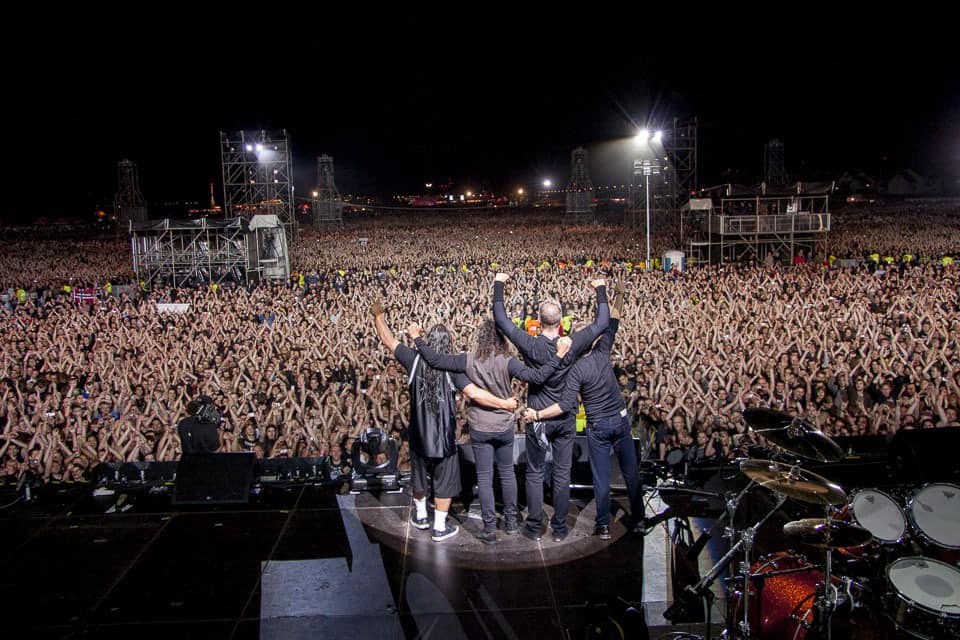 In 2019 Forbes reported that Metallica had earned $68.5 million in 2019 alone. This came from their WorldWired Tour that started in 2016 and was expected to finish in 2020.
From this tour alone, Forbes estimated that they had earned around $400 million.
Since they formed in 1981, as of 2022, they have released 10 studio albums and 8 live albums, not including EPs or singles.
As reported, having sold over 150 million albums worldwide they are reported to have a net worth of around $1 billion as of 2022.
The Rocks Off Magazine Guide To The Metallica Members Net Worth
While the band itself is one of the best selling bands of all time, each individual member has created their own wealth through both being a part of Metallica, and their own endeavors.
In no particular order, here is our detailed look at the net worth of Metallica's current band members.
James Hetfield's Net Worth
James Hetfield is the co-founder of the band alongside drummer Lars Ulrich. Hetfield is the band's frontman and rhythm guitarist.
Hetfield originally lived in Marin Country, California, until he moved to Vail, Colorado in 2016. In Marin County, he has an impressive real estate portfolio that includes thousands of acres of land.
In 1999, Hetfield purchased 1150 acres of land within the Lucas Valley, and over the next 10 years 770 acres to various conservation trusts.
He had some real estate troubles in 2008 when he built a huge fence that stopped hikers from crossing his land leading to a $650,000 development by the county to build an alternate route around his property.
---
RELATED: How Much Is The Prince Of Darkness Worth?
---
Over the years, Hetfield has donated most of this land to agricultural conservation trusts and owns a mere 50 acres of his original 1150 property of 1999. Outside of Marin County he also has land in Colorado and Maui, Hawaii.
Estimation of his net worth is likely a combination of his real estate wealth in addition to the musical royalties he will receive as one of the main songwriters and also guitar player in Metallica.
It's estimated that James Hetfield has a net worth of around $300 million dollars.
Check out the video below on James Hetfield by LifeStyle.
Lars Ulrich's Net Worth
Lars Ulrich is the co-founder of the band alongside James Hetfield and receives royalties for Metallica's whole discography which has sold over 150 million worldwide.
Ulrich was already part of a relatively wealthy family in Denmark, his father was a successful Tennis player and talented jazz musician
Lars Ulrich alongside his bandmates sued Napster in 2001 for leaking unreleased music and allowing users to pirate their music. Ulrich was the arrowhead of this lawsuit as the other band members took a backseat.
In 2001 Napster agreed to pay music creators and copyright owners a $26 million settlement for infringing copyright among other legal issues.
It remains unclear if the band received much of this money or not but many speculate this lawsuit increased Metallicas, and its band member's, net worth significantly.
What is clear is that Ulrich's extensive real estate portfolio in Marin County, in addition to his extensive royalties, are what forms much of his wealth.
LA Times reported that Ulrich's 13,000 square foot property in Tiburon, which he bought in 1993 for $6 million, was on sale for $12 million in 2019. This property remains one of the largest in Marin County.
Ulrich also owns 140 acres of land in a different part of Marin County known as the 'King Mountain Estate'. Ulrich had plans to build an enormous dream home here.
Yet, after a decade of fighting local officials, he resigned to list the property for sale for $39 million. The property still remains on sale.
Ulrich also collects art extensively. He once owned many of Jean Michel Basquiat's original paintings.
In the 'Some Kind Of Monster' documentary about Metallica, undoubtedly another source of revenue for the band, the film featured footage of the auction where he sold some paintings for north of $12 million.
In 2008, he sold another Basquiat for $13.5 million.
A combination of his royalties from Metallica, his impressive real estate portfolio, and his art collection, leaves Ulrich with the largest net worth of all the band, estimated at around $350 million dollars.
Here's a quick video on Lars Ulrich by the crew over at Lifestyle Express.
Kirk Hammett's Net Worth
Kirk Hammett became Metallica's main guitarist after they kicked out former guitarist Dave Mustaine, who went on to form Megadeth.
Although Mustaine was in the band for a period, he did not receive royalties as he was not featured on any of the band's albums.
Hammett single-handedly wrote some of metal and rock's most recognizable guitar riffs and solos such as Enter Sandman, One, Master of Puppets, and Nothing Else Matters.
He receives most of his wealth, alongside his bandmates, from the royalties from their music.
Alongside his royalties, Hammett owns a great amount of real estate in the San Francisco area, as many of his original bandmates do.
In 1993, he paid $2.6 million at the time for a large mansion in Pacific Heights. The property was built in 1899, and its storied history and age led to it being sold in 2009 for $7.6 million.
In 2005, he spent $5.7 million on a home in Sea Cliff alongside a neighboring property for $8 million. Between 2018 and 2019 he sold both properties for a combined profit of around $10 million.
It is also understood that Hammett owns a ranch in north San Francisco, as it was one of the locations used in the filming of 'Some Kind of Monster', though its exact location and value remains unknown.
Hammett also paid $2 million for Peter Green's original 1959 Les Paul Standard which has likely increased in price since.
Hammett also has a love for horror films and has an impressive collection of props and costumes used in his favorite films which are likely worth a lot of money.
In 2014, he launched his own convention called 'Kirk Von Hammett's Fear FestEvil'.
In aggregate, it is estimated that Kirk Hammett has a net worth of upwards of $200 million dollars.
The team over at Lifestyle & Net Worth put together this clip detailing what makes up Kirk Hammett's net worth.
Rob Trujillo Net Worth
Since 2003 Rob Trujillo has remained as Metallica's bassist. When Metallica's original bassist Cliff Burton tragically died while on tour, Jason Newsted took his place until 2001 when Trujillo took over.
Trujillo receives most of his wealth from the royalties and tours he completed with Metallica, Suicidal Tendencies, Infectious Grooves, Ozzy Osbourne, Jerry Cantrell, Black Label Society, and Infectious Grooves and Mass Metal.
He was inducted in the Rock and Roll Hall of Fame alongside Metallica in 2009.
Specifically, with Metallica, he received writing credit on Death Magnetic, Lulu, Beyond Magnetic, Hardwired To Self Destruct, and S&M2. He has been touring with Metallica since 2003.
Trujillo also has many acting credits from small roles in television and film, such as a non-speaking role in the Walter Matthau film House Calls, a minor role in Gary Coleman's Scout's Honor, and a 1982 episode of CHiPs.
Trujillo also has a producing credit on the 2014 documentary Jaco.
If Trujillo has any real estate it has not yet been disclosed. The general estimate of his net worth is much less than his bandmates due to joining in 2002 and is thought to be around $30 million dollars.
Thanks to the metalheads at Metallica Mania Brasil for this explainer on Rob Trujillo.
That's It!
In summary, Lars Ulrich is the wealthiest member of the band due to his extensive royalties, impressive real estate, and also large art collection. It no doubt helps that Ulrich also already came from a well-respected and wealthy family.
Hetfield is a close second, with Hammett and Trujillo following respectively.
Nearly all of their wealth can be put down to the royalties they gained from selling over 150 million records worldwide.
Let us know if you enjoyed reading this article and would like to see more!
Similar Stories…