Mick Ralphs was once asked in an interview how he would rate himself as a guitarist out of 10. Mick didn't take more than a moment to respond with "Minus 20." The interviewer was surprised and further questioned why.
Mick's reply was epic. He said that while he would like to be an all-round guitarist who can play lead breaks and rhythm, he is a lyricist and songwriter. And as a songwriter, he knows that he must play his guitar as the song demands and deserves. Not what he wants to do with his guitar.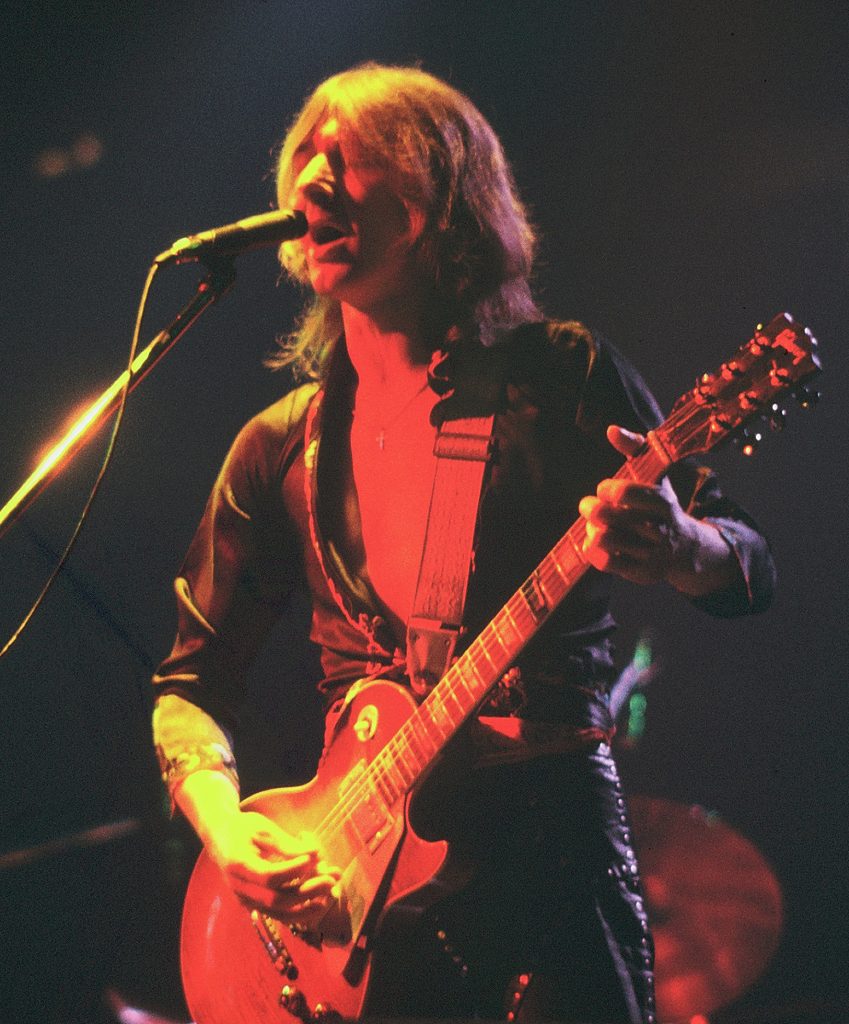 The reply was so apt it clearly showed how great a songwriter he was while being a brilliant guitarist at the same time. After all, he wrote some iconic songs like "Ready For Love," "Rock & Roll Queen," "Drivin' Sister," "Feel Like Makin' Love," and "Can't Get Enough."
Mick Ralphs – Early Life
Mick Ralphs was born as Michael Geoffrey Ralphs on March 31, 1944, in Herefordshire, England. Many people love to think that he was a child prodigy, but that's not the case. In fact, Mick wasn't interested in guitar until he heard Booker T. & the M.G.'s playing "Green Onions" on the radio in 1962.
It was then, when he was almost 18 years old, that planted the seed for playing the guitar. It was the sharp notes of "The Colonel" Steve Cropper that mesmerized him so much he asked his aunt to buy him a guitar. A Rosetti Lucky Seven it was, the first guitar Mick Ralphs ever played. By 1964, Mick joined a blues and rock band called The Buddies.
Embed from Getty Images
Two years later in 1966, Mick had his first taste of fame. In that year, a group was formed called The Doc Thomas Group where Ralphs played as a guitarist. Pete Overend Watts played bass and lead singer Stan Tippins followed from The Buddies.
They began their career in Italy, where they signed a record contract with Italian label Dischi Interrecord. In 1967, they released an R&B album full of covers. In 1968 though, things started getting exciting as Vernon Allen and Dale 'Buffin' Griffin joined the band as keyboardist and drummer respectively.
It was around this time when Mick Ralphs began composing some of his own songs and was gradually mastering the guitar. Although Ralphs wasn't a very technical musician, he had a good ear and feel for music. He knew that the final song was what mattered most.
Once they moved back to the UK, they changed the band's name twice within a very short time. First, they became The Shakedown Sound and later Silence. It was under the name Silence with which they were discovered by Guy Stevens of Island Records.
Embed from Getty Images
Guy Stevens made a few significant changes to the band. The band, under Steven's influence, decided that Tippins wasn't the right man to be the lead singer anymore. After being demoted, he became the road manager for the group. Soon after, the band put out advertisements in search of a new lead singer.
The ad read, "Singer wanted, must be image-minded and hungry." The band eventually landed on the singer and pianist Ian Hunter. With Hunter onboard, Stevens proposed to change the name of the group once more.
He wanted to pay homage to the famous cult 1966 novel of Willard Manus, about a lazy gambler and his attempt to avoid being drafted for the Vietnam War. So the band decided to call themselves "Mott the Hoople."
Mott the Hoople
In May of 1969, they recorded their first album in a week. It was titled Mott the Hoople. While Hunter was still improving himself as the lead singer, it was Ralphs who gave the group "Rock & Roll Queen," their very first classic. Many people still think that the Rolling Stone's "Bitch" was inspired by this song.
Although it wasn't a commercial success, the song created chemistry within the band. Which was reflected in their exhilarating live performances, earning them a reputation on the road.
Embed from Getty Images
In September of 1969, they shared the stage with another up and coming band called Free. The band's lead singer Paul Rodgers would later work with Mick Ralphs in the formation of their supergroup.
In 1970, Mott the Hoople toured extensively and performed an absurd amount of concerts, as much as 20 a month. Somehow, in September of 1970, they managed to record and release their second album Mad Shadows under Island Records.
Mick Ralphs composed and sang a couple of songs on the album, one of them "Thunderbuck Ram," which was widely loved. However, the album overall didn't match the sales of their debut album and received negative reviews. Their live shows were continuing to improve and grow in notoriety though.
The band went on its first tour of America in 1970, where they shared the stage with other popular bands such as The Kinks, Mountain, and Ten Years After. Leslie West, the guitarist of the band Mountain, influenced Mick so much that he soon adopted a Les Paul Junior, becoming Ralph's main guitar.
Embed from Getty Images
When the band decided to make their third album, they wanted to produce it themselves without the influence of Stevens. Both Mick and Hunter composed songs for the album; they did four each.
Out of them, Mick's remarkable guitar playing is noted in "It Must Be Love" and "Whiskey Women." The album, titled Wildlife, fared even worse commercially than its predecessors.
While touring America in the spring of 1971, one of Ralph's guitars went missing. At the time, the band enjoyed visiting pawn shops in search of vintage guitars, and here Ralph's found his soon to be favorite. A '57 Fender Esquire.
With his new guitar, he wrote one of his masterpieces, "Can't Get Enough." He wanted Hunter to sing the song, but Hunter politely declined. Insisting that he didn't think his voice was the right fit for the song.
In November of 1971, Mott the Hoople were on a tour of the UK with Paul Rodgers' new endeavor Peace, after splitting from his previous band Free.
Embed from Getty Images
Mick Ralphs showed him the song "Can't Get Enough." He immediately liked it and it complimented his rough voice perfectly. The pair found they had many things in common and began writing songs together. But nothing much came out of it as Rodgers went back to join Free in 1972.
All the Young Dudes
1972 became the most significant year for Mott the Hoople. They were promoting their best album so far, Brain Capers, with pre-punk songs like "Death May Be Your Santa Claus" captivating fans. However, things were not as cheerful on the inside and discouragement was growing due to their lack of success.
So much so that when returning to the UK from a tour of Switzerland, all the band members, including Ralphs, thought that the band was finished. In desperate need of revitalization, David Bowie, a fan of Mott the Hoople, reached out and offered them the song "All the Young Dudes."
They were shocked to see Bowie offer them such gem of a song. But it was much needed and gave them the resurgence to carry on. Bowie became the producer and made the final arrangements, but it was Mick Ralphs and his Gibson Firebird that created the catchy intro we all remember.
Not only a giant success, but the song also became the anthem of the glam rock movement. Suddenly, Mott the Hoople became an overnight sensation, transforming into a full-on glam rock band.
Not all members were on board with the transformation though, including Mick Ralphs, who thought the glitter and platform boots were a distraction from the music. Hunter, on the other hand, reveled in the glam, becoming the new visual image of the group.
Their next album, Mott, was about the other side of the glamorous world of rock 'n' roll. The album broke into the top 10 charts when it was released in July of 1973. After recording his final chart success with the band, "Roll Away the Stone," Ralphs decided to leave the band in pursuit of a more hard rock direction.
Bad Company
Mick Ralphs joined forces with Paul Rodgers and formed the band Bad Company. Simon Kirkee from the band Free also joined as the drummer and Boz Burrell, bassist from King Crimson.
Embed from Getty Images
The band's 1974 debut self-titled album proved that Ralphs' guitar riffs and Rodgers' rough voice would be a force to be reckoned with.
Their debut single, "Can't Get Enough," composed by Mick Ralphs, became an immediate success and one of the most popular Bad Company songs. It helped drive their debut album to the number one spot in the United States.
The following year, the hard rock supergroup repeated the success of their debut album with Straight Shooter. The album featured a chest-beating rock song "Feel Like Makin' Love," composed by Rodgers and Ralphs.
Their next few albums began to reveal that their initial chemistry and magic had started to fade. After the release of their final album together, Rough Diamonds, and a fistfight between Rodgers and Burrell, the band broke up.
Mick Ralphs remembers, "Paul wanted a break and truthfully we all needed to stop. Bad Company had become bigger than us all and to continue would have destroyed someone or something. From a business standpoint, it was the wrong thing to do, but Paul's instinct was absolutely right."
But Ralphs didn't give up on music just yet. In 1984 he toured with David Gilmour of Pink Floyd on his About Face tour. A year later, he released a solo album titled Take This.
Embed from Getty Images
After several reformations and tours with Bad Company, in 2001 Ralphs released his second solo album titled It's All Good. Two years later he released That's Life – Can't Get Enough.
Apart from several more reunion concerts with former bands Mott the Hoople and Bad Company, Mick Ralphs has sadly put down his guitar. In 2006, he suffered from a stroke. Former bandmate Simon Kirke believes he will never play live again. A big shame because despite what he thought, Mick Ralphs was a true guitar player.
Similar Stories…