Monika Dannemann, the girl that made a career of being Jimi Hendrix's fiancee…
In Dusseldorf, Germany, during the chilly January of 1969, a young figure skater was taken by a friend to see a concert. The performer was a brilliant and volatile guitarist whose reputation preceded him. The skater was Monika Dannemann and the guitarist was Jimi Hendrix.
Monika had won numerous medals and trophies in her career. She had even represented Germany in the National Figure Skating Championship of 1965. Very little else is known about Monika's early years. She was an established name within the winter sports community, but her fame was dwarfed by Jimi's.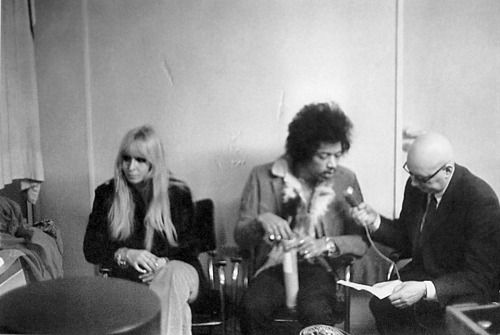 There is a sense of mystery surrounding Monika Dannemann. In some ways, it is as if her history begins the day she met Jimi Hendrix. One thing led to another and Monika wound up spending the night with him. This was, of course, at the height of Jimi's fame and the peak of his musical magnificence, so there was no shortage of groupies around him in.
Monika Dannemann & Jimi Hendrix
But it seems as though he had a real affection for Monika. He invited her to his next show in Cologne, which she attended. In spite of this, there was no getting away from the fact that Jimi was a nomad, a musical journeyman. So it was inevitable that they would part soon after.
Monika headed back to her home in Dusseldorf, while Jimi continued on his world tour. But evidently their infatuation was mutual. Jimi wrote to Monika a couple of months later and asked her to visit him out in New York City.
For one reason or another, the meeting never happened, and the next time they saw each other was in London in April of 1969. Monika later claimed that she had traveled out there especially to seek out Jimi. They spent a single night together, ships in the night, as they say.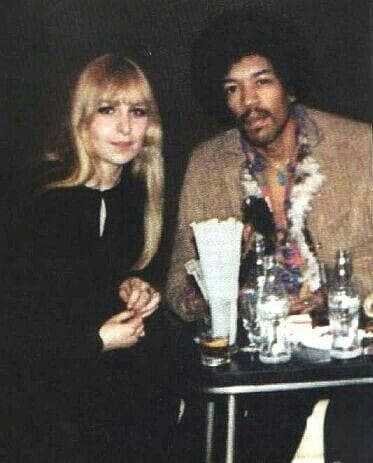 And what happened next? We only have Monika's (notoriously unreliable) account of what happened, but she always claimed that for the next eighteen months she and Jimi were in a committed relationship. That they were in fact engaged to be married.
What we do know for sure is that they were together from September 15th, 1970, onwards. This was at Monika's flat in London. Jimi was fresh from a successful European tour, but his health was failing. He suffered from chronic insomnia and his drug dependency had taken a recognizable toll on him. Little did he know it, but the day he resumed his sporadic relationship with Monika Dannemann he had less than four days left to live.
On the afternoon of September 17th, Monika took the last recorded photographs of Jimi Hendrix in the garden of the Samarkand Hotel. Even without knowing the weight of their significance, there is something haunting in those photographs. For a young man in the prime of his life, he looks so frail, almost dwarfed by his own guitar. The images are heartbreaking to look at.
Jimi Hendrix's Death
It was in Monika's flat along Notting Hill Gate that she found Jimi unresponsive on the morning of September 18th, 1970. He was pronounced dead at St. Mary Abbot's Hospital. A combination of amphetamines and sleeping pills led him to choke to death on his own vomit. He was 27 years old.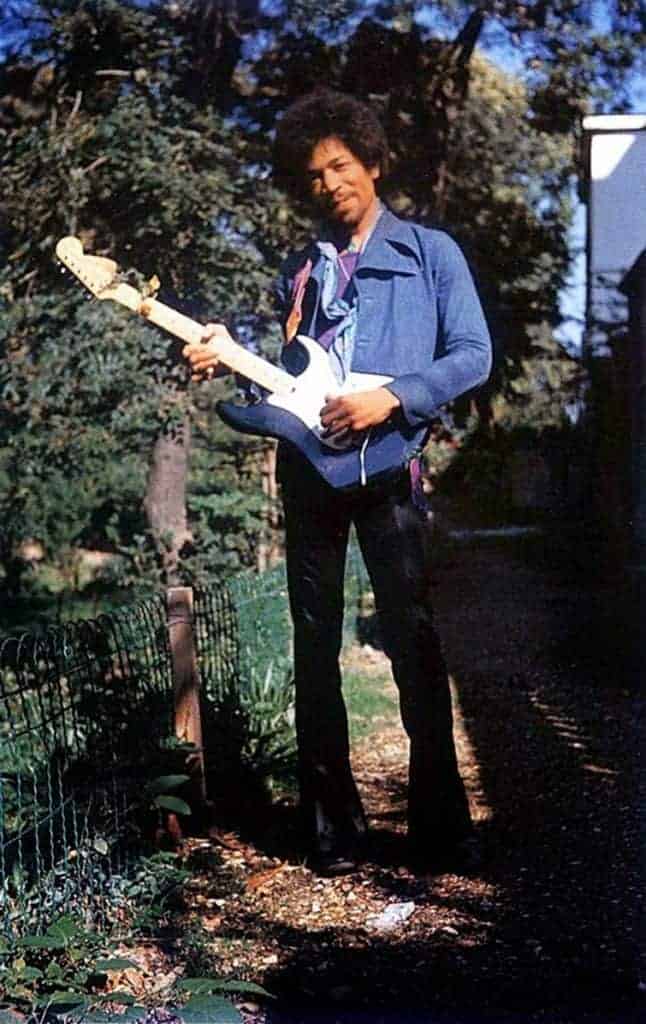 Inadvertently, Monika Dannemann found herself in the heart of a rock 'n' roll scandal. Journalists clamored for her account of Hendrix's final days. She gave plenty of interviews to the German tabloids and the extent of her involvement in Jimi's death was hotly debated. Was she the one who gave him the sleeping pills? No two of Monika's accounts were the same. She seemed incapable of giving a consistent statement.
There's no getting away from the fact that Monika Dannemann made a good living out of Jimi's death. The very fact that she was there the moment he passed was a guarantor of her rock and roll credentials. She spoke to newspapers, biographers, historians, and documentarians. She attended Hendrix-themed events. It has been said that, for Monika, time stopped the day Jimi died.
The portrait she painted of Jimi in her accounts was of a shamanic figure, an almost mythological spiritual powerhouse. But this was by no means the only image of Jimi which gained prevalence in the aftermath of his death.
Kathy Etchingham was romantically linked to Jimi Hendrix throughout the 1960s in one way or another. They met in 1966, on Jimi's very first night in London. It was his tenure in the capital which helped to skyrocket him to stardom. She is reported to be the subject of two of his most famous songs, "The Wind Cries Mary" and "Foxy Lady."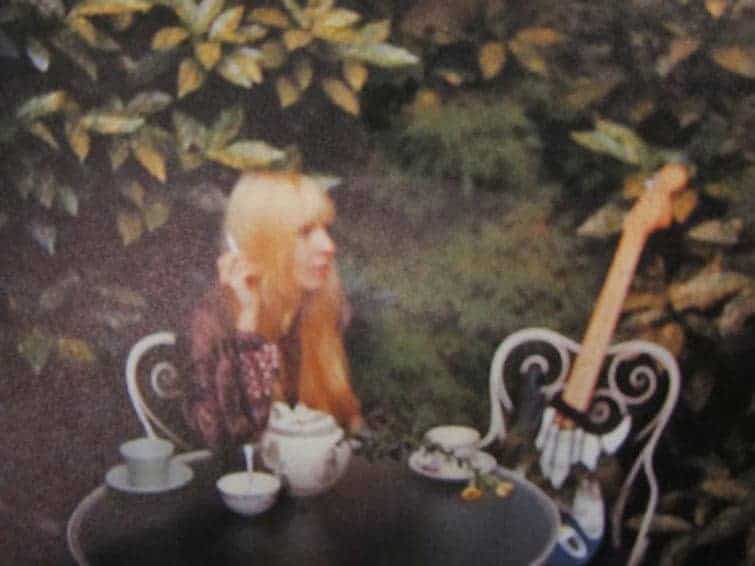 Accounts differ, but it seems that it was the decline of his relationship with Etchingham that led Jimi to take up with Monika. So naturally, there was a degree of rivalry between the two women when it came to preserving the great guitarist's legacy.
Kathy's image of Jimi was an altogether darker one than Monika's, but perhaps a more human one. She emphasized his drug addiction and the rapid decline in his physical health. In her accounts, Jimi's story reflects the dark side of hippy culture. Monika Dannemann, however, chose to focus on Jimi the legend.
During the '70s, Monika began a relationship with a young German musician named Uli Jon Roth. Roth had made a name for himself with the Scorpions, who were gaining prominence on the international rock scene. Roth was a classically trained guitar virtuoso. In some ways, he might even be considered a successor to Jimi, and their relationship seems to have been a happy one.
Indeed, it stimulated Monika's creativity. She and Roth collaborated on numerous projects, including the Scorpions song "We'll Burn the Sky," which remains a staple of Scorpions concerts to this day. But the shadow of Jimi Hendrix loomed largely. Monika went on to carve out a niche for herself as a painter and poet, creating the covers for several of Roth's albums. But more often than not the subject of her art was Jimi.
Perhaps inevitably, the war of words between Monika Dannemann and Kathy Etchingham escalated as time passed. Kathy pointed out the inconsistencies in Monika's stories and speculated that the German figure skater might perhaps have had some responsibility for Jimi's death.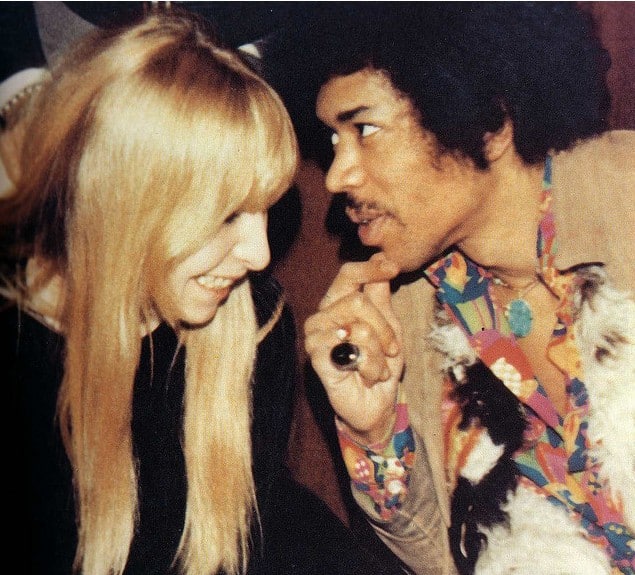 It is true that there is very little evidence of the relationship Monika claimed to have had with Jimi (in particular, the scarcity of any photographs of the two together has proved problematic). This led to Monika calling Kathy an "inveterate liar" in a book that she was writing, followed by some wild accusations that Jimi was in fact murdered. This, in turn, led to a libel lawsuit from Kathy.
The book Monika was writing, which was titled The Inner World of Jimi Hendrix, was hotly anticipated on account of the tabloid spat between the two women, but the publication was prohibited until the legal issues were resolved.
But Monika herself was evidently in decline. Her legal wranglings with Kathy Etchingham proved to no avail. She lost the libel lawsuit. Two days later, on April 5th, 1996, she was found dead of carbon monoxide poisoning in the garage of her home. She was 50 years of age.
Perhaps there is a bitter irony in the fact that Uli Jon Roth has perpetuated speculations that Monika's death was not a suicide but murder. In many ways, his outspokenness echoes Monika's own regarding Jimi. But much like Jimi, the questions surrounding Monika's death are unlikely to be answered now.
Embed from Getty Images
One outcome of Monika's death was the eventual publication of The Inner World of Jimi Hendrix, with any libelous content carefully excised. When the book finally came out, it proved an essential purchase for those with an interest in Hendrix.
Regardless of their opinion of Monika Dannemann, the photographs alone were worth the asking price. The cover image is a reproduction of one of those eerie final photos, taken in the garden of the Samarkand Hotel.
As for the book itself, it claims to be an expose of what really happened in the final days and hours of Jimi's life. But like many of the accounts given by Monika, the veracity has been much debated. Ironically, she aims numerous pot-shots at the press for the manipulation and distortion which surrounded Jimi's death.
It also features a gallery of Monika's paintings, each and every one inspired by Jimi. It is a testament to what seems to have been an obsessive adoration for him. A paper shrine, so to speak.
The fundamental unknowability surrounding Monika Dannemann, and the speculation as to the real nature of her relationship with Jimi Hendrix, continues to be debated to this day. Were they really star-crossed lovers, or was the romance Monika described merely the product of a deluded and opportunistic imagination?
But however tangential their connection, there's no getting away from the few established facts: they knew one another, they were together when he died. For those reasons at least, Monika Dannemann will always be remembered.
Similar Stories…