When The Rolling Stones were cutting their teeth in the early 60s, they seemed set to change absolutely nothing about the musical landscape.
Sure, they were quickly becoming a big name of the English Invasion, but they played mostly blues and rock and roll covers of other artists, adding little extra value besides perhaps contemporary sex appeal and bowl cuts.
Yet, when the band brought manager Andrew Loog Oldham into their ranks, the course of music history shifted, for this is when The Rolling Stones really started rollin'! Oldham encouraged them to leave the covers in the past and work on their own material… so they did.
Mick Jagger and Kieth Richards took on principal songwriting duties, and the band went from original hit to original hit, gathering no moss, holding no traditions.
And in today's post, I'll be guiding you through 10 Rolling Stones songs that had the most seismic impact on the music world.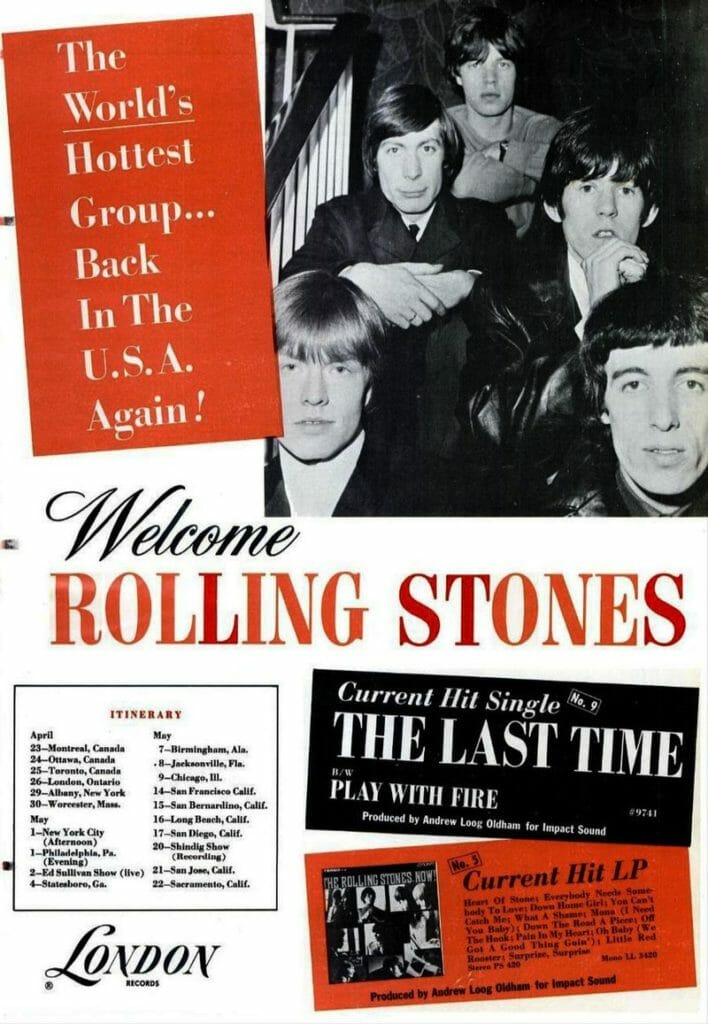 The 10 Rolling Stones Songs That Changed The Face Of Music
Without further adieu, here are the top 10 Rolling Stones songs (in no particular order) that left an indelible mark on the music landscape.
10. "Street Fighting Man" — Beggars Banquet (1968)
You'd think a song with lyrics confronting street fighting, revolution, and starting a rock and roll band would come in hot, with overdriven guitars and driving bass, but The Rolling Stones saw this obvious route and veered drastically from it.
"Street Fighting Man" starts with an acoustic strumming out happy chords before transitioning into a sitar-laden chorus with some piano played by Nicky Hopkins to beef things up in place of what would usually be the chugging rhythm of an electric guitar.
Riddled with Jagger's signature cutting sarcasm, this ambiguous cut remains ill-defined today, which lends well to reinterpretation, as evidenced by Rage Against the Machine's amazing cover on their Renegades album.
9. "Angie" — Goat's Head Soup (1973)
Even in the thick of what's considered the band's biggest creative slump, they were capable of captivating listeners with stand-out tracks such as "Angie", a tale of two beaten-down souls who can't catch a break in life.
Richards wrote the music for "Angie" sitting in bed while recovering from an all-consuming heroin addiction — It was the first time he'd been physically able to play the guitar since he stopped using.
Who the titular Angie is has long been debated, with a number of salacious theories doing the rounds.
One of which alludes to David Bowie's first wife Angie Bowie, who, according to rock legend, demanded a song be written about her after catching her husband and Jagger in bed together.
Recently, however, Richards (who penned most of the lyrics too) divulged that his daughter had just been born when he wrote the song… no prizes for guessing what her name was.
8. "You Can't Always Get What You Want" — Let It Bleed (1969)
What started out as a Mick Jagger acoustic guitar ditty quickly evolved into something much more expansive and nuanced when the band hit Olympic Studios in 1968. Organist extraordinaire Al Cooper was recruited, as was the London Bach Choir that kick this track off.
The results? A dreamy, ever so slightly melancholic, and painfully relatable sing-along song that both sours and ultimately lifts the soul over the course of its 7:28 runtime.
"You Can't Always Get What You Want" is a potently humanistic cut that illuminates the absurdity of life and how we're all connected by despair and strife.
---
RELATED: 10 Nirvana Songs You Need To Hear
---
7. "Can't You Hear Me Knockin'" — Sticky Fingers (1971)
It's 1971, Brian Jones, the founding member of The Rolling Stones, has parted ways with the band, and the world is waiting to see if the boys are still up to the job.
In response, they release "Can't You Hear Me Knockin'", a funky 7-minute epic – complete with stank-face blues guitar and rippin' sax solos – that makes us feel awful we ever doubted them.
A piece of bluesy jazz fusion that made good on promises made by the band's earlier output while simultaneously opening a number of new musical avenues for them to explore, "Can't You Hear Me Knockin'" proved that The Stones still had some solid momentum.
6. "Wild Horses" — Sticky Fingers (1971)
Tracked secretly in an Alabama studio before the band had a license to record in the US, "Wild Horses", a country-tinged acoustic bop, introduced a tender and sentimental side to the pioneers of hard rock, adding yet another dimension to their already multifaceted oeuvre.
"Wild Horses" recontextualized pop lyric clichés and breathed new life into the concepts, thus appealing to a broad spectrum of listeners without pandering to the lowest common denominator.
5. "Jumpin' Jack Flash" — Through The Past, Darkly Vol. 2 (1969)
The seed that grew into "Jumpin' Jack Flash" – rather fittingly, I might add – came from a gardener, Keith's gardener, to be precise. When Jagger stayed over at Richards' one night, he was awoken in the small hours by a mysterious persistent noise.
He asked his host what the noise was, to which Richards replied, "Oh, that's Jack. That's Jumping Jack", going on to explain it was his gardener, Jack's rubber boots making the noise.
What followed was an inspired writing session that led to one of their biggest hits, and boy did they need a win at this stage in their career.
Their Satanic Majesties Request, the band's 6th album, had flopped (comparatively speaking), and a disappointing follow-up would almost certainly have sent them spiraling into obscurity.
But the driving blues rock sound and emphatic joy of "Jumpin' Jack Flash" saw them reinstated as the kings of popular music.
---
RELATED: The Metallica Songs That Changed Metal Forever
---
4. "(I Can't Get No) Satisfaction" — Out Of Our Heads (1965)
It may be the tune that diehard Stones fans skip the most, but you can't ignore the impact "(I Can't Get No) Satisfaction" had on the musical landscape of the mid 60s, and it all began as a big old snoozefest… literally!
When the band was staying at a hotel in Clearwater, Florida, Richards was noodling around, committing loose ideas to a tape recorder before he was defeated by exhaustion and fell asleep.
In the morning, he played the tape back to hear a rough sketch of what would become The Rolling Stones' first number one hit… proceeded by hours of snoring.
3. "Paint It, Black" — The Aftermath (1966)
The aptly named "Paint it Black" is an incredibly dark song that serves as an acid-clear depiction of grief and depression.
It's the story of a wounded individual wanting to suffuse the physical realm with the shadows toiling within, to symmetrize his internal and external worlds, if you will.
Jagger understood that it wasn't the most groundbreaking concept when he penned the lyrics, but the poetics of his take on grief, as well as Richards' ingenuous Dorian composition in F and Watts' wholly original rhythms, made it an avant garde tour de force.
It's perhaps one of the earliest popular songs that really embraced sonic cinematics.
2. "Sympathy For The Devil" — Beggars Banquet (1968)
"Sympathy for the Devil", started out as Dylan-esque folk tale that didn't push many boundaries, but by degrees, was transformed into a rock and roll samba with an engaging spiritual twist, something that, needless to say, had never been attempted in popular music.
Once the raga-style rhythms were established and the song had a distinct pulse, it kept unraveling into something entirely fresh, and it still feels that way now. Despite the dark lyrical content, "Sympathy for the Devil", is a feel good foot-tapper that will never, ever fall out of fashion.
---
RELATED: The ZZTop Songs That Don't Get Enough Airtime
---
1. "Gimme Shelter" — Let It Bleed (1969)
"Gimme Shelter" wasn't even a single from the band's Let it Bleed album cycle, but that didn't get in the way of it making a massive cultural splash.
For example, Scorsese has woven it into the soundtrack of not one, not two, but three of his most famous movies, Goodfellas, Casino, and The Departed.
Mick Jagger himself acknowledges the apocalyptic thread in the thematic tapestry of "Gimme Shelter", which makes it all the more strange that it's become perhaps their best known song, receiving substantial radio rotation, even today.
The tremolo-tinged electric guitar intro swiftly fortified by backing singer Merry Clayton's haunting wordless melody is etched into the mind's ear of multiple generations.
And the pressing darkness of the chorus is a perpetual reminder of the razor's edge that separates "normal life" from chaos, and peace from war.
Final Thoughts
These songs are the story of what started out as a glorified cover band developing into one of the most unique and influential musical acts of all time.
They're the sonic stepping stones that lead to new artistic and cultural horizons, the structural elements on which all modern rock and pop music is built.
And get this… The Rolling Stones are still going strong, even as they roll into their 6th decade as a band.
Their days of remapping the musical landscape are of course over, but the fact you can still catch Mick, Kieth, and the boys on stage playing all the classics that formed the soundtrack of our formative years is a testament to their timeless greatness — Long live The Rolling Stones!