Wisconsin's biggest musical export since Les Paul just happens to be Christian rock band Skillet. FeaturingJohn Cooper on vocals & bass, wife Korey (a Kenosha, Wisconsin native) on guitar & synthesizers, and Jen Ledger on drums & vocals. Also in the band: Nashville-based lead guitarist Seth Morrison.
The band have released 11 albums since forming in 1996, several of which have been certified gold or platinum, and are known for a relentless touring schedule, which garnered them a top five ranking in the Hardest Working Bands of 2010 by Songkick.
During, and despite of the bands success, lead singer and founding member John Cooper, has made some astoundingly idiotic comments.
First up, the Christian Kid Rock decided to join the anti-masker, anti-vax, Covid-denier brigade, further encouraging the division and confusion that was rampant during the pandemic.
Then, he saddled up on his high horse to condemn Cardi B and Megan Thee Stallion's Grammys performance of WAP as "evil" and somehow used his twisted logic to draw parallels between the famous music awards and Hitler.
However, not one to rest on his douchey laurels, he truly outdid himself recently in an interview with Apologia Studios.
Get this… the Christian frontman claims legendary political rockers Rage Against the Machine have become another cog in said machine and that he, the lead singer in a Christian band, is "the revolutionary".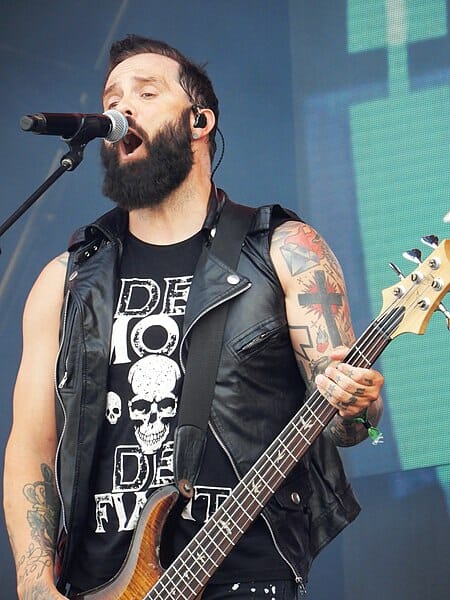 Why Is John Cooper Slandering Rage Against The Machine?
If you're anything like me, your first thought when you heard old JC was talking trash on RATM was simply… what the hell?
But when you dig a little deeper and read the actual words that came out of his mouth, you have to feel a little bit of pity for this painfully delusional individual.
No one in their right mind would try to start a beef with RATM, but therein lies the crux of the matter… Cooper is completely detached from reality.
Whilst spewing his anti-vax vitriol, he mentioned that because the members of Rage Against the Machine supported government health mandates, they're no longer renegades, and instead have become what they used to rage against.
Rage Against the Machine has become the machine. It's crazy. I'm, like, wait a minute – I'm the revolutionary here?

I'm the revolutionary and Rage Against the Machine is just 'government rock' now.
I know, I know… it's enough to make you laugh.
According to Cooper, the fact he doesn't mind endangering the lives of health compromised individuals makes him "revolutionary". At the same time, Rage Against The Machine are now government stooges due to their wanting to protect vulnerable members of the population.
His take is shambolic at best, and it's a shame that he has multiple platforms on which to chant his egotistical, and sometimes dangerous nonsense.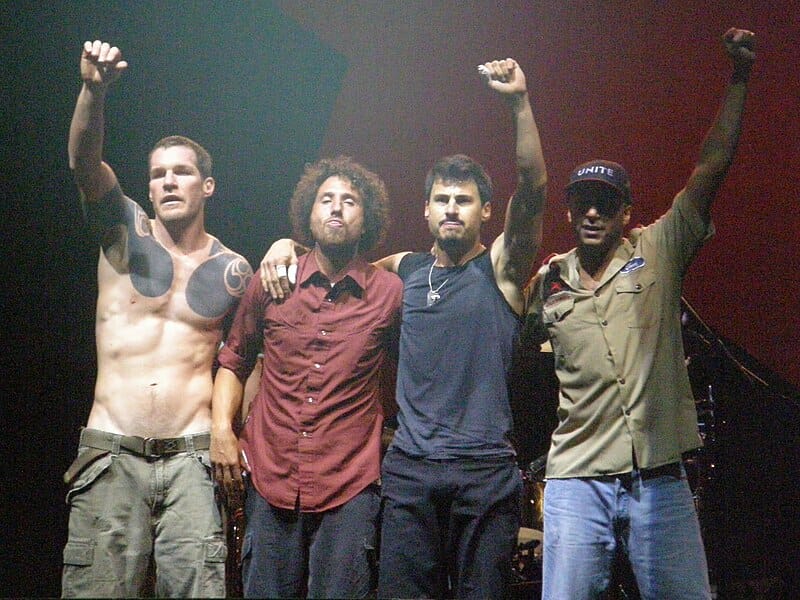 John Cooper – Musician Or Revolutionary?
In this interview, Cooper exhibits a complete misunderstanding of the bigger picture and the RATM ethos. Whether the legendary rock group and the government have the same views on Covid regulations is irrelevant, as it's not at its core a political issue, but a matter of public health.
Rage Against the Machine has always been about calling out the powers that be on inequality, atrocities, and corruption. Their self-titled album Rage Against The Machine easily ranks on my list of best albums of all time.
The lyrical content of the band's back catalog has never been so petty and off-target as to go after every single governmental initiative no matter what they entail.
Whereas, Skillet's lyrical content on sonic atrocities such as the vacuous "Rise" is full of meaningless platitudes making vague calls for "revolution".
Based on his comments over the past couple of years, we can only assume his idea of revolution is the suppression of female sexuality and not being encouraged to protect himself and others from deadly viruses.
Yep, you heard it here first folks, John Cooper won't stop until all women wear Handmaid's Tale-style dresses down to their ankles and he doesn't have to wear a mask in public.
Cooper actually drops Rage's name at the end of a lengthy tantrum on the kickback he gets for his anti-mask and anti-vax positions.
Now, let's be honest – not everybody in the mainstream world is nuts about that [Christianity].

They don't necessarily love hearing about Jesus, but they have always put up with me – some have supported me even.

But I'll tell you what: the most kickback I have ever received – ever – for my faith has been on my stance on vaccine mandates and mask mandates. It is as if I just – like the unforgivable sin.
Coopers Takes On Mask Wearing
This isn't the first time Cooper has spoken out against wearing masks, reporting on his podcast Cooper Stuff:
The issue of mask-wearing, to me, is nothing more than theater. It is making me jump into an unreality, something I do not believe, just to acquiesce to the overlords, meaning government, Big Tech, big business, big media, whatever – to acquiesce to what they want me to do."
Cooper continued
And every time I put my mask on, I know that I'm doing something that I do not believe in… I'm being forced to lie…

I'm living a lie."
You certainly got that last bit right, John.
Final Thoughts
Well, folks… after all that ridiculousness, your humble author is lost for words. The only positive we can all take from this is that Cooper continues to alienate himself in the public eye and within his own industry, so eventually, he won't have a soap box to preach from.
Long live Rage Against the Machine!!!
Check out Rock Feed's take on the matter in the video below.
Frequently Asked Questions
Is Skillet A Christian Band?
Skillet is a Christian rock band formed in 1996 by John Cooper, Kevin Steorts and Trey McClurkin.
Who Are The Other Members Of Skillet?
The band have had several changes of lineup over the years, with John Cooper being the only constant member.
Current band members are: John Cooper (lead vocals, bass) and Korey Cooper (rhythm guitar, keyboards, backing vocals) alongside  Seth Morrison (lead guitar) and Jen Ledger (drums, vocals).
Is John Cooper Married?
John Coopers is married to guitarist and keyboard player for the band, Korey Cooper. They have two children together.