Music can lift the spirit, it can make you cry. Soldiers have marched into battle to music. It's a powerful thing – Jools Holland
While they didn't manage to conquer America in quite the same way that the bands who led the First British Invasion during the nineteen sixties did, the flag bearers for the Second Invasion of the early eighties, Squeeze did leave a lasting impression that arguably changed the face of the mainstream musical landscape.
Beloved by the fledgling MTV and college radio, Squeeze brought new wave, synth-driven pop songs, and intelligent, angst-ridden anthems to suburbia and the malls of America.
Squeeze were the poster boys for the least likely revolution ever and became the cult band who everyone, from the Atlantic to the Pacific coasts and everywhere in between could, and did sing-a-long with whenever they hit the airwaves. They were, and are the band that it was okay for you, and your Mom and Dad to like and get down with.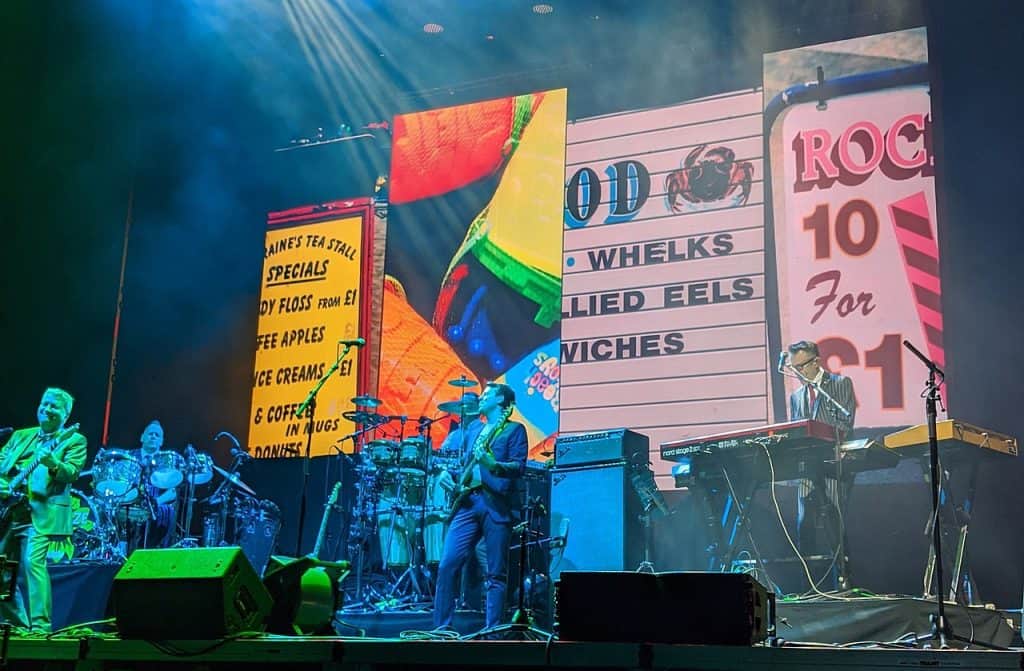 Theft, The Velvet Underground, And Deptford
Every story starts somewhere and the legend of the new wave pioneers begins, rather alarmingly with theft.
Okay, so we may have played the first step in the Squeeze journey up a little bit, as it doesn't involve armed robbery, burglary, or multi-million dollar white-collar crime, but the fifty pence piece that Chris Difford used to pay for the advert that introduced him to Glenn Tilbrook was, according to Difford, stolen from his mother's purse.
After meeting through the ill-gotten advert, Tilbrook and Difford launched themselves into the serious business of writing the songs that would shape the bands early sound, and after adding keyboardist Jools Holland and drummer Paul Gunn, who was quickly replaced by Gilson Lavis, and bass player Harry Kakoulli to their ranks, they began playing in and around Deptford under a variety of different names that included Captain Trundlow's Sky Company.
Knowing that they needed an immediate and punchy name that would adhere them to anyone who might be tempted to venture into a local club to see them, Difford and Tilbrook eventually chose Squeeze, which was, if the guitarists and songwriters are to believed, a tongue in cheek ode to the Velvet Underground's least commercially and critically successful album.
It's The Sound Of The Police And Fun City
Things had a habit of happening to Squeeze and prior to the punk revolution of nineteen seventy-six taking the UK by storm, they were actually signed to Miles Copeland III's first record label, BTM.
Before they could release anything with the future manager of The Police, the label went bust, and Squeeze ended up releasing their first EP, Packet of Three on Deptford Fun City Records, which was actually I.R.S. Records "in disguise", and was owned by none other than Miles Copeland III.
It was another of those music business riddles that was wrapped in an enigma that's better to ignore, and not think about in case it makes your head hurt. Which it undoubtedly will if you waste too much time thinking about it…
Move Over Miles, It's A&M's Time To Shine
Ironically, Squeeze's first self-titled album was produced by John Cale, who had been a member of the band that Tilbrook and Difford had named their own band after, although whether Cale knew this or not is debatable, as being Welsh he had, and still has a different sense of humor to the natives of the capital. And even if he did know, he probably wouldn't have cared.
However, despite their debut record producing two hit singles (Take Me I'm Yours and Bang Bang) the band had a more pressing concern in America, namely a disco-era band called Tight Squeeze.
The similarly named collective forced A&M to market the band as UK Squeeze in the States and Australia, and while the UK part of their name had disappeared, thanks to some clever behind the scenes legal shenanigans, from their releases by the time their sophomore album hit the shelves in the US, it was a fixture of all of their Australian releases until nineteen eighty-five.
Up The Junction And A Little Bit Of Argy Bargy
Squeeze, even though they were making serious waves in the UK with the release of their second album Cool For Cats, which yielded the biggest selling and highest-charting singles in their homeland, Up The Junction and Cool For Cats, couldn't even get arrested in America.
They were bona fide pop stars in their own country, but America just wasn't buying their cooler than cool new wave assault.
It wasn't until their third album Argybargy made its debut in nineteen eighty that US audiences started to pay attention to the Londoner's individual brand of pop music, which was all thanks to the album's second single Pulling Mussels (From The Shell) becoming a minor college radio hit.
Up North in Canada, they'd already tuned into Squeeze, as the first single from Argybargy, Another Nail In My Heart had dented the charts and climbed all the way to fifty-six. Which in hindsight doesn't sound all that great, but it was good enough to help them sell a lot of albums and tour, which is all that any band really wants, and needs to do.
All Change At Squeeze Junction
While things weren't exactly falling apart in Squeezeville, they weren't great either. A relentless touring and recording schedule had led to tensions within the band, and the first member to jump ship was bass player Harry Kakoulli, who was swiftly followed by Jools Holland in the aftermath of Argybargy's release.
To be fair to Jools, he left for a reason and was soon fronting the UK's anarchic music show The Tube with his partner in presenting crime Paula Yates, who would go on to marry Bob Geldof before embarking on a doomed love affair with Michael Hutchence.
Holland's replacement, Paul Carrack joined Squeeze as they were preparing to enter the studio to record East Side Story under the supervision of Elvis Costello, and it was Carrack's only lead vocal on the album that produced its only major radio hit, Tempted.
But like Holland before him, the lure of a career that wasn't dependent on Squeeze was too much for Carrack and he left the band before they released their fifth album, Sweets From A Stranger in nineteen eighty-two.
The record was a critical flop, and having decided enough was enough, Tilbrook and Difford put the band on indefinite hiatus.
The Second Time Around
Three years after they'd initially called it a day, and even though they'd had a relatively successful musical career in the intervening years, Difford and Tilbrook put the band back together with the same line-up that had recorded and toured Argybargy.
During their absence from the musical scheme, America had finally caught up with Squeeze and had tuned into, and been turned on by their back catalog, and even though the band wasn't everyone's musical cup of tea, the band's fans at MTV had made sure that middle America knew all about Squeeze.
The band's second run lasted twice as long as their first had, and in the fourteen years that they spent music together in the eighties and nineties, Squeeze released seven albums, including their comeback record Cosi Fan Tutti Frutti and their final studio outing Domino which was released in nineteen ninety-eight.
Admittedly, the line-up during this time wasn't what most bands would call stable, with Jools Holland leaving after five years and Paul Carrack rejoining in the early nineties only to leave again after a year, but it was their most critically and commercially successful period as a band.
Tilbrook and Difford wrote, recorded, and toured until, to coin an old rock and roll phrase, the wheels fell off, and pushed Squeeze further and harder than they ever thought that they would be able to.
In the end, though, the old differences inevitably and unfortunately reared their ugly heads, and despite the wisdom that comes with age, the founding members of the band couldn't save it from the one thing that was always going to halt it in its tracks and bring it to a premature end, themselves.
After more than a quarter of a century of working together, in nineteen ninety-nine Difford and Tilbrook finally went their own ways and closed the book on Squeeze.
The Third Time's A Charm
The lure of Squeeze was too much for Difford and Tilbrook and after more than seven years apart, they put the band back together again. Whether it was due to them being cautious or having actually learned from the lessons of their past mistakes, this time around, they recruited a completely new line-up and didn't have to replace a member of the band for almost eight years, which was something of a minor miracle and a new record.
Since they reformed for the third, and apparently the final time in late two thousand and six or early two thousand and seven, the exact date depends on which member of the band you ask, and when you ask them, Squeeze have recorded and released two albums, Cradle to the Grave in two thousand and twelve and The Knowledge in two thousand and seventeen, and one live record Spot The Difference in two thousand and ten.
They're not as prodigious as they used to be, but then again they're not as young as they used to be either.
They may not be as busy in the studio as they once were, but they're still out there, touring and playing, just not as relentlessly as they used to. What does the future hold for the little band from Deptford that won the hearts and minds of America? Who knows, but whatever they do next, it'll definitely involve a little bit of Argybargy in Some Fantastic Place.
Similar Stories…