By the time I was five, I was a little diva

– Stevie Nicks
Whoever said that it was man's world forgot to tell Stevie Nicks.
The embodiment of female empowerment has spent the last five decades proving that anything her male peers can do, she can do better.
She entered the rock and roll business as an innocent, slightly naive teenager in the early seventies and has gone on to become one of the foremost songwriters of her, or any other generation.
She was born to be a musician and was thoroughly prepared for that role by fate who blessed her with the soul of a poet, an innate talent for melody, and a razor-sharp intellect. But like all great musicians and writers, she was burdened by her heart and a desire to love and be loved in return, which often led her down a dark and dangerous path.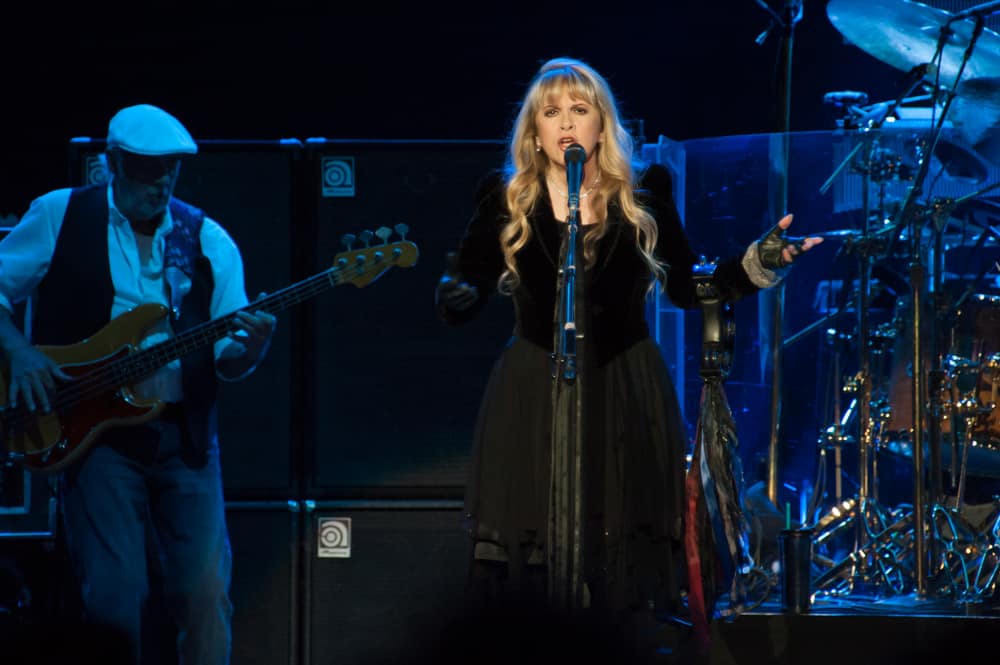 But Nicks is also a survivor, and everything that she's lived through, the personal losses, the break-ups, the bands, and crippling cocaine addiction has made her stronger and sharpened her resolve to be what she was always meant to be; one of the greatest musical artists of all time.
And she isn't alone in that belief, as she's the only woman in history to be inducted into the Rock and Roll Hall of Fame twice, the first time as a member of Fleetwood Mac in 1998 and the second as a solo artist in 2019.
She's been Grammy-nominated eight times, named as one of the One Hundred Greatest Songwriters Of All Time by Rolling Stone, and nominated for the American Music Awards twice. And, she's also sold millions of records worldwide.
Stevie Nicks has lived the sort of full-throttle life that most of us can only dream about, and she managed to make it out in one piece and (relatively) intact. . And this is her story…
Buckingham And The Mac
Attempting to condense Nicks' career that spans almost half a century into less than half a million words is nigh on impossible, and at best is only ever going to be a brief overview of a musician, who grew up crafting heartfelt, observant folk-rock and pop songs and released her first album before her twenty-fifth birthday.
It was this debut album, Buckingham Nicks, that was written and recorded with her musical partner and high school beau Lindsay Buckingham that brought her, and the other half of the duo, to the attention of Mick Fleetwood and eventually led to her joining, along with Buckingham, Fleetwood Mac in 1975.
Rhiannon And Rumors
Fleetwood Mac released their critically acclaimed, self-titled tenth album in the same year that Nicks became a member of the band, and one of her two creative contributions to the record, Rhiannon, was voted one of the Five Hundred Greatest Songs Of All Time by Rolling Stone (while also sparking rumours that Nicks was a witch), while the other, Landslide became a radio hit for the band, and to date has been played over three million times on the air. 
Check out what Stevie Nicks had to say about the meaning of their hit song "Landslide" in our exclusive article.
But fame and fortune, and the success that goes hand in hand with don't always make allowances, or room, for a personal life, and when Fleetwood Mac and Stevie Nicks star began to ascend, her longtime relationship with Lindsey Buckingham began to sour.
Before the band started to write and record their eleventh album Rumors, Nicks handed Buckingham his walking papers and ended their personal relationship. But knowing what Buckingham could bring to the creative table, she was astute enough to continue their professional entanglement.
Four of Nicks songs, including The Chain which all of the band shared co-writing credit on, made the final cut of Rumors, but the only song on the album to become a chart-topping hit was the record's second single Dreams.
When it was released in March 1977, Dreams sold one million copies and stormed to the top place on the Billboard One Hundred. And the solitary number-one single on Rumors was written by Stevie Nicks.
Rumors is one of the biggest-selling records of all time, and to date, has sold more than forty-five million copies and moved into, and stayed in, pole position in the Billboard Album Charts for an unprecedented, and at the time, unheard of thirty-one weeks.
Tusk, Mirage, And Bella Donna
The weakest link in any band is always the members, and as they're only human, they make the odd mistake and Stevie Nicks is no exception. She's on record as stating that the brief affair that she had with Mick Fleetwood between the Rumors tour and the writing and recording of Tusk was one of the biggest regrets of her life.
She thought, at the time, that if it had continued it would have split the band for good. And she was probably right. She usually is.
One of the unavoidable issues that we've somehow, so far at least, managed to avoid was Nicks' cocaine use. Throughout her early career, Stevie Nicks freely admits that she used cocaine and that while all of the members of Fleetwood Mac were drug addicts, her dependency issues were the worst.
Given the vicious nature of the drug, it was remarkable that she was even able to function, let alone contribute five tracks to Tusk, the double album follow up to Rumors that the English music bible, NME called the four hundred and forty fifth-greatest album ever recorded. Like Stevie Nicks herself, they're rarely wrong.
Between writing, recording, and touring Tusk and writing and recording Fleetwood Mac's fourth album, Mirage, Stevie Nicks wrote and recorded her first solo album, Bella Donna, which spawned four Billboard single hits and became her first solo album to reach the top of the Billboard charts when it was released in July 1981.
Despite the critical and commercial success of the record, and being called the "reigning Queen of Rock and Roll" by Rolling Stone, finding out that her best friend Robin Anderson had leukemia the day after the record was released, took all of the joy out of what should have been her ultimate triumph.
And when Robin died, Nicks retreated into her grief and even further into drug dependency.
The Chain – Stevie Nicks And The Continuing Tale Of Fleetwood Mac
When Lindsay Buckingham finally decided that he'd had enough of being a part of the band and threatened to, and ultimately, quit in 1987, the only member of Fleetwood Mac who tried to persuade him to stay was Stevie Nicks.
Regardless of their personal circumstances, by the time Buckingham walked away, they'd recorded five albums with the band, Fleetwood Mac, Rumors, Tusk, Mirage, and Tango In The Night, a legacy that Nicks at least, felt was worth fighting for.
Ultimately though, the pressure of trying to maintain a solo career that had begun to soar and was starting to eclipse that of Fleetwood Mac led to Stevie Nicks following Lindsay Buckingham's lead after recording and touring Behind The Mask with them in 1990.
By the middle of 1991, Stevie Nicks was fully committed to her solo career, having left Fleetwood Mac firmly in her rearview mirror.
Nothing lasts forever though, and when Fleetwood Mac reunited to go on tour in 1997, Stevie Nicks and Lindsay Buckingham both rejoined their former comrades in arms.
But while Buckingham would once again pack his bags and leave the band in 2018, Stevie Nicks remains a full-time member of the band that helped her to finally find her feet in the strange and crazy world of Rock and Roll.
Go Your Own Way – Stevie Flies Solo
In the first decade of her solo career, Stevie Nicks somehow, in between her commitment to Fleetwood Mac wrote and recorded four records. Her second album, The Wild Heart was written and recorded in a couple of months after the Mirage tour ended in 1982.
Inspired in part by the death of her friend Robin Anderson, it was finally released in June 1983, and the lead single from the album, Stand Back reached the same position on the Billboard Top One Hundred as The Wild Heart did in the album chart, number five.
And even though it took The Wild Heart ten years to do it, it was finally certified double-platinum, after selling two million copies, in June 1993.
Rock A Little, Stevie Nicks third solo album was a slightly different story, as it sold a million copies in the first month when it was released in November 1985, but only managed to reach number twelve on the Billboard Chart.
It did however spawn the single, Talk To Me, which was another Top Ten hit for Nicks, and reached number four when it was released before the album landed a month later.
Kissing Columbia Goodbye
It was while touring Rock A Little that Stevie Nicks finally saw the light and kicked her cocaine habit to the curb once and for all. After bumping into a plastic surgeon at a party Nicks casually asked him "What do you think of my nose?" to which he replied, just as casually "I think that if you take another hit of cocaine, it could kill you".
Nicks took him seriously, and as soon as she completed her tour dates, she booked herself into the Betty Ford Clinic and following a (sort of) successful stint in rehab, managed to purge herself of the monkey that had been on her back for nearly fifteen years.
Unfortunately, after taking advice from her friends about how to avoid a possible relapse, she was given a prescription for Klonopin, which replaced cocaine as her drug of choice, and she continued to use and abuse for more than seven years before she finally entered rehab again.
She managed to finally take control of her life and become drug-free after willingly entering a seven-week residential program.
Through The Looking Glass
Stevie Nicks fourth solo album, which was recorded and released before she left Fleetwood Mac was The Other Side Of The Mirror, another million-selling record that while enhancing her fanbase and appeal in Europe did little to increase her audience at home.
Like the previous releases, the first single from the album, Rooms On Fire was a Top Twenty Hit, and the album itself became a Billboard Top Ten Hit for Nicks. Even though she wasn't losing her audience, but she wasn't increasing it either, but in the age of indie rock she was an increasingly rare commodity.
She was a rock star that the world was still in love with.
From Then Until Now
After recording her fifth solo Street Angel in 1994, Nicks started to slow down and enjoy life a little more.
Having seen the declining sales figures (unlike her previous solo outings which were all certified platinum, Street Angel only sold half a million copies and reached Gold status), Stevie Nicks saw the writing on the wall and knew that she didn't have to try and release a record every two years and tour between writing and recording.
She realized that she could take the time out to do the things that she wanted to, like accepting a starring role in the 2014 and 2018 seasons of American Horror Story and starting her own charity foundation "Stevie Nicks' Band Of Soldiers", an organization dedicated to helping wounded military personal that she founded after she began visiting Veterans Hospitals in 2004.
That doesn't mean that she's retired or stopped writing and making music, as Stevie Nicks has released three albums since Street Angel, (Enchanted, Trouble In Shangri-La, and In Your Dreams) and has toured in support of all of them.
But between playing with Fleetwood Mac and finally being able to do what she's always wanted to do, trying to find the time to write and record a new record isn't just difficult, it's almost impossible.
If we've learned anything about this multi-Grammy nominated artist who also happens to be one of the hardest working musicians in rock and roll over the years, it's that she can make the impossible possible, and just when you least expect it, that's when she'll weave her magic and make all of our Dreams come true.
Similar Stories…