In Lynyrd Skynyrd, WE always got our recognition – Gary Rossington
An ode to the halcyon days of rock and roll, Don Mclean's American Pie includes the line "the day the music died", which was originally a reference to the plane crash that killed Richie Valens, Buddy Holly, and J.P. "The Big Bopper" Richardson, but on the 20th October, nineteen seventy-seven, the sentence that McLean had built his song around, became synonymous with another tragic crash that brought the career of the Southern Rock titans, Lynyrd Skynyrd to a heartbreaking end.
On the way to a show in Louisiana, the Corvair that the band was traveling on crashed in Gillsburg, Mississippi, killing the pilots, the band's road manager Dean Kilpatrick, singer Ronnie Van Zant, guitarist Steve Gaines, and backing vocalist Cassie Gaines.
The other members of the band, bassist Leon Wilkeson, drummer Artimus Pyle, keyboardist Billy Powell, and guitarists Gary Rossington and Allen Collins were all severely injured and at the time, it was doubtful if Wilkeson would survive and Collins would ever be able to play again. It was, and still is one of the darkest days in rock and roll history.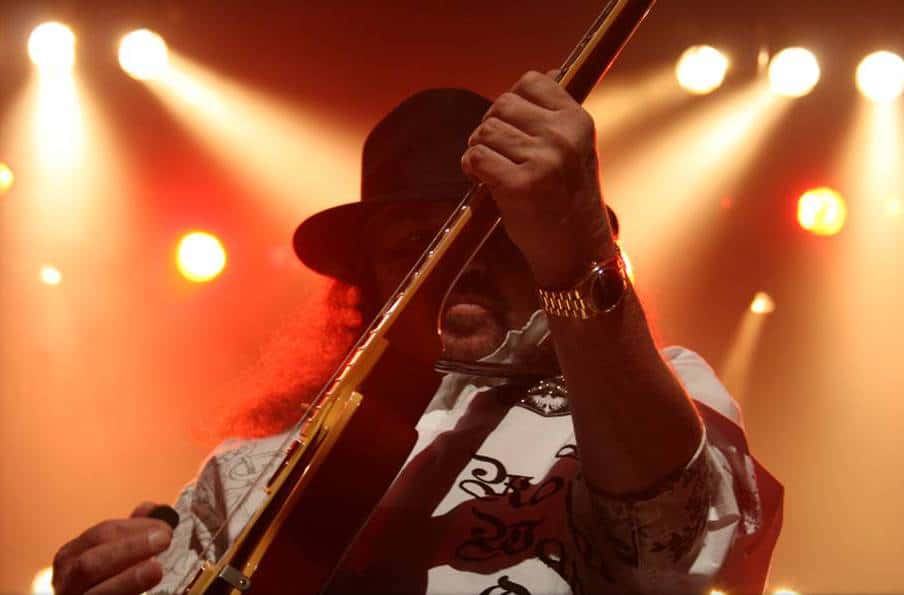 In The Beginning…
It took nearly two years after the plane crash that killed their friends and bandmates, for Gary Rossington and Allen Collins to recover and decide that they needed to play music again, for the sake of the sanity and to honor the memory of their fallen comrades, and if it hadn't been for Charlie Daniels, they might not have made the right choice. 
In nineteen seventy-nine, Daniels had somehow managed to persuade all the surviving members of the band to get on stage and play at his annual Volunteer Jam in Nashville, and after playing an instrumental version of Free Bird, they all felt the way that they used to with Skynyrd and decided to see where music might take them again
Unwilling to use the Skynyrd name out of respect for Gaines and Van Zant, the guitarists formed the Rossington Collins band. As the line-up of the band included Leon Wilkeson and Billy Powell, the music press at the time referred to the band as "Lynyrd Skynyrd Mark II", a jibe that didn't sit well with any of members of the Rossington Collins Band but nonetheless followed them throughout the duration of their brief, but brilliant career.
Even though he had been invited to join his former comrades in their new venture and had initially agreed, Artemis Pyle's tenure in RCB was cut short by a motorcycle accident that left him unable to join them on the road after he broke his leg, which prompted Rossington, at Pyle's behest to replace him with Derek Hess.
Despite the similarity of the band's music, in an attempt to shake the "Lynyrd Skynyrd Mark II" tag that was dogging the band, Rossington recruited former .38 Special backing singer Dale Krantz to front the band, and guitarist and longtime friend Barry Lee Howard to complete the fledgling outfits line-up. 
Tragedy Rears Its Ugly Head Again
In less than twelve months, the band having rehearsed and played small, local shows than they can probably remember were a well-oiled machine and were ready to hit the road in earnest. And then, tragedy struck again. Allen Collins' beloved wife Kathy suffered a hemorrhage and died following a miscarriage.
The tour was canceled and Collin's, who was still grieving for his former bandmates, was devastated both mentally and physically. He should have stopped then and there and taken the time to grieve but having given his word to his friend, he rejoined the band and they began their short-lived recording and touring career.
It's Better to Burn Brightly, Than Fade Away
RCB, that the Rossington Collins Band to anyone not in the know, lasted less than years, and disbanded for good in nineteen eighty-two.
In the twenty-four months that they played together, they released two records and played the sort of shows that the people who were lucky enough to see them, would remember for a lifetime and end up telling their children and their grandchildren about.
Some things just run their course, and the tenure of the band was undoubtedly shortened by Collins who would occasionally not show up for gigs or walk off in the middle of shows and Rossington and Krantz's deepening relationship, which eventually led to them marrying in nineteen eighty-two following the dissolution of the band.
Picking Up The Pieces
After RCB faded into the background, Allen Collins somehow managed to put the Allen Collins Band together in nineteen eighty-three, which was essentially the same line-up as RCB minus Rossington and Krantz. The band recorded one album and played sporadically before disbanding for good in nineteen eighty-four.
What Happened Next?
The Skynyrd, RCB, and Allen Collins Band story is one filled with sorrow and tragedy. Gary Rossington formed the Rossington Band in ninety-eight six with his wife and released two albums before reforming Lynyrd Skynyrd, who he continues to play with to this day.
Leon Wilkeson and Billy Powell both joined Rossington in Skynyrd and continued to play with the band until their deaths. Wilkeson died in two thousand and one from natural causes at the age of forty-nine and Billy Powell passed away in two thousand and nine at the age of fifty-six.
In nineteen eighty-six Allen Collins was involved in a serious car accident that killed his then-girlfriend Debra Jean Watts and left him paralyzed from the waist down. He later pleaded guilty to driving under the influence of alcohol and no-contest to vehicular manslaughter. He died, aged thirty-seven from chronic pneumonia in nineteen ninety.
The Allen / Rossington Collins Band Top Ten Songs List
We thought that the best way to pay tribute to the incredible musicians who were part of the Rossington Collins legacy, would be to include songs from the three bands who were all part of the family, so we've also chosen some songs from the Allen Collins Band and the Rossington Band as well. So sit back, press play, and enjoy…
As soon as the first track from RCB's debut album Anytime, Anyplace, Anywhere kicks in, there's no mistaking the riff drenched, Southern pedigree as Collins and Rossington to lock in and carve a path through rock and roll history in the four minutes and some spare change of the duration of the song, that allows Billy Powell to plug in work his jaw-dropping magic.
It's an immediate statement of intent that plays on the legacy of their former band without relying too heavily on Skynyrd's incredible recorded and live legacies.
Taken from their first album, Getaway is a brief glimpse into the soul of a band that could quite literally turn their hand to any genre of music.
It's a beautiful heartfelt ballad that wouldn't feel out of place on a Jim Steinman record, and even though Collins and Rossington had the fury of a thousand amp fried demons charging through their veins, the raw, unadulterated beauty of their playing on this tune makes us wish that somehow, they'd been able to hold it together and carry on playing in the RCB.
Like most of his fans, we were expecting Allen Collins to spend the duration of his band's album howling at the moon with his six-stringed weapon of choice, but Just Trouble could easily have featured on an Allman Brothers, Joe Walsh or Glen Frey record, and if it had been pushed by his label, might have even stormed into the Billboard Top Ten.
Some people are dealt a hand by fate that it's almost impossible to cope with or bear the weight of, and Everything You Need is the sound of Collins pouring all his pain, rage, and frustration into the only thing he knows, his guitar while pleading with the universe to even the playing field, and give him a chance to find the peace that he so desperately longed for. Turn the lights down, turn it up and try to hold back the tears.
Written by Barry Lee Harwood, the final number from This Is The Way, the second and final album from the Rossington Collins Band is drenched in the same sort of Southern-fried attitude that helped to put Jim Dandy and Black Oak Arkansas on the map.
And that closing riff that plays off Billy Powell's piano will end up sticking around in your head for weeks after you've heard it.
If you close your eyes while listening to Don't Stop Me Now you can picture Ronnie Van Zant sitting behind the desk in a studio, grinning from ear to ear while his friends run through the song that came straight out of the Skynyrd playbook.
A piano-driven, hard riffing tune that begs to be turned up to ten, it's the sort of song that Collins and Rossington were born to play.
If it hadn't been written by a Southern rock band, Love Your Man would probably have been celebrated as a honky-tonk classic, but because it appeared on a Rossington Band record, it's one of history's great overlooked songs.
As soon as you hear it once, you've got to play it over and over again. That's right folks, it really is that good.
Just listening to One Good Man (which you can find on Anytime, Anyplace, Anywhere) in RCB's natural environment, on stage makes us wish that we were old enough to have seen this electrifying band do what they do best, tearing it up live and leaving audiences everywhere begging for more.
And when Collins takes charge mid-way through the tune, his playing will make your heart sing and your soul weep. An amped-up Gospel anthem that's so good, it'll even make your minister play air guitar…
Knowing what we do about the man whose life was bathed in heartbreak and tragedy, it's easy to see how he could have forged and created songs like One Known Soldier that drew directly on his pain and suffering to tug at your heartstrings and make you pause for breath every single time you hear it.
But just because it's easy to understand how he did it, it doesn't make it any less painful or upsetting. Collins had a gift for melancholy and raw emotion that few songwriters will ever be to equal.
The chances are, this is the one RCB song that you'll know as it was sort of a hit for the band way back in the day.
It's still played on rock radio stations all over the country, and it captures everything that the band was in one glorious burst of riff-led, rock and roll fury that makes you believe that anything is possible if you just put your foot down and travel a little further down the road…
They may not have entered or exited the world as Lynyrd Skynyrd, but RCB, the Allen Collins Band, and the Rossington Band were the missing piece in the Lynyrd Skynyrd jigsaw.
Do you agree with our top ten list of Southern Rock classics? Or do you think we missed a tune or two along the way? Drop us a line and let us know…