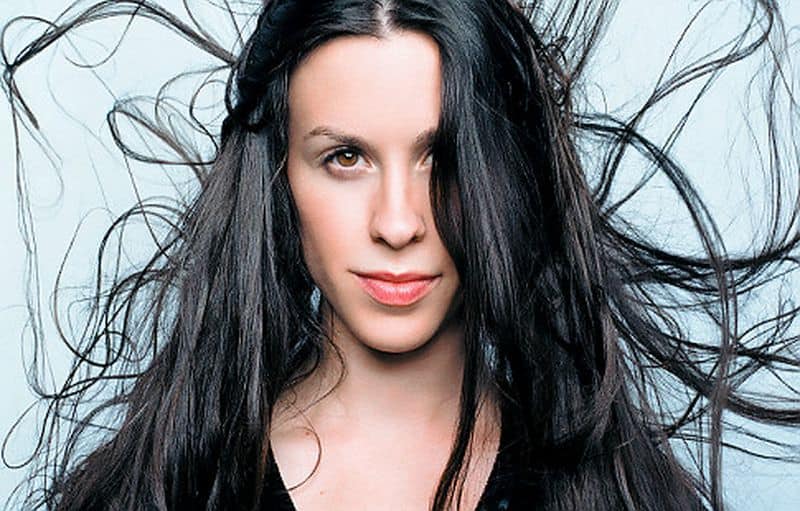 Alanis Morissette is one of the most successful Canadian artists, and she has been nominated for several Grammy Awards. The 1990s was a golden period for Morissette with album after album being highly successful.
Her debut album Jagged Little Pill was released in 1995 and became certified triple platinum by the Recording Industry Association of America (RIAA). She followed this up with Supposed Former Infatuation Junkie in 1997, which also went gold.
These albums were followed by the 1998 release, Flavors Of Entanglement, which sold over 3 million copies worldwide, and Under Rug Swept (1999), which reached number three on Billboard's Top 200 Albums chart.
After releasing So-Called Chaos in 2004, Morissette took a break from music to focus on raising her two children.
After an extended break from songwriting, she returned with the critically acclaimed album, Havoc And Bright Lights in 2012 which saw Morissette peak at number four on the Billboard 200 Chart. A testament to how loved her music is through the different decades she has been recording.
Alanis Morissette's unique mezzo-soprano, emotive singing style combined with her matter of fact, confessional songwriting has been popular with fans for nearly three decades.
With huge hits such as Ironic, Morissette became a worldwide musical phenomenon and continues to release music that is well-received by both music lovers and critics today.
With 9 studio albums under her belt and over 40 singles released, choosing the top 10 songs from Morissette's extensive discography is no easy feat.
But, we have picked our personal favorites that show off her true emotive songwriting skills and her distinct vocals that are full of personality.
Let's start counting down our top 11 Alanis Morissette songs so you can sit back and enjoy her musical stylings for the rest of the day!
The Rocks Off Magazine List Of The 11 Best Alanis Morissette Songs Of All Time
Fear Of Bliss by Alanis Morissette is a song that didn't quite make the cut for Morissette's 2002 album Under Rug Swept. Instead, it was released on her 2002 studio album Feast On Scraps of the same year.
Fear Of Bliss has all the quality you come to expect from Alanis Morissette but its tone is closer to the trip-hop musings that are evident on her Supposed Former Infatuation Junkie album.
The drumbeat is electronic with some Caribbean-sounding percussion accompanying her laid-back vocals during the verses.
We love the bass on this track with its dirty, almost grungy sound. The song builds up and reaches a powerful peak during the chorus before quietening down immediately into the second verse.
Fear Of Bliss was not one of Morissette's most successful releases and the same can be said of the album Feast On Scraps. But, that doesn't mean it is not a great tune.
It has a different style to many of Morissette's earlier recordings but, although its sound is synonymous with the early 2000s, it has aged very well and become a favorite amongst Alanis Morisette fans years on.
Hand's Clean is a deep and emotional song about a past relationship. The lyrics are ambiguous, but the overall theme is clear.
Released on her 2002 record, "Under Rug Swept," "Hands Clean" is a deeply personal track. Even by Morissette's personal songwriting standards, she goes into a deeper realm with this.
The song starts out with a simple guitar riff and then builds up until the chorus where Morissette sings about how she feels when her partner leaves her alone. The way Morissette sings about being lonely and heartbroken the listeners feel like she is talking directly to us.
Morissette's voice sounds even more vulnerable than usual here. Her vocal delivery is raw and honest, and it really shows her emotions through the song.
This is one of those times when we actually feel bad for the person who wrote the song. As the listener, we just hope she finds happiness soon.
"Tapes" is an incredible song by Alanis Morissette but is arguably overlooked too often. The running theme of this list is Morissette's ability to create memorable melodies with powerful yet emotive vocals. Tapes is no exception.
Morissette's vocals are at their best during this performance as she sings about tapes in her head swirling around and "wreaking havoc."
Morissette has spoken openly about her struggle with mental health, in particular postpartum depression (PPD) following the birth of her children. Again, she is very candid and open about how she is feeling in this song and is not afraid of letting her listeners enter her fragile frame of mind.
Tapes has all the hallmarks of an Alanis Morissette song with an array of different instruments such as violin and cello. Underrated, Tapes is one of Morissette's most atmospheric songs.
Her airy sighs add another layer to the serene arrangement of the track and help bring out her vulnerability even more as she admits her pain when trying to clear the havoc in her mind.
Released in 1997 on Morissette's Jagged Little Pill's live album, No pressure Cappuccino became a regular in her live sets that year.
With haunting strings accompanying Morissette's strumming acoustic guitar, this song is essentially a heartfelt ballad. But, it's Morissette's vocal performance that helps it stand out from so many others on her MTV unplugged live album.
It perfectly shows off her unique voice and delivery. She reaches high notes that are almost piercing but angelic at the same time.
This empathetic ballad is supposedly about a farsighted outsider who doesn't quite fit into society's norms and is angry about being pushed away. He eventually goes on his travels where Alanis says "God bless with your travels" as she knows it's time for him to move and find himself.
Some reports state that the song is about Morissette's brother, making the already personal lyrics gain more meaning and insight.
Released as a single for the soundtrack of the movie City of Angel in 1998, Uninvited was the unexpected first recording since Morissette's critically acclaimed third album Jagged Little Pill in 1995.
Written by Alanis Morissette and co-produced by world-renowned record producer Rob Cavallo, Uninvited is not what music fans had come to expect from the Canadian songwriter.
Rather than being a huge, singalong single, Uninvited is more morose. It is essentially a slow-building ballad that doesn't build like some of Morissette's biggest hits.
There is no hooky chorus with this track. Instead, it has a powerful symphonic-rock instrumental feel to it.
While this may have been viewed as an unusual choice as a release (it was never actually released as a single) and somewhat non-commercial, it still became a hit on radio stations worldwide.
Morissette's vocals are so strong on this track. With backing vocals provided by herself, the power in this song showed how Morissette could produce different kinds of music and not just pop pleasing tunes that were easy to sing along to.
No video was released with this track or actual single. The quality of the music with its James Bond-like strings, rock guitar solo, and Morissette's surging voice was enough for it to become another critically acclaimed hit for Alanis.
Thank U is a thankful song about living your life with gratitude. This song says thank you to all the people who helped Morissette along her journey. Alanis Morissette actually wrote this song as a thank you to herself for taking time off from her busy touring schedule.
Thank U was the first single from the Supposed Former Infatuations album of 1998. This was another success for the Canadian songstress, going to number 1 at adult pop radio and number 2 at mainstream pop radio.
The 90s were truly a magical time for Alanis Morissette and her incredible songs.
This track earned Morissette a Grammy Award nomination for Best Female Pop Vocal and this is no surprise. Her voice is, as ever, on top form as she expresses gratitude throughout.
This is a pleasant change from many of her songs describing broken relationships and dwelling on what had gone wrong in her life. Thank U is more positive and a sign that Morissette was aware of how far she had come.
The video for this track has become iconic as we see Morissette hugging strangers in all kinds of public spaces. What is unique about this video is that Alanis is naked with just her long hair covering certain areas of her body.
While this may have been a risk to release, it became a hit with MTV and audiences around the world. Thank U was just another example of how Alanis Morissette could do no wrong during the 1990s.
1998's Supposed Former Infatuation Junkie is often regarded as a form of therapy that followed Morissette's debut Jagged Little Pill. With another collection of personal, heartfelt songs, Unsent is one of the standouts on the album.
This song's structure is a little unconventional with no chorus. Instead, a series of verses are stringed together in the form of letters to past loves. Morissette's friendly lyrics ask her past flames about their past lives and she simply wishes them well in their lives.
Morissette also describes the lessons she has learned from each relationship she has been in. She does this with an air of wisdom and fondness for what she has experienced in the past.
A truly touching track, Unsent is a sweet remembrance and reminiscence of loves gone by. While it may have been a pop experiment, Unsent turned out to be one of Morissette's strongest singles and proof that she could write about love from different perspectives with pain, and affection.
Released on her multi-million selling debut album Jagged Little Pill, All I Really Want is about how Alanis wants to abandon her problems without having any regrets or consequences. She wants to be happy and doesn't care about anything else.
This is an elegy to everything she desires in the world. These are dreams that are accessible and can be attained if she wants them enough.
The song is a bit of a rollercoaster as Morissette portrays herself as the antithesis of a spoiled brat. "Do I wear you out? You must wonder why I'm relentless and all strung out."
This may be seen as being a bit harsh on herself but Morissette can see how her actions may come across and be perceived by those around her. Again, it's an example of the songwriter being brutally honest about herself and how she feels.
Originally, this song had a different title "The Bottom Line" and was co-written with producer Glen Ballard. Although the two wrote a selection of songs together, All I Really Want was the start of their songwriting partnership.
And, this song, more than any other, perfectly demonstrates the pair's chemistry when writing together.
The lyrics are witty, as usual for Alanis Morissette. They are filled with self-deprecation and just about mask a sense of bitterness in her voice.
Peaking at number 15 on the alternative chart, All I Really Want wasn't a massive hit for Alanis Morissette but it has become a fan favorite. Over the years, this song has frequently been used as the opener in many of her concerts.
Probably Morissette's most famous and most played song on the radio, Ironic is one of the top songs from the 1990s. If you grew up during this decade, then you would have been surrounded by this track from 1994 until 1996 or so. It was everywhere!
Ironic was the third official single released from Jagged Little Pill, but it was one of the first songs written by Glen Ballard and Alanis Morissette together. This song was an instant success in the U.S. due to the fact that it is a very catchy song and also because of the fun and witty lyrics.
The song became a huge hit in the United States and it reached number 1 in the charts. In Canada, Ironic also won the Juno award for Single Of The Year.
It broke into the top 5 across the Billboard Hot 100 chart as well as adult pop, alternative, and mainstream pop radio stations. It was also nominated for Record of the Year at The Grammys.
Not only is the song one of the catchiest pop records to be released in the last 30 years, but it also came with an equally compelling music video.
Produced by French director Stephane Sednaoui who has worked with Madonna, U2, and the Red Hot Chili Peppers, the video earned six MTV Video Music Award nominations including Video Of The Year. In the end, it won the award for Best New Artist.
Over the years, the song has come under some scrutiny. Although Morissette describes various "ironic" scenarios, many have argued that nothing in the song is ironic. Therefore, the song, itself, is ironic.
Whether or not you believe "rain on your wedding day" or dying the day after you win the lottery at 98 years old is ironic is up to you to decide. All we know is that Alanis Morissette's lyrics flow seamlessly during this song and Ironic is one of her most clever lyrical creations.
Morisette has even made fun of the grammatical mistakes in the song when appearing on the Jimmy Kimmel Show in 2012 alongside the comedy trio The Lonely Island. Again, Alanis Morisette showed the world that she didn't take herself too seriously.
If she can admit that the song Ironic is not really "ironic," then we should just get past it and enjoy it for what it really is, a great, catchy, pop record.
Almost 30 years after its initial release, this song is timeless. It still feels wonderfully novel to you even if you have heard it a million times. And, thanks to its slow build-up from acoustic to a powerful hooky chorus, it will remain a classic for a long time to come.
This song was released in 1995, and it was a catalyst for the success of Alanis' music career. Released on her critically acclaimed Jagged Little Pill album, this song can owe much of its success to its quotable lyrics and earworm melody and hooks.
With an extremely infectious chorus, You Oughta Know became a hit with radio stations across the US before storming into other countries across the world.
Not only does this song stick in your head for days after listening to it but the instrumentals on the track are of the highest quality. The guitar work, played by the Red Hot Chili Pepper's Dave Navarro is incredible as well as the punchy bassline provided by the Chili's Flea.
Singing about a very bitter breakup, Morissette's vocals are powerful and extremely emotive. It's her chance to finally let out her true feelings after her breakup and the bitterness that has been left in the relationship's aftermath.
With resentful tones to let the listeners know that Morissette's previous relationship was a disaster, we get to understand that Alanis' life is a great deal better now and she is looking toward a better and happier future.
Try and listen to this 90s classic without singing along and you deserve a prize because we can't stop singing it.
"I'm broke but I'm happy." This is such a hopeful song where Morisette tells us that everything will just be "fine, fine, fine." If you ever want a little optimism in your life, then turn on Hand In My Pocket and your mood will lift immediately.
Written by Alanis Morisette and Glen Ballard, this song is from Morisette's third studio album, Jagged Little PIll from 1995. It was the second single from the record, being released five months after the album's initial release.
Not only has this song become a hit with music lovers across the planet but it was met with favorable reviews from music critics. Morissette's songwriting was rightfully praised with this song.
If there was a recipe for a successful pop song, this song should be dissected and studied because it has it all – catchy verses, hooky choruses, clever, fun lyrics to sing along to, and a wonderful vocal performance from Morissette.
This is probably one of Morissette's most radio-friendly tunes. And, it came as no surprise that Hand In My Pocket became a worldwide hit alongside Ironic and was played on all types of radio stations from the US to Asia.
Some songs are destined for greatness and Hand In My Pocket is one. Even after the hundredth time listening to it, it still sounds fresh. You just do not get sick of hearing the amusing lyrics and infectious melody time and time again.
Hand In My Pocket became Morissette's second number-one single on the US Billboard Modern Rock Tracks Chart. It also reached the top 10 in Canada and New Zealand where it eventually became her first number-one single there.
Yet again, the accompanying music video became just as famous as the song. In the black and white video, we see Alanis driving her car during a festival with positivity beaming from the singer's face and those around her celebrating the festival. In other words, it's a perfect feel-good song to listen to whatever mood you're in!
Hand In My Pocket is different from the album's first single You Oughta Know which was more chaotic, intense, and angry.
Hand In My Pocket is more laid back and, all in all, more pleasing on the ears. It's a more relaxing proclamation that everything will always turn out alright. And, we all need this reminder at times.
We chose Hand In My Pocket as our number because it has everything you want from an Alanis Morissette song.
It is easily memorable after just one listen and reminds us about what is important in life. It's a song about putting every little thing in life into perspective but in the form of a joyful, catchy tune.
As for the track's instrumentals, it is very impressive with big-sounding guitars and a robust, thick bass line. The music is perfectly downplayed and wonderfully airy.
The bridge includes a beautiful harmonica (which we think should be used in more popular songs) making this one of the greatest 1990s alternative rock songs ever recorded.
But, it's the lyrics that shine the most brightly and are the main attraction to the classic song. Rather cleverly, the chorus' last line changes every time which is pretty unique in popular music.
We do not have enough superlatives for this track.
Yes, it may not be Morissette's most exceptional piece of songwriting in terms of structure and ingenuity but it acts as a breath of fresh air every time you hear it.
Its eternal message of everything being just fine hits a chord with a global audience making it one of Alanis Morissette's best and most successful songs to date.
In Summary
For over 30 years, Alanis Morissette has written and recorded hundreds of timeless songs. From teen pop idol to self-confessed feminist, and mother, she has moved with the ages of music and always been a force to reckon with.
Most importantly, Morissette has written some of the biggest and best songs of the last 30 years. Although we have chosen our top ten above, other worthy contenders include Precious Illusions, Guardian, Crazy, 21 Things I Want In A Lover, and many many more.
Alanis Morisette has always had a gift for creating memorable yet important songs with personal and deep lyrics. She often has a message she wants to get across to her listeners and, time and time again, she does this with intelligent and thought-provoking lyrics.
The soundtrack to a generation, Alanis Morissette has a distinguished and impressive discography already behind her. And, best of all, there is surely a lot more to come from this Canadian songwriting powerhouse.
An alternative rock goddess, Morissette is one of our favorite artists and one you should sit down, listen to and let your worries glide away.
Similar Articles…