I'm a kid for a living, I get to play the piano for a living

– Bruce Hornsby
Rock stars come and go, their tenure in the limelight often all too brief, as they burn brightly and quickly and fade unnoticed into the everyday background noise of the world at large, Musicians, however, the men and women for whom the art of songwriting is the creative urge that constantly drives them onward, are eternal.
They craft the soundtracks to our lives, fabricate and hone the music that fills the moments that make up the big events and fill the smallest gaps in our all brief passage through history and transform sound into raw emotional beauty.
Bruce Hornsby belongs to that all too rare group of individuals who can, without reservation or hesitation, call themselves musicians. He doesn't crave fame, and even if he hadn't had the trappings of wealth forced on him by his success, he would still be doing what he has always done, playing music.
Whether he was playing concert halls or the dive bars that litter the less salubrious neighborhoods of every city dotted around the nation, he would still be sitting at his piano, playing to anyone who wanted to listen.
Hornsby was born to play music, it was his destiny and a road that he's happily been traveling down for more than four decades.
From the moment he entered the mainstream consciousness with his breathtaking, monumental global hit The Way It Is in 1986, Bruce Hornsby has barely paused for breath or slowed down and has plowed his own path and followed his own heart ever since.
While most artists who taste the fleeting temptation of stardom all too willingly give in to it and elect to heed and believe the enticing sweet nothings that it whispers in their ears, Hornsby refused to listen, and instead marched to the beat of his drum.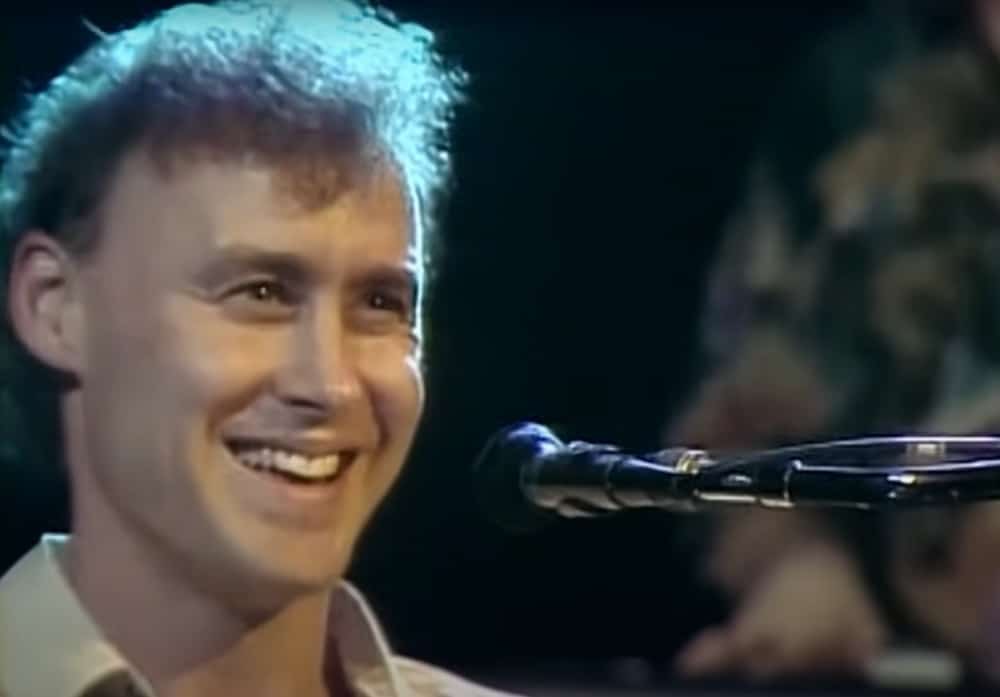 The band that he wrote and released his first three albums with, The Range was consigned to the annals of the past at the beginning of the nineteen nineties when Hornsby chose to throw his lot in with Jerry Garcia and become a touring and traveling member of the Grateful Dead.
And even though he never "officially" joined the band, between 1988 and 1995 when the Dead gave up life on the road for good, Hornsby joined them on stage more than one hundred times and in doing so, became an unofficial official member of one of the biggest bands in the history of rock and roll.
The master of embracing the unexpected when his fans least expect it.
Hornsby has even, at times, forsaken the instrument with which he made his name, the piano, most notably on his 2002 album Big Swing Face which relied heavily on samples and electronica, and was and continues to be his most experimental musical adventure to date.
Bruce Hornsby ventures where his muse takes him, and his fans learned a long time ago, that when do they become a little too comfortable with the direction that their maestro decides to take them in, that's when he'll throw them a curveball from left field that completely changes the direction of his musical journey.
Whether it's his willingness to blindly throw himself into the unknown without a safety harness or a parachute or some quality that they've seen him that draws them to him like flies to honey, some of the worlds biggest musical stars have found themselves working with Hornsby in order to scratch an artistic itch that they'd never be able to satisfy by themselves.
Elton John, Eric Clapton, Sting, Brandon Flowers, and Chaka Khan have all ended up in the studio, guesting on his albums, in awe of the tunes that this unique and inspirational piper continues to seemingly pluck out of thin air.
To celebrate the entailing genius of Bruce Hornsby, we thought that it was about time that we compiled a top ten of his songs, all of which are taken from his incredible body of work.
Some musicians give in and decide to follow the muted promises of fame, but Bruce Hornsby has never put much faith in what other people do, and as our way to acknowledge and pay respect to the greatness of a man who refuses to compromise, here's our Bruce Hornsby Top Ten Songs List…
Rocks Off Magazine's List Of The Top Ten Bruce Hornsby Songs Of All Time!
The second single from The Way It Is , Bruce Hornsby and The Range's debut album. Mandolin Rain was also the band's second Top Ten hit, reaching #4 when it was released in 1987.
It served to further reinforce their popularity and cemented the belief that while trends might drive the focus of the music industry, you can't keep a good song down, and ultimately, all that really matters is the music, a credo that Hornsby has been following since he first learned to play.
This was the song that Hornsby's record label thought should be the lead single on The Way It Is, and when it was first released in May 1986, it entered the Billboard Hit One Hundred at #72 before disappearing just as quickly as it had appeared.
When it was re-released a year later, following the success of The Way It Is, Every Little Kiss smashed straight into the Top Twenty and reached #14. Sometimes it takes a while for the world to catch up with the things that should be a staple part of their everyday musical diets…
The lead single from Bruce Hornsby and The Range's second album, Scenes From The Southside, The Valley Road reached #5 on the Billboard Chart when it was released in July 1988, and spent three weeks in the top ten before dropping out and going to become a staple of classic rock radio stations from coast to coast.
The song, which was co-written by Hornsby's brother, is about the time they spent growing up in Virginia and documents the way that history has a habit of repeating itself in small towns all over America.
Jacob's Ladder originally appeared on Scenes From The Southside, and even though it was a Billboard Hit when it was released as a single in 1987, it wasn't a hit for Bruce Hornsby and The Range. Jacob's Ladder, a song about a man rejecting religion to struggle through life on his terms, was Huey Lewis And The News' third Billboard Hit.
The only single on Bruce Hornsby and The Range's third album A Night On The Town, Across The River was the last Top Twenty hit that Bruce Hornsby would have and reached #18 when it was released in May 1990.
Somehow, we don't think Bruce has ever been bothered by single sales, which is probably why he hasn't bothered chasing chart positions for the last thirty years.
The only song on Hornsby's first solo album, Harbor Lights which was released in 1993, Fields Of Gray actually reached #69 in the Billboard Chart without any significant support or backing from his label. Hornsby wrote the song about his twin sons and the way their recent arrival had changed his life and perspective on the future.
Remember when we made a big deal about Hornsby playing with the Grateful Dead earlier? Cruise Control, which appeared on his second album Hot House was the last song that Grateful Dead mainstay Jerry Garcia recorded before he died in 1995. 
When it originally appeared on Hornsby's sixth album, Spirit Trail which was released in 1998, Preacher In The Ring was split into two separate musical acts, Part's I and II, but we figured that it was such a good song, that it had to be heard as Hornsby always plays it live, as a single, mind-blowing tune.
Dreamland is the duet that Hornsby recorded with Elton John that appeared on his eighth studio album, Halcyon Days which was released in 2004. Why did it make our list? Because it's Bruce Hornsby and Elton John, doing what they both do best, together, And it's an incredible song.
The song that took the number one spot couldn't really be anything else, could it? Hornsby's ode to the Civil Rights Movement, and his biggest hit (it reached #1 on the Billboard Chart when it was originally released) The Way It Is shared its name with his debut album which was released in 1986.
And that boys and girls is that, our tribute to one of rock and rolls most incredible, underappreciated, and all too often neglected artists, Bruce Hornsby.
Do you think we got it wrong, or did we manage to capture the essence of this astonishing musician with our choices?
Drop us a line and let us know…
Similar Stories…