I never expected to be anyone important

– Elvis Presley
The undisputed King of Rock and Roll, Elvis Presley changed the face of music forever when he appeared on the Ed Sullivan Show on September 9th, 1956.
Elvis may not have been the first musician to play rock and roll, but he was solely responsible for taking rock and roll into the homes of suburban America and created an overnight musical sensation that captured the imagination of teenagers and caused outrage among their parents, all over the country.
While most of us think of the nineteen fifties as being Elvis' glory years, he was only just getting started and his best creative years were still ahead of him. The entire catalogue of Elvis Presley songs is truly mind-boggling.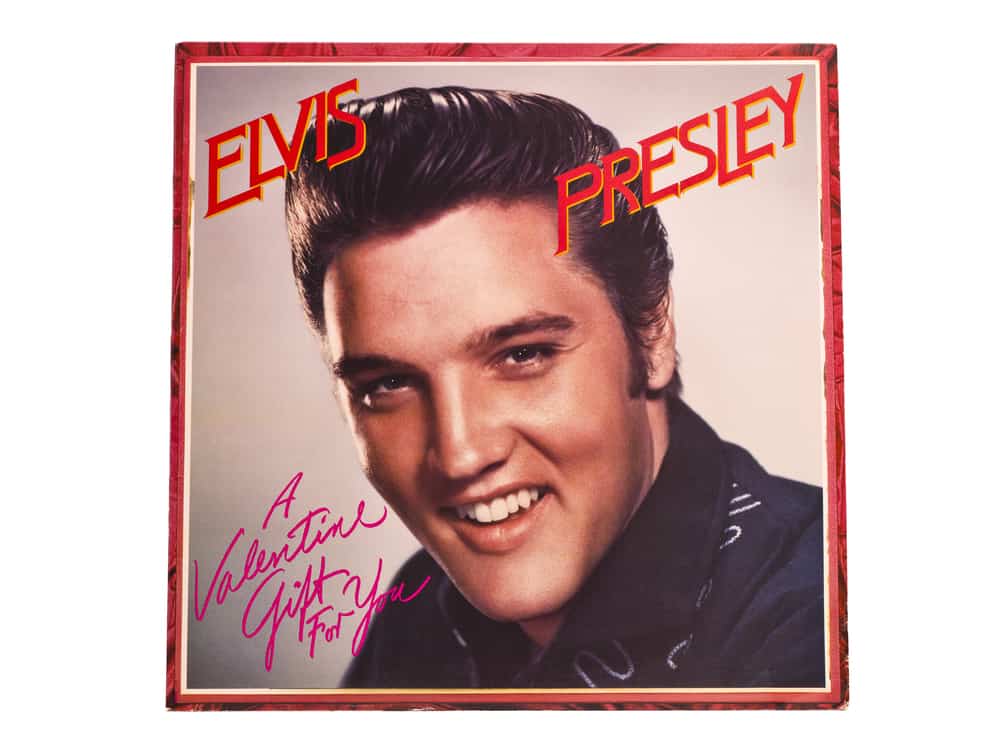 But in the five short years between recording his first song at Sun Studios and answering the call of duty when he was drafted into the United States Army, he left a musical legacy that everyone who followed in his footsteps rightly believes created the blueprint that rock and roll embraced and used from that point on.
What made those records so special? If you've ever heard Hound Dog, Rip It Up or Ready Teddy it's a question that you'll already know the answer to, as every single song that Elvis sang and recorded between 1953 and 1958 is a bonafide rock and rock classic.
That's why we decided that it was about time that we put together a list of our Top Twenty Five Elvis Classics from the crucial five year period when there wasn't a musician alive (except maybe Little Richard or Jerry Lee Lewis) who could have even hoped to keep up with the King.
And before you start wondering why we chose twenty-five songs, we'll tell you. Because ten wasn't enough, and fifty was too many.
Are you ready to rock out with the King? Then let's do this…
Twenty-Five Of The Top Elvis Presley Songs & Classic Hits From The Fifties
Originally written as a Country and Western parody by Jerry Leiber and Mike Stoller, in the hands of the King, Love Me became a tender doo-wop anthem, and when he performed it on his second appearance on the Ed Sullivan Show in October 1956 he reinforced his position as America's Number One Heartthrob and ensured that the album that it appeared on, Elvis, would become an instant bestseller.
And it proved to every fledgling record label that they should never, ever underestimate the power of television…
Sometimes you don't need to be the first to do something to make it your own, and Rip It Up proves that theory beyond any shadow of a doubt.
Sure, the original version by Little Richard is an absolutely fantastic tune – and so is Elvis's version. Elvis's recording in September 1956 is a raw, visceral rock and roll attack – giving a real rockabilly take on the tune.
A skiffle backbeat pushed this doo-wop meets rockabilly stomper into the Billboard Top Sixty when it was first released in 1956.
That might not sound great, but when you consider that half of the country loved Elvis while the other half thought he was the devil incarnate at the time, and that Pat Boone was the preferred star of choice, it doesn't seem too bad after all, does it?
If you can listen to this ode to a faithful hound dog without getting misty-eyed then you're more cold-hearted than we are.
A certified Country and Western staple, the King's version is a tear-jerker that's reduced the toughest bikers in America to blubbering messes, and if you've ever owned a dog, you'll feel the raw emotion in Elvis' voice as he laments his lost four-legged friend, a thousand times over.
If you close your eyes, you can just imagine Little Richard clapping the King on the back and saying "Now, that's how that song was always meant to be sung, baby".
Recorded for his second album Elvis that was released in October 1956, Long Tall Sally became a part of Elvis' set after he first heard Little Richard sing it, and the jury is still out on whose version is the definitive one, Richard's or Elvis's.
---
RELATED: What Was Elvis's Last Performance Like?
---
Another track that appeared on the King's second album, Elvis, it took on a life of its own when he appeared on the Ed Sullivan show for the third time in less than six months, in January 1957.
When My Blue Moon Turns To Gold Again was written about the Texas moon, but thanks to Elvis, the moon in question could have been anywhere as long as he was singing to his loyal and devoted legion of adoring fans.
Strictly speaking, Peace In The Valley isn't a full-throttle rock and roll tune, but Elvis made it his own when he sang it, and dedicated it to the victims of the Soviet Invasion of Hungary, and as he sang an estimated fifty-four and a half million viewers instantly became fans of the Southern gospel standard thanks to the power of the King, and his desire to do something to help those less fortunate than him who were half a world away.
The first song that Ben Weisman and Aaron Schroeder wrote for Elvis, appeared on his second album, Elvis, and is a perfect example of the King's crooning power and ability to turn any love song into the sort of ballad that feels like it's being sung to you and you alone, and thanks to its beautiful simplicity, you actually believe that Elvis genuinely believes every word he's singing.
When we were growing up, our Mom used to play this song over and over again, and every single time we think about the King, this is the tune that immediately springs to mind.
We can't hear it without wanting to turn the volume up and dance, and when that guitar riff takes center stage halfway through, we nearly lose our minds every time we hear it. So Glad You're Mine might not be a definitive Elvis tune, but it is an essential one.
It might not have been written for him, but like every song that Elvis sang, he made Money Honey his own, and when he recorded it for his debut album Elvis Presley that was released in 1956, as far as most of his audience knew, the song was an Elvis original.
It's a tune that you either love or hate, and as it's appeared on this list, you can probably guess which camp we fall into it…
Elvis is on record as stating that One-Sided Love Affair was his favorite song on his debut album, and it isn't difficult to see what. It's a genuine toe-tapping, piano-driven rock and roll anthem that lets Elvis do what he did best, and that was sing every single note and word like his life depended on it.
Which version of this song you prefer says everything about the way you feel about rock and roll. Do you prefer Elvis' version or The Beatles?
Truthfully, the only reason the Liverpudlian scamps started playing it in Hamburg in 1962 was that they'd heard it on Elvis's debut album, and had fallen in love with it. And if the Beatles preferred Elvis' version…
I Love You Because is a Country tune that was born and bred in Elvis' spiritual musical home, Sun Studios. It's an often overlooked number, but played the King's way, it sounds like he's already lost his heart to Hawaii before he even started arranging it with his band.
It just proves that even in 1956, Elvis was filled with aloha spirit…
Elvis loved singing this song, and it was part of his set throughout his Vegas years as it let him push himself to his limit and, no matter which decade you listen to I Got A Woman in, it sounds just as good as it did when the King first recorded it for his debut album in 1956.
By the time Elvis recorded it in 1954, this tune that was originally recorded by The Hawaiians in 1929 was already thirty years old, and again is an early indication that the King's heart really belonged to Oahu.
Even though it first appeared on his debut album. Elvis Presley which was released in 1956, Elvis actually recorded Just Because during one of his first Sun sessions in 1954.
Originally recorded by The Eagles, Tryin' To Get To You must have struck a chord with the King, as he recorded the song five times during his lifetime.
He laid it down for the first time in Sun Studios in 1955, and the version he recorded in his favorite studio was the one that made the cut for his debut album, Elvis Presley that was released a year later.
Another song from the Little Richard stable that Elvis fell in love with and incorporated into his live show before he recorded it for his debut album, Elvis Presley in 1956, Tutti Frutti is one of those songs that seems to have taken on a life and soul of its own as it's been recorded more times than we can count or remember.
But, regardless of who records it, there are only two versions that really matter. Little Richard's and the Kings…
The Marcels and Dean Martin may have made Blue Moon famous, but Elvis made it his own before either the Master of the Martini or the Doo-Wop Titans laid claim to it.
A tender, gentle ballad that's wistful and ethereal on his debut album, when he wanted to pick the pace up at a show, Elvis would supercharge Blue Moon and give it a rockabilly edge that pushed it skyward at Mach Ten.
Even though the song is now synonymous with the King, it was actually written and recorded by Carl Perkins in 1955, a year before Elvis recorded it for his debut album.
Widely regarded as being the very first rockabilly song, it's still the only song that Elvis performed on television three times. The King, just like Carl Perkins, was incredibly proud of, and attached to his Blue Suede Shoes.
A song that's mired in mystery and controversy as there are at least five different versions of its origin story, including the "official" Elvis take on it, All Shook Up was a Number One hit all over the world for Elvis, when it was first released in 1957.
Regardless of its origin story, Elivs definitely made it his own.
Heartbreak Hotel was Elvis's first hit record in 1956 and topped the Billboard Charts for an incredible seven weeks. It was probably a good job that no one who bought Heartbreak Hotel actually knew that it was inspired by the real-life suicide of a broken-hearted man who leapt to his death from a hotel window.
Taken from the EP recorded for Elvis' debut movie appearance in the film that shared the song's name, Jailhouse Rock was a Billboard Number One hit for Elvis, and the film proved what his label and fans already knew. That Elvis would be just as successful on the big screen as he was on record.
Originally recorded and released as the B-Side to Hound Dog, Don't Be Cruel eventually overtook the A-Side of the song that it accompanied and became another Number One hit for the King in July 1953.
According to Rolling Stone magazine, it's the 173rd Greatest Song Of All Time. Personally, we think it's closer to 150, but who are we to argue with Rolling Stone?
And as we've already mentioned this song earlier, it would be churlish not to include Hound Dog would it? Such a great tune!
The only song that was ever going to top this list was Elvis's debut single, That's Alright Mama which was originally released in July 1954. And it still sounds as good today, as it did when the King unleashed it on the world nearly seventy years ago.
And that's it, our quintessential list of the twenty-five essential fifties Elvis songs.
Think we got it wrong? Then drop us a line and let us know why you think we're wrong. Hey, we're all fans of the King right? We won't get offended and we'd love to hear your thoughts, whether you agree with us or you don't…
Similar Stories…