If I hold back, I'm no good. I'm no good. I'd rather be good sometimes than holding back all the time

– Janis Joplin
The amazing legacy left to us in the form of Janis Joplin songs has made a life-altering impact on generations of people around the world – and to distil them down to a Top 10 list is no easy feat.
Janis Joplin didn't know how to hold back, it wasn't in her nature. She was an all-or-nothing singer whose life imitated her art.
She took the "Live Fast, Die Young" Willard Motley ideology that so many musicians of her generation seemed to be obsessed with, far too literally and pushed her, mind, body, and her music to the absolute limit in order to be "good" every time she walked out on stage or into a recording studio.
A wild and untamed spirit whose appetite for music and performing was just as voracious as her desire for narcotics, alcohol, sex and nudity – Joplin's fierce intellect and desire to experience everything that life had to offer drove her every waking action and often led her to lose as many friends as she made throughout her tragically short life.
Janis Joplin needed to live by her own rules and her refusal to conform to the conservative conventions of her home state that drove her to leave Texas and head to San Francisco the first time, and it was her impulsive longing for amphetamines that sent her back to the Lone Star state less than twelve months later.
While she enjoyed a brief stint as a solo artist during her first stay in San Francisco in 1965, it wasn't until she returned to California to join Big Brother and The Holding Company in 1966 that Janis Joplin really began to make the children of the revolution sit up and take notice of who she was, and what she could do.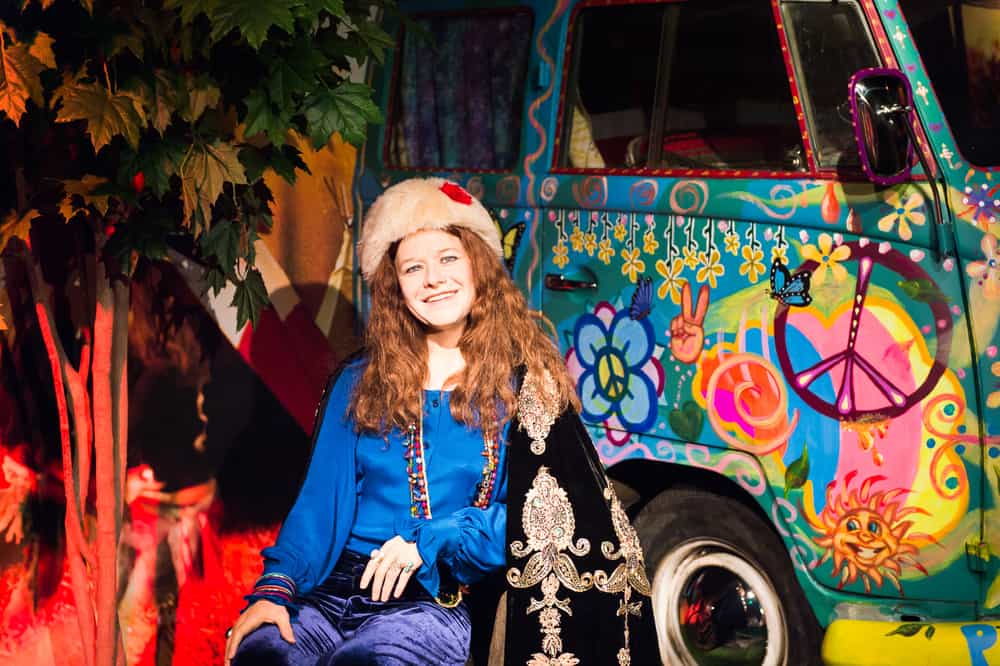 After fronting the band for nearly two years and recording two of their most successful albums with them, Big Brother And The Holding Company, which was released in 1967, and Cheap Thrills, which was recorded and released in 1968, Joplin left the band at the end of 1968, and put together a new backing band, the Kozmik Blues Band, to once again pursue her dreams of being a solo artist.
The one thing that she couldn't alter and couldn't change was who she was, and by the time she was in full recording swing with the band in 1969, Joplin was once again locked in the embrace of her former demons.
Except this time, the devil she so willingly sold her soul to was heroin, and as the Kozmik Blues Band entered the studio to begin recording, I Got Dem Ol' Kozmik Blues Again Mama! she was in the grip of an almost two hundred a day habit and the band had to fight tooth and nail to keep her clean enough to work on the record.
She was her own worst enemy and even though she played what is widely regarded as being one of the best sets of her career at Woodstock, and finally found some peace of mind when she traveled to South America and met the love of her life, David Neihaus there, by the time she finally returned to the United States, she started using heroin again.
It was her heroin usage that drove Neihaus away and ultimately paved the way to her own self-destruction.
On October 4th 1970, Janis Joplin joined the ranks of the infamous 27 Club, when her road manager John Byrne Cooke discovered her body. She had died, as the coroner later noted from a heroin overdose that was exacerbated by alcohol.
Like her peers Jim Morrison and Jimi Hendrix did, and Kurt Cobain would almost a quarter of a century later, Joplin died at the age of twenty-seven.
Despite her untimely and tragic death, she left behind a musical legacy that is just as powerful today as it was when she first recorded the songs that became her epitaph, more than half a century ago.
And to celebrate the raw, visceral, and uncompromising talent of Janis Joplin, we thought that we'd put together our ultimate list of the top Janis Joplin songs that cut through the ephemera to remember the life and music of one of the greatest singers of the twentieth century.
This is Janis Joplin, the way she was meant to be heard…
Janis Joplin's 10 Greatest Hits – According To Rocks Off Magazine!
Originally a traditional spiritual song from the 1920s, Down On Me was given the Big Brother And The Holding Company treatment when the band rearranged it and recorded it for their debut album that was released in 1967.
Joplin also re-wrote the lyrics, and when the band released it as a single the same year, it just missed out on being a Billboard Top Forty Hit, as it climbed to Number Forty-Two and refused to go any further.
But it didn't matter, as the radio play it received from College Stations all over the country brought Big Brother And The Holding Company, and Janis Joplin to the attention of an audience that was desperate to hear the sounds of the counterculture movement that had established itself in California.
Joplin pushed her voice to its limit for this soul-drenched version of Gershwin's classic, and the raw emotional core of the song becomes evident in her vocal as it becomes something much deeper and more meaningful than it was in Porgy And Bess, as its theme of needing to break the chains of oppression and be free to be the person you were always meant to take on an incredibly personal perspective in Joplin's performance.
A hauntingly beautiful take on a jazz standard.
Another raw, knock-out performance from Joplin who first started singing this Big Mama Thornton song while she was ensconced in the ranks of Big Brother And The Holding Company, who recorded it for their sophomore album, Cheap Thrills.
Joplin's throaty, almost pleading performance that's drenched in feedback, charges Ball And Chain with an electrified power that's filled with the half-discarded imagery that anyone who has ever been let down by love can immediately relate to.
Another anthem to the destructive and healing power of love, Piece Of My Heart became Janis Joplin's biggest hit with Big Brother And The Holding Company when it was released in 1968 and entered the Billboard Top Twenty at Number Twelve.
A live staple that the band and later Joplin would make their own Piece of My Heart was this sort of love song that a generation ravaged by the war in Vietnam needed to hear, as it was, and is raw, incredibly open, and honest.
When she walked away from Big Brother And The Holding Company, Janis Joplin needed to show the world who she really was when she stepped out of the shadows of her former band, and Kozmik Blues, her first single entered the Billboard Top Fifty at Number Forty-Two and was part of every show that she played after it was released.
And it was and continues to be a glorious celebration of freedom and personal enlightenment.
Even though it was part of her live set for almost twelve months, Cry Baby was one of the last songs that Janis Joplin recorded in September 1970 and was included on her posthumous second album, Pearl, that was released in 1971. When it was released as the lead single from Pearl, it reached the same position in the Billboard Chart as Kozmik Blues did.
It deserved to sell more, and maybe if Joplin had been alive to promote it, it would have become the anthem that it always should have been.
The B-Side to Cry Baby, Mercedes Benz is widely seen as Janis Joplin's sardonic and sly criticism of capitalism, and while she wasn't overtly political when she lets rip on Mercedes Benz , you can't help but fall a little in love with the sentiment and message of the song.
Originally performed and recorded by The Chantels in 1957, Maybe is often described as being the first "girl group" song, and when Joplin recorded it for her debut solo album in 1969, it was almost as though she was praying tribute to the artists who had helped her to find her voice and become the singer she always wanted to be.
And it's an incredibly heartfelt performance that'll bring a tear to the eye of even the most hard-hearted rock and roll fan.
To Love Somebody might have been written by the Bee Gees, but it didn't become the song that it always should have been until Janis Joplin sang it the way it was always meant to be sung. This was how this song was meant to be performed, from the heart with grace, power, and dignity.
Written by Kris Kristofferson, Me And Bobby McGee was Janis Joplin's only Number One Hit, and thanks to it selling over one million copies, it's still her best-known song, and it's a pretty good way to remember the singer who left the party way too early.
And that's it, our tribute to Janis Joplin. Did we miss a song or two or did we get it right?
Drop us a line and let us know what you think…
Similar Stories