David Gilmour's name resonates with a kind of musical mystique that few have been able to match. Whether strumming the soulful chords of Pink Floyd or exploring uncharted territory in his solo career, Gilmour's unique blend of passion and prowess has cemented him as one of rock's greats.
But there's more to the music; in a world where the spotlight often shines brightest on dollar signs, understanding his net worth paints another dimension of the picture. This isn't just about numbers; it's about the worth of art in our culture and the value we place on creativity.
Early Life and Music Career
Born in the tranquil surroundings of Cambridge, England, David Gilmour's early life was anything but quiet when it came to music. Exposed to a wide array of genres from jazz to blues, his musical soul was awakened early, and the guitar became his chosen voice.
Before the world knew him as Pink Floyd's guitar maestro, Gilmour cut his teeth in various local bands, sharpening skills that would later make him a legend. But his story reached a pivotal chapter when he joined Pink Floyd, stepping in for Syd Barrett. His contributions to the band were instant and profound, his signature guitar work becoming a defining element of Pink Floyd's success.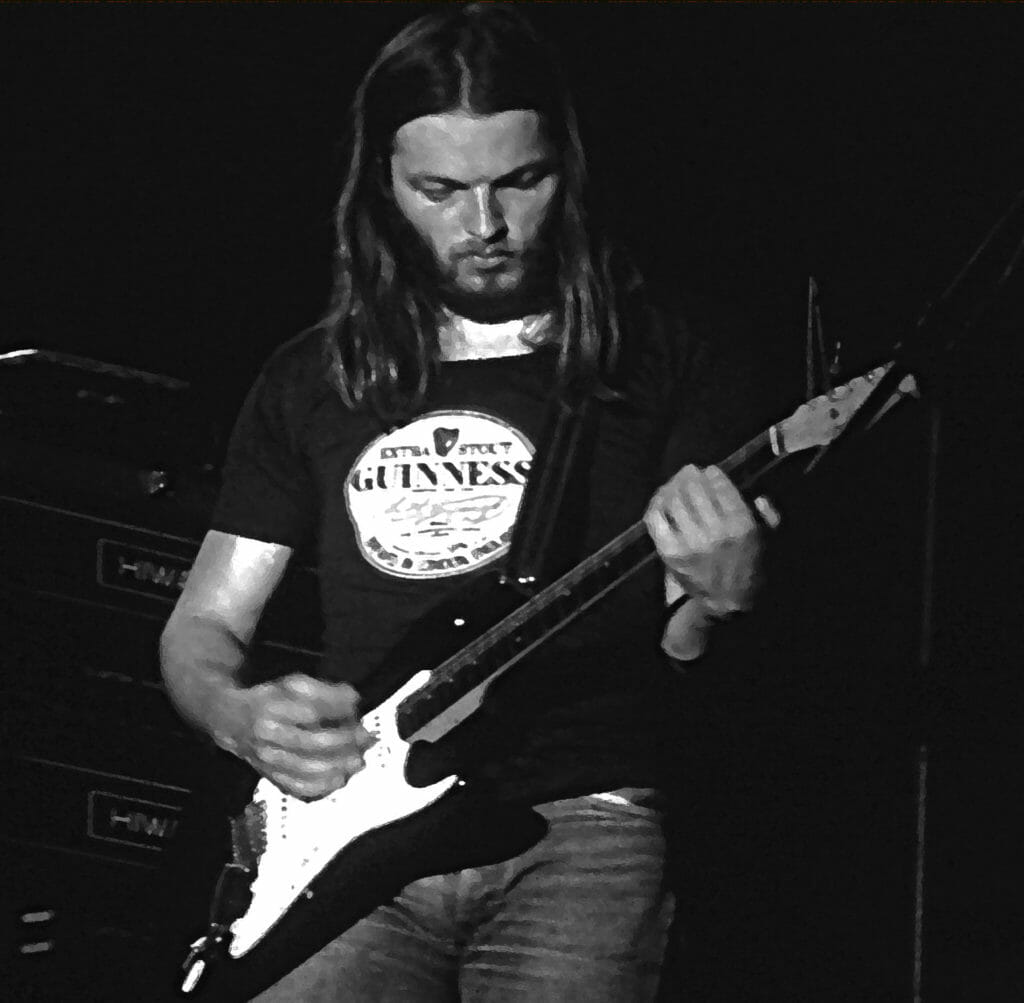 The albums that followed, including the landmark "Dark Side of the Moon," were not just hits; they were cultural phenomena. Gilmour's artistic vision, married to his technical virtuosity, helped create an experience that transcended mere music. This was a new form of art, a new way of speaking to the soul, and it propelled Pink Floyd to a level of stardom that very few could even dream of.
Through these key stages of his life, Gilmour's story emerges not just as a tale of rock stardom, but as a journey through musical innovation and discovery. His early life and rise with Pink Floyd are chapters in a book that continues to be written, the ink composed of notes, chords, and the unmistakable sound of a guitar that changed rock and roll forever.
---
RELATED: Check Out Robert Plant's Net Worth
---
His Successful Solo Career and Collaborations
Stepping out from the shadow of Pink Floyd, David Gilmour's solo career has been a rich and rewarding journey, an exploration of self away from the collective. His solo albums, including the evocative "On an Island" and the raw "Rattle That Lock," showcase an artist unafraid to evolve. While not eclipsing the commercial success of Pink Floyd, these records have earned both critical acclaim and a dedicated fan base, solidifying his stature as a standalone artist.
Gilmour's willingness to cross paths with other musical greats has also added color to his artistic canvas. Collaborating with stars like Kate Bush and Paul McCartney, he's played the role of musical chameleon, adapting and innovating, yet leaving his indelible mark on each project. These collaborations haven't just enriched his musical palette; they've brought additional revenues, adding to a net worth already glittering from his individual endeavors.
Contributions to Pink Floyd's Staggering Success
Pink Floyd's name is etched in rock legend, a band that transcended music to become a cultural force. At the heart of this incredible journey lies David Gilmour's incomparable talent. His fingerprints are all over the band's most iconic albums, from "Wish You Were Here" to "The Wall." Each record was not just a collection of songs but a thematic masterpiece, with Gilmour's guitar work acting as the soul-stirring narrative.
The role he played went beyond strumming strings; his songwriting prowess brought depth to the band's lyrics and melody. The result was a popularity that crossed borders and generations, turning Pink Floyd into a global phenomenon. And as the albums soared, so did the tours, filled with innovative visuals and sound that turned concerts into experiences.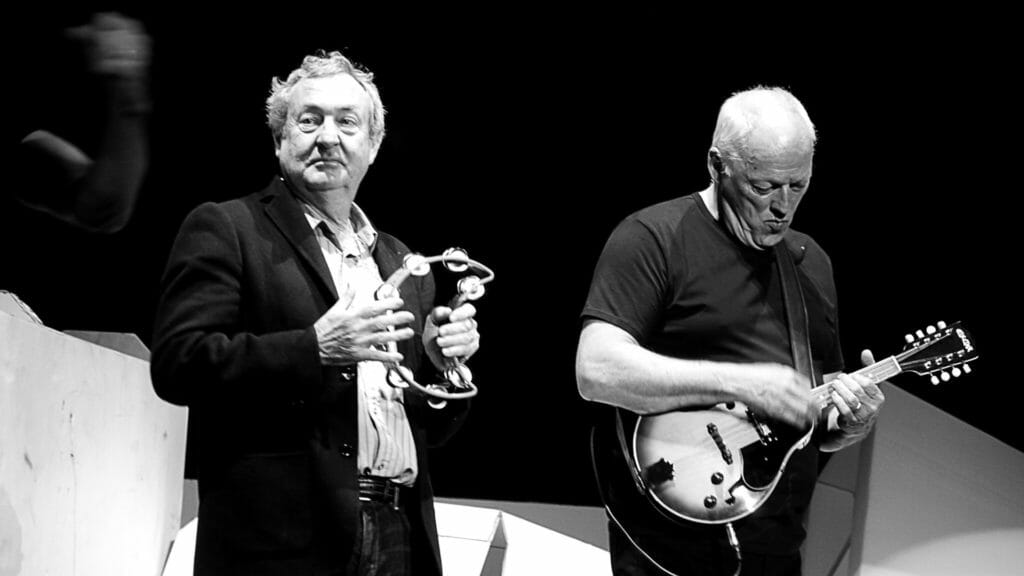 Of course, with great success comes great financial rewards. Pink Floyd's achievements translated into record sales, merchandise, and sold-out tours, filling the coffers not just of the band but of the music industry itself. Gilmour's share in this success wasn't just a paycheck; it was a testament to the value of art and creativity.
These chapters of Gilmour's career, both with Pink Floyd and on his own, paint a picture of an artist who has never been confined by expectations or boundaries. His contribution to music, both financially and artistically, is a story that continues to resonate, echoing in the notes he plays and the legacy he builds, one chord at a time.
---
RELATED: Richard Wright: The Overlooked Pink Floyd Band Member
---
Does The Net Worth Of David Gilmour Make Him The Richest Pink Floyd Member?
With a career that's spanned decades and genres, David Gilmour's financial success is as resonant as his guitar chords. The established estimates place his net worth at a towering figure, often cited around the $180 million mark. It's a sum that speaks not just to his talent, but to a relentless work ethic and an unerring belief in the art of music.
In comparison to other giants of the industry, Gilmour's wealth stands tall. While not outpacing legends like Paul McCartney, his financial status eclipses many contemporaries, reflecting the enduring impact of Pink Floyd coupled with his solo triumphs.
The roots of this immense wealth lie in the multifaceted aspects of his career. Record sales, tours, and royalties form the backbone, supported by shrewd investments and brand endorsements. The sum total is a fortune as layered and textured as his music.
As for where he stands with his fellow Pink Floyd bandmates, his substantial fortune doesn't quite reach the heights of Roger Waters' wealth, which is estimated to be a cool $310 million.
Investments and Business Ventures
Away from the stage, Gilmour's investment acumen shines. His portfolio extends to real estate, boasting a collection of properties that range from lavish residences to historic estates. These investments have not only added to his net worth but also represent his taste and personality.
In addition, Gilmour has diversified with a keen eye on art collections, displaying an aesthetic sensibility that echoes his musical creativity. His other business ventures, though less publicized, form part of a financial landscape that's as considered and crafted as his compositions.
David Gilmour Is Known For His Philanthropy and Charitable Activities
The chords that Gilmour strikes aren't just musical; they reverberate in the world of philanthropy too. A committed supporter of various charitable organizations, his generosity is as legendary as his guitar solos. From supporting causes related to human rights to environmental conservation, Gilmour's charity work is a melody of compassion and conviction.
His contributions extend beyond mere donations; they are initiatives aimed at lasting change. Auctioning his famed guitar collection for charity in 2019, raising millions, was not just a gesture; it was a statement of his values.
While these philanthropic activities might appear as a dent in his accumulated wealth, they are in reality an investment in a legacy that transcends music. In Gilmour's world, net worth isn't just about numbers in a bank account; it's a reflection of the richness of life's experiences and the harmony of giving back. His balance sheet is, in essence, a composition, with notes of success, chords of wisdom, and a refrain of generosity that plays on in the hearts of those he's touched.
Final Thoughts
David Gilmour's career is a sonic tapestry woven with threads of innovation, mastery, and influence. From the sprawling landscapes of Pink Floyd's psychedelic rock to the intimate reflections of his solo work, Gilmour's musical contributions form an irrefutable chapter in the annals of rock history.
His net worth, an impressive emblem of his success, isn't just a figure; it's a testament to a life dedicated to the pursuit of musical excellence. It signifies the resonance of his artistry, echoing in sold-out arenas, platinum records, and the ears of generations. The currency isn't merely financial; it's cultural, artistic, and deeply human.
Yet, beyond the numbers and accolades, David Gilmour's ongoing legacy is found in the vibrations of every guitar string he's ever touched, in the lyrics that have challenged thought, and in the melodies that continue to inspire. His wealth is but a mirror reflecting a rich and influential career that transcends the stage and studio.
In the halls of rock and the hearts of fans, Gilmour's influence will continue to ring clear, a melodic wealth that time nor tide can ever deplete. His is a fortune that plays on, in notes and numbers, an eternal symphony of success.
---
Frequently Asked Questions
Is David Gilmour the richest member of Pink Floyd?
While he definitely isn't poor, he can't match Roger Waters' massive $310 million fortune.
Who are the other members of Pink Floyd?
Pink Floyd's classic lineup included Syd Barrett (original lead guitarist and vocalist), Roger Waters (bass and vocals), Richard Wright (keyboards), Nick Mason (drums), and David Gilmour (lead guitar and vocals). There have been other members and contributors throughout the band's history.
What is David Gilmour's full name?
David Gilmour's full name is David Jon Gilmour.
What is Nick Mason's role in Pink Floyd?
Nick Mason served as the drummer for Pink Floyd and is the only member to have been consistently part of the band since its formation. His innovative drumming style played a vital role in shaping the band's distinctive sound.