Roger Waters – a name that resonates with the stirring echoes of psychedelic rock and the poetic mastery of songwriting. A visionary and a voice behind the band that transformed the sound of rock, Pink Floyd, Waters is more than just a musician; he's an icon, an artist, and a creator of masterpieces.
As the principal songwriter and co-lead vocalist of Pink Floyd, Roger Waters has etched his influence into the very soul of rock music. His deeply emotional lyricism and profound concepts are the driving forces that shaped Pink Floyd into one of the most revered bands of all time.
Early Life and Career Beginnings
Born George Roger Waters on September 6, 1943, in Great Bookham, Surrey, England, Waters' early life was marred by tragedy with the loss of his father during World War II. Growing up, his mother's influence as a committed teacher and socialist helped shape his worldview, and it wasn't long before young Roger found solace in music.
A dream, a desire, and a guitar led Waters to the formation of Pink Floyd. Together with Syd Barrett, Nick Mason, and Richard Wright, the band was founded in London in 1965. With a blend of psychedelic rock and innovative soundscapes, they started a musical revolution. Roger's contributions, both as a bassist and lyricist, were key to the band's unique sound.
The rise was meteoric, the impact was massive, and the success, well, that was just the beginning. Waters' early years with Pink Floyd set the stage for an extraordinary career that would continue to flourish, innovate, and inspire. The world was about to witness the true essence of progressive rock, and Roger Waters was at the heart of it all.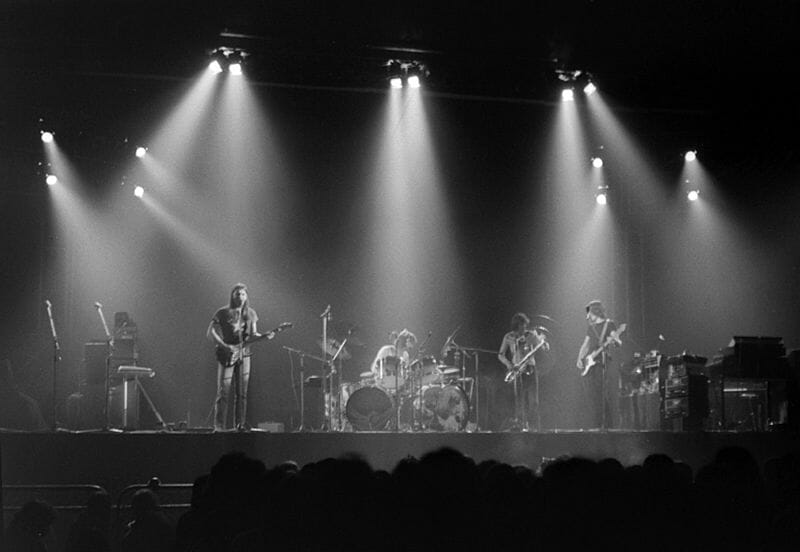 Key Achievements with Pink Floyd
Pink Floyd's repertoire is a staggering list of revolutionary music, and at the heart of it all was Roger Waters' creative genius. Albums like "Animals" (1977), "The Dark Side of the Moon" (1973), "Wish You Were Here" (1975), and "The Wall" (1979) are not merely hit records; they are monuments to musical artistry.
Waters' influence is woven deeply into the band's lyrical fabric. His talent for painting vivid pictures with words brought life to themes of war, insanity, greed, and existentialism. It's hard to imagine "Comfortably Numb" or "Another Brick in the Wall" without Waters' pen and voice behind them.
And then there were the performances. Be it the awe-inspiring stage show of "The Wall Tour" in 1980-81 or the landmark "Live 8" reunion performance in 2005, Waters and Pink Floyd gave life to concerts that transcended mere entertainment. They were spectacles, experiences that lingered long after the lights went down.
---
RELATED: Explore Slash's Net Worth
---
Solo Career and Post-Pink Floyd Success
When Waters bid adieu to Pink Floyd in 1985, the music world held its collective breath. What would come next? The answer: a solo career marked by the same ambition and artistry that defined his work with Pink Floyd.
His first post-Floyd solo album, "Radio K.A.O.S." (1987), carried on the tradition of concept albums, weaving a complex narrative around technology and communication. "Amused to Death" (1992) followed, furthering Waters' reputation as a master storyteller.
Along the way, Waters' voice resonated beyond his own work. Collaborations with artists such as Eric Clapton and his monumental live performance of "The Wall" in Berlin in 1990 stood as testaments to his enduring influence.
Roger Waters' journey from the heart of Pink Floyd to a successful solo career is a road paved with innovation, passion, and an unyielding desire to push musical boundaries. The man who once asked, "Is there anybody out there?" has indeed found an audience that continues to listen, captivated by his every note.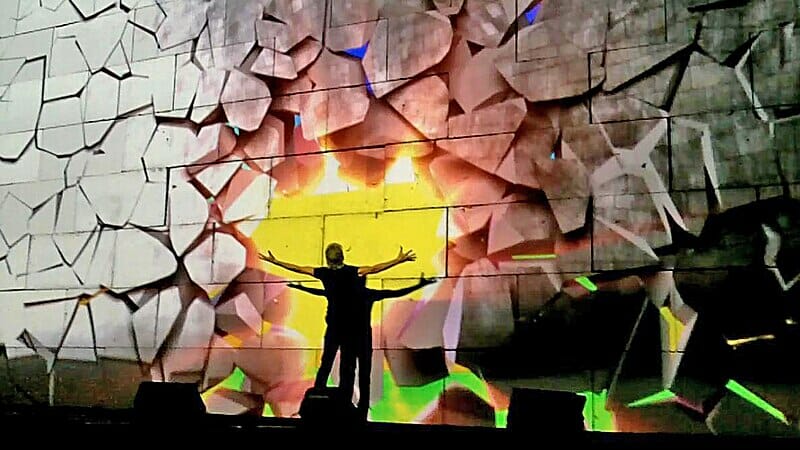 Roger Waters' Net Worth
Roger Waters' influence on rock music is undeniable, and his financial success is a tangible reflection of his impact. He's not just a musician; he's an architect of sound, and the fiscal rewards of his craftsmanship are staggering.
Waters' net worth, based on available information and careful estimation, clocks in at a remarkable sum. While precise numbers can be elusive in the world of celebrity finances, some reports suggest a figure hovering around $310 million. This treasure trove has been amassed through record sales, epic tours, solo endeavors, and, of course, the timeless appeal of Pink Floyd's catalog.
But how does Waters' wealth stack up against his contemporaries? Compared to other influential musicians, Waters' fortune more than holds its own. He's not necessarily topping the charts, but his place among rock's financial elite is secure. Names like McCartney, Jagger, and Richards might have heftier bank accounts, but Waters' artistic and financial legacy is equally rich.
In the grand ledger of rock 'n' roll, Roger Waters' net worth is more than a number. It's a symbol of a career filled with innovation, inspiration, and a constant quest for musical perfection. It's a melody that continues to resonate, echoing through the annals of rock history.
Roger Waters' Activism and Philanthropy
When it comes to Roger Waters, the music is just the beginning. His political and social activism is a profound second act, a rallying cry that resonates on a global scale.
Waters' political voice is unapologetically loud. From passionately supporting Palestinian rights to critiquing global governance, he is unafraid to take a stand. His public speeches and protests are fervent, backed by a genuine belief in human rights and justice.
The philanthropic stage is no different. Waters' generosity extends to various causes and charities, from supporting war veterans to providing clean water initiatives in developing countries. The man's heart beats as intensely for the world's plight as it does for his music.
Whether it's supporting a political movement or a charitable endeavor, Waters' activism is both a song of protest and a hymn of hope. His voice, both on the stage and in the world, is a reminder that rock 'n' roll can be a force for change.
---
RELATED: The Eagle Made Joe Walsh Rich
---
Film and Theatre Ventures
The Roger Waters show doesn't stop at the concert hall's exit. His involvement in film and theatre is another fascinating chapter in a multifaceted career.
Waters' visual and theatrical sensibilities have found their way into several ambitious projects. The cinematic adaptation of Pink Floyd's "The Wall" is legendary, a surreal visual feast that extended the album's narrative into new artistic territories.
But that's not all. Waters also dipped his toes into the world of opera with "Ça Ira," a passionate piece that reflects his fascination with history and revolutionary spirit. Though met with mixed reviews, it further solidifies Waters' reputation as an artist unafraid to venture into uncharted waters.
Whether it's the silver screen or the grand opera house, Roger Waters' impact reaches far beyond the boundaries of music. His creative pursuits in film and theatre add yet another layer to an already captivating story, an encore to a performance that never seems to end.
A Lasting Influence And Legacy
When the echoes of Roger Waters' music fill the room, you're not just hearing sound, you're experiencing a seismic force in the landscape of progressive rock. His wizardry with lyrics, themes, and composition has cast a spell over generations, molding the very fabric of the genre.
Subsequent musicians seem to walk in Waters' shadow, trying to capture the essence of creativity he so effortlessly exudes. The likes of Tool, Radiohead, and Dream Theater have openly cited his influence, a testament to his reach and resonance.
Awards? They're there too: Inductions into the Rock and Roll Hall of Fame, Ivor Novello Awards, and others that decorate a career filled with brilliance and innovation.
Yet, Waters' legacy isn't confined to a mantlepiece. It's alive in the notes that continue to inspire, challenge, and move the very soul of rock music.
Final Thoughts On Roger Waters' Fortune
Roger Waters – the name conjures images of groundbreaking albums, spectacular live performances, a resonating political voice, and a net worth that's as grand as his visions. From the ambitious heights with Pink Floyd to a solo career filled with critical and commercial success, Waters' story is a symphony that plays on.
His activism and philanthropy, film and theatre ventures, are mere interludes in a composition that defies boundaries. Waters doesn't just create music; he shapes experiences, crafts ideologies, and leaves an indelible mark on both his peers and followers.
In the world of rock and beyond, Roger Waters' legacy is as vast and profound as his music. It's a story that transcends notes and chords, resonating in the hearts of those who dare to dream, to rebel, and to create. It's a journey, a statement, and above all, a celebration of a man whose impact continues to ripple through the ever-changing tides of music. Thank you, Mr. Waters, for the melodies and the memories.
---
RELATED: The Red Rocker's Net Worth
---
Frequently Asked Questions
Is Roger Waters the richest Pink Floyd member?
Worth an estimated $310 million Roger Waters is indeed the richest member of Pink Floyd.
Did Roger Waters leave Pink Floyd?
Roger Waters left Pink Floyd in 1985 due to creative and personal differences with the other band members.
What is Roger Waters' most successful solo album?
Roger Waters' most successful solo album is "The Pros and Cons of Hitch Hiking," which received critical acclaim and achieved commercial success.