Believe it or not, The Monkees chart-topping hit, "Daydream Believer", was almost nothing more than a daydream.
Considering the longevity of this song, not to mention its revered place in rock and roll history, I think we can all agree that the fact it came so close to being relegated to obscurity is utterly bonkers!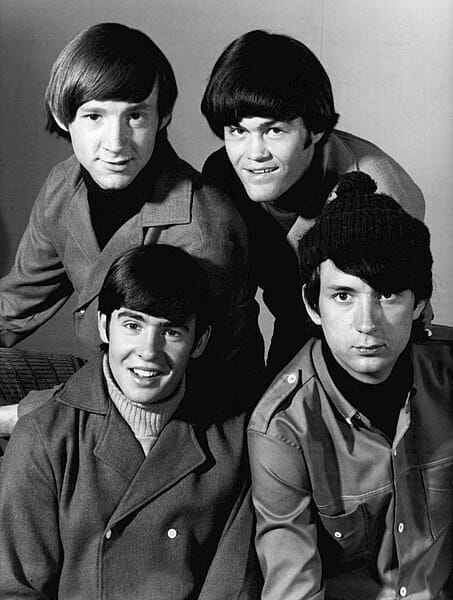 Narrowly avoiding nonexistence, "Daydream Believer" went on to be one of The Monkees most successful hits, one of their quintessential tunes holding pride of place on every subsequent setlist, a sonic signature, if you will!
Woven inextricably into the fabric of popular culture, "Daydream Believer" is kept current by countless covers ringing out in all manner of venues, from near-empty bar halls to sold-out arenas, a true feel-good, sing-along anthem.
Who Wrote "Daydream Believer"?
As I'm sure you're aware, The Monkees were an industry creation, four young men assembled by a casting call to form a fictional television band for a sitcom of the same name, so almost all of their early work was written for them.
In fact, they weren't even permitted to perform or record any of their own music.
Despite being known as "the quiet one", Michael Nesmith was the Monkee trying to convince the big-wig TV execs that The Monkees were in fact a real band of talented musicians and that they should be permitted to write and record their own songs.
By January of 1967, The Monkees had seized full creative control and were making a go of it as a fully functional band of musicians, rather than a band made up of scripted actors who just so happened to play instruments.
Yet the song they would record just 5 months later, the song that would become one of their trademark hits, wasn't written by The Monkees at all.
"Daydream Believer" is in fact the brainchild of one Mr. John Stewart, a prominent American singer-songwriter of the time.
Do You Know The Story Of Bob Dylan's Hurricane?
The Unlikely Story Of "Daydream Believer"
One afternoon in the Stewart household, he sat down in his music room with Wyeth prints dotted around the walls, picked up his guitar, and started composing what, by the end of the day, would become "Daydream Believer" almost exactly as we know it today.
To most songwriters, such a day might be regarded as a triumph. Still, Stewart wasn't all that enamored by the tune he had written to cap what he referred to as his "suburbia trilogy" otherwise comprising "Do You Have a Place I Can Hide" and "The Ballad of Charlie Fletcher".
In an interview with the Archives of Music Preservation, he remarked that he
I remember going to bed thinking, 'What a wasted day — all I've done is daydream'. And from there I wrote the whole song.

I never thought it was one of my best songs. Not at all
Disappointed, he ruminated obsessively on what he felt was the terrible flaw in his composition.
I almost scrapped it because I'm ADD and little, funny things irritate me… Oh what can it mean – to aaa – …

That drove me crazy. I thought 'to a' doesn't belong in there – and I thought, nah, no one's gonna do that song because of the 'to a'. Is that crazy?
Despite his reservations, Stewart attempted to unload his song on an artist, approaching We Five, and Spanky and Our Gang, but both groups turned their noses up at "Daydream Believer".
Whether they refused the song because of the "to a" lyric, we'll never know, but these failed attempts didn't discourage Stewart.
As luck would have it, while attending a party at actor/songwriter Hoyt Axton's place, Stewart ran into Chip Douglas, the producer of The Monkees, who asked him if he had any songs that would slide nicely into The Monkees' oeuvre, to which Stewart replied, "Yes, yes I do!" Stewart played Douglas the tune, and not seconds after the last chord faded out, Douglas responded, "'I have to have a cassette of that immediately.'"
Stewart went home, made the cassette, returned it to Douglas, and the two parted ways. Three days later, Douglas contacted Stewart with good news… kind of.
He told that songwriter that "they want to do it, but they're going to change one of the lyrics." The line in the original was…
Now you know how funky I can be
… but RCA took issue with "funky", requesting it be changed to…
Now you know how happy I can be
Stewart's gut reaction was one of disgust, as he believed the proposed lyrics made no sense, but given an ultimatum — change the lyric or keep the song to yourself — Stewart acquiesced, and in June of 1967, the Monkees hit the studio to record "Daydream Believer".
Although it was initially intended to make up part of the Pisces Aquarius, Capricorn & Jones Ltd track list, it wound up becoming the crown jewel track of their next album, The Birds, The Bees & The Monkees, and the rest is history!
How Much Do You Know About The Grateful Dead's Touch Of Grey?
How Successful Was "Daydream Believer"?
"Daydream Believer" was a smash hit, claiming the No. 1 spot on the Billboard Hot 100 and the No. 5 spot on the UK singles chart.
What's more, it managed to work its way back into the Hot 100, reaching the 79th spot following the band's reunion in 1986.
What Is "Daydream Believer" About?
While neither The Monkees nor Stewart have provided any commentary as to the meaning of "Daydream Believer" beyond the fact that it is the third song in Stewart's "Suburbia Trilogy about the boredom that comes from the monotonous suburban lifestyle.
I can be a far fall from grace for a Homecoming Queen.
Final Thoughts
"Daydream Believer" is under the skin of our collective culture; pigmented like a tattoo on a cellular level, passed on from generation to generation via quasi-biological musical mitosis, a song that will be sung until the end of days!… How strange it seems that it almost never was.
Check out the official music video to Daydream Believer below, courtesy of the official Youtube channel of The Monkees.