Brisbane might have been the birthplace of the concert tribute band. It wasn't a music scene. The Saints couldn't get into that. We didn't try very hard, but it was the only way you could play in an established venue. We were pretty much blacklisted from everywhere so we put on our own shows

– Ed Kuepper
Shakespeare, while musing about the vagaries of the human condition declared that "Some are born great, some achieve greatness and some have greatness thrust upon them".
It was a summation of the indefatigable spirit of man that could have been written solely about Ed Kuepper, an individual who has spent his life balancing between and taunting the boundaries that separate the defined parameters of intensity and immortality. Ed didn't seek greatness, it found him and when it did, it refused to let go.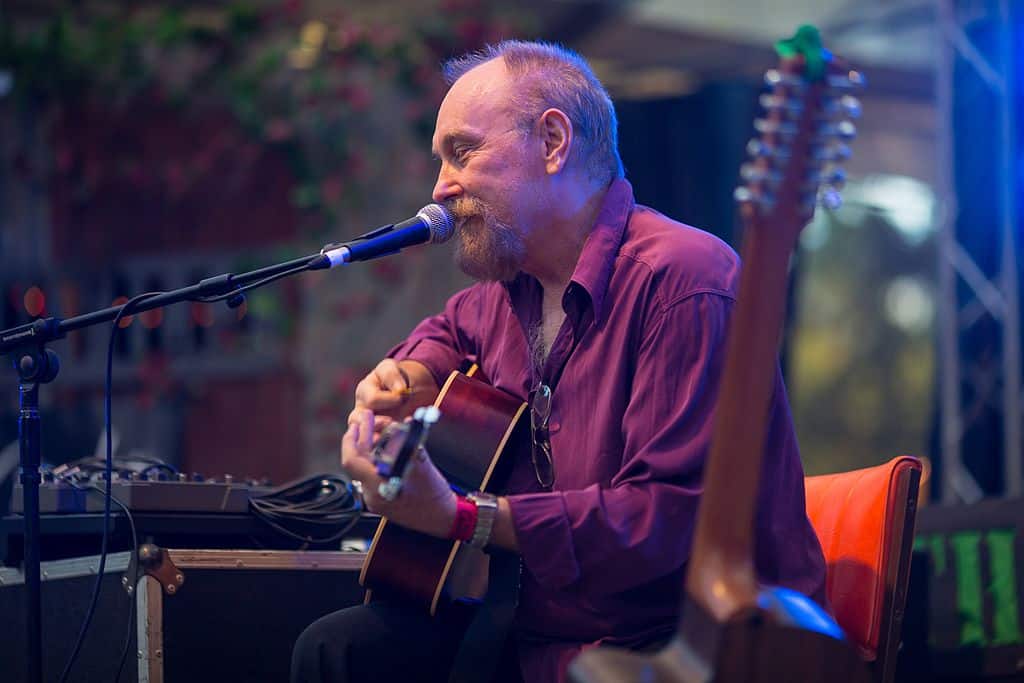 Every Day's A Holiday, Every Night's A Party
Born in post-war Bremen in nineteen fifty-five, Ed Kuepper spent his formative years in a country that was desperately trying to find its feet, and recover after being shattered by six years of conflict and a decade of political turmoil and panic.
Whether driven by the hard economic reality of everyday existence or an unspoken awareness of the seismic impact that the continuing expansion of the USSR would have on Germany, the Kuepper family packed their bags and moved to Australia in the mid-nineteen sixes, finally settling in Brisbane, the city that would help to shape Ed's musical future.
Australia must have seemed like a sun-drenched paradise to a young man who was raised in the grey, forbidding concrete streets of a metropolis that was still half-buried in rubble and haunted by decaying and crumbled abandoned buildings.
For Kuepper, every day would have been a holiday and it didn't take him long to meet and become firm friends with Chris Bailey and Ivor Hay, with whom he would later form one of the most influential bands in the history of punk rock, The Saints.
Embed from Getty Images
Brisbane (Security City)
Ed began his lifelong musical odyssey in nineteen seventy-three when he started cranking out high-energy garage rock as the lead guitarist in Kid Galahad and the Eternals. They were a loud, crude band that included Bailey and Hay in its ranks, whose vision of self-determination and a passion for doing things their own way and refusing to compromise would help to shape that path of Ed's future career.
By the time Jeffery Wegener joined their ranks, the Eternals had renamed themselves The Saints and had become a gigging, hard-working band. The problem was, for a band that was eager to play as many shows as they possibly could,
The Saints found it almost impossible actually to find any shows to play. Brisbane's music scene was locked tighter than a steel drum, and unless a band played cover songs, they couldn't play in any of the city's clubs.
The Saints didn't play covers, so The Saints couldn't play Brisbane. Faced with not being able to play, Kuepper and The Saints came up with their own ingenious solution, If they couldn't go to the shows, they'd bring the shows to them, and to make that idea a reality, they rolled their sleeves up and converted the house that two of their members were living in into a place where they could play.
Club 76 was born, along with the idea that would later become central to punk ideology, the DIY (Do It Yourself) ethos.
New Center Of The Universe
Despite a burning desire to begin their recording career, the apathy, and indifference with which their home city treated them, continued unabated and The Saints, feeling they had no other choice, wrote, recorded, and released their debut single, I'm Stranded by themselves.
Even though the band only pressed five hundred copies of the single, it was universally praised and was enough to land the band a deal with EMI Records, who re-released the single and used the same title for The Saints debut album, which they released two months later.
As nineteen seventy-six rolled into nineteen seventy-seven, Kuepper and the other members of his band knew that they would never be able to shake Brisbane out of its ambivalence toward them, and following a brief relocation to Sydney, they finally left Australia behind and moved to the city that welcomed them with open arms, London.
Marching In And Marching Out
Hailed as a leading punk rock light that would guide the musical movement out of the darkness that it was starting to drown in when they arrived in London, The Saints had finally found a place where they could feel at home.
Kuepper however was uncomfortable with the punk association, and astutely pointed out that The Saints had been a full-time band before the fledgling punk scene had even really begun.
As uncomfortable as his new found "fame" in a role that he never asked for, nor wanted, made him, Kuepper continued writing, recording, and playing music with The Saints during the band's most prolific and influential two-year period.
He was a man possessed, and his enthusiasm and fervor for the band and its music was infectious, and by the end of nineteen seventy-eight, The Saints had recorded and released another two albums, Eternally Yours and Prehistoric Sounds, both of which only further cemented their reputation as a bastion of punk rock, alongside the Sex Pistols and the Ramones.
It was too much for Kuepper, who driven by a need to write songs that challenged him mentally, were built around more complex structures and spoke to his soul rather than the three-minute power-pop anthems that had helped to establish The Saints, he left the band, London and his friends behind at the end of nineteen seventy-eight, and flew back to Australia to start the next chapter in his musical adventure.
He Who Laughs Longest
It couldn't have been easy to leave the band that he had helped to push to success with his increasingly obvious talent as a songwriter, and as Kuepper himself has noted, when he returned to Sydney, he briefly considered retiring from music and finding something else to do with his life.
The thought of leaving music behind was just a fleeting blip on Kuepper's radar and in nineteen seventy-nine, he formed Laughing Clowns, an avant-garde ensemble that played a unique brand of bluegrass, rock, and roll, and jazz and gave Kuepper the opportunity to fully explore the musical direction in which he had been yearning to travel.
Law Of Nature
In their relatively brief, five-year existence, Laughing Clowns managed to turn the scene on its head and showed the world that music didn't have to be simplistic or straightforward.
As long as it was heartfelt and emotive, music could be anything that you wanted it to be, and Kuepper's belief that others would feel the same way that he did soon began to manifest itself.
The bands who would follow in Laughing Clowns footsteps and venture far from their native shores, The Birthday Party, The Triffids, and The Go-Betweens all acknowledged that if it wasn't for Kuepper's band, they wouldn't have charted the course that they did.
After releasing three albums, Mr. Udduch Smuddich Goes To Town, Law Of Nature and Ghosts Of An Ideal Wife, and playing countless shows both at home and in Europe, during the festive period in nineteen eighty-four Ed Kuepper left the circus and called time on Laughing Clowns.
All Alone
After proving that music that came from the heart and was written in the instant, and by the emotional fuel that was firing his creativity at that moment, would always find its audience, Kuepper decided that it was time to venture out on his own.
In nineteen eighty-five he wrote, recorded, and released his first solo record, Electrical Storm which combined the influences that had always steered him and fused his previous output in a surprisingly hard, pop-oriented record. It wasn't the record that anyone expected him to write, but it was the record that his fans and critics alike knew that he had to release.
For his second solo record, Rooms Of The Magnificent which was released less than fifteen months after his first, Kuepper recruited a backing band, The Yard Goes On Forever, who as well as working with him in the studio on his record, also became his touring band.
Adopting the approach that he had pioneered with The Saints, that nothing was impossible if you did it yourself, Kuepper also produced the record which became a favorite among indie circles all over the world.
In February nineteen eighty-eight, Kuepper and The Yard Goes On Forever, released his third solo album, Everybody's Got To which seemed to divide opinion and was either hailed as a masterwork, and the culmination and absolute pinnacle of guitar and horn focused alternative rock, or that it failed to make the instant connection that his previous albums had.
Even though critical opinion was split down the middle, the record did provide Kuepper his first solo top one hundred hit in Australia, with its second single, Nothing Changes In My House
Doubling Up
While most artists seem to hit their stride early in their careers, Kuepper did the opposite. The longer and harder he worked, the more successful, prolific, and recognized he became.
Between nineteen ninety and ninety-four, he released another three solo records, Honey's Steel Gold, Black Ticket Day, and Serene Machine, all of which landed firmly in the Australian Top One Hundred. Honey's Steel Gold gave him his first solo top thirty album and was, at the time, the highest position that any homegrown Australian independent or alternative artist had ever reached on the mainstream chart.
But it wasn't enough, for the permanently relentless and creative artist, and in the middle of his solo success he put together a new band, the high octane fueled The Aints that drew as much influence from his early garage rock years as they did the burgeoning grunge scene.
They blazed brightly and they played ferociously, and in their short three-year life, they released a trio of feedback saturated, jaw-dropping records (S.L.S.Q, Ascension, and Auto-Cannibalism) that set the bar for anyone who dared to try and better them, and proved what his fans had always known.
That Ed Kuepper's soul burned hotter than the sun with a rock and roll fury that was unsurpassed and that it would continue to burn as brightly as it always had.
Strolling Into The Twenty-First Century
The nineties were just a taste of what was to come next, and even though he originally laid The Aints to rest in ninety ninety-four, Ed Kuepper revived the band in two thousand and seventeen, added an exclamation point at the end of their name, so they became The Aints!, and hit the road and toured Australia.
Where there's a tour, with Ed Kuepper there's always a record and in two thousand and eighteen The Aints! released their fourth album, The Church Of Simultaneous Existence which landed squarely in the Australian Top One Hundred.
With Kuepper you should always expect the unexpected, and just when no one would ever thought it would happen, he returned to The Saints.
Actually, he returned to the band for a series of one-off shows three times, in two thousand and one, two thousand and six, and for the All Tomorrow's Parties tour that the band was invited to be a part of in two thousand and nine.
And as if he wasn't already busy enough, when his old friend Nick Cave came calling in two and nine and asked him to be a member of the Bad Seeds following the departure of long time guitarist Mick Harvey, he happily accepted the offer and went on to do the same again in two thousand and thirteen.
Since the release of Serene Machine in nineteen ninety-four, Ed Kuepper has released another sixteen solo albums with a variety of different backing bands, including the soundtrack for the film Last Cab To Darwin, which makes him one of the most prolific alternative musical artists in the history of rock and roll.
Similar Stories