Sometimes we are reminded that even the most iconic rock stars are also mortal human beings. Mick Mars, the lead guitarist, and co-founder of the legendary Mötley Crüe, has suffered from a chronic and painful illness since the age of 17.
Despite the pain and partial immobility, Mars followed his passion for playing guitar and his love of rock and roll to become one of the most iconic guitarists of the 1980s.
Mick Mars was born Robert Alan Deal in Terre Haute, Indiana on May 4, 1951. He co-founded the heavy metal band Mötley Crüe in 1981, alongside Nikki Sixx and Tommy Lee.
Since then, Mötley Crüe has risen to prominence as one of the most popular bands of the 1980s. They sold over 100 million albums worldwide and solidified their name as an icon in the genre of heavy metal.
Mick Mars was diagnosed with ankylosing spondylitis as a teenager. Ankylosing spondylitis (known as AS) is a form of arthritis that causes the vertebrae to fuse together.
This condition is a very rare, chronic disease that causes damage to the spine and the pelvis. The symptoms of this disease include a lot of pain and decreased mobility.
Sadly, there is no cure for the condition, but there are medications that can help to ease the pain. Additionally, there are surgeries and physical therapy that can help, but ultimately, this is a lifelong disease.
Despite the pain and debilitation caused by his illness, Mars always maintained a positive attitude towards his life and career, and he never lost his sense of humor. In an interview with Goldmine, Mars jokes;
"I ended up bent, [but] I can always see my guitar."

Mick Mars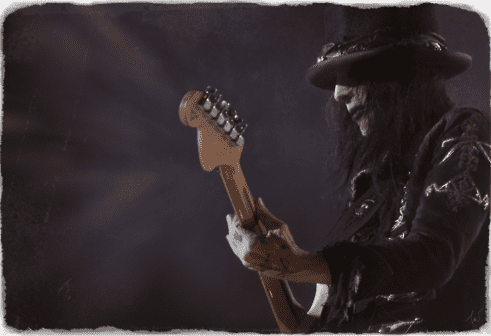 In 2001, a biographical book was released about the story of the hell-raising band. It was entitled "The Dirt: Confessions of the World's Most Notorious Rock Band", and it was co-written by Mick Mars, Vince Neil, Nikki Sixx, and Tommy Lee.
The book details Mars' journey with the band and his struggles with the chronic illness, and how he has overcome the tribulation caused by his painful condition.
In the band's bestselling book, Mars wrote:
"My hips started hurting so bad every time I turned my body that it felt like someone was igniting fireworks in my bones.
I didn't have enough money to see a doctor, so I just kept hoping that I could do what I usually do: will it away, through the power of my mind. But it kept getting worse."
The most debilitating part of Mars' illness is chronic pain. As a result, he has undergone numerous surgeries and treatments over the years. He also suffers from arthritis, diabetes, and other ailments.
---
RELATED: The Tragic Letter From Frankie Sixx To Her Late Son
---
Mick Mars has always been known as the mysterious, silent type within the otherwise brash and rowdy band, Mötley Crüe.
His rather withdrawn and quiet demeanor was partially due to his illness, but it only added to his mystique, and fans loved him as much as the other members of the band.
Mars has been open about his struggles with pain in both interviews and in his written biography. He has also spoken out against opioid abuse, saying that they should only be prescribed for short periods of time for serious injuries.
As a sufferer of chronic pain, Mars knows all too well about the dangers of opioid medications for pain relief.
How Mick Mars' Illness Began
Mars initially fell ill at around 19 years of age, but at this time he didn't have enough money to get treatment from a doctor. He first knew something wasn't right when he started experiencing excruciating pain in his hips, followed by pain in his lower back.
His condition sadly worsened over the years, even during his band's meteoric rise to fame. His ankylosing spondylitis led to Mars developing scoliosis in his lower back, causing his spine to become severely compressed.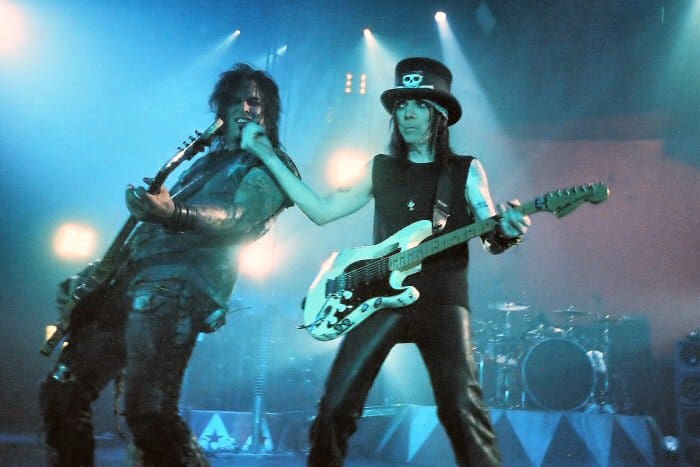 Due to this, his height became a full three inches shorter than his height in his high school years.
His bandmates were understandably concerned about Mick Mars' rapidly deteriorating condition. The band faced a lot of turmoil and departures of various members during the mid-'90s.
Mötley Crüe's bassist, Nikki Sixx, wrote of his experience trying to reunite with the rest of his band and seeing Mars at his worst. Sixx wrote in his book, This Is Gonna Hurt:
"What I saw haunts me to this day. A frail man of 80, maybe 90 pounds, shaved head, gray skin, with a beard to his chest. He was dying, addicted to painkillers, brought on by a disease…"

Nikki Sixx
Nikki Sixx was Mick Mars' closest musical collaborator throughout the band's career, and he was understandably very concerned for his bandmate's wellbeing.
In his memoir, he wrote: "I was not only worried about writing music without a partner, but I had that gut-wrenching feeling that something was wrong."
Mars' Surgeries And Treatments
Following Mars' hip replacement surgery in 2004, his health and mobility have improved. He has, however, described the process of rehabilitation as extremely difficult and painful.
During his recovery, Mars had to stop playing guitar for two years whilst undergoing physical therapy.
In a 2008 interview with Metal Sludge, Mars said:
"It kept getting worse and worse, and I just stopped playing guitar for almost two years. Nowadays, it's not so bad, but back then when I was high on all that stuff and Mötley was having a break, I knew if I didn't stop I was gonna die.

In the end, I had to go to a neuropsychiatrist to straighten me up, and he said to me, 'Just hold the guitar for an hour a day – don't play it, just hold it.' It was pretty bizarre, but I got through it, and in the end, I think I'm actually a better player because of it."

Mick Mars
After the two years Mick Mars spent away from his guitar, he had to relearn how to play and hold the guitar with the help of his neuro-psychiatrist.
By the time he managed to relearn to play and was able to return to performing on stage, the disease had spread to Mars' brain, which prevented him from being able to move his head.
This prevented Mars from doing everyday activities such as driving a car. However, not even this could stop Mars from doing what he loves most.
Mick Mars said this about his condition and his return to performing:
"It still grinds now and then, but as I said, music is my whole passion. It's what I do. It's what I live for. I guess it keeps me alive.

I'm just happy to be here, to be able to make people happy, to make people smile, and give them what I feel inside from my music. I hope you like this, and if you don't, oh well."

Mick Mars
It's clear from this statement that nothing can stop Mick Mars from doing what he loves. Music is understandably his greatest passion, and he continues to perform and bring joy to his fans, despite his pain and debilitating illness.
It seems like music is what has kept him going and given him the strength to face such a terrible disease head-on.
Mick Mars' Remarkable Career
As one can imagine, being part of the most notorious bands in history leads to an interesting life and career. Mars has experienced all the highs and lows of fame, and he continues to be a guitar icon to this day.
After Mötley Crüe slowed down, Mars found time to branch out into a solo project. Rumors of his new solo effort began in the mid-2000s, but Mars would later confirm these rumors in his interview with Goldmine in 2012. Mars stated:
"Everybody is saying that I'm doing a blues record, it will be a blues record, per se, but it will be more like how Edgar Winter interprets the blues.

It will have a '70s kind of feeling, but I will be writing in a more current style of music. I want to mix those two styles together."

Mick Mars
After such a long and prolific career in music, despite his health struggles, Mars continues to innovate and create fresh and forward-thinking music.
He never let his illness get in the way, and he is still following his greatest passion in life, rock n' roll.
For a bit more insight into Mick Mars, and his life before joining Mötley Crüe, have a look at this video from the legends at Rock Pills.
Frequently Asked Questions
How Old Is Mick Mars?
Mick Mars is 70 years old, born on the 4th of May, 1951.
How Old Was Mick Mars When He Joined Mötley Crüe?
Mick Mars was 30 years old when he formed Mötley Crüe with Tommy Lee, Vince Neil, and Nikki Sixx.
What Disease Does Mick Mars Have?
He, unfortunately, suffers from the debilitating disease: ankylosing spondylitis.
Where Does Mick Mars Live?
Mick Mars currently lives just outside Nashville, Tennessee.
What Guitar Does Mick Mars Play?
Mick Mars has two guitars that he prefers to use, a Gibson Les Paul Custom, and a heavily modified Fender Stratocaster.