Nikki Sixx, born Frank Carlton Serafino Feranna Jr., is a name that echoes through the annals of rock music history. A renowned musician, songwriter, and co-founder of the legendary band Mötley Crüe, Sixx has carved out an indelible legacy in the rock music industry.
Beyond his rockstar persona, Sixx is also an accomplished producer, radio host, author, and entrepreneur, with a multifaceted career that spans several decades. His collective endeavors have amassed him a substantial fortune, his net worth is estimated to be between 50 and 60 million dollars.
Intrigued by the life and success of this rock and roll icon? Well, you're in the right place. The journey of Nikki Sixx's fortune is a thrilling ride full of music, mayhem, recovery, and redemption. This piece delves into the life and career of Nikki Sixx, exploring his various income sources and how he has managed to accumulate his wealth over the years.
So grab your backstage pass, and let's dive deeper into the world of Nikki Sixx.
Unleashing The Wild Side – Rocks Off Magazines Motley Crue Playlist
Early Life and Mötley Crüe Years
Born on December 11, 1958, Nikki Sixx experienced a rough early life. His father Frank Feranna Sr. left shortly after his birth, and his mother Deana Richards abandoned him a few years later. Raised by his grandparents in an environment devoid of stability, Sixx sought solace in crime, developing a pattern of burglary, vandalism, and drug use during his early-to-mid teens.
Despite the adversity, a burning passion for rock music, fueled by his admiration for bands like The Rolling Stones, Cheap Trick, and Alice Cooper, kindled a spark of hope and ambition in him.
His resolve to make a name in the music industry led him to Los Angeles at the age of 17, armed with nothing but an old, beat-up bass guitar. Working a series of dead-end jobs to get by, Sixx spent his spare time mastering the bass guitar and auditioning for bands.
His first significant break in the music scene came with the band Sister, a heavy metal group that gained local notoriety but failed to break into the mainstream. His subsequent stint with the group London, which he formed with guitarist Lizzie Grey, also ended without significant breakthroughs.
In 1981, Nikki Sixx as bassist, alongside drummer Tommy Lee, guitarist Mick Mars, and singer Vince Neil formed the legendary heavy metal band Mötley Crüe, marking the beginning of a new chapter in Sixx's life and career. With the release of seven studio albums and numerous successful tours, Mötley Crüe rapidly ascended to the pinnacle of rock music fame, boasting seven platinum or multi-platinum records.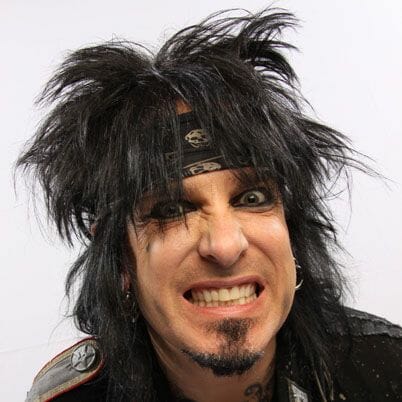 Nikki Sixx's Solo Career After Mötley Crüe
After Mötley Crüe's initial disbandment in 2001, Nikki Sixx has been involved in several other bands and projects, each providing new avenues for his creative expression.
58
Following Mötley Crüe's disbandment, Sixx formed the band 58 with producer Dave Darling, Steve Gibb, and Bucket Baker. The band released their only album, "Diet for a New America," in 2000. It had a different sound compared to Mötley Crüe, focusing on spoken-word pieces and eclectic electronic beats.
Although the band didn't achieve the same level of commercial success as Mötley Crüe, it showcased Sixx's willingness to experiment with new musical styles.
Brides of Destruction
In 2002, Sixx formed the hard rock supergroup Brides of Destruction with L.A. Guns guitarist Tracii Guns. The group, which also included London LeGrand and Scot Coogan, released two albums, "Here Come the Brides" in 2004 and "Runaway Brides" in 2005.
The band had a heavier sound, more in line with Sixx's roots in Mötley Crüe, but ultimately disbanded in 2006.
Sixx:A.M.
Perhaps Sixx's most notable post-Mötley Crüe venture is Sixx:A.M, a band formed in 2007 alongside DJ Ashba and James Michael. Originally intended as an audio accompaniment to Sixx's autobiography "The Heroin Diaries," Sixx:A.M. ended up releasing five studio albums and performing on multiple tours.
The band's more melodic sound, coupled with deeply personal and reflective lyrics, marked a departure from Sixx's earlier work. Sixx:A.M.'s success further expanded Sixx's musical repertoire and fan base, proving his versatility as a musician and songwriter.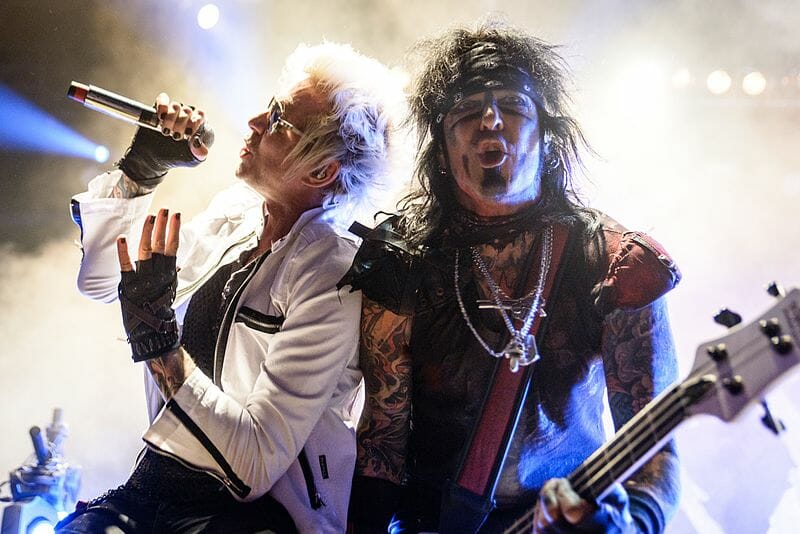 Beyond Music: Nikki Sixx's Diverse Portfolio
Despite the immense success and fame Mötley Crüe brought him, Nikki Sixx was not content resting on his laurels. He has earned a respectable reputation as a producer, lending his expertise to bands such as Drowning Pool and The Last Vegas. He's also co-written songs for various artists, including Meat Loaf, Saliva, Alice Cooper, Lita Ford, OPM, and Marion Raven.
In addition to his music-related endeavors, Sixx has been a savvy real estate investor and had his own radio show, Sixx Sense, which ran until 2017. His entrepreneurial streak also led him to co-own a clothing line with Kelly Grey, diversifying his income sources.
Sixx's autobiography, The Heroin Diaries: A Year in the Life of a Shattered Rock Star, became a New York Times and worldwide bestseller, adding to his already impressive income and bolstering his reputation in the music world. Photography, though more of a hobby for Sixx, has also contributed to his income in recent years.
---
RELATED: What Is Axl Roses Net Worth?
---
Nikki Sixx's Net Worth: A Comprehensive Breakdown
Nikki Sixx's net worth stands impressively between $50 and $60 million as of 2023, reflecting his diverse sources of income and enduring success in the music industry. His net worth is the culmination of decades of hard work, creativity, and shrewd business decisions.
Music Career
A significant portion of Sixx's wealth comes from his successful career with Mötley Crüe. The band released seven platinum or multi-platinum studio albums and went on 31 tours, earning a considerable income from record sales and concert tickets.
Sixx's bands after Mötley Crüe may not be household names, but they still added value to his name and contributed to his overall net worth.
Songwriting and Producing
Sixx's talent extends beyond performing—he's also a gifted songwriter and producer. He has co-writing credits on songs released by renowned artists such as Alice Cooper, Meat Loaf, Saliva, and more. These songwriting credits offer him a steady stream of royalties. As a producer, he has worked with bands like Drowning Pool and The Last Vegas, providing another source of income.
Book Sales
His autobiography, "The Heroin Diaries: A Year in the Life of a Shattered Rock Star", became a New York Times and worldwide bestseller. One-quarter of the profits from sales of the book are donated to Running Wild in the Night, a charity initiative for abused and abandoned children.
Real Estate, Radio, and Clothing
Sixx's wealth is also boosted by his clever investments in real estate. He also had his own radio show, Sixx Sense, until 2017, and co-owns a clothing line with Kelly Grey, both of which likely provide additional income streams.
Photography
While photography might be more of a hobby for Sixx, his work in this field has also earned him some income, adding another layer to his diverse professional portfolio.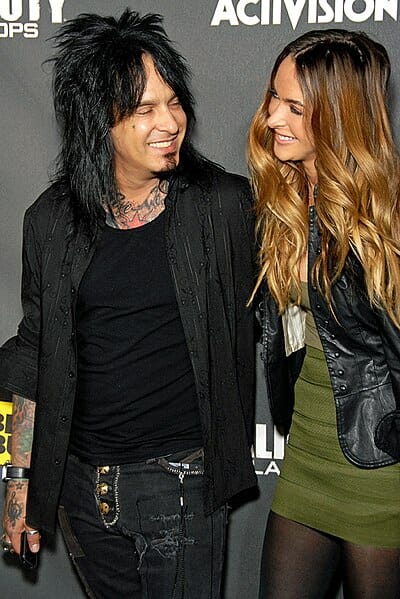 Nikki Sixx's Marriages, Children, and Their Influences on His Net Worth
As much as Nikki Sixx's professional life has been eventful, so has his personal life. His experiences off-stage have played a significant role in shaping his character and, in some ways, influencing his net worth.
Sixx has been married three times. His first marriage was to Playboy Playmate Brandi Brandt, with whom he has three children: Gunner Nicholas, Storm Brieann, and Decker Nilsson. The couple were married from 1989 to 1996. However, their relationship was marked by drug use and turmoil, which eventually led to their separation.
His second marriage was to another Playboy Playmate, Donna D'Errico. They were married in 1996, just a month after he had separated from Brandt. Sixx and D'Errico have one daughter together, Frankie-Jean Mary. This marriage also ended in divorce in 2007.
Sixx's third and current wife is Courtney Bingham, a fashion designer. They were married in 2014 and have a daughter together named Ruby.
The tumultuous nature of Sixx's personal life, including his divorces and battles with addiction, likely had financial implications. Divorce settlements can significantly impact an individual's net worth, and it's reasonable to assume this was the case for Sixx.
Gratefully, Nikki Sixx has been sober for several years now, a journey he's shared publicly, including through his book "The Heroin Diaries: A Year in the Life of a Shattered Rock Star".
Despite the challenges he's faced, Sixx has managed to turn his life around, both personally and professionally. His strength and resilience are a testament to his character, and his personal experiences have undoubtedly contributed to his music, making it more authentic and relatable to his fans.
Nikki Sixx's Philanthropic Causes
Nikki Sixx is not just a remarkable musician and songwriter, but he's also known for his compassionate heart and philanthropic efforts. He has consistently used his platform and wealth to contribute positively to society.
Sixx is known to be involved in several charitable activities that focus on aiding addiction recovery and homelessness. His firsthand experiences with addiction have inspired him to give back and help others who are struggling with similar issues.
Final Thoughts
From his humble beginnings to becoming a global rock icon with a net worth of somewhere near $60 million, Nikki Sixx's story is an inspiration to aspiring musicians and individuals all around the world. His profound impact on the world of rock music, coupled with his efforts to give back to society, continues to cement his legacy.
As Sixx's career continues to evolve, it is evident that his influence and net worth will only continue to grow. Whether you're a fan of his music or intrigued by his compelling life story, keep an eye on Nikki Sixx. Whatever he does is sure to add another exciting chapter to an already remarkable journey.
So, there you have it, folks! That's Nikki Sixx – a rock legend who truly embodies the spirit of "living life to the fullest." From the Mötley Crüe days to his philanthropic strides, he continues to rock our world.
To take a tour of the lifestyle of the enigmatic Nikki Sixx, check out the clip below from the team at Famous Entertainment.
Until next time, keep on rockin'!