Rock stars seem to live in their own worlds where normal societal rules don't apply, a devil-may-care existence fueled by the "what happens on the road stays on the road" ethos. Yet, all too often, the debauchery of their touring life has a habit of following them home.
Marriages are broken, families are torn apart, lives are shattered, and all the while the very concept of rock stardom becomes a parody of itself, a shallow caricature suspended in perpetual adolescence.
So, when you hear about a long, loving relationship such as that of metal legend James Hetfield and his wife Francesca Hetfield, it feels somewhat refreshing.
It's never easy being married to a touring musician, but James and Francesca Hetfield made it work for 25 long years, and it appears that their longevity as a couple was, at least in part, down to the patience, support, and compassion Francesca provided her husband.
So, let's take James off stage for a moment, and place the metal queen behind one of the most beloved musicians of all time in the spotlight.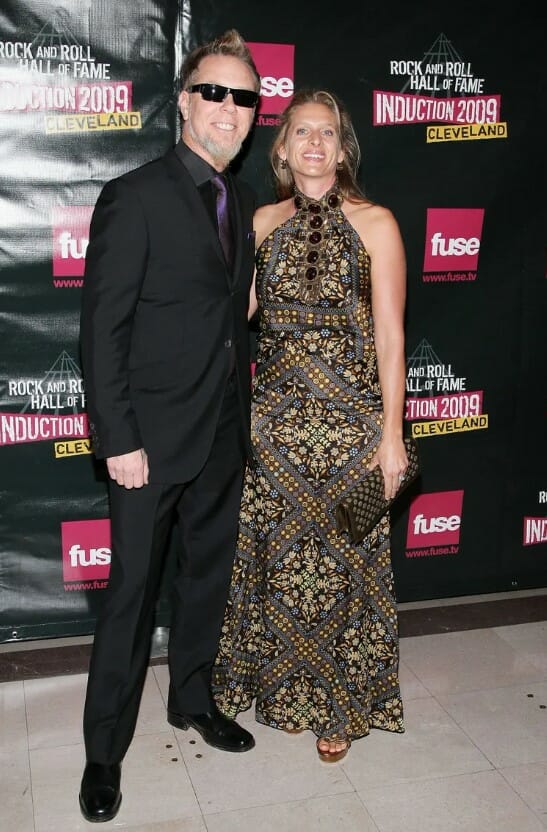 Who Is Francesca Hetfield?
Before exchanging rings with the Metallica frontman, Francesca Hetfield was Francesca Tomasi. She was born on January 27, 1970, in Rosario, Argentina, but moved to the US at a reasonably young age.
The Tomasi family settled in Vail, Colorado where Francesca attended Overland High School before deciding she would like to pursue a career in costume design. It's thought that she studied at university to achieve her goal, but the specifics of her higher education remain hidden.
Still, she followed her dream, and that dream led her to her future husband, Mr. James Alan Hetfield. The two met sometime around 1993 when Metallica were on the hunt for a costume designer to join their ranks.
A talented and passionate designer, Francesca was a shoo-in for the position, and, according to both her and James, it was a love-at-first-sight scenario — Aww!
She stands at about 5 feet 9 inches tall, weighs roughly 128 lbs, and has blond hair and blue eyes. As a late winter baby, she's an Aquarius, and her lucky number is allegedly 9.
When Were Francesca & James Hetfield Married?
The love birds dated for four years before Papa Het got down on one knee and asked Francesca to be his one and only, and on August 17, 1997, they were wed.
Where the nuptials went down isn't a matter of public record, but it seems likely they chose either the Bay Area of California where James grew up or Vail, Colorado, where Francesca was raised.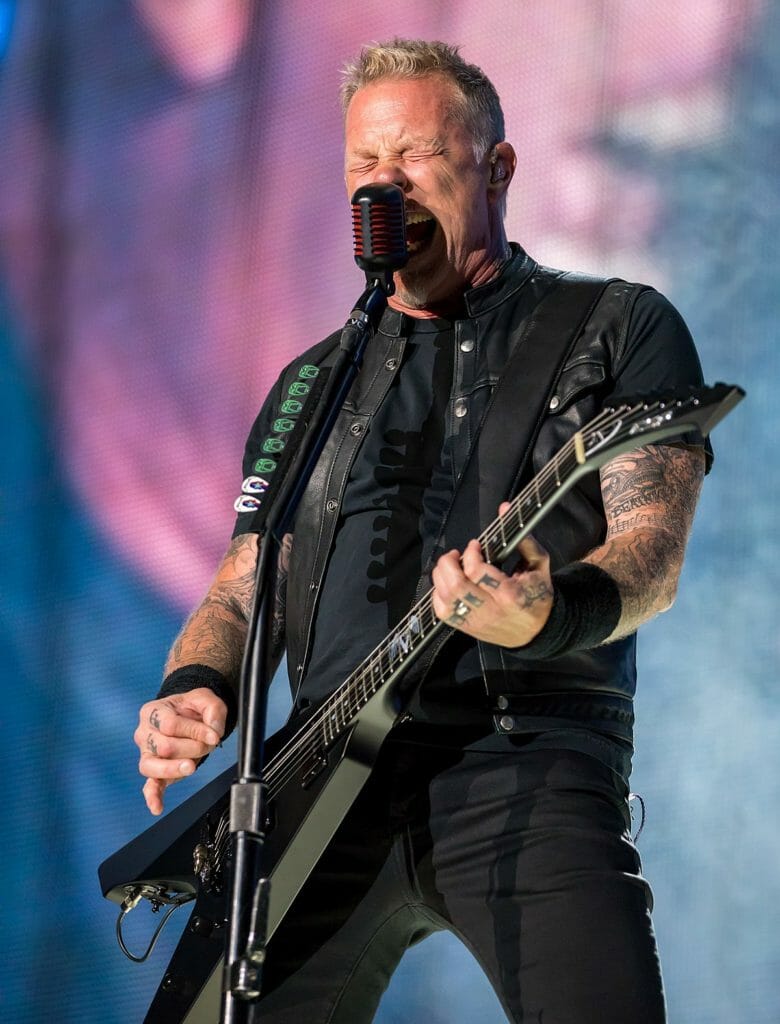 Where Did The Newlyweds Settle?
James had lived in Marin of the Bay Area since the early 80s, but due to rising tensions with his neighbors and a disdain for the general esprit de corps of Marin, he was willing to settle down in Francesca's hometown of Vail in The Centennial State.
It would have been a night-and-day transition for the Metallica singer and axe-man, but strangely, this quiet corner of Colorado wound up being the perfect location in a number of ways.
It was private, the abundant and diverse wildlife allowed him to pursue his passion for hunting, and there was plenty of space to tinker with old cars and bikes.
Do Francesca & James Hetfield Have Any Children?
On June 13, 1998, less than a year after their vows, Francesca gave birth to their first child, a girl named Cali Tee Hetfield. Then, in early spring of 2000, their second bundle of joy arrived, a boy this time, named Castor Virgil Hetfield.
Two years later, on January 17, They welcomed their third and final child into the world, another girl, named Marcella Francesca Hetfield.
Cali followed in her mother's footsteps and became an artist and designer, but, now a drummer in the band Bastardane, Castor is definitely his father's son. The group released their debut studio album Is This Rage in 2022.
For those who are interested, their music has a bit of a Crowbar/Fireball Ministry vibe — They sound very little like Metallica.
Marcella is a creative too, a panoply talented creative at that! She's an accomplished singer, jewelry designer, photographer, cinematographer, and actor, amongst other things.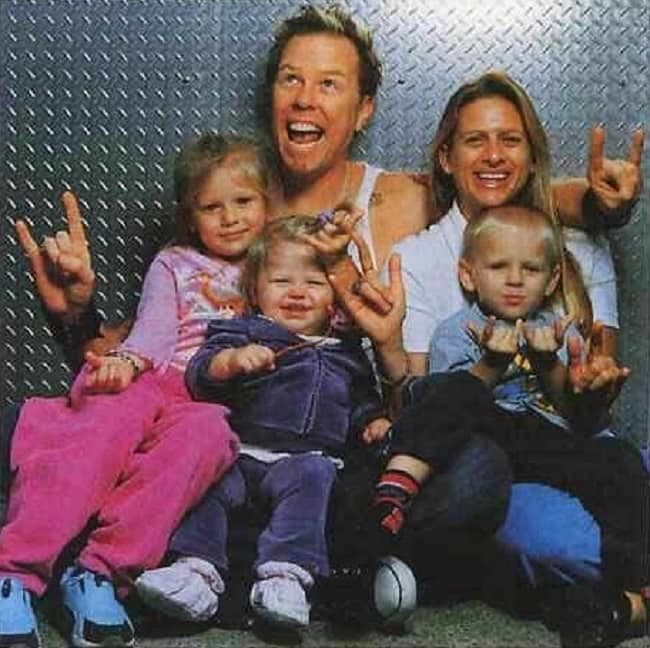 The Road Comes Back To Haunt The Hetfields
As is the case for so many touring musicians, by the late 90s, James Hetfield found himself in the clutches of addiction. While his longtime bandmates Kirk Hammet and Lars Ulrich struggled with a cocaine dependency that developed over the course of many tours,
James never touched the white stuff but had problems putting the bottle down, even as he arrived home. Francesca provided as much support as she could until it became clear that James' presence in his current condition was detrimental to both her and their children.
She kicked him out of their house and demanded that he not just seek therapy, but admit himself to a rehab facility to get clean. It was then that James realized that he would lose his family if he didn't act, so he took his wife's advice and has been clean since 2002.
But it's not just the drinking that Francesca helped her man out with. He also lived with anger problems that the two worked out together. With Francesca by his side, James was able to mature and become the best possible version of himself.
Are Francesca Hetfield & James Hetfield Still Married?
Sometimes, the bonds that tie even the most synergistic couples fray at the edges, and sadly, this is precisely what happened between Francesca and James Hetfield. In 2022, James filed for divorce after 25 years together, most of which by all accounts were very happy.
The two have yet to formally announce their divorce, but as markedly private individuals, a public announcement may never come to light. As far as anyone outside their inner circle knows, they're still civil and enjoy the connection they share with their three children.
Given just how much money is involved, I'm sure that it will be breaking news when the divorce settlement is announced to the public.
Is Francesca Hetfield On Social Media?
Francesca Hetfield doesn't use social media and likes to live a quiet life, which is partly why she remained in her rural hometown of Vail, Colorado.
Final Thoughts
A frontman is only as good as the people behind them, and luckily for James Hetfield, he had the wonderful Francesca watching his back and keeping him on the straight and narrow.
Who knows what would have become of Metallica had James been allowed to spiral into the abyss of his alcohol dependency. Hell, he might not even be here today! So, I think it's fair to say that metalheads all over the world owe Francesca a huge debt of gratitude.
For her husband to touch so many lives with his music, she needed to have a hand in his, and the rudder it proved to be over the years has been utterly crucial — Thanks, Francesca!
To hear what Francesca had to say about her split with her husband, check out the clip below by The Blitz 99.7