It will come as no surprise to most people that many rock and roll Hall of Famers struggled with various forms of addiction during their time in the spotlight. Often their life was lived fast with little regard for the next day. This caught up to many of these stars and sometimes led them to a life of sobriety.
The struggles of James Hetfield, founding member of Metallica, that led to sobriety is often one that isn't too well known, unless you happen to be a Metallica superfan.
The story covers parts of Hetfield's life that many won't know, but shows how a man who seemingly has everything can still be affected by their past traumas. Despite being an integral member of one of the most successful rock bands of all time, as evidenced by the members net worth, Hetfield struggled with personal trauma and addiction throughout his life.
Some recent interviews with Hetfield, including a particularly candid interview on Joe Rogan's podcast, helped him tell this story in his own words, hoping that we can learn from his failings as well as his success.
Broken Families Leads To Broken Bottles
Hetfield didn't have the most fortunate or inspirational start to life. His parents weren't particularly well off, nor did they have a great relationship, divorcing when Hetfield was only 13.
These early experiences in his childhood formed much of his later behavior as an adult and band member, which he was forced to change when he became a father.
Hetfield's family were also Christian Scientists, a not so common denomination of Christianity that essentially denounces most forms of medicine, believing that God's power could heal any illness.
This means no conventional medical treatments for anything really, and requires a strong faith in God, that Hetfield himself suggests he never had.
Not only was Hetfield an outsider in his own school and society as a result of his family's religion, but he was an outsider within his religion and family also as he failed to understand or believe in the religious doctrine as strongly as others in his family did.
The lyrics of 'Dyer's Eve' from Metallica's seminal album …And Justice For All tell of Hetfield's experience with his family:
Pushed onto me what's wrong or right. Hidden from this thing that they call 'life'
By the time Hetfield was in his early teens the framework he was brought up on, which he already struggled with, came crashing down when his father left his family for good, leaving a mere note to say goodbye.
Already hurt and confused, things only got worse when Hetfield's mother came down with cancer and soon died just a few years later when Hetfield was 17. Her religion refused to let her go to the doctor so she died in pain at her home as her children watched.
These events are reflected in the lyrics of 'The God That Failed' from their debut The Black Album (have you seen our list of the top 10 Metallica album covers yet?) Hetfield says that pretty soon after now his coddling and controlling parents had both become absent, Hetfield quickly turned to the bottle in high school to cope, as any confused child might.
Feelings of guilt, helplessness, and lack of control, were likely ripe in James' mind, there is no doubt he wanted to numb these questioning voices in his head with the bottle.
Cliff Burton's Death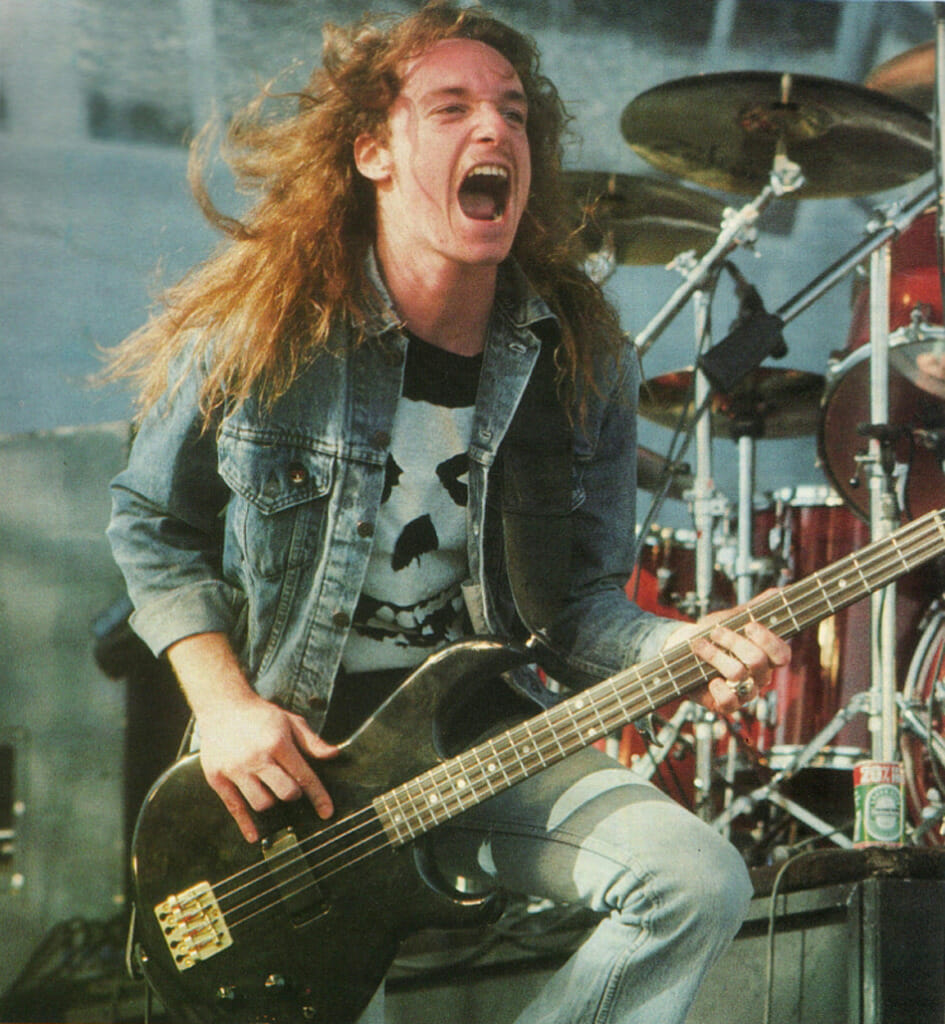 Cliff Burton joined Metallica in 1982 and was their bassist up until his death in 1986. Cliff Burton's death is truly tragic in its own right, but the way it affected Hetfield, having an already tempered relationship with death, was clear to all the band.
While touring Master of Puppets in 1986, the band would often decide who got the pick of the bunks of the tour bus by drawing cards. Kirk Hammett, lead guitarist, and Burton drew cards, which Burton won with the Ace of Spades.
With the pick of the bunks, Burton decided he wanted to take Hammett's top bunk, which Hammett had to concede having lost the card game.
Burton was on this top bunk next to a window, when the driver lost control of the bus, apparently due to black ice, it flipped and with no safety restraints, Burton was flung from the bus which landed on top of him and killed him on impact.
The tragedy of the death was its facelessness; anyone could have been in that bunk, it was originally supposed to be Hammett, so the whole band had no idea what to think or feel in these coming days.
Hetfield felt like everyone he became close with would leave, just like his parents had, and turned to the bottle even more.
Hammett reports hearing Hetfield drunk on the street later that night screaming 'Cliff where are you?' As young men themselves, none of them had the faculty to deal with the death properly.
Cliff's death created an irrational fear in Hetfield, brought about by an unpredictable and non-discriminatory force taking his loved ones away from him, leaving him feeling abandoned and confused.
Control Is Love, Love Is Control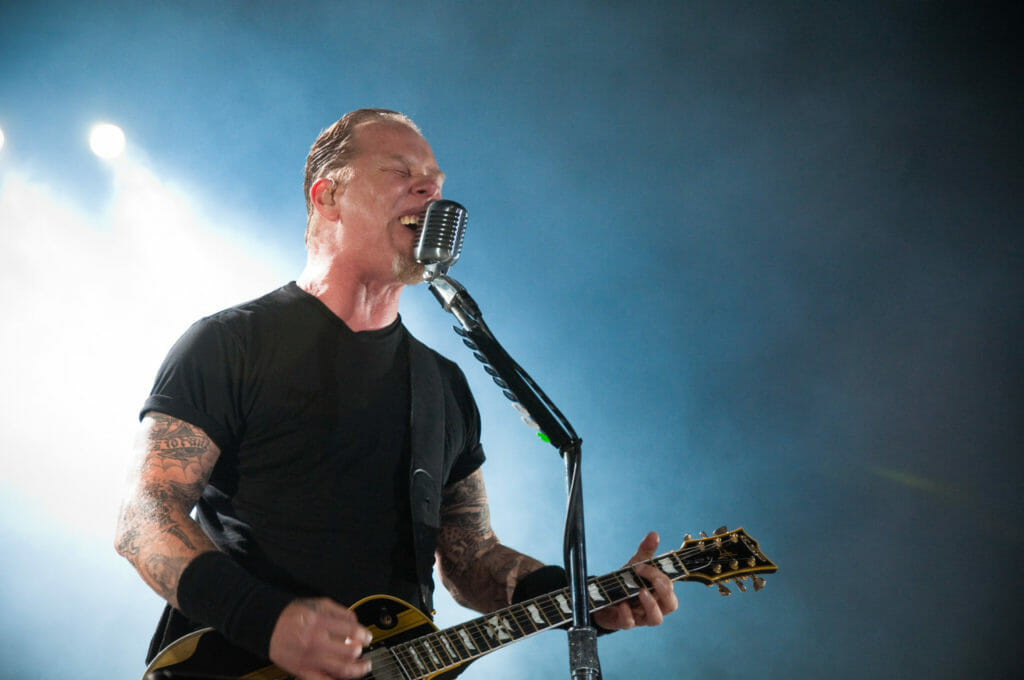 The title of this section comes from lyrics found in 'St Anger', an album that reflects on the band's periods where they quarreled, specifically during the 'Some Kind Of Monster' period which culminated in a documentary of the same name that documented how the band nearly broke up as their individual traumas bubbled over.
Hetfield suggests that the feeling like people could leave him at any time led to two things.
When he was on stage he enacted a persona that was 'immovable' and stalwart and symbolized everything the genre of metal stood for at the time, but this seeped into his own life, finding it hard to open up to anyone properly with fear of them leaving.
The other outcome of this fear of abandonment is that he became a control freak as a preventative measure to abandonment, controlling things on stage and trying to control the other band members in subtle ways to stop them from leaving.
After coming through this period with the band stronger, James talks of having to learn how to love properly again, to love his children and especially his incredible wife, Francesca Hetfield, without the baggage that came with his perception of love being fickle and temporary.
For him, part of this was getting sober and to stop hiding behind the bottle that numbed these emotions.
All the band suffered similar mental blocks to their emotions, likely a group response to Cliff's death, but they had to let their emotions out, both anger and love, in order for the band to become one again.
---
RELATED: Get To Know James Hetfield's Son, Castor Hetfield
---
James Hetfield Gets Sober
In his recent interview on Joe Rogan's podcast, Hetfield talks about how it was this same fear of abandonment ingrained into him as a child which eventually led him to get sober.
He was kicked out of the house by his wife for bringing back too much of the drinking he did on tour. Hetfield said the scary part was losing his family and not wanting to lose anyone in his life; he realized how important it was to make a change.
He talks of being raw and how for a long time his fear of right and wrong led him to do basically nothing due to not wanting anything to go wrong, but soon learned to love his family once again and make sure they wouldn't leave him by showing love rather than controlling.
He still speaks of fearing that he will become his father and actively stops himself from behaving in a similar way so his children get to live the childhood he always wanted to have.
Hetfield tells Rogan much of this is based on letting his emotions come out and communicating them with his loved ones rather than avoiding them with alcohol or only letting them out on stage.
Final Thoughts On The Struggles Of James Hetfield
Hetfield had a rough beginning of his life and turned to the bottle at an early age in order to numb the confusing emotions he often felt.
The alcohol exacerbated his behavior that was already molded by trauma, which led him to be overly controlling and refusing to open up to people for fear that they would leave as his parents did.
Getting sober allowed Hetfield to deal with this traumatic past and the outcome was a changed man who could love his family, bandmates, and himself without hesitation.
Be sure to check out this interview on the Joe Rogan Experience, where James Hetfield openly discusses his struggles and the journey to sobriety
Similar Stories