There is one Metallica. We have many styles, it's called Metallica.

James Hetfield
When Metallica released their debut album, Kill 'Em All on Megaforce Records on July 25th, 1983, even though they, their fans, and their record label didn't realize it at the time, they changed Hard Rock and Heavy Metal forever. Still just a hungry, young band with a single demo tape.
No Life 'Til Leather, under their collective bullet belts, Metallica had no idea of the trials, tragedy, fame, and fortune that lay in wait for them, and the idea that they would someday become a global phenomenon almost certainly never occurred to them. All they cared about was playing fast, playing hard, and maybe one day making enough money to live off their music.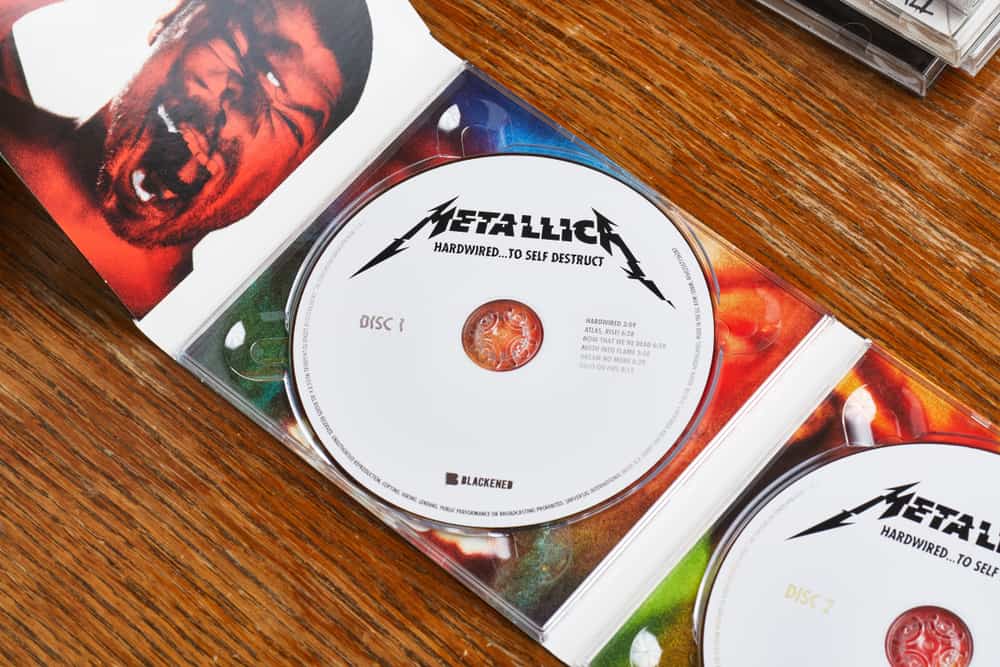 Four decades later, and ten albums into their career, the band who once used to top the bill of the Saturday Thrash Marathons at Ruthie's Inn in San Francisco, now headline stadiums in front of tens of thousands of fans every single night. And with a new tour being planned, and a new record on the way, we thought that it was time to take a look at their back catalog, or rather the art that adorns it, and come up with our own list of the Top 10 Metallica Album Covers.
While we thought about exploring the band's early relationship with world-famous underground artist Brian 'Pushead' Schroeder, whose work adorned their shirts and some of their singles and considered including some of their EP's, as Metallica is about to start work on the eleventh album, we thought it would prudent to only include their albums in our list.
Ten albums and a Top Ten? That's serendipity at work and far too good an opportunity to pass up…
Top Ten Metallica Album Covers
Widely regarded as being the weakest of Metallica's studio albums, St Anger was recorded after long-time bass player Jason Newsted had left the band and before his replacement, Rob Trujillo officially joined. With everything else in flux, Metallica turned to their old friend Brian Schroeder to provide the cover art for the record.
A brutal image that captures the boiling tension lurking under the surface of the recorded output, Schroeder's art, as the band hoped it would, was a perfect mirror image of the stripped-down, raw sound that the band's eighth studio album is based around and built upon.
Having reached the end of the creative road with the producer credited with bringing them to mainstream attention with the "Black" album, Bob Rock, for their ninth record Metallica reached out to Def Jam head honcho and producer Rick Rubin.
They were probably hoping that he'd be able to weave the same sort of magic with them as he had with Slayer twenty years earlier. It was wishful thinking on the bands part, as even though the record contains flashes of brilliance, it isn't their finest moment and can't compete with Slayer's seminal Reign In Blood.
The art, given the subject matter and title of, the record is flawless, but like the rest of the record, doesn't quite live up to Metallica's earlier output.
The title of Metallica's last studio album to date, Hardwired…. To Self-Destruct encapsulates the innermost feelings of multiple generations of their fans and the root of the demons that plagued, and continue to plague their frontman, James Hetfield. Addiction and the swirling turmoil of emotional pain is never an easy topic to address, but it's one that the band confront head-on with their tenth album
And the unified art, in which the rest of the band share Hetfield's torment, demonstrates that no matter how far they've come as a band, they are still united by the same desire to play music and push their creative endeavours to their absolute limit.
Five years on the road can do strange things to a band and while the songs that Metallica recorded for Load have stood the test of time, the art that they used for the records sleeve hasn't fared so well. At least it hasn't with all of the members of the band.
An abstract piece of art called Semen and Blood III by Andres Serrano, the cover isn't exactly James Hetfield's favorite, and in 2009 he revealed that he thought that drummer Lars Ulrich and guitarist Kirk Hammet had chosen it purely based on shock value.
Delving deep into their musical roots, the follow-up record to Load, the imaginatively titled Reload fared slightly better musically than its predecessor and drew from, and on the band's collective love of Southern Rock for inspiration. Faring better with fans and critics alike, it felt like a return to form after the slight misstep of the previous record.
The art though, that's a different matter as the band once again turned to Andres Serrano for the cover, much to Hetfield's displeasure. This time though, rather than using semen, the artist mixed his own urine with animal blood to create the image, which is why it's known as Piss and Blood XXVI.
Although what became of the previous twenty-five images remains a mystery that we're not exactly eager to find the answer to.
Commonly known as the "Black" album, Metallica the band's fifth record and the album that catapulted them into the mainstream spotlight, made their fortunes and sent them on a world tour that lasted for nearly five years, is regarded as the turning point by their fans.
It was the album that saw Metallica become the biggest band in the world and the point at which their long-term fanbase felt as though the band had abandoned them in their pursuit of fame and fortune.
It isn't hard to see why the record became known as the "Black" album, because the art is, as Nigel Tufnel from Spinal Tap once said, "none more black". And even though it's difficult to see, the embossed snake on the cover is sort of in keeping with the spirit of the band and their music, which is why it placed as high as it has in our top ten.
The band's first full-length album following the death of bassist Cliff Burton, and their first with Jason Newsted, …And Justice For All is a firecracker of thrash record on which the band began to experiment with the complexity of their material. It also gave the band their biggest single up to that point, One
And the art sums up the central theme of the record, that justice was and is a blind and broken shell of its former self, perfectly.
As a statement of intent, the cover of Metallica's debut album. Kill 'Em All, captures the spirit and energy of the band and their songs. It's a stark, simple image that screams danger, aggression and that maybe if you listen to it, there's a good chance that you'll end up being a blood-soaked, thrash metal-obsessed wreck. Which is what drew legions of fans to the band. It's a little childish, but it's still a great record cover.
A commonly used prison expression for execution by electric chair, Ride The Lightning, Metallica's second album was a portent of things to come, and the detailed, slightly unnerving, and exciting cover image embodies the spirit and energy of the songs and (at the time) lyricist Hetfield's preoccupation with loss and death.
Metallica's finest moment, Master Of Puppets was and is flawless in every single way. Lyrically and musically perfect, the art that adorns its cover is a haunting invitation to a world of thrash metal that once tasted, will always be savoured and never forgotten.
That's our list.
Do you agree? How would you rank them? Let us know, we'd love to hear from you!
Finally, before we leave you – if you're a Metallica fan and haven't seen this clip yet, you're in for a treat. This is them performing 'Enter Sandman' in 1991 to an estimated crowd of 1.6 million fans in Moscow!
Similar Stories…