While Genesis are widely considered a progressive rock band, for many rockers – myself included – a lot of their tunes fall into more of a pure pop category, but that's not to say there aren't some edgier cuts in their discography that appeal to lovers of heavier, more attitudinal and experimental music.
Yes, the Phil Collins-led ditties are a little polished and were sometimes clearly pushed through the pop cookie-cutter, which is part of the reason why he landed so many gigs with Disney after leaving Genesis in 1996, but he was just one of many songwriters within the band.
When others (primarily Peter Gabriel, Mike Rutherford, & Tony Bank) took the lead, the results were far more engaging, and, more importantly, heavy, giving the hardcore rock fans something to sink their teeth into, and it's these songs I'll be counting down for you today!
The Best Genesis Songs For Fans Of Heavy Rock
10. "… In That Quiet Earth" (Wind And Wuthering, 1976)
While "… In That Quiet Earth" isn't going get a furious circle pit going, it's a quintessential prog banger with all the hallmarks of 70s musical experimentation, and my oh my, that beat goes HARD.
Phil Collins goes full-blown Animal for the first 2:47 of this prog phantasmagoria, smashing out mile-a-minute rhythms that wouldn't sound out of place on a Death Grips record — Not bad for a Disney retainee!
A reverse guitar solo slithers atop Collin's pummeling until a soaring synth lead rises through the mix.
The guitar turns itself around to harmonize, building into a lively crescendo, after which, guitars punctuated by Colin's quarter-time shift hit like a ton of bricks — A true headbanger moment!
9. "The Musical Box" (Nursery Cryme", 1971)
"The Musical Box" starts out soft and silky, with the instrumental trying its hardest to mimic the twinkling of an actual music box using what I assume is some sort of early octave effect, but with the tone taking a dark turn at the 1:25 mark, you know that something heavy this way comes!
Even the flute – typically a very gentle instrument – has a sinister quality to it in this section, and eerie guitars shimmer throughout, keeping tensions taught.
After some weaving between soft and ominous sounds for a time, at 3:39, we're walloped by fuzzy power chords and a discordant keyboard line — The heaviness hath arrived!
Collins launches into a galloping Iron Maiden-esque kick drum pattern, and Hacket's Les Paul literally screams into action, marking the beginning of a rip-roaring guitar solo.
In true Genesis fashion, we go through a few more phases of gentle prog, but rest assured, these softer sections always resolve in some mosh-friendly mania.
8. "Back In NYC" (The Lamb Lies Down On Broadway, 1971)
Gabriel reveals his inner punk on "Back In NYC", spitting every line with venom and grit as tremolo-picked guitars settle into Colin's angular jazz fusion beat.
It's not so much the tone or notes that make this track a heavy hitter, but the way the band play their instruments.
Rutherford's bass line locks into Colin's kick drum, forming a deep, powerful, punchy pocket, perfect for some fist-pumping, foot-stomping action.
Yet, my favorite part of this track has to be the bridge at 4.45 when the guitar breaks from its major noodling into a disconcerting descending pattern that catches you completely off-guard and reminds you just how incendiary Genesis can be.
---
RELATED: 25 Influential Musicians Of The 80s
---
7. "The Return Of The Giant Hogweed" (Nursery Cryme, 1971)
In what is perhaps my favorite Genesis intro of all time, tapped neo-classical guitar triplets light the fuse of "The Return of the Giant Hogweed", an 8-minute monster of a track telling the story of a huge mutant plant "preparing for an onslaught, threatening the human race."
In the curiosity shop of prog, Gabriel's lyrics on this track are undoubtedly window display material, and although "The Return of the Giant Hogweed" doesn't stay heavy throughout, when they rear their ugly head, the distorted guitar and keyboard passages prove it's no pop song!
6. "The Waiting Room (Evil Jam)" Live (Genesis Archive #1 (1967–1975), 1998)
"The Waiting Room" isn't going to leave you with a case of mosh-neck or anything, but it's an undeniably heavy track… just not in the way you might expect.
Utilizing a number of dark ambient tropes, it'd feel more at home in a horror film than it does on a record, but that's precisely what the band was going for!
Suffused with eerie, discordant stabs, ghastly howls, and sudden spine-tingling bass swells, this scary track would give even the most hardcore of hardcore rockers the willies, and the live rendition on Genesis Archive #1 is nothing short of spooktacular — Collins' abstract drumming adds an extra sense of dread and chaos to an already frightening instrumental improvisation.
5. "Supper's Ready" (Foxtrot, 1972)
As you might expect, this 23-minute epic is one hell of a musical journey, so rather than a thread of heaviness running throughout, you arrive into heaviness when they reach the "Apocalypse in 9/8" section.
But even then, you're not so much bludgeoned with crushing music, but welcomed to annihilation by the lyrics weaving a terrifying story of end days…
"666 is no longer below
He's getting out the marrow in your backbone"
---
RELATED: 32 Musicians Share Their Favourite Classic Rock Albums 
---
4. "Squonk" (A Trick Of The Tail, 1976)
A monstrous being introduced to the world in the 1910 book of folklore, Fearsome Creatures of the Lumberwoods, With a Few Desert and Mountain Beasts, the Squonk hid deep in the hemlock forests of Pennsylvania, ashamed of its hideous form.
"Squonk" reimagines this strange folktale, detailing the capture of the Squonk by a hunter… or what the hunter thinks is a catch, anyway.
As it turns out, being trapped in a sack pushed the Squonk over the emotional edge and the poor thing dissolved into a puddle of tears, leaving the hunter with nothing to show for his efforts.
The obscure lyrical content is nicely offset by Rutherford's smooth, driving bass lines, and with Collin's clearly taking influence from Zeppelin's infamous skin slapper, John Bonham, the track winds up being quite a rock romp.
3. "Down And Out" (And Then There Were Three, 1978)
The music world was sure that Genesis would lose what edge they had once Hacket decided to go his own way, but the three remaining members threw us a curveball, releasing one of their most overtly rocky tracks to date, "Down and Out".
Predictably, it's more of a Van Halen-meets-King Crimson kind of heavy than it is a Lamb of God kind of heavy, but Collin's lightning-fast kick drum triplets certainly give it a hefty backbone, and the articulate guitar riffs are saturated enough to inspire many a rocker to raise their horns to the heavens.
2. "The Knife" (Live) (Live, 1973)
The album cut of anti-war song "The Knife" isn't bad, but the real edge of this track was only revealed when Genesis sharpened it live on stage.
With fuzzed-out, buzz saw guitar licks, Kalashnikov drumming, beefy bass, and Peter Gabriel's manic presence, the song came alive and absolutely crushed during the recording of their Live album.
I personally will always choose to listen to the live version of "The Knife" over the studio cut, and once you hear this absolute barn burner of a performance, I'm sure you'll feel exactly the same way.
The repeated power chords at the tail end of the track provide a particularly potent headbanging opportunity!
---
RELATED: 15 Fleetwood Mac Songs That Defined Generation
---
1. "Fly On A Windshield" (The Lamb Lies Down On Broadway, 1974)
With "Fly on a Windshield" Genesis were leaning into cinematic techniques and musical pastiche in order to conjure images of a dauntless Egyptian army marching over a wide open landscape, and in my opinion, they succeeded.
When the vocals drop out at 1:17, and the plodding bass line and persistent drum beat explode in the mix, we're thrust helplessly into this vast, tumultuous scene.
The strings and synths form the musical backdrop of this landscape, and the rhythm section quakes the ground as the army approaches, but for me, it's the guitar solo is the truly integral element in this passage.
It's interesting, as the lead guitar is usually implemented as embellishment alone, but Steve Hacket manages to contribute to the core theme of the piece, using the suspended pentatonic scale to firmly place the listener in Egypt.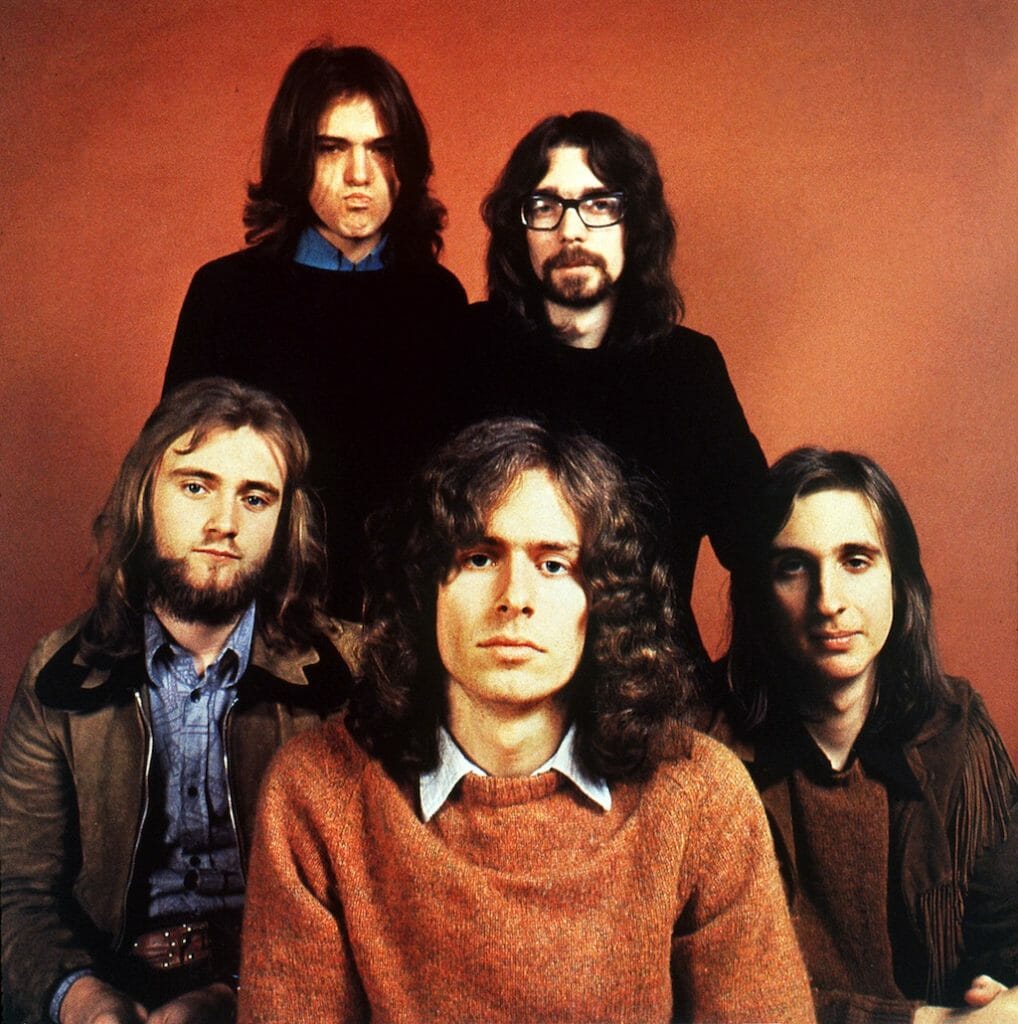 Final Thoughts
Genesis were always too adventurous to be pigeonholed into any one style of playing, so while they're not a heavy band through and through, as you now know, they have a number of toothy cuts that go pretty dang hard!
That said, there are a plethora of definitions of the word "heavy" as a piece of music terminology, and even though the tracks listed above do have more of an edge to them than the rest of Genesis' music, they might not quite conform to the heaviest ideals of "heavy"… if you catch my drift.
Still, Collin's insane drumming, as well as his tight rhythmic relationship with Rutherford, does give these songs a hell of a lot of body and attitude, certainly enough to put a smile on any rocker's face.
To see the classic Genesis in all their glory, check out their iconic live performance at Wembley Stadium in 1985, courtesy of Live Aid.