We've been around for a while, had a lot of success. Got a chance to sit around and go, "Oh yeah, we're pretty good" – Nancy Wilson
Ann and Nancy Wilson were a wild, untamed force of nature who proved that hard hard rock and heavy metal didn't have to be a chest-beating exercise in unbridled machismo and that when it came to turning everything up to eleven, the female of the species could be much more deadly than the male.
While it's difficult to imagine, the embryonic version of Heart didn't feature either of the Wilson sisters and before they joined its ranks, the band that originally formed as The Army, before briefly becoming Hocus Pocus was a directionless entity that didn't seem to know what it was or what it wanted to be.
That all changed when Ann Wilson joined the band in nineteen seventy-one, and Hocus Pocus became White Heart, before eventually morphing into the band that would transform the face of heavy metal forever, Heart.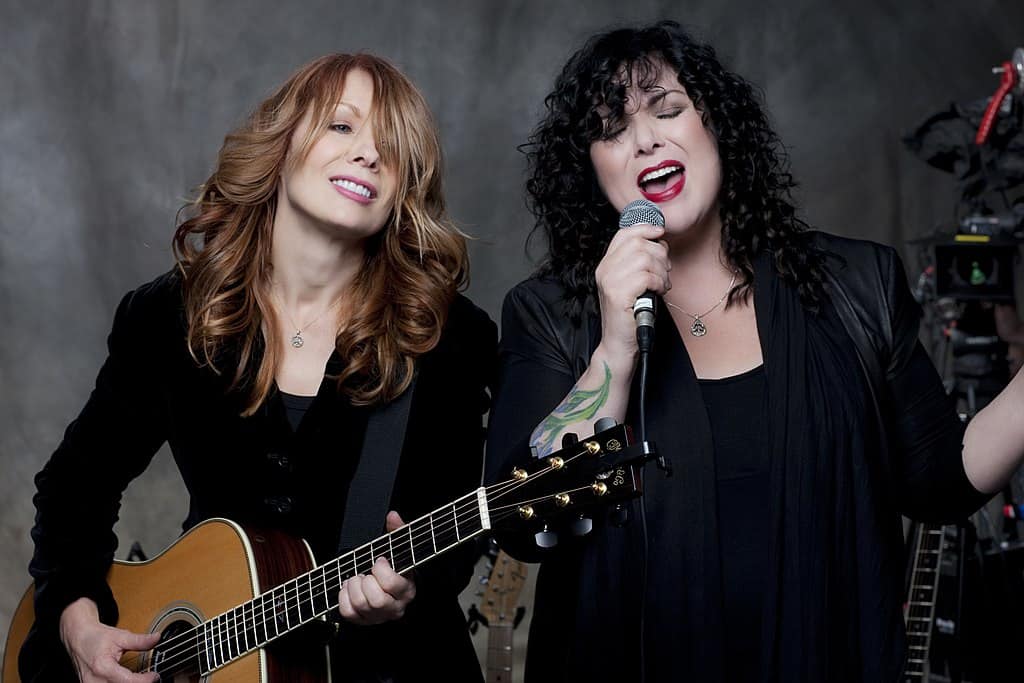 They're Not Really From Canada…
One of the oldest half-truths in rock and roll history is that Heart is one of Canada's greatest musical exports, and while they made their name and cut their teeth in Vancouver, they're actually a homegrown, blue-collar American hard rock band, and if it hadn't been for the war in Vietnam, they'd have scorched the stages in their home city of Spokane instead, and the Heat story would have been a lot different.
Sometime in early nineteen seventy-one, the band's future manager Mike Fisher, and brother of its guitarist, Roger was drafted but refused to fight in a war that he didn't believe in.
After failing to report for duty, the FBI turned up at Fisher's home just as Mike was hightailing it out of the window and heading for Canada. If Mike hadn't decided to make his new home in Vancouver, Heart would never have left Spokane.
The reason they did relocate was oddly fitting given the band's name. The band decided to head North after Mike snuck back across the border to visit his family, and met and fell in love with the new singer in his baby brother's band.
When Ann and Mike met at a White Heart show, it was as Nancy Wilson would later go on to say, love at first sight. Roger and the other members of the band didn't have much choice or say in the matter. If they wanted to keep their singer, they'd have to live in Canada.
It was a decision that Roger would only come to fully understand two years later when Ann's sister Nancy joined the band in nineteen seventy-three, and like his brother before him, he fell head over heels in love with one of the Wilson sisters.
Together, the Wilson's and the Fishers, even though they didn't know it at the time, were about to make musical history.
Dreamboat Annie and The Magic Man
Heart spent the next two years honing and fine-tuning their musical arsenal, and during that time, members came and went, but the core of the band, the Fisher Wilson connection and bass player Steve Fossen stood firm.
Finally, in nineteen seventy-five, when they were sure that they were ready, Heart entered Can-Base Studios to record their debut album, Dreamboat Annie.
Whether it was due to the studio's connections to Mushroom Records or the people who had lent the band the money to commit their songs to tape knowing the power behind the throne, Shelley Siegel, Heart found themselves with both a record and a label, the aforementioned Mushroom Records who believed in them and wanted to release their album.
Within a month of its September release, Dreamboat Annie had sold thirty thousand copies in Canada alone, and had helped Heart to earn a support slot with Rod Stewart that the band stumbled into after the promoter while searching for a last-minute replacement for the show heard Magic Man on the radio, and offered them the gig.
Magic Man, mainly thanks to the way that radio stations across Canada had lent their weight to the track, became the album's lead single, closely followed by Crazy For You, both of which became hits in America in nineteen seventy-six, and helped to push Dreamboat Annie to unparalleled success.
By the end of that year, the band who had been playing the clubs of Vancouver just twelve short months before had sold over one million copies of their debut album. Heart had broken America and their folk heavy hard rock had found a new and eager audience.
So Long Shelley, Hello Portrait
Nineteen seventy-seven was the year that Shelley Siegel would later lament as the worst of his life, and it was all due to one incredibly bad decision that he made to try and sell Heart to anyone and everyone who hadn't already heard them.
Following an advert that he ran in Rolling Stone that featured the Wilson sisters and the tagline "It was only our first time!", which heavily implied that they were involved in a relationship that didn't exist, Heart decided to part ways with Mushroom and signed with Portrait Records.
The problem was, they'd already started recording their second album, which both labels, Mushroom, and Portrait laid claim to.
Following the release of the demo's for that album as Magazine by Mushroom, both labels found themselves embroiled in a lengthy and protracted court battle, that resulted in Mushroom being issued with a cease and desist order, and Portrait releasing Little Queen, which like its predecessor became a million-seller,
Heart's second album, as well as going platinum in record time, was responsible for unleashing what is arguably the band's best-known song, Barracuda on the world. Written in anger by Ann Wilson after she was questioned about her, and her sister's sexuality by a reporter following the advert that Siegel had placed in Rolling Stone, the song entered the charts at Number eleven and went on to become a mainstay of rock radio for the next four decades.
Farewell To The Fishers
It seemed as though Heart could do no wrong as their sales increased exponentially with nineteen seventy eights Dog & Butterfly which sold over two million copies in America and spawned two hit singles, the album's title track which reached number thirty-four, and Straight On which smashed its way into the top twenty and reached number fifteen.
Despite the band's professional success, the relationships that drove Heart had started to fall apart. The Fisher brothers and the Wilson sisters both ended their long-standing love affairs in nineteen seventy-nine, which led to Roger leaving the band, and Mike following him a month later. For the first time in Heart's career, Ann and Nancy were on their own.
The Time That Heart Forgot
The changing dynamic within the band seemed to coincide with a notable decline in the band record sales, and while some more superstitious souls in the music industry have attributed the early eighties decline in the band's popularity to the departure of the Fisher brothers, in truth it was due to the bands folk fueled hard rock falling out of favor, as first punk rock and then new wave captured the imagination of America's youth.
Even though the first half of the nineteen-eighties saw the band score their first number single, when How Can I Refuse which topped the Mainstream Rock Chart in nineteen eighty-three, the albums Bebe le Strange, Private Affair, and Passionworks didn't generate the type of sales that record labels dream about, but they didn't flop either and were all eventually certified as gold-selling albums.
Always Alone
It was nonetheless a bruising experience for the band, who ended their relationship with Portrait Records and signed with CBS.
Heart released their self-titled eighth album in nineteen eighty-five and found themselves riding high again after the record spawned five hit singles, What About Love, Never, These Dreams, Nothin' At All, and If Looks Could Kill, all of which p the album that they appeared on to sell five million copies.
The Wilson sister's next record as Heart, Bad Animals created the sort of global impact that everyone bar the band already knew that they deserved when its lead single Alone became the sort of global mega-hit that every artist dreams of one day being able to write, record, and release.
It also meant that the album that spawned it became Heart's biggest selling record of their career and sold in excess of seven million copies in America and Canada.
And the hits just kept on coming, as Bad Animals produced another two hit singles, Who Will You Run To and There's The Girl, before their next record, nineteen ninety's The Brigade gave the band another three hit singles, Stranded, I Didn't Want To Need You and All I Wanna Do Is Make Love To You and went to become the sixth multi-platinum selling record.
Heart closed the nineteen eighties in style and prepared to jump into the next decade of their career.
Walking On And Walking Away
It took Heart another three years to release their next record, Desire Walks On, and in the interim period the world had gone grunge shaped and had lost its taste for Heart's soulful, yearning Hard Rock and the record barely managed to hit half a million sales in America.
It was another bitter blow for the sisters who had managed to climb so high, only to be forced to watch their audience gradually disappear.
In nineteen ninety-five Nancy Wilson decided to take a break from Heart to have and raise a family, and what was originally intended to only be a few short years away from the road and the band eventually became almost a decade.
From Then Until Now
Despite a few short tours here and there, Heart didn't release their next record Jupiters Darling until two thousand and four, which was followed six years later by Red Velvet Car, a record that saw Heart embrace their roots and return to the folk heavy, rock and roll sound of their initial brush with fame.
It landed at Number Ten on the Billboard Chart and became their best-selling record for nearly twenty years.
Their next two albums, Fantastic and Beautiful Broken (which included a duet with James Hetfield from Metallica), were released in two thousand and twelve and two thousand and sixteen, both entered the Billboard Top Thirty, and while they weren't the biggest band in the world anymore, Heart was still successful, and widely adored. 
After they were given their own stars on the Hollywood Walk of Fame (for contributions to music) and were inducted to the Rock and Rock Hall of Fame by Chris Cornell in two thousand and twelve, the Wilson sisters must have felt like the world was theirs for the taking again, and that finally, they had arrived at a place where nothing could go wrong.
Fate had other ideas and had one last devastating card to play before it would allow Heart to reap all the rewards their decades of hard work had earned.
The End And New Beginnings
Following the Washington show of Heart's two thousand and sixteen tour, Ann's husband Dean Wetter was arrested for assaulting Nancy's sixteen-year-old twins following an incident involving Wetter's RV. After Wetter pleaded guilty to the charges, the sister's relationship disintegrated, and Heart fell apart.
As soon as they played the last show of the tour, Nancy and Ann went their separate ways and didn't speak to each other for nearly three years.
Thirty-six months after the incident, and without warning, Heart reappeared with a new line-up after the Wilson sisters had patched up their differences and embarked on the seven-month-long Love Alive tour.
Even though things have been quiet on the Heart front since the final show of that tour in October, two thousand and nineteen, if we've learned one thing about the Wilson sisters and Heart in the last five decades, it's that the show isn't over until they say it is, and that they will keep on rocking right up until the end.
Similar Stories…