Ah, Joan Jett—where leather meets chutzpah, and rebellion shakes hands with rock 'n' roll. If you thought this Queen of Noise has merely gifted the world her gritty vocals and untamed guitar riffs, you're missing half the story. 
Joan Jett not only transformed the way women rock; she's turned her electric skills into a staggering empire. But how did she go from a garage band upstart with The Runaways to becoming a rock icon with a net worth that'll make your jaw drop?
Buckle up, we're about to break down the financial chords of the incomparable Joan Jett.
Early Life of Joan Marie Larkin and Her Career As A Runaway
Joan Jett was born to James and Dorothy Larkin on the 22nd of September 1958, in Wynnewood, Pennsylvania.  Her father was an insurance salesman while her mother worked as a secretary. There was no chance of the original riot girl following in her parent's conservative footsteps though, she developed her love for rock music early, and by the age of 13, she was already strumming a Sears Silvertone guitar, and not too long after, she decided to swap her suburban surroundings for the gritty allure of Los Angeles.
There, her teen years were far from typical, as she co-founded The Runaways with Cherie Curie in 1975. The all-female punk ensemble caught the eyes and ears of L.A.'s Sunset Strip before it became a global sensation.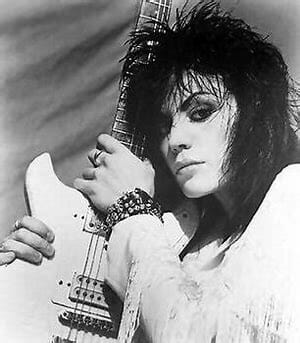 Leveraging her Runaways fame, Joan was no lost soul in L.A. She soon unleashed her self-titled debut album, and then hit it big time with "I Love Rock 'n' Roll," a cover that she made her own—so much so that you'd think she wrote it in her sleep. This single catapulted her into the rock stratosphere, topping charts and filling arenas.
From there, it was like Joan Jett had hitched a ride on a comet—no turning back, only a blaze of glory. She formed Joan Jett & the Blackhearts, locked in further hits like "Bad Reputation" and "Crimson and Clover," and laid the foundation for what would become a rock 'n' roll empire built on killer tunes and a don't-mess-with-me attitude.
Joan Jett And The Blackhearts Era
When Joan Jett transitioned from her Runaways years into Joan Jett & the Blackhearts, she didn't just switch up the lineup; she amped up the voltage on her earning potential. Picture it as the second act that you never saw coming but always hoped for. As much as The Runaways were groundbreakers, the Blackhearts era was where Jett's star—and net worth—really skyrocketed.
With the formation of Joan Jett & the Blackhearts, came the 1981 album "I Love Rock 'n' Roll," a financial juggernaut that was less an album and more a one-way ticket to Moneytown. You see, this wasn't just about album sales. With chart-toppers like the iconic title track and "Crimson and Clover," this era made Jett a headlining act, capable of commanding high-ticket prices and sell-out shows.
---
RELATED: Check Out David Gilmour's Net Worth
---
But the Blackhearts era wasn't a one-album wonder. Albums like "Up Your Alley" in 1988 and "Notorious" in 1991 made sure of that. "Up Your Alley" gave us "I Hate Myself for Loving You," a single that not only topped charts but became a sports anthem and a licensing darling, adding another layer to her already-robust revenue streams.
Touring was another moneymaker during this era. The Blackhearts didn't just play weekend gigs; they were a touring machine, racking up concert dates like they were going out of style. And let's not ignore the merch—oh, the merch! From classic band tees to collectibles, this stuff wasn't just fan fodder; it was pure gold in terms of profit.
Add to that her savvy move to form Blackheart Records, which gave her more control and a bigger slice of the financial pie. This wasn't just smart; it was rock 'n' roll brilliance, monetized.
Key Albums and Hits From The Blackhearts and Her Solo Career
If Joan Jett's life was a vinyl record, the hits would be the grooves that keep you spinning. And the crown jewel? "I Love Rock 'n' Roll," the exceptional cover of a song originally released by the Arrows, and went on to dominate the Billboard Hot 100 for a cool seven weeks. That song alone not only certified her as a rock queen but also opened up the cash floodgates.
But let's not forget her seminal album, "Bad Reputation." Released in 1980, this record was like a gritty manifesto for aspiring rockers. Though it didn't exactly soar on the charts upon its release, the album became a slow-burning money machine, finding its audience and racking up sales long after its debut. Its title track has been licensed out so many times for movies, TV shows, and commercials that it's practically a revenue stream of its own.
Jett's 1981 album, "I Love Rock 'n Roll," is the golden goose in her discography. With multi-platinum status, it didn't just rake in dollars; it became a cultural staple, a part of America's musical DNA. Songs like "Crimson and Clover" and "Do You Wanna Touch Me" ensured that the album wasn't just a one-hit wonder but a financial powerhouse that kept her rolling in the green.
Following up with "Album" in 1983 and "Glorious Results of a Misspent Youth" in 1984, she cemented her status as a rock 'n' roll force to be reckoned with. Both albums kept the cash registers singing, proving that Joan was no flash in the pan but a bankable rock artist.
As for later works like "Pure and Simple" and "Unvarnished," they might not have matched the platinum power of her earlier hits but contributed to a steady flow of income, thanks to constant touring and a die-hard fan base that never seemed to get enough of her.
Plus, let's not ignore her knack for merchandise—t-shirts, badges, you name it—further amplifying her financial clout.
Blackheart Records and Her Other Ventures
Nowhere is the queen of rocks entrepreneurial spirit more evident than in Blackheart Records, the label she co-founded back in 1980. With mainstream record labels turning a cold shoulder, Joan decided if you can't join 'em, beat 'em—and so she did.
Blackheart Records didn't just serve as the launching pad for her own albums; it became a sanctuary for other artists who didn't quite fit the industry mold. Think of it as Joan Jett's very own island of misfit toys, but where every toy happened to have a price tag and an ROI.
Being in charge of her own label means more than creative freedom; it means a more significant cut of every sale, every stream, and every piece of merch sold under the Blackheart banner. No middlemen taking slices of her rock 'n' roll pie; it's a DIY ethic turned lucrative business model.
---
RELATED: How Roger Waters Made His Fortune
---
But her financial acumen doesn't end there. Joan has dipped her toes into acting with roles in movies and TV shows, adding another layer of income and brand exposure. Even her life story got the Hollywood treatment with "The Runaways" biopic, which she executive produced.
It's not just about the paycheck from the film; it's about the renewed interest in her back catalog every time someone watches it and thinks, "Damn, I need to listen to some Joan Jett."
And let's not skip over the world of endorsements. From collaborating with fashion brands to lending her iconic songs to commercials, she's turned her rock 'n' roll street cred into a marketable commodity. It's not selling out; it's buying in—into a portfolio that diversifies her income and solidifies her brand.
So when you tally up her role as a record exec, her forays into acting, and her smart-as-a-whip licensing deals, you get a fuller picture of Joan Jett not just as a rocker but as a bona fide mogul. And each venture, each investment, adds a few more zeroes to an already impressive bottom line.
What Is Joan Jett's Net Worth?
At last, the moment you've all been waiting for—the grand reveal of Joan Jett's estimated net worth. Hold onto your hats, your guitar picks, and whatever else you've got, because this rock icon is reportedly worth a cool $10 million!
A punk rock renegade with a savvy business mind, Joan Jett's net worth is more than just a testament to her musical prowess; it's a standing ovation for her genius in turning rock 'n' roll into cold, hard cash.
From her early days smashing the glass ceiling with The Runaways to building an empire with Joan Jett & the Blackhearts, from running her own label to smartly cashing in on movie and brand partnerships—each chapter of her life has not only added to her legend but also to her net worth.
Final Thoughts On Joan Jett's Net Worth
So there you have it, folks. Joan Jett's journey from a small-town girl with a Sears Silvertone guitar to a rock 'n' roll powerhouse is more than just a story of musical triumph; it's a playbook on how to turn passion into profit. And let's be clear—she didn't just break down barriers; she obliterated them, leaving a trail of iconic tunes and savvy business moves in her wake.
Is she a musician? Absolutely. A trailblazer? No doubt. A businesswoman? You bet. But more than anything, Joan Jett is the embodiment of rock 'n' roll—rebellious, enduring, and damn good at making money.
Her estimated $10 million net worth is just one facet of a multi-dimensional career that's touched everything from punk clubs to Hollywood films, from vinyl records to digital streams. It's not just about the money, but let's be honest—the money sure doesn't hurt.
---
READ NEXT: 10 Essential Joan Jett Tracks You Need To Know
---
FREQUENTLY ASKED QUESTIONS
How old is Joan Jett?
Joan Jett is currently 64 years old.
Did Joan Jett achieve any certifications for her albums?
Yes, Joan Jett has achieved certified Platinum or Gold for three albums.
Who is Cherie Currie?
Cherie Currie is a musician and actress who was the lead vocalist of the band "The Runaways" alongside Joan Jett.