You know their faces, even if you've never spun a Beatles record or scratched your head trying to understand Yoko Ono's avant-garde art. John Lennon and Yoko Ono are symbols—of music, of art, of love, and sadly, of loss.
Years before hashtags and social media crusades, Lennon and Ono were fighting their own culture war. Whether it was enduring the public's blame placed on Ono for the Beatles' breakup or weathering accusations of being anti-establishment, they stood united.
To get an understanding of the love between John Lennon and Yoko Ono, consider a photo taken by renowned photographer Annie Leibovitz on December 8, 1980. It was intended for the cover of Rolling Stone magazine, and it was a confession of love. Lennon, nude and vulnerable, clung to Ono, fully clothed and emotionally resolute.
They were not just subjects in a photo; they were declarations of each other's identity. Lennon told Leibovitz after the shoot; "You've captured our relationship exactly." It would become one of the most iconic and memorable photos in rock and roll history.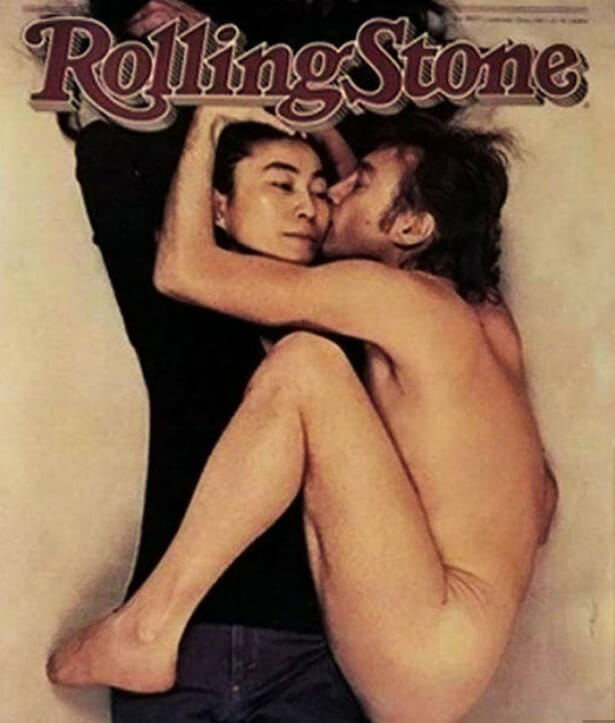 That intimate snapshot would turn out to be the very last photo taken of John Lennon. Later that very night, he would be gunned down in front of their New York apartment.
For decades people have speculated on and argued about the significance of John Lennon and Yoko Ono's relationship, but I believe (and I will probably cop some hate in the comments for this), that their partnership was a fusion of art and politics that challenged both the establishment, and the public's perceptions of love, protest, and the very boundaries of rock 'n' roll itself.
From Liverpool's Cavern Club with the Beatles to New York's avant-garde art scene, come with us as we explore the landscapes that Lennon and Yoko navigated together. We'll look at the milestones and the controversies, the albums and the art exhibits, the moments of public applause and personal agony.
But above all, we'll probe the remarkable love that carried them through it all—a love that, for better or worse, was as headline-worthy as their artistic endeavors.
The First Encounters Between John Lennon And Yoko Ono
They say art can bring people together, and so it did. On a chilly November evening in 1966—some dispute the timeline—John Lennon and Yoko Ono met for the first time at the trendy Indica Gallery in London, which was showcasing Ono's art. That's how every young couple meets right?
Lennon, then 26, was in the thick of Beatlemania, yet Yoko, a 33-year-old Japanese-American artist, had no idea who this shaggy-haired Englishman was. He was just another face in the crowd until she handed him a card with the word 'breathe' on it. In that simple exchange, there was a kind of Zen recognition, a meeting of minds and artistic spirits that transcended any fame or social construct.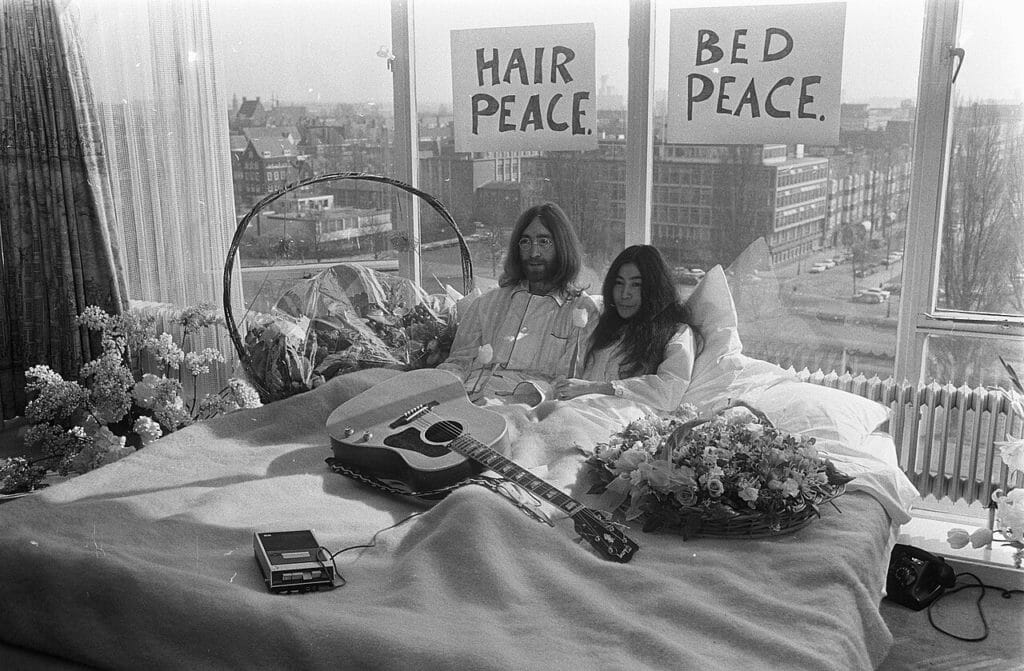 It wasn't just a fleeting art-show fascination. The pair began a correspondence, letters filled with the kind of poetic ardor and intellectual affinity that would make a Romance scholar blush. And then, one fateful day in May 1968, Cynthia Lennon, John's first wife and mother to his son Julian Lennon, returned home to find Yoko and John in dressing gowns. The awkward encounter could easily have been a deleted scene from a Woody Allen film, complete with uncomfortable glances and aborted small talk.
Come March 1969, the two were married in Gibraltar, an event Lennon described as "very romantic," despite his off-white corduroy pants. No ordinary honeymoon for this power couple of the art world; they flew to Amsterdam for their infamous "bed-in for peace," turning marital bliss into a political statement against the Vietnam War.
Yoko wasn't just the muse; she was also Lennon's artistic collaborator. From experimental music projects to political activism, Yoko encouraged Lennon to push the boundaries of his creative horizon.
---
You Might Like: We Rank The Very Best Beatles Albums
---
Goodbye To The Beatles. Hello New York
When the Beatles broke up in 1970, you could hear the collective cries of a generation of adoring fans. And who was to blame? To many, it was Yoko Ono. Despite Lennon's own insistence that Yoko had nothing to do with the band's breakup, the stigma stuck.
Their move to New York seemed almost like a self-imposed exile, a retreat from the unforgiving glare of a public that had once adored Lennon and was now casting stones at Yoko.
Every couple has their ups and downs, but for Lennon and Ono, theirs was an emotional rollercoaster that could rival any Beatles track for its highs and lows. The 18-month stretch between 1973 and 1975, which Lennon wryly dubbed 'The Lost Weekend,' was a turbulent chapter, featuring an affair Lennon had with May Pang, their young assistant.
In an intriguing twist, Ono later revealed that she'd engineered the affair to give both herself and Lennon a "rest." Call it calculated, call it open; it was a period that defined their complex relationship.
Lennon and Ono reconciled in 1975, just in time to welcome their son, Sean (who now has control over his late father's estate), on Lennon's birthday in October. Taking a hiatus from his music career, Lennon embraced fatherhood and domestic life with a fervor he had once reserved for songwriting.
In 1980, the couple released their fifth, and final album, Double Fantasy, an album that became an unexpected public epilogue to their relationship after Lennon was assassinated later that year.
Yoko scattered his ashes in Central Park, and instead of a traditional funeral, asked the world to observe 10 minutes of silence. The love story had met its tragic end.
---
You Might Like: 10 Beatles Album Covers For The Ages
---
How John Lennon and Yoko Ono's Love Shaped Their Music
The pulsing heart of Lennon and Ono's relationship wasn't just confined to their polarizing romance or the activism that so characterized their time together. It reverberated, too, through their music.
Anyone who has tapped their foot to "Hey Jude" knows that Lennon had already scaled the heights of musical stardom His early songs—whether it's the cheeky lyricism of "Help!" or the transcendental journey of "Tomorrow Never Knows"—had a flavor that was quintessentially Lennon.
Enter Yoko Ono, and the rhythm changed. In a deeply symbiotic way, Ono's avant-garde ethos began to infuse Lennon's compositions. Take, for instance, "Revolution 9," a Beatles track so wildly experimental that it polarized even the most loyal Beatles fans.
The cacophonic soundscape—arguably inspired by Ono's earlier work in conceptual art and music—marked a departure from the Fab Four's earlier pop-rock sensibilities.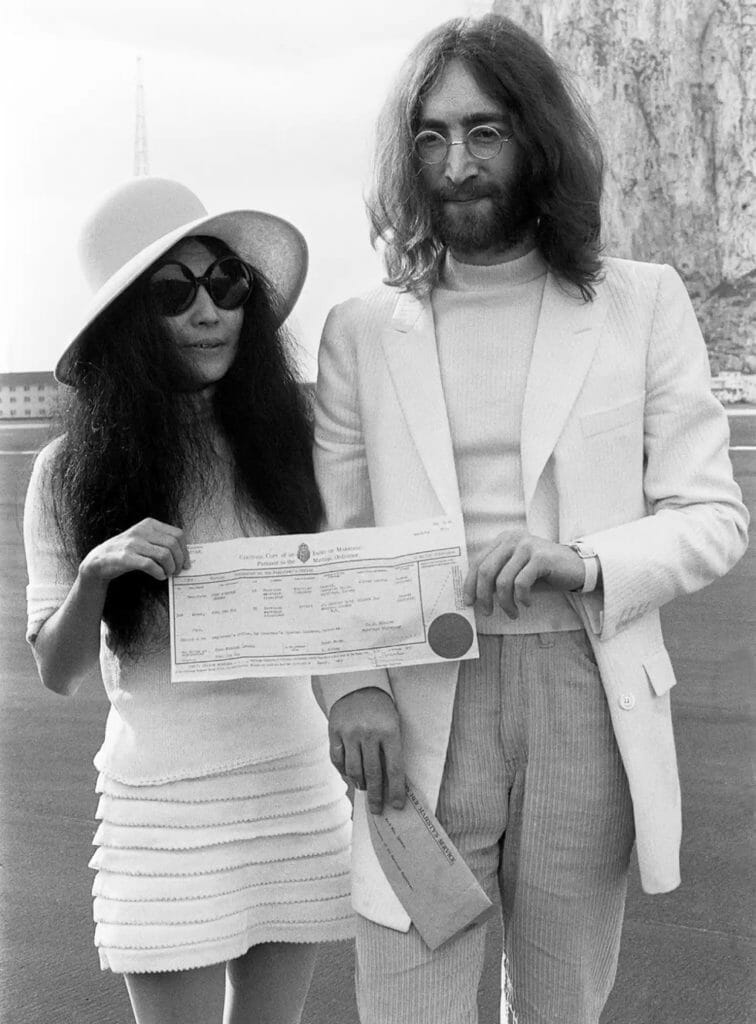 On the flip side, Ono, who had long been a figure in the avant-garde art scene, found in Lennon a muse and a collaborator who could elevate her work to broader audiences. Her primal, emotive vocal style featured prominently in tracks like "Don't Worry Kyoko (Mummy's Only Looking for Her Hand in the Snow)" and "Death of Samantha." Songs where, if you close your eyes, you can almost feel the tension, passion, and relentless drive that defined their relationship.
Their artistic union was crystallized in collaborative efforts like the albums "Unfinished Music No. 1: Two Virgins" and "Unfinished Music No. 2: Life with the Lions." These were not just musical projects but intimate chronicles of their life together, filled with audacious experimentation that defied conventional musical genres.
And then came "Double Fantasy," the iconic album released just weeks before Lennon's untimely death. A poignant testament to a relationship that had seen monumental highs and challenging lows, each song on the album alternates between Lennon and Ono, serving as a dialogical exploration of love, identity, and the human condition.
The album's commercial and critical success would posthumously earn the Grammy Award for Album of the Year, sealing their collaborative genius in the annals of music history.
Understanding Lennon and Ono's relationship without considering its musical ramifications is like listening to a guitar with a missing string. It's in the music that we find the most honest, transformative expressions of a love story that continues to fascinate and provoke—just like the two enigmatic figures at its center.
A Look Back On The Life Of John Lennon And Yoko Ono
In the decades since Lennon's untimely death, Yoko Ono has been more than a keeper of the flame. She's an artist and activist in her own right and an enduring part of Lennon's legacy. She has become a part of the public's collective memory, not just as "the woman who broke up the Beatles," but as a complex individual who was half of one of the most enigmatic couples in rock history.
While we can speculate endlessly about what drew them together—artistic ambition, emotional complexity, or maybe just love—what's indisputable is that John Lennon and Yoko Ono were a dynamic duo, bound by a connection that was as creative as it was controversial.
And like any great rock ballad, their love story, with all its highs and lows, remains unforgettable.
If you want to keep swimming in the tragic love story that is John Lennon and Yoko Ono's relationship, check out the video below by the crew over at grunge.com. It's well worthy of a watch.