When it comes to rock and roll, there is no way to sidestep the colossal influence of Keith Richards. An English musician who has become virtually synonymous with the genre, Richards is celebrated worldwide for his incredible musical aptitude and inimitable style. As a cornerstone of the Rolling Stones, Richards has sculpted an enduring legacy on the global music scene, one that transcends boundaries and resonates across generations.
Richards' illustrious career, sprawling over an incredible six decades, is punctuated with landmark moments. His journey has been a testament to his talents, marked by unforgettable performances that have enthralled millions, a discography brimming with hit records, and an accumulation of immense wealth. Yet, these accolades do not fully encapsulate the magnitude of Keith Richards. His persona, influence, and contributions extend beyond quantifiable achievements, reaching into the very essence of what makes rock and roll captivating.
A Young Rolling Stone: Keith Richards Early Life
Keith Richards' story began on December 18, 1943, in the humble town of Dartford, England. His innate connection with music was ignited the moment he held his first guitar, a moment that would catalyze a lifelong passion. This early interest in music would set the course for Richards' future, shaping the musician we know today.
Richards attended Wentworth Primary School, where destiny had a critical role to play. It was here he met a like-minded soul, a fellow music enthusiast named Mick Jagger. This encounter would prove to be one of the most consequential friendships in rock history. United by their shared love for music, Richards and Jagger, alongside Brian Jones and Charlie Watts, would go on to create one of the most influential rock bands of all time – the Rolling Stones.
---
RELATED: Brian Jones And The Rolling Stones.
---
Underpinned by their innovative music style and electrifying performances, the Rolling Stones swiftly caught the tide of success. With each passing year, their fame skyrocketed, solidifying their position at the pinnacle of the rock and roll genre. Through all these triumphs, Keith Richards was at the heart of it all, his guitar providing the pulse to the Rolling Stones' beating heart.
Keith Richards' talent as a songwriter and his innovative guitar techniques have shaped the Rolling Stones' distinctive sound, making him an invaluable member of the group. His contribution is evident in timeless classics like "Gimme Shelter" and "Paint It Black." These songs continue to reverberate across the global music landscape, reflecting Richards' unerring ability to create musical masterpieces.
His unique guitar playing style, marked by the frequent use of open-tuning technique, captivated fans across the globe, introducing a fresh perspective that would forever alter the course of the rock and roll genre.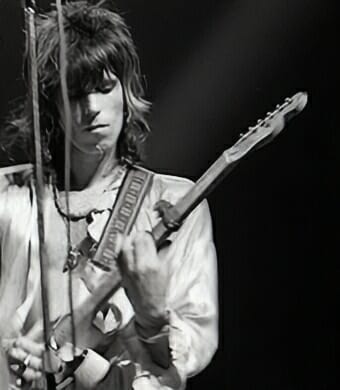 The Staggering Success Of The Rolling Stones
From their eponymous debut album in 1964 to the well-acclaimed "Blue & Lonesome" in 2016, the Rolling Stones released a staggering 30 studio albums, 33 live albums, and numerous compilations. These records were laden with chart-topping hits penned largely by the prolific "Glimmer Twins" – Richards and Jagger. Songs like "Angie," "Sympathy for the Devil," and "Start Me Up" became anthems, reflecting the band's groundbreaking approach to rock music.
In their vibrant career spanning over six decades, the Rolling Stones, with Richards as a constant driving force, embarked on numerous world tours, delivering electrifying performances that left fans spellbound. The band's spectacular live performances, coupled with Richards' distinctive guitar riffs, solidified their reputation as one of the greatest live acts in rock and roll history.
Despite significant challenges, such as the sudden departure of Brian Jones in 1969 and the addition of Ronnie Wood in 1975, the band's creative momentum never ceased. The band faced a significant loss with the passing of their longtime drummer, Charlie Watts, in 2021. Yet, they continued their musical journey, reflecting their resilience and dedication.
In 1989, the Rolling Stones were inducted into the Rock and Roll Hall of Fame, a fitting acknowledgment of their incredible impact on music.
---
RELATED: Rolling Stones Songs That Changed The World
---
Milestones & Achievements
Throughout his illustrious career, Keith Richards has achieved numerous milestones that have contributed to his iconic status. Some of these notable achievements include:
Induction into the Rock and Roll Hall of Fame as a member of The Rolling Stones in 1989.
14 songs that he co-wrote with Mick Jagger are listed on the Rolling Stone "500 Greatest Songs Of all Time" list.
Keith Richards consistently ranks high on lists of the greatest guitarists of all time, recognized for his distinctive style and influence on subsequent generations.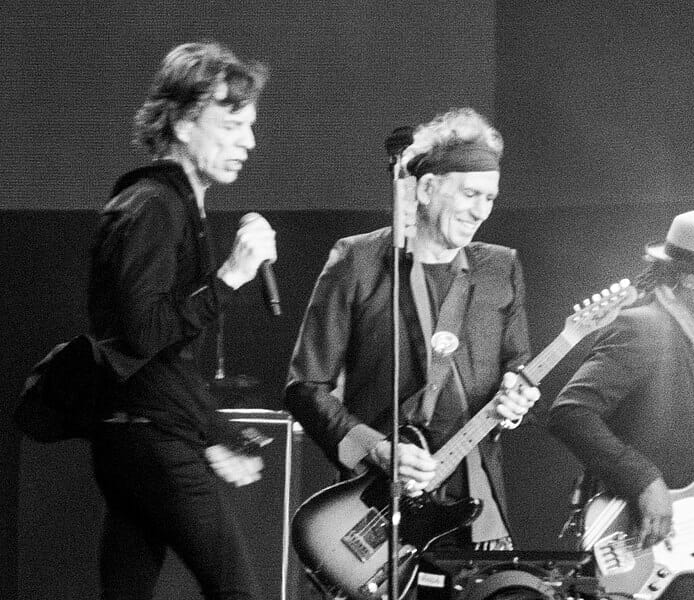 What Is Keith Richards' Net Worth?
Keith Richards' net worth extends far beyond his remarkable musical career. As of 2023, his net worth stands at a staggering $500 million, cementing his status as the wealthiest member of The Rolling Stones, and one of the richest musicians in the world.
While his decades-long tenure with the band and his solo ventures have been the primary sources of his wealth, Richards has demonstrated shrewd business acumen that has further bolstered his financial portfolio.
The Rolling Stones' record-breaking album sales, including timeless classics like "Sticky Fingers" and "Exile on Main St.," have generated substantial royalties over the years. Their sold-out world tours have consistently drawn massive crowds, resulting in lucrative ticket sales and merchandise revenue. Richards' songwriting contributions to the band's iconic hits have also ensured a steady stream of publishing royalties.
Beyond the world of music, Keith Richards has expanded his financial horizons through strategic investments. He has shown a keen interest in real estate, owning several properties in highly coveted locations.
One notable asset is his private resort island in Parrot Cay, Turks and Caicos, which provides a luxurious retreat and serves as a testament to his discerning taste. Additionally, he owned a mansion in Weston, Connecticut, which was sold in 2019.
Furthermore, Richards' involvement in fashion collaborations and endorsement deals has allowed him to tap into new revenue streams. Additionally, his charismatic persona and timeless style have made him an appealing figure for various commercial partnerships.
His enduring influence and legacy have contributed to his ability to command lucrative endorsement deals, appearances, and speaking engagements. His status as a cultural icon and the embodiment of rock 'n' roll rebellion has transcended generations, ensuring his continued relevance and financial prosperity.
The Off-Stage Life Of Keith Richards
Off-stage, Keith Richards has a vibrant personal life and a strong sense of social responsibility. He is actively involved in numerous philanthropic initiatives and charitable causes. Specifically, his contributions have been pivotal in areas of music education and addiction recovery.
His generosity extends to supporting organizations such as the Playing For Change Foundation and the Bridgehampton Child Care & Recreational Center.
Keith Richards has been married to model Patti Hansen since 1983. Together, they share two daughters, Theodora and Alexandra. From his previous relationship with Anita Pallenberg, Richards has two surviving children, Marlon and Angela. Tragically, his third child with Pallenberg, Tara Jo Jo Gunne, passed away from Sudden Infant Death Syndrome at just two months old.
Marlon, in particular, played a significant role during Richards' turbulent period from 1967 to 1979, often accompanying him on tour. Richards' close-knit family and his children have brought much-needed stability and grounding to his life amidst the whirlwind of his rock and roll lifestyle.
Keith Richards' Guitar Collection
Keith Richards, the iconic guitarist of The Rolling Stones, is not only known for his raw talent and rebellious persona but also for his extensive collection of guitars. With approximately 3,000 guitars to his name, Richards has curated a remarkable assortment of instruments throughout his career. Each guitar in his collection holds its own significance, contributing to his distinct sound and musical legacy. Let's take a closer look at some of the notable guitars that have played a part in Keith Richards' incredible journey.
Some Of The Notable Guitars In Keith Richards' Collection
| Guitar Model | Notes |
| --- | --- |
| Harmony Meteor | Richards' main guitar in the early years of The Rolling Stones, retired in 1964 |
| 1959 Gibson Les Paul Standard | Acquired in 1964, served as one of Richards' main instruments until 1966 |
| 1961 Epiphone Casino | Frequently used by Richards from 1964 to 1966 |
| 1965 Gibson Firebird VII | Often seen with matching Firebird VIIs alongside Brian Jones during the mid-1960s |
| 1957 Gibson Les Paul Custom | Acquired in 1966, hand-painted with psychedelic patterns in 1968 |
| 1950s Gibson Les Paul Custom | Second Les Paul Custom acquired in 1969 for open-G tuning on tour |
| Gibson ES-355s | Used on stage during The Rolling Stones' 1969 tour and in recording sessions for several albums |
| Gibson Les Paul Juniors | Regularly used since 1973, including the TV-yellow double-cutaway "Dice" guitar |
| 1953 Fender Telecaster | The iconic "Micawber" guitar, associated with Richards' signature open-G tuning |
| 1954 Fender Telecaster | Also set up for open-G tuning, nicknamed "Malcolm" or "Number 2" |
| 1967 Fender Telecaster | Dark sunburst model used for open-G playing, modified with a Gibson PAF pickup |
| 1958 Fender Stratocaster | A Mary Kaye Signature Stratocaster given to Richards by Ronnie Wood |
| 1975 Fender Telecaster Custom | Used on The Rolling Stones' 1975 Tour of the Americas and reappeared on stage in 2005 |
| Ampeg Dan Armstrong plexiglas guitar | Main guitar until it was stolen in 1971 |
| Gibson Hummingbird | Frequently played since the late 1960s |
| Zemaitis Five-String | Custom-made by Tony Zemaitis, served as Richards' primary open-G guitar from 1975 to 1978 |
| Newman-Jones custom guitars | Custom five-string instruments used on various tours |
Keith Richards' guitar collection showcases not only his love for the instrument but also the diverse range of sounds and styles he has explored throughout his career. From the iconic Les Pauls to the beloved Telecasters, each guitar holds a special place in his musical journey, contributing to his unique sound and leaving an indelible mark on the world of rock 'n' roll.
The Influence and Legacy of Keith Richards
Keith Richards, ever-present with a guitar in hand and his distinctive bandana, has left an indelible impression on the music industry. His persona, combined with his exceptional musical talent, has shaped the path for many musicians who followed.
Richards' enduring presence in the music industry is not just a testament to his talent, but also to his resilience. The Rolling Stones faced numerous challenges along their journey, including the tragic loss of their bandmate Brian Jones in 1969 and the passing of their steadfast drummer, Charlie Watts, in 2021.
Despite these heart-wrenching events, Richards, along with the Rolling Stones, continues to hold an iconic status in the music scene. His unflinching dedication to music and indomitable spirit echo throughout his career, inspiring musicians and fans alike. Keith Richards' influence extends beyond his work with the Rolling Stones – his legacy is woven into the very fabric of rock and roll itself.
Final Thoughts
While Keith Richards net worth is undoubtedly impressive, his true legacy lies in the lasting mark he has left on the world of music. His innovative guitar techniques, his distinctive sound, and his memorable songwriting collaborations as one half of the "Glimmer Twins" have forever shaped rock and roll.
Off the stage, the richest Rolling Stones member, is an active philanthropist, a committed family man, and a man of diverse interests. His personal journey has not been without its share of challenges and tragedies, but through it all, Richards has remained true to his passion for music, continuing to inspire and influence generations of musicians.
Keith Richards' net worth speaks volumes about his long career and significant contributions to the music industry. However, his true wealth lies in the enduring music he has created, his unwavering influence on rock and roll, and the lasting impact he continues to have on fans and fellow musicians around the globe.
If you want to look further inside the fascinating world of Keith Richards net worth, check out the below clip from the Lifestyle and Net Worth Team.
Until next time, stay classy.