The past is a stepping stone, not a millstone

– Robert Plant
Some bands are destined to write the songs that shape a generation, some bands are born to become rock stars and some bands are made to change the world.
Led Zeppelin was one of the rare exceptions, as they managed to do all three in a career that burned briefly and brightly.
In just over a decade, they helped to forge and create a new genre of music, hard rock, and are regarded, along with Black Sabbath and Deep Purple as being one of the progenitors of Heavy Metal.
While most bands succeed thanks to a fortuitous collision of musical talent, camaraderie, and the whims of Fate, Led Zeppelin was a band that was formed to optimize the raging creativity of its founder and to succeed where so many others had failed.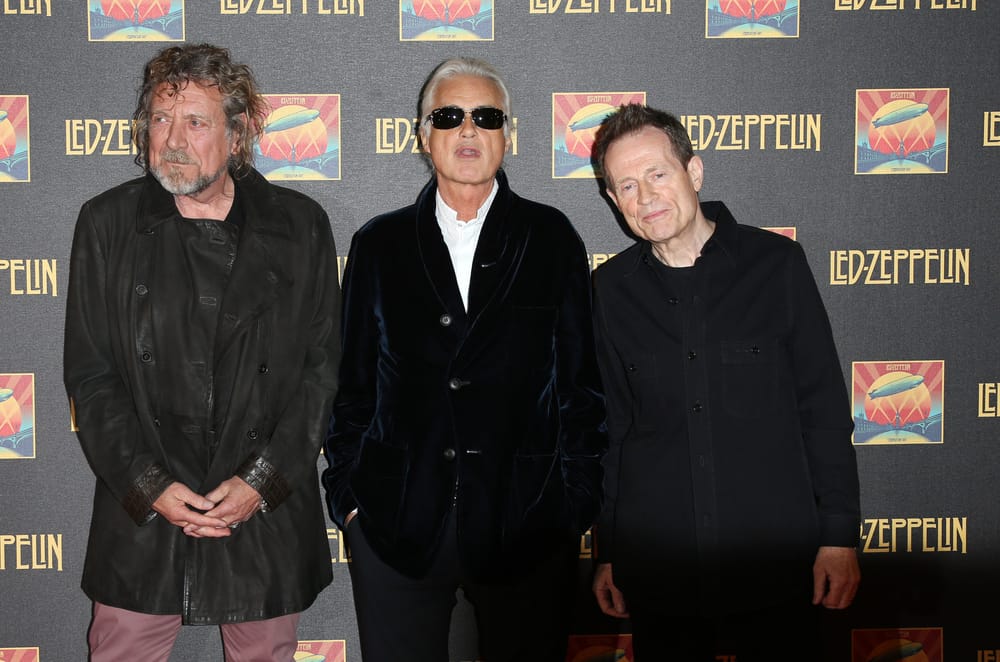 Falling by the wayside and fading into the background noise of the burgeoning London club scene wasn't an option for the band that was originally supposed to be the world's first "supergroup" but instead had to rely on a hastily scribbled down and formulated Plan B to even make it into the rehearsal room.
Led Zeppelin was born from Jimmy Page's belief that he could and would smash through the rock and roll glass ceiling with the right band behind him, And in the 1970s, millions of worldwide record sales and sold-out stadiums in every nation on Earth proved that Jimmy was right.
Your Time Is Gonna Come
The classic Zeppelin line-up of Jimmy Page, John Paul Jones, Robert Plant, and John Bonham wouldn't have even have jammed together if the band's founding member had managed to recruit the musicians he actually wanted to play with.
As his time with The Yardbirds was beginning to come to an end following Jeff Beck's departure from the band, Page wanted to put The New Yardbirds together, a band that would be built around, in his dream scenario, Keith Moon, John Entwistle, and singer Terry Reid.
It was a wildly ambitious idea and one that his prospective bandmates shot down almost immediately, but rather than leave Page scrabbling around to trying to find musicians to replace his first choices, Reid suggested that he approach former Band Of Joy singer Robert Plant, who after listening to Page and agreeing to be part of the band, in turn, suggested former Band Of Joy drummer John Bonham to Page.
With three members ready to start jamming, they just needed a bass player.
The underground musical grapevine is usually just a source of half-heard rumors and conjecture, but when session musician John Paul Jones, who had previously worked with both Jeff Beck and Jimmy Page discovered that the Yardbirds guitarist was looking for a bass player, he immediately volunteered.
And just like that, Page's time had come and The New Yardbirds were born.
Dazed And Slightly Confused
While he had agreed to Page using the name The New Yardbirds to play a series of shows in 1969, Chris Dreja The Yardbirds rhythm guitarist wasn't exactly keen on the band keeping the name after their initial tour of Scandinavia concluded.
Without a name, the band's manager, Peter Grant, and Page found inspiration in something that Keith Moon had said when he was first approached to be a part of Jimmy's "supergroup".
According to Keith, the new band would inevitably "sink like a lead balloon", and whether it was just a convenient phrase or Page wanted to make a point to the drummer who had turned him down, the New Yardbirds became Led Zeppelin.
Confused? Atlantic Records weren't when they were approached by Peter Grant, and they immediately offered to sign the band with the, at the time biggest advance that any outfit had ever been given, one hundred and forty-three thousand dollars, coupled with complete artistic freedom.
It was the sort of record deal that musicians can only ever hope to dream about, and Page, Plant, Jones, and Bonham signed on the dotted line and entered the studio to record their first album, which would be called, rather conveniently, Led Zeppelin.
With the album in the bag, the band set on tour and played their first show under their new moniker on the 25th of October, 1968.
The audience who were in attendance almost certainly didn't know, realize, or care (it was the sixties after all) that they were watching rock roll history unfold, but they were aware that they were seeing something special. As the band had suddenly become the new darling of the music press, how could they not be?
All of the hip and happening young things wanted to see this new band, and over the course of the next couple of years, they'd get the chance to do just that, as Page and his new bandmates played anywhere and everywhere they could.
The Only Way To Fly
Keith Moon was, and not for the first time, wrong. When Led Zeppelin was released in January 1969 while the band was in the middle of their first American tour, it smashed straight into the Billboard Top Twenty and eventually reached the Number Ten spot, helped in no small part by the airplay that it was given by radio stations all over the US.
And when it was released in the UK, Led Zeppelin fared even better than it had in America, finally reaching Number Six in March 1969.
Buoyed by the success of their debut record, in their first twelve months as a band, Led Zeppelin lived on the road. They completed four American and UK tours, and somewhere in the middle of playing all of those shows, they found the time to write and record their second album, which they creatively christened Led Zeppelin II.
Rather than try to reinvent the wheel, their sophomore record followed the blueprint that made their debut a hit and was filled with riff-laden, blues-drenched hard rock anthems that played to all of the band's strengths.
Not that they had any visible or musical weaknesses, as Led Zeppelin II, released just ten months after their debut had landed in the racks of record shops everywhere, proved when it sailed to the Number One Spot in both the US and UK album charts and solidified the bands burgeoning, fearsome reputation as both incredible songwriters and an incredibly loud, and charismatic live juggernaut.
Getting A Whole Lot Of Love
Led Zeppelin II didn't just top the charts on both sides of the Atlantic, it also gave the band their first hit single.
Whole Lotta Love, an instantly memorable tune that was forged around a groove-heavy, blues-fueled riff from Page, and Plants unmistakable howl, slammed into the Billboard Top Ten was it was released in November 1969, stayed there for nearly fifteen weeks, and sold over one million copies.
It transformed the hard rockers from London into a household name and was the band's only top ten US hit.
For some reason known only to Led Zeppelin and their record label, Whole Lotta Love wasn't released as a single in the UK, but would later become the theme music for the country's most popular primetime music show, Top of the Pops.
And Now The Screaming Starts
America wanted to see more of and hear more from Led Zeppelin but after the mainstream success of Whole Lotta Love, but the band became increasingly distant from the music press and seemed to prefer to let their music do their talking for them.
It was the US tour that followed the release of Led Zeppelin II that saw them graduate from headlining clubs and smaller theatres to playing the stages of stadiums, where they began to develop their legend for hedonism and excess.
Already infamous for playing four-hour shows that infinitely extended their repertoire through a series of unique on-stage "jam sessions", the band's reputation for indulging in all of the pleasures that rock and roll success offered began to rival that of their onstage indulgence.
Page and his bandmates were living the life that he always dreamed that they would, both on and off the road.
III Isn't A Magic Number
After the success, and excess, of their second album and the tour that followed it, Robert Plant and Jimmy Page did what any rock stars at the time did.
They headed to the wilds of the countryside to write their next album. While ensconced in the hills of North Wales, the duo wrote the majority of the songs that would make up their third album, the again imaginatively titled, Led Zeppelin III.
A more laid back, acoustic record that drew inspiration from the Celtic region that Page and Plant had written the majority of its songs in, Led Zeppelin III drew the ire of critics and left their fans a little confused by the new direction that the band seemed to have adopted.
And while it followed the same economic course laid down by its predecessor, and sailed straight to the top of the charts in both the UK and America, it didn't sell as many copies and to date, remains the least successful of Led Zeppelin's first five albums.
III may not have been the overnight sensation that II was, but it did give the band their second hit single, even though they strongly objected to it and did everything in their power at the time to actually prevent their record label from releasing Immigrant Song.
Whether it was the band's way of dealing with the harsh criticism that their album had received or they were attempting to emulate the behavior of every "difficult" rock star who had walked the same path before them, they refused to promote or support the release of the single, but despite their best efforts, Immigrant Song went on to become a Billboard Top Twenty hit.
Climbing The Stairway To Heaven
The first half of the 1970s belonged to Led Zeppelin, and even though their third album hadn't reached the same dizzying heights of success of their first two had, the shows that they played became bigger and bigger, the tours got longer and their reputation for causing chaos and destruction in every city that they played in preceded them.
In spite of the debauchery, or perhaps because of it, the band continued to write and record, and in November 1971, released the last album that wore a number instead of a title on its sleeve.
Led Zeppelin IV (or Zofo as it's sometimes referred to as by fans, due to the symbols that adorn the cover) dwarfed the sales of their previous albums, and after selling more than thirty-seven million copies becoming one of the biggest selling records in the history of rock and roll.
It's also home to one of the band's most well-known songs, Stairway To Heaven, which despite being played almost non-stop by College and Rock Radio stations in the US during the seventies and eighties, was never released as a single.
This partially at least, explains why IV sold as many copies as it did. If you wanted to climb the Stairway after hearing it on the radio, the only way to do it was by buying the album.
And as the sales kept going up, the band was forced to play more and more shows for their ever-expanding audience, which meant that the (seemingly) never-ending tour that they undertook to support the album kept them on the road until 1973. 
---
RELATED: We Rank Led Zeppelins Best Albums
---
The Holy House Covered In (Physical) Graffiti
The band's next album and tour were record breakers. By the time they released Houses Of The Holy in 1973, Led Zeppelin was the biggest band in the world, a fact that was born out by the band's subsequent tour of the US.
They made more than three hundred thousand dollars from a single show in Florida, after drawing an audience of nearly 59,000 people, which shattered all previous box office attendance records.
They also filmed their three-night, completely sold-out run at Madison Square Garden, which would later become the movie, The Song Remains The Same, which was released in 1976.
They were an unstoppable rock and roll tsunami, and after finally taking a year off in 1974, they returned to the fray with their biggest selling, and most critically and commercially successful album to date, Physical Graffiti.
The demand for the band was so great, that following its release, all of their previous albums re-entered the Billboard Chart, and the world tour that the band embarked on to support the record eventually culminated in a sold-out, five-night residency at Earl's Court in London.
To their fans and their label, it seemed as though Led Zeppelin was unstoppable.
Achilles Last Stand
Worn out by the demands of being the world's biggest band, Led Zeppelin decided to take the rest of 1975 off but were unaware that their vacation plans would lead to a touring hiatus that would last for nearly eighteen months.
In August 1975, shortly after arriving in Greece, Plant and his then-wife Maureen were involved in a car crash that sidelined Plant, due to the injuries that he received until 1977, and nearly killed his wife.
Even though he wasn't able to tour, Plant could still sing and in 1976 he and the rest of the band reconvened to record Presence. A return to the earlier, riff-laden rockers of their first two albums, the album was a multi-million seller all over the globe but failed to live up to the success of its predecessor.
And by the time Plant was ready to tour again in 1977, Page had developed a significant heroin habit, and years of heavy drinking had begun to take their toll on John Bonham.
But they headed out on tour again, setting new attendance records (seventy-six thousand fans turned up to see them play in Michigan) once again.
But even though the tour was an enormous success for the band, all of the members paid a heavy price for it, none more so than Plant. After a sold-out show in New Orleans, his young son Karac died from a stomach infection and the band immediately canceled all of their plans for the foreseeable future.
This Is The End
It took the band, and Plant, until 1978 to finally get back to work, and the album that they subsequently released, In Through The Out Out Door is seen by fans and critics alike as being their weakest creatively, as it lacks the immediacy of their previous records.
Despite its lukewarm reception, In Through The Out Door managed to once again top the charts on both sides of the Atlantic, and the band began to plan and book the tour that they would undertake to promote it.
Opting for a more stripped down and simplified approach to touring that would focus on music and performance rather than the grandiose spectacle that they had become accustomed to for the last decade, Zeppelin decided to forgo the "jams" and just play their songs as they had been written.
In the middle of one of their more low-key shows in Germany, John Bonham collapsed in the middle of a song and had to be rushed to a local hospital.
While the band attempted to downplay the incident, media speculation about Bonham's health and his personal indulgences ran rampant, but when Bonham was discharged, as they always did, Zeppelin picked themselves up, dusted themselves off, and did their utmost to get back to the business in hand; touring to promote their latest record.
After Bonham "recovered", Zeppelin began rehearsals for their US tour, which was due to start in October 1980, and would have been their first in three years.
Rehearsals were scheduled to begin in earnest in September, and on the first day, Bonham, as he always did, began to drink heavily, and had what he referred to as "breakfast", a cocktail of a ham sandwich and an inhuman amount of vodka.
It didn't appear to slow him down or affect his ability to play and after a full day behind the kit, he left to stay in his bandmate Jimmy Page's house in Windsor.
Goodnight Sweet Prince
After the drummer fell asleep and was put to bed the night before, John Paul Jones decided to wake Bonham shortly after 1 PM the next day, the 25th of September 1980. Jones couldn't rouse Bonham who had died in his sleep at some point during the night.
The official cause of death was listed by the coroner as acute asphyxia due to the inhalation of vomit. John "Bonzo" Bonham was just thirty-two years old when he passed into eternity.
Bonham's death was the straw that finally broke Zeppelin's back and despite a list of names that included Carmine Appice, Cozy Powell, and Ric Lee being touted as a replacement for the drummer, Led Zeppelin canceled their US tour and on December 4th, 1980 confirmed what the rest of the world already knew.
That they couldn't, and wouldn't continue to play and record without their friend.
Similar Stories…