Steel Panther is the premier not-to-be-taken-seriously act of the last 10 years, sharing their funny music throne perhaps only with the legendary (and hilarious) Tenacious D.
But when you're acting the clown, inevitably, the makeup, goofy shoes, and wacky antics obscure the real people behind the music.
Beneath the bandannas, the enormous wigs, and second-skin glam-metal garb, are actual musicians, not characters. Yes, Steel Panther is a joke and a great one at that, but it's built on the same foundation of musical talent that any band needs to rise and endure.
This became evident recently when bassist Lexxi Foxx left Steel Panther, leaving a crack in the band's facade that permitted fans to peep in at the very real guts beneath. But forget peeping; today, We'll be getting up close and personal with the wounded panther.
Who Is Lexxi Foxx Exactly?
Let's cut right to the chase here: Lexxi Foxx is a character that's part of the over-the-top, larger-than-life Steel Panther. In reality, the artist we all know and love (or used to) is none other than Travis Haley – a pretty ordinary dude, but with a certain rockstar air about him.
When it comes to Lexxi Foxx, it's easy to get caught up in the theatrics. But when you strip away the costume and makeup, there's a person underneath whose story is just as interesting.
Then Who Is Travis Haley?
The man behind everyone's favorite bass-playing Lothario actually likes to live a rather quiet life. He doesn't have a Wikipedia page or anything like that, so there's very little to find about him online.
One might assume that this relative anonymity is one of the most enticing aspects of playing a character for two-plus decades, rather than serving yourself up to the world on a silver platter.
What we do know is that he's a talented and accomplished bass player who clearly has love in his heart for the bands that defined the heavy music genres of the 80s — behind every good parody is a deep appreciation or at least understanding of the subject.
Travis is an American citizen and Los Angeles native but currently resides in Chicago with his wife, Christine, and their baby daughter. He was born on July 14, 1970, meaning at this point in time, he's ankle-deep in his 50s, making him joint-youngest in the band with guitarist Russ "Satchel" Parrish.
---
RELATED: Who Is Tatiana Shmailyuk?
---
Why Did Lexxi Foxx Leave Steel Panther?
The guys in Steel Panther are so good at what they do and are so dedicated to their characters both on and off stage that it's easy to forget, behind closed doors, they're not actually these people.
When they're in the studio or on their tour bus, they're just like any other band, and they have to deal with all the typical tensions at play when a bunch of very different people are forced to exist together in close quarters.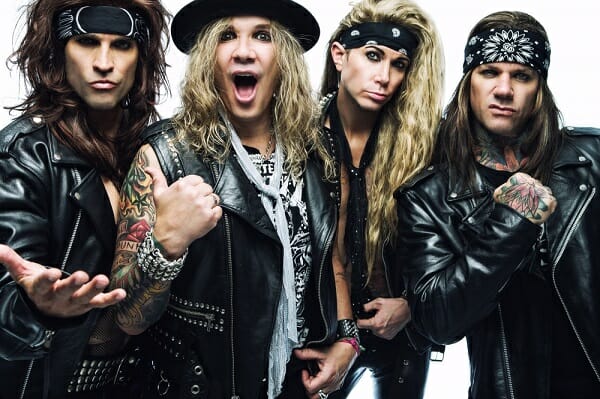 They may be smiling, laughing, and gyrating on stage, but with eyes averted and cameras switched off, they could well be arguing, bitter, bored, unfulfilled, angry, lonely… you name it. And unfortunately, that seems to have been the case, at least to some extent.
After departing Steel Panther, Haley confided that;
Anyone who has been in a band will tell you it's essentially a marriage to multiple people, only there's no sex and you're trapped on a smelly bus together for months at a time.
He went on to mention that he hasn't spoken with guitarist "Satchel" and drummer "Stix Zadinia" since leaving the band and that he feels there are "some sore spots" regarding the way his departure went down.
But perhaps at the root of all this tension was the fact that Travis wanted to start a family with his wife and needed more time off from touring than his bandmates were willing to permit. The ever-in-character Michael Starr responded to his bandmate's familial duties as you might expect…
I just talked to him today; he's doing good, man. He did exactly what he wanted to do. He started a family. He's living in Chicago. Him and his wife just had a baby. So Lexxi Foxx is not gay.

I thought he was gay this whole time. It's so weird.
Starr continued:
And he was one of the smart guys — he saved up all his money. Not me — I'm still living at my mom's.
---
RELATED: Is Fieldy Re-Joining Korn?
---
Was Lexxi Foxx Fired By Steel Panther?
Travis left Steel Panther on his own terms as he could no longer commit to the project, a fact highlighted by the following passage from an interview with Steel Panther guitarist Satchel:
We all miss Lexxi Foxx, and we all wish him the best in everything that he does. But we didn't fire him.
Satchel went on to reveal:
We didn't want him to quit. Nobody wanted him to quit, including a lot of the fans. I'm sure a lot of the fans are very sad that he left.

But he's the guy who left the band. I think he's got his own things he's dealing with, and he just wanted to go and do that.
Is Steel Panther's New Bassist Also Called Lexxi Foxx?
As Lexxi Foxx is a character tied to the band, you'd be forgiven for thinking that whoever replaced Travis Haley would adopt the name and persona, but that's not the case. Joe Lester has filled the position, bringing a new character to the fold, "Spyder".
Is Lexxi Foxx Working On Any New Music?
Now settled with his family in their new home city, Travis has been able to return to music on a reduced schedule, forming the band Hollywood Gods N' Monsters with Diggidy Dave of MTV's Pimp My Ride fame.
We're yet to see a release, but according to Dave, the band will blend as many different genres and musical eras together as possible:
Think of us as a big American jukebox, where all the records in it have melted together.
Final Thoughts
While it's sad that Lexxi Foxx is no more (at least for now), we can all agree that it's awesome that Hayley is working on something exciting and that he's able to look after his baby girl.
And even though there is perhaps a bit of bad blood between him and some of his former bandmates, Travis never fails to pay respects to them as individuals and the good that the band did for him, in interviews.
So, ultimately, I'd consider this a happy end to the Lexxi Foxx story, and a promising new beginning for Travis Haley.
Check out this interview with Lexxi Foxx with Border City Rock Talk to see what the man himself had to say about leaving Steel Panther.