When we talk about the great romances that have graced the stage of rock music, the love story of Paul and Linda McCartney takes center stage.
In the whirlwind of late '60s pop culture, marked by the Beatles' disbanding and a constantly evolving music scene, their relationship remained a steadfast symbol of enduring love. This tale, more than three decades in the making, ended in the same key in which it started—with profound affection and mutual inspiration.
As we explore the final days of Linda McCartney, we'll look back at a love story that not only inspired some of Paul's most iconic love songs but also stood the test of public scrutiny, personal trials, and the inevitable passage of time.
When Paul & Linda's Paths Crossed and Hearts Connected
Their meeting was a serendipitous intersection of destiny and sheer will. In 1967, the stage was set at The Bag O'Nails nightclub in Soho, London. Linda Eastman, an American photographer on assignment, was there to capture the faces that would grace her upcoming book. Paul McCartney was there for the music—until he saw her. Their eyes met, and in that moment, something shifted in the cosmos of rock 'n' roll love stories.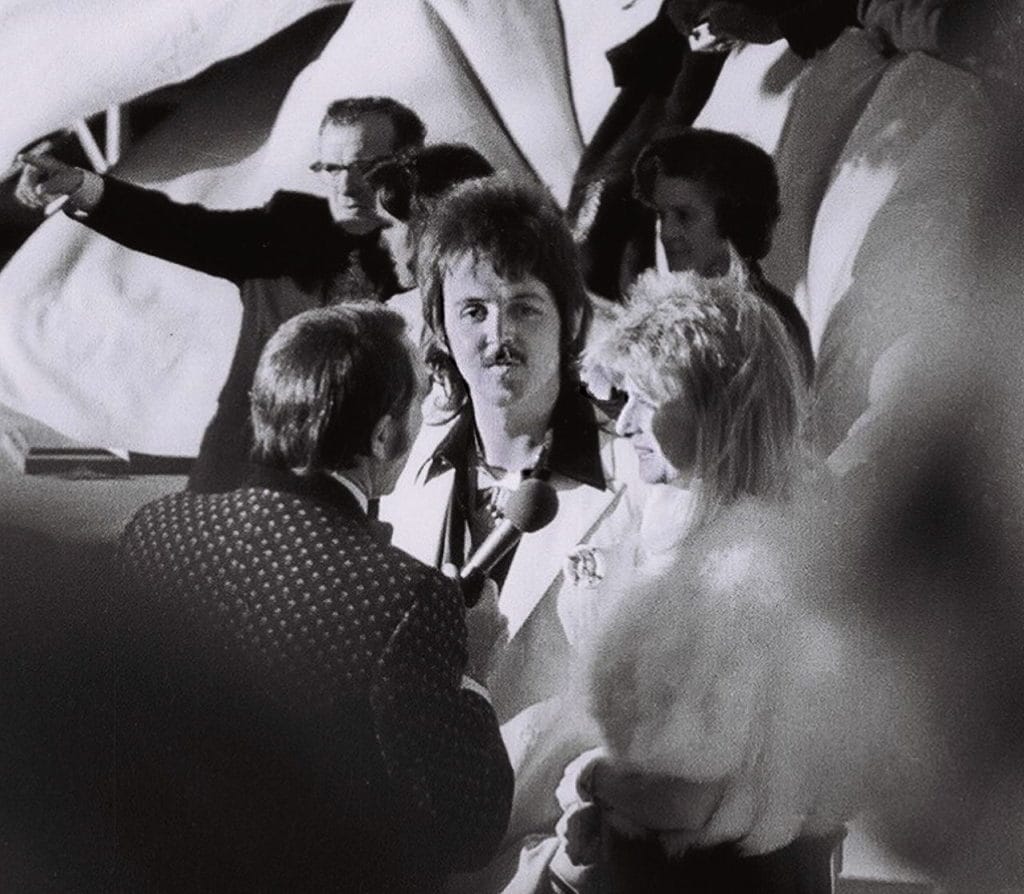 Paul couldn't let Linda walk away without at least introducing himself. As she rose from her table, likely unaware that her life was about to change, Paul positioned himself strategically, blocking her exit. His opening line was simple, yet effective: an invitation to join him at another club.
Although both were entangled in other relationships at the time, that night's connection lingered in their minds and souls. Linda returned to the States, and both went through break-ups before destiny brought them back together, this time at a Beatles gig in New York.
Cupid had spoken, and nothing could keep them apart.
---
You Might Like: John & Yoko – The "Other" Beatles Love Story
---
Navigating the White Waters of Marriage
The night before Paul and Linda McCartney's wedding in March 1969 was anything but conventional, echoing the distinctive spirit of the era and the couple themselves. The Beatles, riding the crest of their fame, were no strangers to the public eye, and McCartney's impending nuptials were of significant interest.
The evening before their wedding, the couple faced a dramatic situation. McCartney, embroiled in tensions within The Beatles, notably with John Lennon, was navigating a challenging phase both professionally and personally. This period was marked by disputes over the band's management and creative differences, contributing to a charged atmosphere.
Meanwhile, the press, sensing a major story, were on high alert. McCartney and Eastman attempted to keep their plans secret to avoid a media frenzy. However, the press eventually discovered their intentions, leading to scenes of reporters and fans gathering outside McCartney's St John's Wood home in London and the Marylebone Registry Office, where the wedding was to take place.
This tense prelude to their wedding was reflective of the pressures McCartney faced as a Beatle and the intense public scrutiny that marked his life. Despite these challenges, Paul and Linda McCartney's relationship remained resilient, soon becoming one of the most enduring partnerships in the music world. Their marriage, which lasted until Linda's untimely death in 1998, was seen as a bastion of stability and love in the often turbulent world of rock and roll.
The Pillar in Paul McCartney's Life Post-Beatles
The end of The Beatles could have been a tragic finale for Paul McCartney. Instead, it turned into a rebirth, largely thanks to Linda. She became his emotional anchor, a pillar of strength when he was at his most vulnerable. In the aftermath of the band's breakup, Paul's life took a somber tone. Yet, Linda was there to pull him back into the light.
It was during this emotional crucible that Paul penned 'Maybe I'm Amazed,' a poignant song from his 1970 debut solo album that encapsulated his awe for the woman who had become his emotional cornerstone.
While public eyes often focus on Paul's artistic genius, it's important to recognize that behind this incredible talent was Linda, who not only inspired some of his greatest hits but also provided the sanctuary of unconditional love.
With Linda, Paul found not just a partner but an eternal muse, forever shaping his music and his life.
---
You Might Like: The Most Iconic Beatles Album Covers
---
Love and Loss — A Poignant Farewell To The Muse
As 1998 rolled around, a shadow fell upon the McCartney household. Linda, the once invincible force of nature, was fighting a battle she couldn't win — breast cancer.
Her final days were spent at the family ranch in Tucson, Arizona, a sanctuary that had offered respite in times of need. In those closing moments, Paul, ever the wordsmith, painted a canvas of words as vivid as any photograph Linda had ever captured.
You're up on your beautiful Appaloosa stallion. It's a fine spring day.

We're riding through the woods.

The bluebells are all out, and the sky is clear-blue.
And it was in this poetic paradise, framed by the power of love and imagination, that Linda breathed her last. In that instant, something intangible yet overwhelmingly real vanished from the world.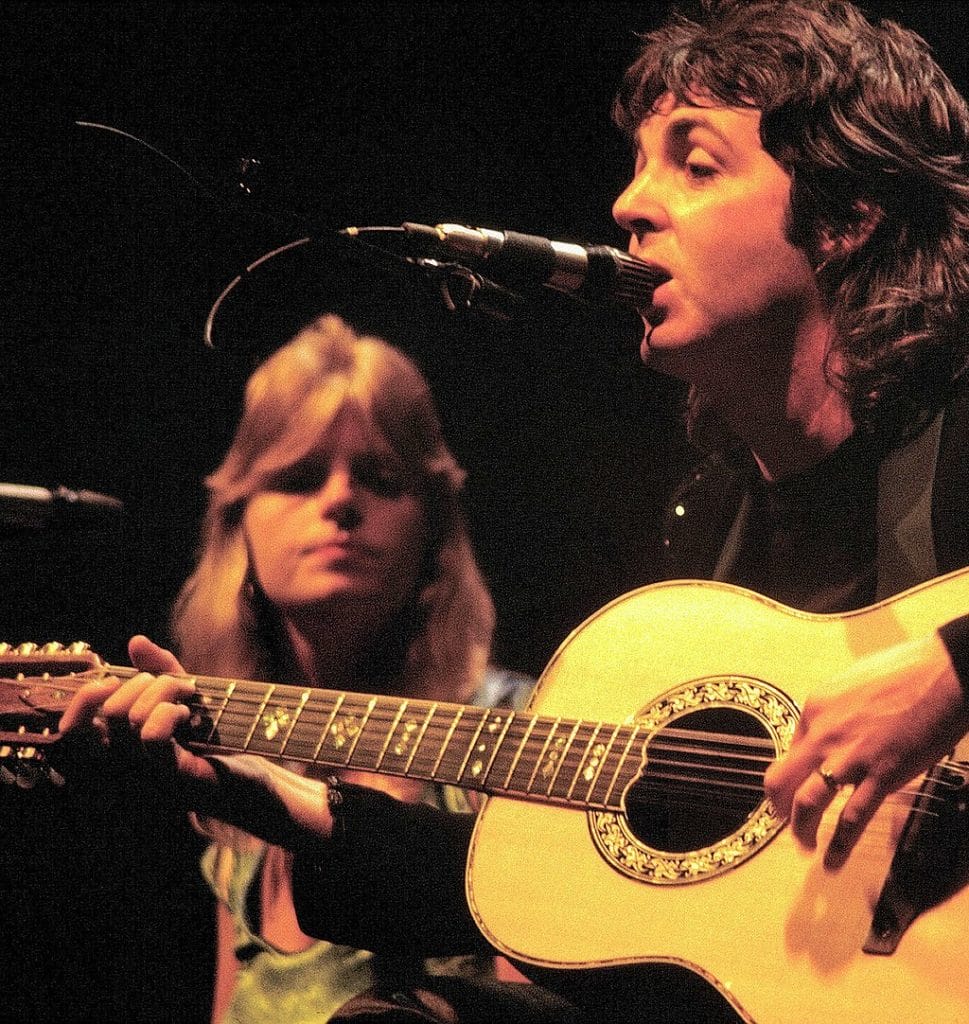 Keeping Linda's Memory Alive
Life has a way of moving on, but the dead are never truly gone if their memory still resonates with the living. Paul McCartney has done more than most to ensure that Linda's memory remains not just a whisper but a shout.
In March 2021, he joined forces with his daughters, Mary and Stella, to release a cookbook in Linda's honor, celebrating her passions for vegetarianism and ethical living.
But this cookbook does more than just offer a taste of Linda's favorite recipes; it serves as a vehicle for her spirit. It provides a medium for her essence to continue nourishing not only the bellies but also the souls of everyone who flips through its pages.
---
You Might Like: John Lennon's Son Opens Up On Their Relationship
---
Final Thoughts On The Love Song That Defies Time
Paul and Linda McCartney's music transcends mere notes and lyrics; it embodies the strength and resilience of their love through life's unpredictable turns. Their life together was a symphony of genuine emotions – laughter and tears alike – yet fundamentally harmonious.
Though Linda is no longer with us, her spirit endures. It lives on in her photography, capturing timeless moments. It thrives in the love she infused into her family and the meals she crafted, nurturing both body and spirit.
Linda McCartney may have left the physical world, but her influence remains a constant echo in the rich narrative of rock 'n' roll love stories. The legacy they created together continues, reminiscent of a beloved track on a classic vinyl, playing on into eternity
How Long Did Linda McCartney Have Cancer? 
Linda McCartney spent the good part of three years fighting her battle, with her husband, Paul McCartney.
Did George Harrison go to Linda McCartney's funeral? 
George Harrison was one of the many famous faces to come and pay their respects. Ringo Starr, Billy Joel, Peter Gabriel, and Elton John also joined the nearly 700-person congregation. 
Where is Linda McCartney Buried? 
Linda McCartney was cremated with her ashes scattered in Sussex, England, across the McCartney family's English farm. 
What Was Linda McCartney's Net Worth
At the time of her death, Linda McCartney was worth approximately $10 million. Her significant personal net worth was mostly thanks to her music, photography, best-selling cookbooks, and frozen vegetarian entrée line.
What Did Paul McCartney Inherit from Linda McCartney? 
Paul McCartney inherited all the property owned by Linda following her death. That included the royalties of her books, records, and the rights to her photos. 
He also took control of her vegetarian food line, promising to keep it free from GMOs which he did until 1999 when it was sold to the HJ Heinz Company.
You can read all about Paul McCartney's net worth in our deep dive into the rock legend's fortune.