In the rich tapestry of rock music, few bands have left a mark quite like ZZ Top. With their unmistakable blend of blues-infused rock, electrifying performances, and iconic bearded image, they have carved a path that defines the very essence of rock and roll.
From their formation in 1969 to their enduring presence on the global stage, ZZ Top has captivated audiences with their soulful melodies, infectious rhythms, and a distinct blend of Texas swagger. In this article, we embark on a journey through the history, music, and enigmatic persona of ZZ Top.
Join us as we explore the story of the ZZ Top band members over the years. We take a look behind the beards and pay homage to the band's enduring legacy as pioneers of blues-infused rock.
Prepare to be swept away by the timeless sound and unrivaled charisma of ZZ Top, the legends who have etched their names in the annals of rock history.
Uncovering The History Of ZZ Top
ZZ Top's rich history stretches back to their formation in 1969 in Houston, Texas. The band emerged from the vibrant music scene of the era, blending elements of blues, rock, and boogie into a sound that would define their iconic style.
The group was initially formed by guitarist and vocalist Billy Gibbons, bassist and organist Lanier Greig, and drummer Dan Mitchell. The trio's shared love for blues music and their desire to create a unique blend of blues-infused rock set the foundation for their musical journey.
Immediately after the release of their first single 'Salt Lick', Greigg was replaced by Billy Etheridge, a bandmate of Stevie Ray Vaughan, and Mitchell was replaced by Frank Beard. Etheridge himself was soon replaced by Dusty Hill when he refused to sign a recording contract. Together, the Tres Hombres embarked on a path that would make them one of the most influential bands in rock history.
In 2004, ZZ Top's impact on the music industry was recognized with their induction into the Rock and Roll Hall of Fame. This honor solidified their status as pioneers of blues-infused rock and acknowledged their enduring influence on subsequent generations of musicians. ZZ Top's distinctive sound and unforgettable live performances have left an indelible mark on the genre.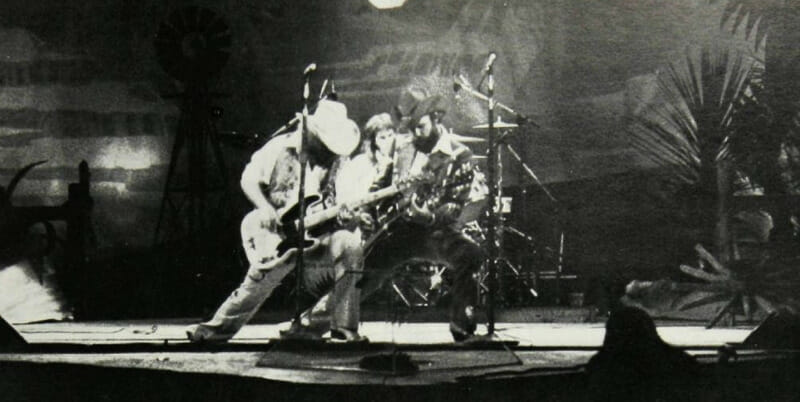 ZZ Top's Blue's Roots
Influenced by the emotive guitar playing and heartfelt lyrics of the blues greats, ZZ Top's guitar virtuoso Billy Gibbons masterfully channeled the spirit of the genre. His soulful and expressive guitar solos became a trademark of the band's sound, resonating with both passion and technical brilliance.
ZZ Top's gritty vocals, delivered by lead vocalist and bassist Dusty Hill, added a further layer of authenticity to their blues-infused sound. Hill's powerful and raspy voice evoked the soulfulness and yearning that are at the core of the blues tradition. His vocal performances, often filled with heartfelt grit, captured the essence of the genre and connected with audiences on a profound level.
The infectious rhythms that propelled ZZ Top's music were also deeply rooted in the blues. The band's drummer, Frank Beard, and bassist Dusty Hill created a tight and grooving foundation, blending the blues with elements of rock and boogie to create their signature sound. The rhythm section's chemistry and impeccable timing were instrumental in capturing the irresistible pulse and energy of the blues.
A Journey Through ZZ Top's Discography:
ZZ Top's discography is a testament to their longevity and musical evolution. From their early albums like "ZZ Top's First Album" (1971) and "Rio Grande Mud" (1972) to their breakthrough success with "Eliminator" (1983) and subsequent hits like "La Grange," "Sharp Dressed Man," and "Gimme All Your Lovin'," the band has consistently delivered a string of chart-topping albums and timeless rock anthems.
In the 1990s, ZZ Top continued to reinvent themselves with albums like 'Recycler' (1990) and 'Antenna' (1994), experimenting with different sounds and incorporating elements of alternative rock and grunge. They collaborated with renowned producer Rick Rubin for their 1996 album 'Rhythmeen,' which showcased a heavier, more aggressive sound.
Despite the changing musical landscape, ZZ Top remained relevant and their live performances continued to captivate audiences worldwide. Their album 'XXX' (1999) marked their 30th anniversary and demonstrated their ability to adapt and evolve while staying true to their blues-inspired, Southern rock roots.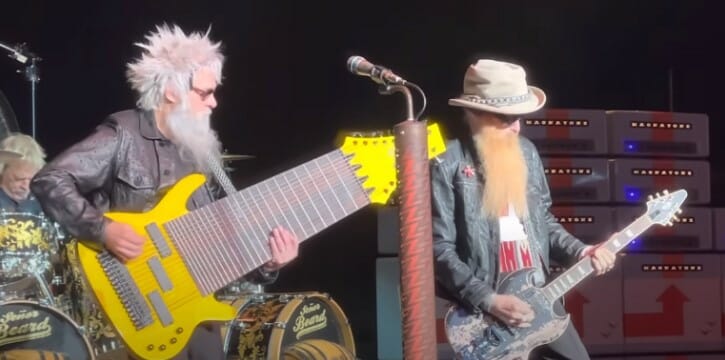 Who Are The ZZ Top Band Members?
ZZ Top's enduring success and musical prowess can be attributed to the individual contributions and collective synergy of its band members. Each member brings their unique talents, style, and personality to the stage, resulting in the creation of the distinctive ZZ Top sound that has captivated audiences for decades.
Billy Gibbons – Guitar and Vocals
Billy Gibbons is the epitome of blues-infused rock guitar playing. With his soulful licks, gritty tone, and captivating stage presence, Gibbons has become an icon of the genre. His masterful command of the guitar, blending elements of blues, rock, and boogie, has been instrumental in shaping ZZ Top's unique sound.
Frank Beard – Drums
Frank Beard's exceptional drumming skills have played a pivotal role in ZZ Top's sound. With impeccable timing, precision, and a deep understanding of rhythm, Beard provides the band with a solid foundation that propels their infectious grooves and drives their powerful live shows.
Elwood Francis – Bass
Elwood Francis, the newest member of ZZ Top, stepped into the role of guitarist and harmonica player with ease and finesse. Having worked closely with Billy Gibbons as his guitar tech, Francis seamlessly integrated into the band, bringing his own dynamic playing style and adding fresh energy to ZZ Top's live performances.
Together, the current members of ZZ Top continue to carry the band's rich musical heritage forward, delighting fans around the world with their timeless blues-rock sound. With their combined talents and unwavering commitment to the music, they honor the legacy of ZZ Top while continuing to captivate audiences with their electrifying performances.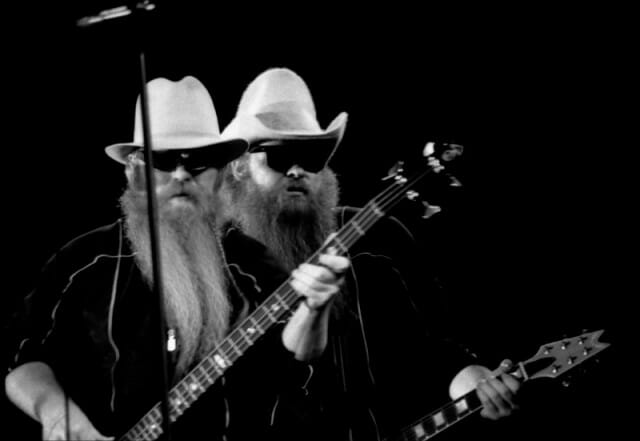 Who Were The Previous Members Of ZZ Top?
Dusty Hill – Bass
Dusty Hill, who sadly passed away in 2021, was an integral part of ZZ Top's legacy. As the band's bassist, Hill provided the foundation and groove that anchored their blues-rock sound. Alongside his impeccable bass playing, Hill's powerful vocals and charismatic stage presence added depth and soulfulness to the band's performances.
Lanier Greig – Bass and Keyboard
During their early years, ZZ Top briefly featured keyboardist and vocalist Lanier Greig as a member of the band. While his tenure with the band was short-lived, his contributions were instrumental in the formation of ZZ Top's signature sound.
Billy Etheridge – Bass
Billy Etheridge joined the band as a keyboardist during their formative years, contributing to the development of their sound. However, his time with the band was relatively short, and he eventually parted ways with ZZ Top.
Dan Mitchell – Drums
Mitchell's time with the band was also relatively brief, but his contributions left an impact on their early sound and helped shape their musical direction.
How Did Dusty Hill Die?
Dusty Hill, the legendary bassist of the rock band ZZ Top, passed away on July 28, 2021, at the age of 72. The cause of his death was announced to be a result of a hip injury that he sustained prior to the band's performance in Illinois. Although the specifics of how the injury led to his death have not been disclosed, it is believed that it may have contributed to other health complications.
Dusty Hill's death marked the end of an era for ZZ Top, leaving fans and the music industry mourning the loss of a talented musician who played a significant role in shaping the band's distinctive sound for over five decades.
Remembering Dusty Hill – Contributions and Legacy
Dusty Hill's impact on ZZ Top cannot be overstated. With his impeccable bass playing, powerful vocals, and charismatic stage presence, Hill was an integral part of the band's signature sound and image. His harmonies, along with his distinctive backing vocals, added depth and soulfulness to the band's music. Hill's contributions to hits like "Sharp Dressed Man," "La Grange," and "Gimme All Your Lovin'" became iconic elements of ZZ Top's repertoire.
Beyond his musical prowess, Hill's affable personality and warm stage demeanor endeared him to fans worldwide. His bearded visage and laid-back demeanor embodied the spirit of ZZ Top, making him an indelible figure in the band's legacy.
Dusty Hill's influence on ZZ Top's music extended beyond his basslines and vocal contributions. His passion for the blues and his commitment to delivering authentic, soulful performances resonated in every note played by the band. Hill's unwavering dedication to their blues-rock roots helped shape the very essence of ZZ Top's sound and identity.
Despite the immense loss, ZZ Top made the decision to carry on as a band, honoring Hill's memory while continuing to share their music with fans. With Elwood Francis stepping in as Hill's temporary replacement, ZZ Top aims to keep the spirit of the band alive and deliver the unforgettable live performances for which they are known.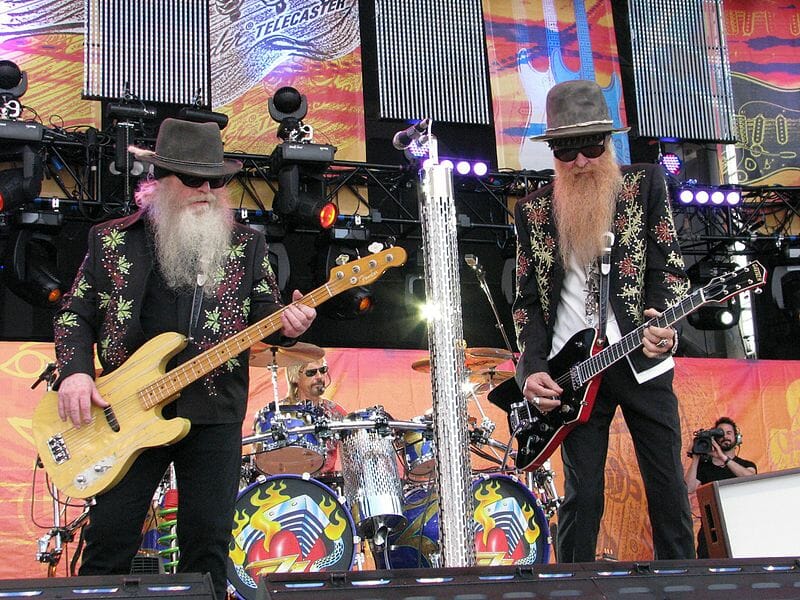 What is the story behind ZZ Top's iconic beards? 
One of the most recognizable and intriguing aspects of ZZ Top's image is the iconic beards of Billy Gibbons and Dusty Hill and it has become synonymous with their identity as rock legends. The story behind ZZ Top's beards is an interesting one, rooted in a combination of personal style, coincidence, and a touch of serendipity.
It all began during a brief hiatus in the early 1970s when ZZ Top decided to take a break from touring and recording. During this time, the band members took the opportunity to let their beards grow, simply out of personal preference and a desire for change. Little did they know that this decision would have a lasting impact on their image and become an iconic part of their brand.
As the band re-emerged from their hiatus, they noticed that their new bearded appearance sparked curiosity among fans and the media. Embracing the intrigue, ZZ Top decided to make their beards an integral part of their stage presence. It quickly became a signature feature that set them apart from other bands and added an element of mystique to their image.
Over the years, ZZ Top's beards became a symbol of their enduring success and legendary status. They became so inseparable from the band's image that it became difficult to imagine them without their facial hair. The beards played a significant role in establishing ZZ Top's visual brand, reinforcing their persona as enigmatic and larger-than-life rock stars.
Frank Beard: The Only Clean-Shaven Member of ZZ Top:
Ironically, ZZ Top's drummer, Frank Beard, is the only member of the band who remains clean-shaven. His lack of facial hair serves as a playful contradiction to the band's bearded image and adds an interesting dynamic to their appearance.
Final Thoughts
The story of ZZ Top and its band members is one of musical talent, perseverance, and an unwavering commitment to their craft. Individually, Billy Gibbons, Dusty Hill, and Frank Beard brought their own unique contributions, forming a powerful trio that became the embodiment of blues-infused rock and roll.
Their chemistry on stage was electric, captivating audiences worldwide with Gibbons' masterful guitar skills, Hill's powerful vocals and solid bass grooves, and Beard's precise drumming.
From their humble beginnings in Texas to their status as rock legends, ZZ Top's journey is a testament to the power of perseverance, creativity, and a deep love for the blues. Their enduring legacy, marked by their influential music and iconic bearded image, serves as a reminder of the impact that true passion, authenticity, and dedication can have on the world of music.
If you want to keep diving into the world of "those guys with the beards", then be sure to check out this short little documentary by Zee Zee Top.