Imagine Dragons emerged in Las Vegas, Nevada, and are easily one of the most successful bands of the last ten years. This is thanks in no small part to the range of immensely powerful and memorable songs that they have produced together.
The band released their award-winning debut album in 2012 and has gone from strength to strength across their many years in the industry, releasing numerous chart-topping hits that still receive frequent air time on the radio, and generate massive streaming numbers on platforms such as YouTube and Spotify.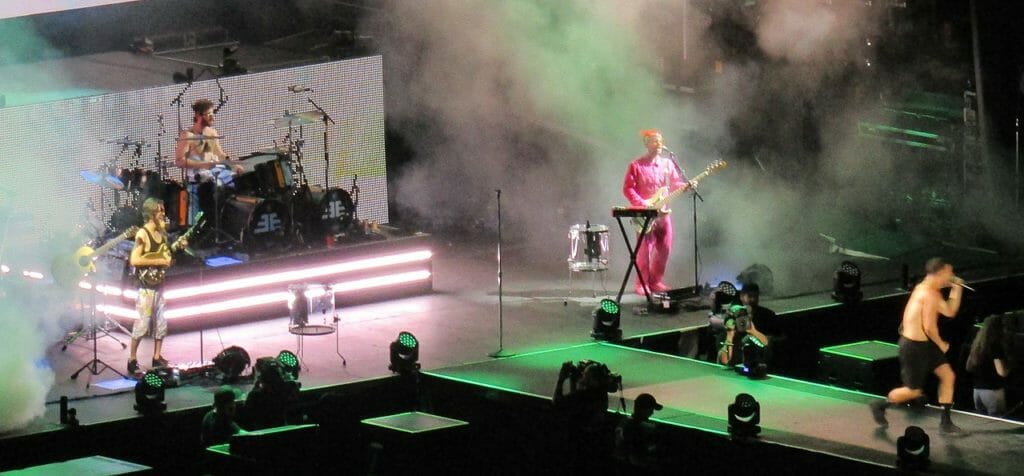 But of their numerous head-bang-worthy songs, which ones truly stand the test of time, and truly stand out as the best of what the band can offer?
If you've been pondering this question yourself, then you need look no further than our comprehensive list that will show you the very best of the band, and give you a full sense of their complete sound.
Here are 8 of the most popular songs by Imagine Dragons (in no particular order) that we think you need to know.
Let's Go!
---
RELATED: Love Rock? Check Out These Radiohead Tracks
---
The 8 Most Popular Imagine Dragons Songs
Radioactive
Let's kick off this list with easily Imagine Dragons' biggest-ever song. 'Radioactive' was released in 2012 on their debut album Night Visions and is one of the most successful singles of the last decades, upon release, it managed to hold its place at the top of the charts for several weeks.
This song is immediately catchy and has been a fan favorite for multiple generations, and it's really not hard to see why it managed to receive such acclaim from critics and the general population!
If you're totally new to the band, then you simply need to start with this song, as it represents the band at its very best!
Enemy
'Enemy' was a song that was actually produced with the intention of being featured as the title theme song for the Netflix animated series Arcane League Of Legends, a smash hit series that helped to put the band back onto the charts thanks to its amazing opening song.
This song also features a verse from the immensely talented rapper J.I.D, who lends his voice to one of the song's best verses.
If you want to experience this song at its most powerful, we recommend checking out the official music video, which features visuals from Arcane League Of Legends, which helps to add some emotional weight to the lyrics.
It will convince you of exactly why the song became such a smash hit as it did!
---
RELATED: 10 Best Pink Floyd Songs That Will Go Down In History
---
Demons
'Demons' proved to be just as influential as 'Radioactive', and has since gone on to garner more than a billion individual streams on YouTube since its initial release. The song is as much a popular hit amongst the masses as it is a total favorite for long-time fans of the band.
The song touches on some darker subject matter, which gives it incredible potency. The song is all about what it is like for an individual to face their own demons, and the measures that some people go to to keep their demons buried down below.
And what an uplifting track it proves to be! If you have ever have days where you are struggling with the mental image of yourself and want a song that will lift your spirits right away, then you totally need to add this song to your streaming library!
As well as being immensely uplifting, the song is also just very energetic and bound to pump you up, energizing you for your day ahead.
Whatever It Takes
The song 'Whatever It Takes' proved to be a big surprise to fans of Imagine Dragons when it was released in 2017, as it features a slightly faster pace than fans were used to hearing from the band at the time.
The track's faster pace also proved that the band was able to play around with the form and experiment with their sound to keep from becoming stale creatively.
This is appropriate considering the thematic content of the song's lyrics. The song discusses what it takes to be your best self, and how rewarding it can be to be the best at what you do no matter the obstacles that stand in your way.
The song, despite being a little out of the ordinary for the band, managed to become a huge hit for the band, and proved that they were capable of creating unique sounds without losing a sense of who they were!
On Top Of The World
'On Top Of The World' is another track that became an immediate earworm for millions of people across the world, and had people feeling like they could take on anything.
It also became a hit financially for the band thanks to its frequent use in car commercials, film trailers, and other commercial work, which helped expose it to even more people.
And who could possibly resist a song as uplifting and motivating as this? This song is a surefire hit at parties and is bound to get people moving and feeling good.
In fact, the song is even great to listen to by yourself through headphones, and the catchy rhythm will soon get you walking in step, feeling the immense uplifting nature of the lyrics. It's such a masterpiece of pop music.
---
RELATED: Jefferson Starship Songs: 10 Essential Tracks You Need to Know
---
It's Time
This was another of the band's earliest hits on their debut album, thanks to being immediately catchy and recognizable, it quickly got stuck in the minds of listeners.
It helps that the song is another of one of the band's many uplifting and happy songs in their library which allowed the song to quickly rise up the charts.
When it came to streaming, the song similarly took off as much as it did on the radio, as people craved its infectious sense of happiness throughout the lyrics.
The song also features a great mandolin riff that carries through the entire song and helps to keep it upbeat and perky, which perhaps explains why it became so immensely popular.
The song is also very important to the band's lead singer Dan Reynolds who stated that he started writing the song while dropping out of college.
Thunder
Imagine Dragons are a relatable band partly thanks to the adversity that they faced and overcame in order to get to where they are now.
Lead singer Dan Reynolds says that many people throughout his life told him that he would never make it as a successful musician, and this song is about the tenacity that pervaded through his mind and saw him and the rest of the band becoming the mega-stars that they are today.
While the song didn't peak on the charts quite as high as some of their other tracks, it still proved to be very successful, and currently stands at over 1 billion views on YouTube, proving that even when the band doesn't quite catch lightning in a bottle, they can still create once-in-a-lifetime music.
Amsterdam
Another of the band's many hits from their hit album Night Visions, 'Amsterdam' is one of the biggest favorites amongst the fanbase thanks to how immensely powerful it is.
This song is rather humorous in terms of its production because lead Dan Reynolds claimed that, when writing the song he had not yet visited Amsterdam, and he had to imagine what the city was like to produce the song's lyrical content.
Despite this obstacle, the song has become a popular hit amongst fans who love its upbeat rhythm, catchy chorus, and funny production story!
---
RELATED: The 12 Best Blink 182 Songs
---
To Wrap Up
There we have it! Though Imagine Dragons are famous for producing numerous hit singles and popular albums, these are definitely the songs that best display their immense talents and make clear just how brilliant the band is.
If you want to get to know Imagine Dragons a little bit better, then definitely give these songs a listen!
FAQ's
Who Are The Members Of Imagine Dragons?
Where Did Imagine Dragons Get Their Name?
The name "Imagine Dragons" is an anagram for a phrase that only the members of the band know.
How Many Albums Have Imagine Dragons Released?
The group has been prolific in its output and has released 6 studio albums since their debut in 2012.
– Night Visions (2012)
– Smoke + Mirrors (2015)
– Evolve (2017)
– Origins (2018)
– Mercury – Act 1 (2021)
– Mercury – Act 2 (2022)