If there are two words to describe Pamela Courson and Jim Morrison's relationship, they would probably be tumultuous and intense. The couple met at a young age but sadly their relationship only lasted 6 years due to the death of Jim Morrison in 1974.
Who Was Pamela Courson?
Pamela Courson was born on December 22, 1946, in Weed, California. She came from a fairly normal background. Her father was a junior high school principal and her mother an interior designer. Despite this, she showed signs early on of her rebellious spirit and wild nature.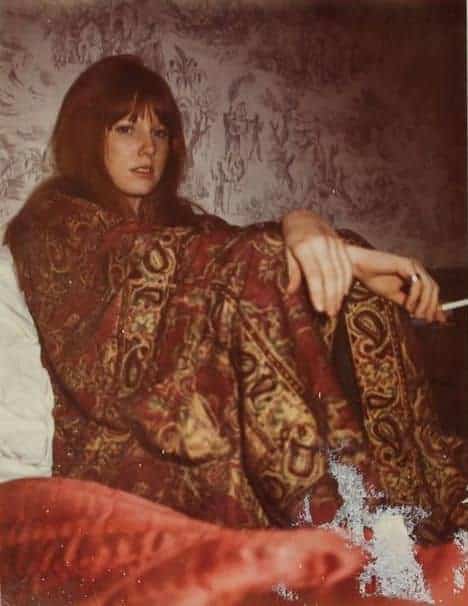 She ended up at college in Los Angeles, however, she dropped out to pursue an artistic career, something she was more passionate about. This was quite common throughout the 1960s. Many of the youth were much more focused on living in the present and chasing instant pleasure, with little worry for the future.
It was during this time when she met her kindred spirit, Jim Morrison. As the story goes they met at the London Fog on the Sunset Strip in 1965. A nightclub where The Doors used to play regularly before becoming the house band at the Whisky a Go Go.
Pamela Courson & Jim Morrison
Jim hit it off almost instantly with Pamela Courson, referring to her as his "cosmic partner." He was undoubtedly attracted to Pam's hedonistic nature, especially towards sex, drugs, and rock 'n' roll. By early 1967, the couple was living together in Los Angeles.
The Doors' keyboard player, Ray Manzarek, said of Courson that he "never knew another person who could so complement his bizarreness."
Embed from Getty Images
After only a year of cohabiting together, the couple went to Los Angeles City Hall and attempted to register for a marriage license. Although their endeavor was met with little success, Pamela Courson ended up adopting Jim's last name of Morrison further down the road in their relationship.
From the beginning their relationship was tumultuous. It was comprised of loud arguments, violence, and repeated acts of infidelity from both parties. There is one well-known instance that signifies the severity of some of their exchanges. After punching Jim due to an argument, Pam locked herself in a room to which Jim then proceeded to set fire to. Pam narrowly escaped.
In spite of their tormented relationship, the couple was always able to reconcile. On the other side of the spectrum, Pamela Courson and Jim Morrison enjoyed a very passionate and romantic relationship. The pair traveled frequently and even spoke of one day having their own children.
Embed from Getty Images
Themis
With Jim's royalty check from the 1967 album Strange Days, he funded a fashion boutique for his lady love. Originally the couple wanted to call it "F***ing Great." In the end, they settled on "Themis," the name of the Greek goddess of divine order, fairness, natural law, and custom.
One of Pamela Courson's friends, Anne Marie recalls the boutique. "I remember Jim wanting peacock feathers on the ceiling and Pamela wanting them on the walls. They both could not compromise so they had them on both the walls and ceiling! It's the first thing you notice when you walked in. I think it was a genius idea.
There were also many mirrors and curtains on the doorways in different colors. Pamela also had small colorful stuffed animals around. Horses, unicorns, monkeys… all over the shop… you turned a corner, out popped a unicorn. Needless to say, my daughter who was two at the time loved going there. Pam always gave her a stuffed toy when we visited."
---
RELATED: Jim Morrisons Interview With Rolling Stone
---
Embed from Getty Images
The shop became very exclusive, simply because it had irregular opening hours. But was still frequented with high-flying clientele such as Miles Davis and Sharon Tate. Mirandi Babitz, another contemporary recalls.
"She mirrored the ceilings and then bought thousands of pheasant skins and layered them onto the ceiling with mirrors. It was all padded and velvet. Actually there weren't a lot of clothes. It was more of a place to hang out than the normal kind of shop. There were always a lot of hip people hanging around and it reeked of dope."
The City of Light
As the 1970s approached, Pamela Courson and Jim Morrison showed no signs of slowing up and self-destruction seemed inevitable. At this point, the pair were consuming high levels of opium and alcohol daily. On top of this, Pam was constantly threatening to leave Jim if he didn't leave the band behind. She viewed Jim as more than just a lead singer for The Doors, but as a poet, who was far superior to the band's music.
In 1971 after the recording of L.A. Woman, Jim and Pam moved to Paris with the view that he could fully devote himself to his poetry and escape from the rock 'n' roll lifestyle in the United States. However, the allures of Paris were too strong, especially for their addictive and unrestrained personalities.
By the time Jim arrived in Paris in March 1971, he was already on the decline. His appearance had strayed significantly from the slim, leather-clad, alluring frontman of The Doors recognized and adored by millions. His destructive lifestyle had begun to catch up with him, appearing to have gained significant weight and looking very unkempt.
Embed from Getty Images
Along with this, his creative juices weren't flowing as they used to. Excessive alcohol and opium consumption deprived him of all songwriting capabilities. As well as the impending 40-day trial from exposing himself on stage in Miami which must have been lingering in the back of his mind. Paris must have seemed like a much-needed escape.
Jim spent his time in Paris much like many tourists would, although the nightclubs on Paris' Left Bank became his nighttime haunts. Along with frequent opium use supplied from Courson's acquaintance, Jean de Breteuil, an aristocratic drug dealer and friend of Keith Richards and Anita Pallenberg.
Jim Morrison's Mysterious Death
What was deemed a normal day in Paris for the couple, dinner at a Chinese restaurant and later a film (Robert Mitchum in Pursued at the Action Lafayette), ended in the news that would shake the music world forever.
On July 3, 1971, Pamela Courson was awakened from the sound of Jim's heavy breathing. He then told her he was going to take a bath, assumed to counteract the effects of the opium. In the morning, Pam discovered him lying dead in the bathtub of their apartment.
Embed from Getty Images
This was the official and accepted version of his death, however, a few alternative theories have since emerged. One such theory suggests it was Pamela Courson herself who was behind his death. This largely due to the fact that Jim had appointed her as the only heir of his will.
Pamela Courson's Death
During the next three years after Jim's death, Pamela's addiction worsened and she was growing more and more delusional. She began calling herself Jim Morrison's wife, despite the pair never getting married. And would sometimes even tell friends she was awaiting a phone call from him.
On April 25, 1974, Pamela Courson eventually succumbed to her opium addiction and died of an overdose in her Los Angeles apartment at the age of 27. Both "cosmic lovers" dying at the age of 27. She was buried under the name "Pamela Susan Morrison."
Similar Stories…