Everyone's favorite pouty-mouthed Starchild from outer space, and enigmatic KISS frontman Paul Stanley, has hit Twitter to list his favorite vocalists of all time, giving us earthlings a taste of the influences that mingle together to form his own cosmic-tenor vocal execution!
As you might expect, the list is populated with plenty of the glam G.O.A.T.S that had us all wailing into the backend of our hairbrushes when we were kids (after a solid back brushing session of course!).
But Stanley also ranked a few surprises that betray a more subtle and nuanced taste beneath his white, Phantom of the Opera-esque mask of makeup.
And in true Nigel Tufnel, rock and roll fashion, his list goes up to 11, one better than a classic top 10 round-up, so without further ado, let's take a look at the esteemed mic-swingers who've earned a chef's Kiss from Mr. Stanley!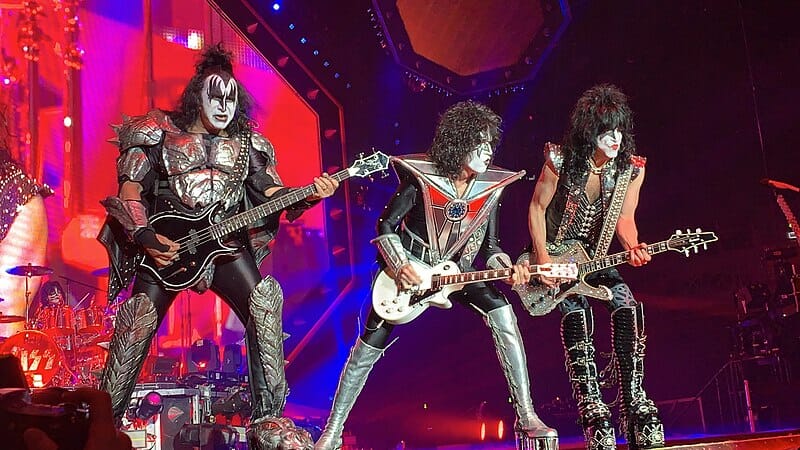 Here Are Paul Stanley's Favorite Singers
Stanley's tweet started off… "The Best Lead Singers Of All Time?? How about 11 off the top of my head…" And here's how the list played out.
#11 — Ann Wilson (Heart)
Ann Wilson is the owner of the powerful pipes that punctuate Heart's driving riffs. Considering her beyond 3-octave range and expert vocal manipulation chops, it's no surprise that she scored a spot on Stanley's super singer's list.
In fact, it's not just the "Barracuda" singer's influence you can hear in Kiss' music, but Heart as a whole… the attitude is definitely there, and they clearly share some compositional and tonal overlap too. Even the names of these two iconic acts seem cut from a vaguely similar cloth!
#10 — Brian Johnson (AC/DC) & Lou Gramm (Foreigner)
Okay, so here's the thing… Stanley's list actually has 12 entries, trumping Spinal Tap's infamous bit, but as he can't decide which of these two legendary vocalists should claim the 10th spot, he gives them both a mention and calls it a tie.
Brian Johnson is of course the gravel-throated, cap-wearing howl of AC/DC, having taken the reins from Bon Scott after his passing in 1980.
There is little common ground between Stanley and Johnson's vocal execution, but you'd be hard-pressed to find a voice that embodies rock and roll so fully, so I can see why Brian's name lands on this list.
What's more, AC/DC opened for Kiss on their 77 tour, a gig that helped catapult them to stardom and create a frenzied buzz over the soon-to-be-released Highway to Hell album.
Foreigner is a decidedly "softer" act than Kiss, but you can certainly hear some similarities between the silky falsetto of Gramm, and Stanley's own high register.
#9 — Brad Delp (Boston)
Buttery smooth, exquisitely controlled, powerful enough to tear through the calluses under a T-rex's toe… it's small wonder why Brad Delp's voice landed him on this list, a fitting tribute to a massive talent lost too early to suicide!
Check out our list of the top Boston songs to see our thoughts on the band.
#8 — Steve Perry (Journey)
At this point, Stanley's list is essentially a who's who of glam and arena rock elite, and the 8th spot refuses to deviate, bringing the inimitable lead singer of Journey, Steve Perry into the fold.
Now, Journey may be seen as something of a novelty throwback across rock and metal communities these days, but Perry's vocal chops are simply undeniable.
It's not just Paul Stanley that appreciates this golden-throated frontman, as Perry is lauded as one of the best by a number of his rock contemporaries, including Jon Bon Jovi (who gave him the nickname "The Voice") and Queen's Brian May. For many, Perry is the greatest male singer of all time.
Cast your eyes over our list of the best Journey songs and let us know if you would make any changes!
#7 — Janis Joplin
Janis Joplin is widely considered one of the most versatile singers ever, capable of shifting effortlessly between soft, tender crooning and raspy rock and roll growls, and if there's anything that makes a singer's singer, it's a broad and distinctive vocal pallet.
Her wide-ranging and distinctive vocal style, along with her iconic nude portrait for photographer Bob Seidemann perfectly symbolizes the Haight-Ashbury era for many people.
We listened our way through Janis Joplin's catalog to bring you what we think are her 10 best songs.
#6 — Paul Rodgers (Bad Company, Free)
Rodger's voice may not be quite as polished as some of the vocalists he surpasses on this list, but he's more than earned his spot.
His natural delivery adds a realness to his songs, a closeness, almost as if he and the band are going hell for leather in the room with you.
And whad'ya know, he and Kiss crossed paths a number of times, the most recent being when both artists contributed to The Art of McCartney, a Paul McCartney tribute album.
#5 — Rod Stewart
It was only a matter of time before Mr. "If you think I'm sexy" made an appearance here. In fact, I would think it's fairly tricky to find a single top singers list without his name somewhere in the mix.
Although Stewart has a powerful, not to mention distinctive voice, his writing and pocket phrasing (for which he has a deft hand) is what really made his songs hits and him a sex symbol.
#4 — David Ruffin (The Temptations)
Besides perhaps Joplin, David Ruffin is the first real curveball on this list, but if you listen closely, isolating the vocals from the instrumentals, you can hear a lot of Stanley in the soulful roar of this legendary R&B singer.
#3 — Freddie Mercury (Queen)
This man needs no introduction — With a 4-octave range, a commanding stage presence, and a truly unique approach to songwriting and composition, Freddie Mercury is one of the all-time greats, sure to rank in at least the top 5 of any best singers list.
Furthermore, as equally theatrical bands (albeit in different ways), Kiss were often called the Queen of the US, with Brian May remarking that he appreciated the band for going all out in accordance with their unique vision — We can only assume Paul Stanley reciprocates this sentiment.
Freddy Mercury is also well known for designing the original Queen logo, which can be seen on the inside cover of the band's first album.
#2 — Steve Marriott (Small Faces, Humble Pie)
Although Marriott is certainly a more low-key performer than Stanley or Mercury, his small stature belied a truly insane range and passion that allowed him to really inhabit the words of his songs.
#1 — Robert Plant (Led Zeppelin)
Could anything but the haunting, bestial wail of rock titans Led Zeppelin take the number one spot here. With an inimitable voice and a 3.92-octave range, Robert Plant gave the mighty music of Zeppelin a voice that shakes both bones and souls in equal measure.
With lyrics steeped in folkloric mediations, Plant's personality itself took on an almost mythological countenance, a mystique that clearly appealed to Paul Stanley's love of drama and originality.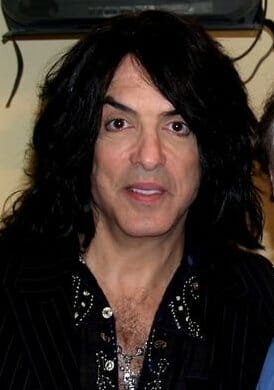 Final Thoughts
There you have it — The Kiss frontman considers these 11 vocalists the greatest lead singers of all time, and to be honest, I happen to agree with quite a few of his picks.
What do you think? Would you switch anything up?
While we are on the subject of KISS, make sure you check out our list of the top 10 best Kiss songs of all time. Did we leave anything off?
Paul Stanley opened up on ABC News Australia and shared his thoughts about his 40-year career in the music industry. Give it a watch below.