Eric Carr was one of the most prolific drummers in the 1980s in an equally prolific band. His story is one of perseverance and hard work, a celebration as well as an untimely death overshadowed by another music icon of his generation.
For his fans, Eric continues to remain an inspiration long after his death. Kids and adults alike all over the world learn from his groundbreaking skills and finesse on the drums.
To understand this rather enigmatic and one of the original rockstar drummers in history, we must go back to where it all started.
Embed from Getty Images
Eric Carr – Early Life
Born on July 12, 1950, Eric's birth name was Paul Charles Caravello. Eric Carr was a stage name he adopted after he joined the band, Kiss. He is of Italian descent but grew up in New York City.
He spent his early years either alone in his room or dreaming of becoming a cartoonist or a photographer. Like most of the kids of his age, Carr was greatly influenced by the Beatles. Most notably, he took a particular liking to the band's drummer, and that was what ignited his love for the drums. He also admitted to having long hair and a style inspired by the Beatles drummer, Ringo Starr.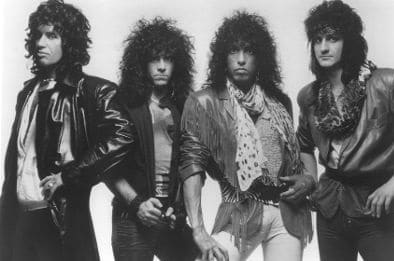 Eric spent many years playing in different bands, including The Cellarmen, Salt & Pepper, Bionic Boogie, and Flasher, without finding any real success. He and his bands often opened for big names like Stevie Wonder and Nina Simone. However, the inability to break into the music world almost made him give up all together by the time he had turned 30.
But all the while, he never lost his passion for playing music. He played drums as his primary instrument, but he was also gifted with other instruments. Eric also played the guitar, including bass, the piano, as well as sang background vocals and occasionally even sung lead vocals.
The Journey with Kiss
Eric Carr's journey with the band Kiss happened during the most disappointing years of his life. Due to their lack of success, he had recently quit his latest band, Flasher.
Ironically, he was hanging out a club when he met a former band member from Flasher named Paul Turino. He learned that the drummer of Kiss had left the band and that they were looking for a replacement.
Embed from Getty Images
Eric applied for the position and was the last person to audition for the band. During his audition, he left a huge impression on the band with his exceptional drumming skills.
For the uninitiated, Eric Carr was one of the first drummers in history to adopt the snare drum sound. This playing style is characterized by a low tune and highly reverberating sound, which is typical to orchestral music and classical concerts.
His unassuming personality, as well as his passion for music, also left a positive impression on the band members. Paul Stanley, one of the team's vocalists remarks in his memoir, Face the Music, that Eric was sweet and seemed like a good soul. Other people who auditioned for the drummer position were reportedly behaving like rockstars hoping to earn brownie points, but the band was far from impressed.
His audition was a resounding success, and he was introduced to the band in 1980 when he was exactly 30 years old. He went on to record eight albums with Kiss.
Eric Carr's first official appearance with Kiss was on July 25, 1980, at the Palladium in New York City. His last live performance with the band was at Madison Square Garden in 1990. His final public appearance with the band was in September 1991, at the MTV Video Music Awards.
During his time with the band, Eric also made lyrical contributions to several songs, including "Under the Rose," "All Hell's Breakin' Loose," "No, No, No," and many more.
He had also contributed his vocals and background vocals to a number of songs including "Black Diamond," "Young and Wasted," "Beth," and "God Gave Rock' N' Roll to You II."
Embed from Getty Images
Eric also recorded a demo with Bruce Kulick, where he played the drums as well as the bass. He also wrote parts of the music in the demo.
Eric Carr Playing Style
Eric Carr's career as a drummer was nothing short of stellar. He was rightly gifted a place among the top ten best drummers of all time. This honor was bestowed by Planet Rock Radio through a voting system. He is one of the only two Americans on the list, which is a testament to his incredible skill and talent.
Eric made no secret of the fact that Ringo Starr was his primary influence. Astoundingly, he is a self-taught drummer who often practiced with his textbooks in his room. His parents eventually bought him a Zimgar set that cost $175.
Once he progressed from his textbooks to an actual drum set, he had to start from scratch as he was so used to drumming it out on a solid block of books. He remembers starting with the basic beats and listening to fills all the time before he could get them right.
But Carr developed his signature hard-hitting style after being inspired by John Bonham of Led Zeppelin. He was also said to have been influenced by Ginger Baker of Cream, practicing the double kick and refining it. He often said in interviews that he wanted the kick drum to sound like a cannon and the snare sound to be heard like a gunshot.
During his time with Kiss, it became an iconic thing to have a drum solo on every performance. In fact, the show felt incomplete without Eric Carr banging it out on the drums and having his moment.
Kiss was infamous for being mysterious and hiding their identities, which fueled the public's interest in them during their peak in the 1970s. When Eric joined the band, he was relatively unknown, but that was that the band wanted.
In fact, he auditioned as Paul Caravello and had initially wanted to call himself Rusty Blade, but Simmons did not agree with it. He settled on Eric from a set of names picked by his then-girlfriend, and Carr was taken from his middle name Caravello. Eric's heavy drumming style played a significant role in Kiss moving towards the heavy metal genre.
Eric's persona with the band was The Fox. However, it was not his first choice. He had wanted to be The Hawk, but getting the design and the makeup with grease paint was almost impossible. Carr later designed The Fox, which was easier to do makeup for.
Despite the fact that he achieved success and fame, Eric Carr remained a simple and humble guy at heart. That was exactly what the band and his fans found endearing. Among all the band members of Kiss, Carr was the one who replied the most to his fans all over the world.
He was also known to add words of encouragement whenever he signed an autograph. Carr would also give advice to parents of young kids who were not confident about their children's choice of a musical career.
Embed from Getty Images
Eric Carr was also well versed in a lot of music genres. A very popular songwriter once remarked that Carr had substantial knowledge about R&B, folk music, and other genres of music. Carr had a lot of African-American friends while growing up, which influenced his strong appreciation for other music styles apart from rock.
What Happened to Eric Carr?
Around the beginning of 1991, Eric Carr was experiencing ill health. Initially, it didn't seem to be anything serious, but a thorough examination revealed that he was suffering from heart cancer. He eventually underwent a number of surgeries to remove the tumors.
It was during this time that the band replaced Carr with Eric Singer, who was a session drummer. They had been planning to start recording the album Revenge and also shoot a video for "God Gave Rock and Roll to You II."
Carr was heavily undergoing chemotherapy and had lost all his hair during this time. But he pleaded with the band, specifically Stanley and Simmons, to play with them. Both of them refused adamantly and instead asked him to focus on his treatment.
Stanley and Simmons might both have had Carr's best interest at heart, but it was a bit controversial. Carr's family felt that the band abandoned him during his hardest time and did not give him enough support. Both of them were made aware of this fact only when they showed up at Carr's funeral and were met with cold and hostile family members.
However, Carr was persistent. Stanley has often talked about how Carr felt insecure about the fact that he was not the band's original drummer. So maybe Carr felt that his replacement was permanent.
Embed from Getty Images
Or maybe he could feel the cold hands of death approaching. Either way, he was so persistent to be in the band that Simmons and Stanley agreed to let him play on the album. But heartbreakingly, he was too weak to play during the recording sessions, and Singer played instead.
Eric Carr was able to make one final appearance with the band at the MTV Video Music Awards in September 1991. He wore a wig to the awards show.
Shortly after, he was hospitalized after suffering from an aneurysm, he had also suffered a brain hemorrhage. He did not regain consciousness. Eric Carr was pronounced dead on November 24, 1991, the same day that Freddie Mercury of Queen lost his battle to HIV/AIDS. He was 41-years-old.
Amidst the media and the public frenzy surrounding the death of Mercury, Carr's death was reported in the media the next day. To honor Carr's reputation of being open and accessible to his fans, his funeral service was made public. Paul Caravello or Eric Carr, The Fox, was buried at the Cedar Hill Cemetery in Newburgh, New York.
Eric Carr's Legacy
After his untimely death, Eric's legacy continues. His family, along with his former band, released his only solo album called Rockology in 1999.
Kiss also released a drum solo played by Carr during his time with the band. It was befittingly called Carr Jam 1981. The band dedicated the album Revenge to Eric as well as a number of videos from the band also pay homage to one of the greatest drummers in rock history.
Eric Carr was posthumously inducted into the Rock and Roll Hall of Fame in 1995. It was exactly fifteen years to the day he debuted with Kiss in 1980. His parents received the plaque on his behalf. He was also added to the Kiss Plaque, which features his name, autograph, and The Fox persona.
Final Thoughts
For someone so humble and friendly, Eric Carr was an icon in his own right. Not just because he was a band member of one of the greatest bands in the world. He established his credibility as a seriously gifted drummer through sheer grit.
Carr's dedication to his craft is exemplary and remains an inspiration for many around the world. He had the passion, but he also had the heart to pursue it and hone his skill even as he got better.
His story is not one of emulating your idol and leaving it at that. He took inspiration from talented people in the industry and polished it to make it uniquely his own. Eric Carr may be long gone. But his passion and his legacy will last forever.
Similar Stories…