Sammy Hagar, affectionately dubbed the "Red Rocker," isn't just an American rock sensation who can make a wolverine swoon with his voice and compel you to blow right past 55 on the interstate with his tunes. No, pals, Sammy Hagar is a force of nature in the rock 'n' roll world, a man who has skillfully sailed the stormy seas of the music industry to amass a treasure that could make a pirate green with envy.
But how did this California lad manage to rock 'n' roll his way to the peak of financial success? Hang tight, we're about to find out.
Who Is Sammy Hagar?
Born on October 13, 1947, in Salinas, California, Sammy Hagar's journey from rags to riches is as compelling as one of his guitar solos. Raised in a family struggling with poverty, Hagar discovered his love for music early on, using it as a vehicle to propel himself far from his humble beginnings.
Hagar's first taste of success came with the band Montrose in the early '70s. As their frontman, Hagar helped shape the hard rock sound that would later come to define the era. Yet, it was the call from Van Halen in 1985 that would change his life forever. Replacing original frontman David Lee Roth, Hagar injected new energy into the band, leading them to multi-platinum success with albums like '5150' and 'OU812.'
As for Hagar's solo career, it's a wild ride of hit songs and notable achievements. From his breakout solo hit "I Can't Drive 55," to the anthemic "Heavy Metal," Hagar's solo work kept his star shining bright, even outside of Van Halen.
Hagar isn't just a musician, though. He's a savvy businessman with ventures in the liquor industry that have significantly padded his bank account. But we'll get to that later. For now, just know this: Sammy Hagar is a man who managed to turn rock 'n' roll into a goldmine. And he's still rockin'.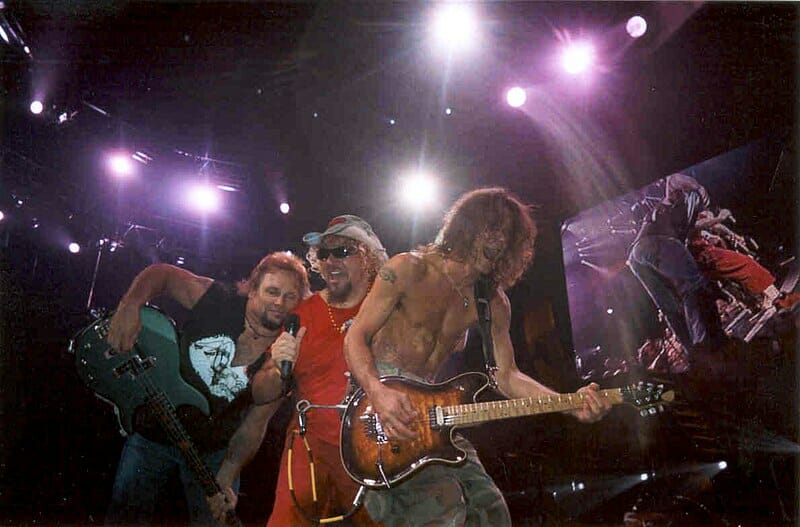 What Is Sammy Hagar's Net Worth?
To put it simply, Sammy Hagar is rock 'n' roll royalty, and he's got the net worth to prove it. The "Red Rocker" has managed to amass a fortune that most of us can only dream about. At the time of writing this (things can change you know), Sammy Hagar's net worth is estimated to be a mind-blowing $150 million. This isn't just a testament to his musical talent, but also to his business acumen and relentless work ethic.
Sammy Hagar's wealth is a testament to a career well spent, a culmination of decades of hard work, hit songs, and sold-out tours. Starting from his early days with Montrose, Hagar displayed a knack for creating music that resonated with fans.
Each successful album, each crowd-pleasing tour, added to his growing wealth. But it wasn't just about the money for Hagar. It was about the music, the fans, and the love of rock 'n' roll.
How Did Sammy Hagar's Net Worth Change During His Career?
Hagar's solo career was nothing short of successful, and it's played a significant role in contributing to his vast net worth. When he decided to step out of Van Halen's shadow, some may have doubted his decision. But Hagar proved them wrong, producing hits like "I Can't Drive 55" and "Your Love Is Driving Me Crazy" that not only topped charts but also added a nice chunk to his net worth.
When Sammy Hagar joined Van Halen, it wasn't just a pivotal moment in his career, but also a significant turning point in his financial journey. Replacing David Lee Roth as the frontman of one of the world's most popular rock bands was no easy feat, but Hagar rose to the occasion.
His time with Van Halen resulted in multi-platinum albums, sold-out stadium tours, and a considerable increase in his net worth. Van Halen was more than just a band for Hagar, it was a financial rocket ship that propelled him to new heights of wealth.
Sammy Hagar's Business Ventures
Of course, we can't talk about Sammy Hagar's net worth without mentioning his business ventures, particularly his Cabo Wabo Tequila brand. This isn't just a side gig for Hagar; it's a successful business that's added significantly to his net worth. Launched in the '90s, Cabo Wabo Tequila quickly became a favorite among tequila lovers and rock 'n' roll fans alike.
In 2007, Hagar sold 80% of the brand to Gruppo Campari for a cool $ 80 million, showing the world that the "Red Rocker" knows a thing or two about business (and tequila). Today, Cabo Wabo Tequila stands as tasty proof of Hagar's entrepreneurial spirit, a successful venture that continues to contribute to his impressive net worth.
Sammy Hagar vs Van Halen Members
So, how does the "Red Rocker" stack up against his former bandmates in the wealth department? Let's find out.
With a net worth of $150 million, Sammy Hagar is indeed one of the wealthiest Van Halen members. His time with the band, successful solo career, and lucrative business ventures have all contributed to this impressive net worth.
How Does Sammy Hagar's Net Worth Compare To The Other Van Halen Band Members?
When you stack Hagar's fortune against that of the late, great Eddie Van Halen, whose net worth is estimated at a cool $100 million, and Michael Anthony, who holds a commendable $60 million to his name, it's evident that Hagar's financial savvy has given him an edge, propelling him ahead of his former comrades in arms.
Regarding the rest of the Van Halen ensemble, Alex Van Halen's net worth weighs in at a hefty $95 million. It's apparent that membership in one of the globe's most prosperous rock bands comes with its fair share of monetary advantages.
Sammy Hagar vs. David Lee Roth: Who has a higher net worth?
In the battle of frontmen, Sammy Hagar comes out on top. David Lee Roth, Van Halen's original frontman, has an estimated net worth of $50 million. While Roth had a successful career with Van Halen and as a solo artist, Hagar's business ventures, and in particular his Tequila brand, have given him the upper hand in this financial face-off.
---
RELATED: Sammy Hagar Explains How Alex Van Halen Was Feeling After His Brother Died
---
How does Sammy Hagar's net worth compare to other musicians in the music industry?
When compared to other musicians in the industry, Sammy Hagar's net worth is indeed impressive. He comfortably outstrips many of his contemporaries, although the likes of Paul McCartney ($1.2 billion) and Bono ($700 million) still have him handily beat.
While Sammy Hagar might not be the richest musician in the industry, he's certainly up there. His impressive net worth of $150 million places him in the upper echelons of rock 'n' roll wealth, standing shoulder to shoulder with many of the industry's biggest names. It's clear that the "Red Rocker" isn't just a master of the stage, but also the bank balance.
Sammy Hagar's Wife Kari Hagar
Behind every great rockstar, there's often a great partner, and for Sammy Hagar, that partner is Kari Hagar. Kari, Sammy's second wife, has been a constant source of support and stability in his life. The two have been happily married since 1995, sharing a life that's as rock 'n' roll as it is family-oriented with their two daughters, Kama and Samantha.
So, how does Kari relate to Sammy's net worth? Well, apart from being his biggest cheerleader, Kari has also played a role in his business ventures. She's been involved in the operations of Sammy's Beach Bar & Grill, a chain of restaurants owned by Sammy. While it's hard to quantify her exact contribution to Sammy's net worth, there's no denying that Kari has been instrumental in Sammy's success, both on and off the stage.
Conclusion
When the lights dim and the music fades, Sammy Hagar stands as a testament to what it means to be a rock 'n' roll success story. With an estimated net worth of $150 million, the "Red Rocker" has not only carved out an impressive career in music but also managed to build a financial empire that places him among the wealthiest musicians in the rock industry.
His wealth accumulation, which spans his time with Montrose, Van Halen, and his solo career, to his successful entrepreneurial ventures, underscores his business acumen and knack for making savvy investments.
In comparison to his peers in the music industry, Hagar's net worth holds its ground, comfortably placing him in the upper echelons of rock 'n' roll wealth. Whether it's his former Van Halen bandmates or other rock musicians, few can boast the kind of financial success that Hagar has achieved.
In the end, Sammy Hagar's net worth is more than just a number. It's a testament to his talent, hard work, and relentless pursuit of success. And if his past is anything to go by, the "Red Rocker" shows no signs of slowing down.
Sammy Hagar, ladies and gentlemen, is a true rock 'n' roll powerhouse.
Bonus video: If you're a rev head like me, you'll enjoy this tour that Sammy Hagar gave of his impressive car collection in 2018. The fruits of his labor indeed.
FAQs
What is Sammy Hagar's net worth?
Sammy Hagar's net worth is estimated to be around $150 million.
How much did Sammy Hagar sell his brand Cabo Wabo for?
Sammy Hagar sold his brand Cabo Wabo for $80 million in 2007
What is Sammy Hagar's car collection?
Sammy Hagar is well known for his love of classic cars and his garage includes:
1982 Ferrari 512 Berlinetta Boxer from the "I Can't Drive 55" music video
1967 Gateway GCM–R Fastback Mustang
2005 Aston Martin Vanquish Lagonda
Chevrolet El Camino SS
Ford Shelby GT.
2015 Ferrari LaFerrari