Fleetwood Mac's internal dynamic was famously turbulent, with members marrying, divorcing, and bickering with one another on a semi-constant basis, but out of this fiery crucible came numerous pieces of timeless music, some of which were understandably heartbreaking.
Of these sorrowful songs, Stevie Nicks' composition "Landslide" is perhaps the most melancholic of all, with the opening line "I took my love, I took it down / I climbed a mountain and I turned around" never failing to draw a tear to the eye.
However, as overtly sad as this track is, the meaning of the lyrics has long been the subject of debate.
Some believe it to be about Stevie's relationship with her father, while others claim that the lyrics aren't autobiographical in nature at all and that they're more general in nature, exploring the ups and downs of life.
But thankfully, none other than Stevie Nicks herself has come forward to explain the meaning of Landslide and put us all out of our collective misery.
What Is The Meaning Of "Landslide"?
"Landslide" is about decisions, the BIG decisions, the risky ones, the ones that change your life, but it's also about ruminating on those decisions and questioning whether it might be time to call it quits, turn around, and try to salvage some semblance of normalcy from your life.
More specifically, the track details Stevie's decision to put everything on the line to strike out with Lindsay Buckingham in pursuit of a successful music career.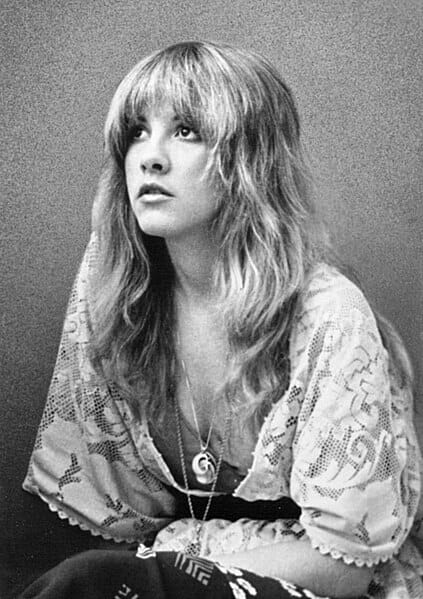 The Story Behind "Landslide"
The couple was recording as a duo before joining Fleetwood Mac, and after releasing a poorly received debut album entitled Buckingham Nicks, they were dropped from their label Polygram Records.
Their dream that seemed so attainable when the two first met was now more distant than ever, if not completely unreachable.
Having gambled everything on this chance to achieve the extraordinary with Buckingham, Stevie Nicks was coming to terms with the real-life implications of their failure.
Both artists were forced to take menial jobs and put music on the back burner, yet despite their sacrifices, they had barely enough money to put food on the table.
In an MTV interview from the 90s, Stevie Nicks emphasized how painful this situation was, knowing how close they were to reaching their goal, remarking:
We had been in the big studio, we had touched the pot of gold, so to go back to being a waitress and a cleaning lady…

It was devastating.
Having to struggle and toil for every cent after coming so close to their dream placed an unimaginable strain on the couple's relationship, compounding Nicks' fears that her all-or-nothing move was ill-conceived.
Shortly thereafter, Lindsay landed a gig with The Everly Brothers as their touring guitarist, leaving Stevie alone to reflect on their situation and whether she should give up on both the music and Lindsay.
Reminisced Nicks;
They left me — with the car and the dog, by myself, with very little money, and I was really not that happy about it.
But rather than abandoning hope and taking off while Lindsay was on tour, Stevie picked up her guitar and let her thoughts and emotions seep out into a composition that would change her life forever.
The Aesthetics Of "Landslide"
With references to mountains and snow, the lyrics of "Landslide" establish a chilly atmosphere early on, the perfect metaphor for the cold desolation of Nicks' life after her ill-fated record flopped.
But what many people don't realize is that the inspiration for this brutal aesthetic was very literal.
When Lindsay Buckingham left with The Everly Brothers, the couple were living in Aspen, nestled in amongst the snow-capped Rocky Mountains, which is why this exact imagery was employed by Nicks' to establish the tone of the song.
Later, she regaled the public with the story of the track's conception, saying;
I took my guitar, and I sat down in the living room, looking out at the snow-covered mountains.
This revelation gives us a new slant on the lyrics, "and I saw my reflection in the snow-covered hills before the landslide brought me down."
Before this, a common reading of these lines was metaphorical in nature, that Nicks was taking stock of her journey and perhaps the toll it had taken on her, yet she's literally referring to her reflection in the living room window, imposed over the view of the snowy mountains.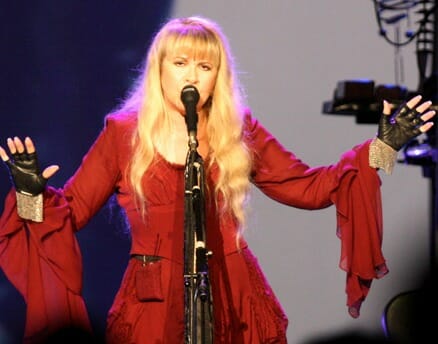 How Did "Landslide" Change Stevie Nicks' Life?
"Landslide" is so, so much more than a song about decisions; it's a decision in itself, a musical meditation that helped Stevie Nicks choose the path she would walk… "I decided, when I was writing that song, to give the music and Lindsay one more chance, and that's what that song is about."
This turned out to be a brave and wise decision, as only a few months later, Lindsay was asked to join Fleetwood Mac, and his condition for accepting was that Stevie be brought into the fold alongside him.
The band acquiesced, and a year later, released their self-titled "White Album" with "Landslide" appearing as the second track on side 2 of the record.
While the studio version of "Landslide" was never released as a single, it did establish Nicks as a premier songwriter within a band of songwriters, and after 15 grueling months of touring, it helped The White Album hit the #1 spot on the Billboard 200 chart.
This set the band on a course to a bright future, one in which Stevie Nicks would play a pivotal role!
Final Thoughts
There we are then… let no more swords cross over the meaning of the classic Fleetwood Mac song "Landslide". Stevie Nicks has put an end to the debate and laid it out in black and white.
It's a song about second-guessing the major moves in life and how you have to risk "the landslide" bringing you down if you want to pursue unlikely greatness.
It's a story of how Stevie Nicks went from cleaning lady to musical immortal, from scrubbing tabletops to climbing chart tops, making it a crucial composition, not just in her own life, but music history as a whole.
The Hollyhobs have put together a great video that goes into detail surrounding how Stevie Nicks made "Landslide", be sure to check it out below!